Today, we're going to talk about the 15 depression symptoms you may not know about. My hope is that it will help you, number one, understand your symptoms, and number two, get help faster. Let's do this. Let's get started.
I hope you are well. I hope you are kind and gentle to yourself today. I hope you are taking moments to notice that the trees are changing, the leaves are changing, and spring is here. If you're in the Northern Hemisphere, maybe the weather is changing. Also, if you're in the southern hemisphere, my lovely friends in Australia, I just want to remind you to stop and take note of the weather. It can be one of the most mindful activities we engage in, and it can help us be grounded in the present instead of thinking forward, thinking backward, and ruminating on the past and the future.
I hope you can take a minute. We can take a breath right here... and you can actually take in this present moment before we get started.
Today, we're talking about 15 depression symptoms you may not know about. As I said in the intro, my hope is that these symptoms help you understand what's going on for you if you're depressed or help you get help faster.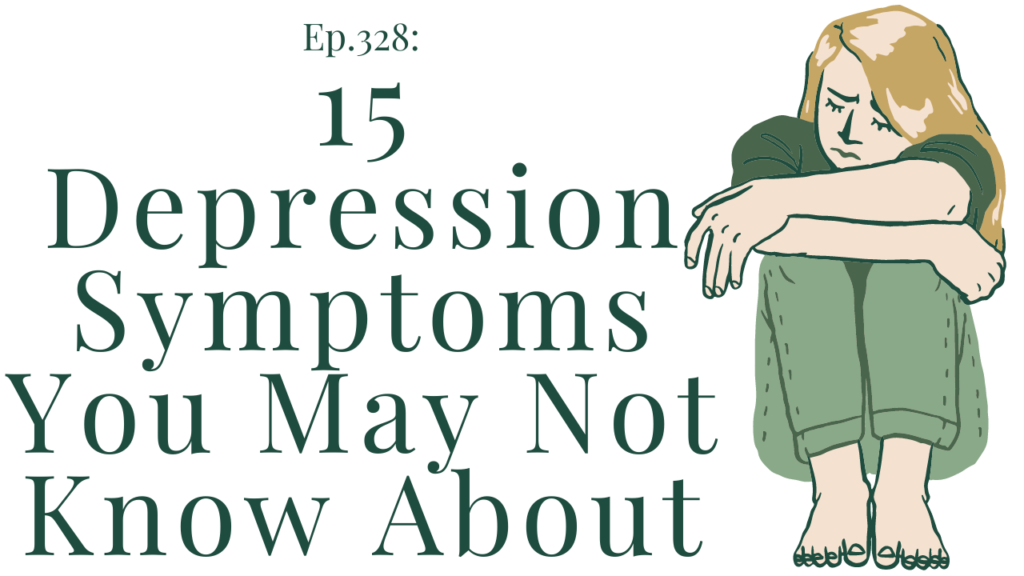 Mnemonic For Depression Symptoms
Now, some of you may really have a good understanding of depression symptoms. Some of you may know the common ways that it shows up, so I will first address those just to make sure you've got a basic understanding of common depression symptoms. I'm going to actually give you a mnemonic for depression symptoms. I find it's very helpful to have this on hand when I'm assessing my clients and my patients. It's a really good check-in even for myself like, what's going on? Could this be depression? Let's go through this mnemonic for depression.
D is for depressed mood. I think we all know about that one. That's a very common Hollywood way of understanding people who are sad, feeling very down, and so forth. We mostly all know the D for depression.
E is for energy loss and fatigue. In fact, I did a poll on Instagram. For those of you who don't follow me, go ahead and follow me @youranxietytoolkit. I did a poll and I asked, what are the most painful parts of depression, and the most common response was complete fatigue, complete exhaustion, just overwhelming tiredness and energy loss. I think that that's a really common one. It can be confusing because you're like, "What's going on?" It makes you feel like maybe there's a medical condition going on, but often it is depression.
The P is for pleasure loss. Now, this is an important one that we look for in clinical work as we're looking for. Is the person with depression completely at a loss and they're not enjoying the things they used to? Are they struggling to get joy out of even the most joyful things that they used to find joyful? That's a very common one.
The R is for retardation or excitation. What we're talking about there is moving very slowly, like a sloth pace or even just sitting there and staring and unable to move your body completely, inability to get motivated to move. Excitation is the other one, which is like you feel very jittery and you feel very on edge and so forth.
The E is for eating changes such as appetite increase or decrease, or weight increase or decrease. Again, common symptoms for depression.
The S is for sleep changes. It is very common for people with depression to either want to sleep or need to sleep all day, again, because of that energy loss. Or they lay awake for hours at night staring at the roof, unable to sleep, experiencing sleep anxiety, which can often then impact their sleep rhythm. They're sleeping all day, staying awake all night, or vice versa, but in a very lethargic way.
The next S is for suicidal thoughts or what we call suicidal ideation. These are thoughts of death, thoughts of dying, and sometimes plans to die. If that is you, please do go and see a mental health professional immediately or go to your ER or call the emergency in whatever country you are. For America, it's 911. Suicidal thoughts are very, very common with depression. We have two types of suicidal thoughts in depression, and that's usually passive suicidal thoughts and then active suicidal thoughts. Passive is thoughts of death, but you just want to crawl under a rock and just go to sleep and never wake up. Active suicidal thoughts is where you're actually wishing to die. It's important to differentiate, and clinically, we do make some changes depending on which is which.
The I for depression is "I am a failure." This has a lot to do with shame or loss of confidence and self-esteem issues. "I am a failure" is a big one that often doesn't get disclosed until the person is in therapy. We even did an episode a couple of weeks ago. Depression Is A Liar was the title. Depression tells you all these lies. It tells you you're a failure and you start to believe it. It tells you there's something wrong with you and you start to believe it. That is a very common part of having depression.
The O is "only me to blame," and this is what we call guilt. With depression, often people will feel guilty for everything, feel guilt & regret all day, every day. "I'm not a good mom," "I'm not a good friend," "I'm not a good talk daughter," "I'm not a good employee," "I'm not a good boss," whatever it may be. And then they blame themselves, punish themselves, and a lot.
The N is for no concentration. Again, when I did the poll on Instagram, so many people posted that they just cannot think, they can't plan, they can't concentrate, they can't learn if they're in school, they can't stay focused on a conversation. These are all very common symptoms of depression that may be impacting you either a little bit or, in many cases, an immense amount.
They're the most common. That's a mnemonic for depression symptoms. They're the most common that we assess for. But now I want to go into the 15 depression symptoms you may not know about.
The way that I'm structuring this podcast episode is I've broken it down into different categories of people. But what I want you to recognize before we go down is these are not specific to only these categories of people because it depends on the person. We have to be very person-centered when it comes to looking at depression and diagnosing depression and treating depression because there's no one way to have depression. I don't want to miscategorize any of this. I'm just talking very generally, so I want to give a disclaimer as I go through these different categories or groups of people. Please note that it's probably true for everybody. It's just more common in these groups.
Before we get started, I want to remind you. I know I did an announcement. I want to remind you, the Overcoming Depression Course is going live on March 11th. This is very exciting. This is a live online course that I am teaching live on Zoom. I will be teaching you over the course of three different weekends on Saturday mornings from 9:00 to 10:30 on March 11th, March 18th, and March 25th, 2023. If you want to sign up and come and learn from me, I'll be going through five major areas in which you can make changes related to depression. I will be giving you all of this psychoeducation upfront. There will be a workbook that you can use on your own to really put the skills and tools and strategies into place. If you're interested in joining us, may I say again live, head on over to CBTSchool.com/Depression. It'll take you to the page. You can sign up there and then I will send you via email all of the information you need to be there for our live conversations. You can ask questions in the chat box. My hope is to double down with motivating you, inspiring you, educating you, and getting you feeling a little more confident on what to do if you're struggling with these symptoms. My hope is to help you see that depression is a liar and you can break free!
Here we go.
Depression Symptoms In Men
Again, I'm speaking generally here, and I really want to be careful here because it's definitely not just men who experienced this, but I did a lot of research for this episode and these were the statistics that I found to be most common in these areas.
Anger, irritability, or aggressiveness
That's not in the mnemonic for depression that we went over. A lot of times people miss this core symptom, which is anger, irritability, or aggressiveness. Now, is it only men? Absolutely not. I want to be really clear here, that is absolutely not the case, but I think because of the stigma for men around showing sadness or showing depression, they have shown that men tend to express it in a different way, because sometimes men don't feel comfortable crying in public with their friends or loved ones. Not always true. Again, I'm going to keep saying not always, but I think that's a cultural expectation put on men and therefore it does come out when in the form of anger, irritability, or aggressiveness. Irritability is a huge one when it comes to depression that I have seen clinically.
Problems with sexual desire and performance
This is, again, not just for men, but common in the research for men is common problems with sexual desire and performance. A lot of men and women, but again, I don't want to be excluding anyone here, have found that they either have a massive lack of sexual desire or struggle to reach arousal, struggle to reach orgasm. We are going to be addressing this in-depth here in the next couple of months and I'm going to put a lot of energy into making sure we address how much it impacts people and sex. Stick around for that. I'm super excited. But there is another common depression symptom you may not know about. Sometimes we think it's anxiety that causes that, but it's not just anxiety; it can be depression too.
Engaging in high-risk activities
Again, not just for men, but it has been shown to be more prevalent in men. High-risk activities, spending a lot of money, driving fast in cars, gambling, drug use, and so forth. Again, not just in men, but this is another common depression symptom you may not know about and maybe diagnosed and put in a different category when really the person is deeply depressed and trying to feel pleasure. Remember we talked about the mnemonic P is for pleasure loss. Often we engage in these high-risk activities because we're just desperate to feel that sense of pleasure and exhilaration again.
A need for alcohol or drugs
Again, not just men and I will discuss this in other categories as well, but it is common that an increased use of alcohol and drugs could be a sign that you are getting an increased level of depression. Then what happens is when you're using a lot of alcohol and drugs, you usually have a hangover or some kind of side effect to that which makes you feel more depressed, which then makes you feel more like you need to have more alcohol and drugs. Again, it's a cycle that can really cause a lot of chaos in people's life and could be simply the first symptom or way to cope with depression.
Depression Symptoms In Women
Women are twice as likely to develop depression than men. That's a statistic I didn't know. Up to 1 in 4 women are likely to have major depressive disorder or major depression at some point in their life. 1 in 4, that is so high. We have to make sure we're catching people and helping people with this massive issue.
Premenstrual Dysphoric Disorder
Prementstrual Dysphoric Disorder involves a massive influx of depressive symptoms right before your period or at specific stages of your menstrual cycle. Very common. In fact, again, we're going to be addressing this very soon on the podcast as well. These are some areas I feel like I have completely missed as your podcast host, so I want to really make sure we're targeting and addressing these issues as we move forward.
Perinatal Depression
Perinatal depression occurs around pregnancy before or after pregnancy starts.
Perimenopausal Depression
Perimenopausal depression is around the menopausal period for people going into menopause.
These are common symptoms of depression that get missed all the time or get misdiagnosed or underdiagnosed when the person is really suffering.
A lot of people who follow me have said they've gone to their doctor to share how they get this massive influx of depression before their period or in their cycle, and the doctor has blown them off and said, "Eat more celery juice," or "Exercise more." While, yes, exercising can be helpful for depression, we are missing a major depression symptom, and I want you to be informed about those.
Depression Symptoms In Kids
Oh, the kiddos. It's so hard on the kiddos. In fact, one of the reasons I have been so hyped on talking about depression was, in August of last year, my daughter went in for her yearly checkup with her pediatrician and the pediatrician insisted on doing all of these mental checklists with her. I was saying to her, "Is this really necessary? She's doing fine. To what degree are you scaring her?" She said, "Oh, you have no idea the degree of depression in children since COVID." "I had no idea and I'm a mental health professional. How did I not know this?" She said, "Yeah, it's everywhere in kids, and kids are really good at hiding it." I literally sank in my chair like, "How did I miss this? How did I not know this?"
We talked about it a lot and I think it's really important that we understand that depression symptoms in kids often look like what we call in some societies like naughty kids. Again, let's go through them.
Big emotional outbursts
When we see kids on the playground having big outbursts, big anger responses, again, we talked about that before, sometimes they get labeled as the naughty kids. Well, guess what? We've got to make sure we check to make sure they're not depressed. Because that is a symptom of depression.
Difficulty initiating and maintaining social relationships
Again, after COVID, a lot of parents I've heard have said, "Oh, I think they just lost their ability to make friends during COVID," which I totally get. We had to train my son after COVID to follow basic social cues because he hadn't seen people in so long. But again, we have to keep an eye on whether this is a symptom of depression in children.
Extreme sensitivity to rejection or failure
This one is so important not just for kids, but for teens, adults, everyone. With depression, we all have sensitivity to rejection of failure. No one wants that. But often a symptom of depression is extreme sensitivity and absolute devastation about getting rejected for, let's say, a school play or to be picked in soccer or they had a big issue with a test or so forth. They have a strong, strong reaction to that.
Frequent absences from school and/or a sudden decline in grades
If kids got a massive decline in grades or they started refusing to go to school, my instinct is to always say, "Oh, there's some anxiety going on. They're anxious. They don't want to go to school, they must be 'avoiding school' because of anxiety as a compulsion." Well, guess what? It could be depression, and let's make sure we assess these kiddos correctly. This is true for adults as well. If we're depressed, we don't want to go out, we don't want to go to the show on Friday night, we don't want to hang out with friends. That makes sense as well.
Depression With Somatic Symptoms
This is probably the most important one. Very common symptoms of depression include headaches, stomach ache, muscle pain, sore back. These are very common physical symptoms of depression and ones that we have to make sure that we aren't ignoring to make sure that they get the care. A lot of people go into the medical system complaining of physical symptoms only to find out that nothing is wrong and they can't understand it, and it could be depression. Not always—please always go and get a medical checkup—but it could be.
Depression Symptoms In Teens
All of the symptoms I've shared above could be present in teens as well. Like I said, these are not categories that are only just for these categorical lots of people.
General overwhelming sense of apathy
Commonly with teens is this general overwhelming sense of apathy like, "I don't care. I don't care about you, I don't care about me, I don't care about school." Often parents can interpret this as like, "Oh my god, my kid is horrible." But again, we have to make sure we're assessing for depression first.
Excessive guilt
I did have that as the mnemonic under O (only me to blame), but this shows up a lot in kids and teens—excessive saying I'm sorry, excessive apologizing, feeling hyper-responsible for everything that happens, feeling hyper-responsible for the social issues and drama that's happening at school, ruminating a lot about that. Again, this is common for anybody, very common for anybody with depression as well, but with teens, it really does start to spike.
Preoccupation with death or on death
Again, this could be true for other categories or any human being, but we do see it show up a lot in teens—a preoccupation on death regarding movies, music, shows, or books they're reading. Just really a heavy focus on things related to death or very dark, dark topics, aggressive topics. This can play out in many ways. Again, it could also be very normal behavior and that could be something that brings them great pleasure. But again, I'm only bringing it up because these are common unknown depression symptoms that you don't possibly know could be a symptom of depression. I think it's better to be educated than to ignore it and not know.
That's the 15 depression symptoms you may not know about. One thing to consider, and I did touch on this during the episode, is commonly we have to look at depression symptoms versus anxiety symptoms. The truth is, many of these are also symptoms of anxiety. Let's go through some of them. Anger, irritability, aggressiveness—true for anxiety. Sexual desire—true for anxiety, engaging in high-risk activities—true for anxiety. A need for alcohol and drugs—true for anxiety.
We do notice some perinatal symptoms and perimenopausal symptoms impact anxiety as well, but we're specifically weren't speaking to those today. But if we move into the kids category: outbursts, difficulty maintaining relationships, sensitivity to failure, frequent absences, somatic symptoms, guilt, apathy, preoccupation—these are also very common in anxiety.
What I want you to leave with today is this: Take everything you learnt today. I hope that this didn't create more anxiety for you. Just take it as knowledge. Take it as something you now know so that you can be an informed consumer, an informed patient, an informed client with your therapist so that you can know. I will say, if I'm speaking completely vulnerably, reading all the research I did made me very anxious because I have a close to teen child and I was thinking, oh my gosh, what happens if this starts to go down this track and looking at the statistics of suicide and so forth. It is anxiety provoking. But what I did in that moment—and if this helps you, I hope it does—is I said to myself, "Kimberley, you're better to be informed and practice not ruminating and doing mental compulsions about this and catastrophizing than you are to not know at all." Here I have an opportunity to practice all of the response prevention skills, the mindfulness skills, the self-compassion skills that I have in my tool belt and that you hopefully have in your tool belt if you've been a long-term listener here on Your Anxiety Toolkit. We're going to use those tools to help us manage this, but we're going to practice being an informed consumer here.
I hope this has been helpful. They are the 15 depression symptoms you may not know about and now you know.
Thank you, guys. I'm so happy to be here with you today. Stick around because some pretty exciting things are coming up. A lot of you know we had the mental compulsion series last year. This year, we are having a full sexual health related to mental health series that is just around the corner. It is going to be so incredible. I have some amazing doctors, psychiatrists, sex therapists, educators coming on to talk specifically with you around specific issues, around sexual health related to anxiety and depression. I'm so, so excited, so proud, and so honored to get to do this work with you.
All right, I'm going to hit the road. Have a wonderful day. It is a beautiful day to do hard things, and I'll see you next week.