This is Your Anxiety Toolkit - Episode 206.
Welcome back, everybody. How are we doing? We are on week 3 of the Self-Compassion Challenge. So welcome if you are new and you haven't caught up with our Self-Compassion Challenge. We are doing a 30-day Self-Compassion Challenge for everybody, so everyone can dabble in their self-compassion practice, maybe strengthen their self-compassion practice, and hopefully thrive with their self-compassion practice.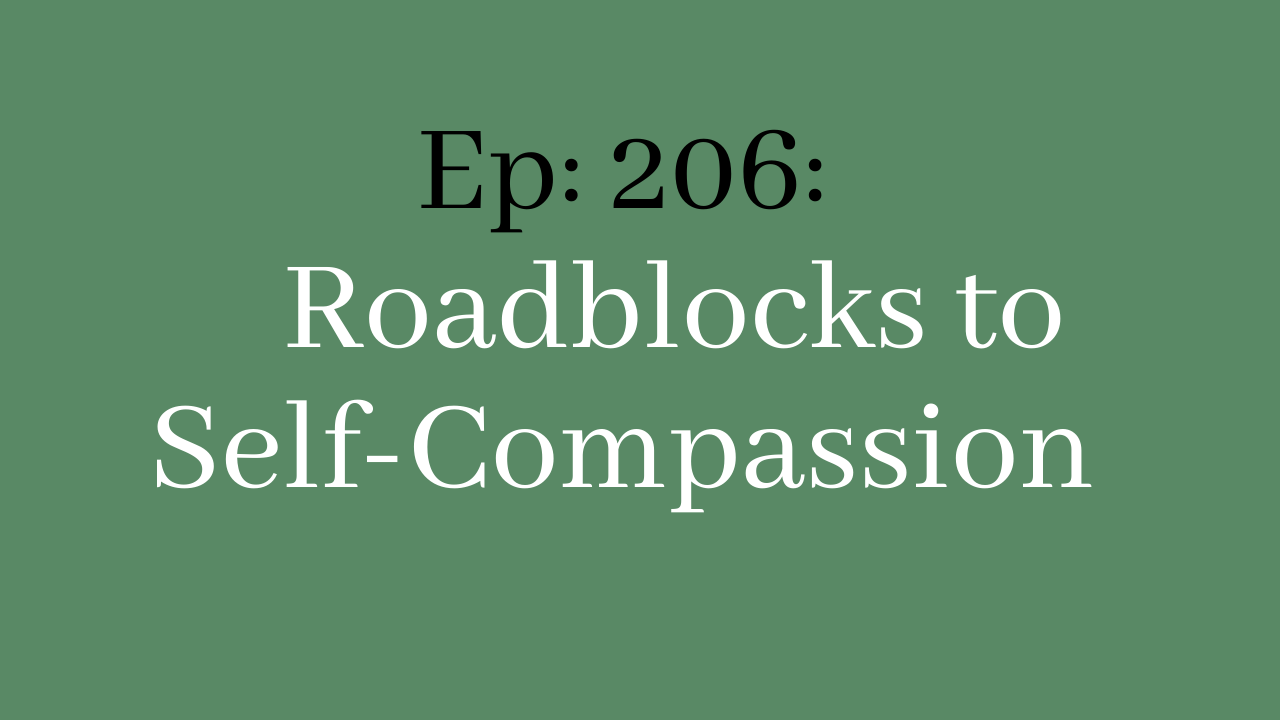 Today, we're going to talk about the roadblocks to self-compassion. Now, this is coming directly from my new book called The Self-Compassion Workbook For OCD. However, even if you don't have OCD, this will apply to you. I did a poll on Instagram with almost a thousand people who wrote in and polled on the biggest roadblocks that they're having, and I've compiled it. Thankfully, I used it in the book. The cool news is there were so many people who agreed on those top eight roadblocks. So I wanted to share them with you today. We're going to go through each and every single one.
But before we do that, I would like to first do the "I did a hard thing" segment. Now, for those of you who are new, welcome. The "I did a hard thing" segment is where you write in and you tell me the hard thing that you have done.
Today's is from anonymous, and they have said:
"I just got on a ship for a daily trip and I forgot to take with me my medication. I don't use the medication that much, but I do feel safe when I have them with me. This makes me anxious, but I am choosing to manage my anxiety."
How cool is that? Sometimes things don't go as we plan, and we have to rely on all of our tools and it sounds like Anonymous is doing that in an amazing way.
All right. I have been doing a review of the week for people who submit a review for the podcast. However, as I'm recording this, the reviews have started to come in for the book and I couldn't help myself but share the very first review for the book. It made my heart explode. I was taking a walk. My friend called me to tell me there was a review, and I basically burst into tears. So here we go:
"I've read a number of books on OCD in the past, but Kimberley's emphasis on self-compassion and its place in the ERP process is so, so refreshing and so very important. This is a must-read for anyone with OCD or anyone helping a loved one through OCD. It is a beautiful day to do hard things."
Thank you so much for that amazing review. The reviews literally are changing my life. Oh my goodness, I can't tell you, when you write a book, there is so much anxiety involved, at least there was for me. And so to have people enjoy the book is just literally the most amazing thing. The most amazing thing. I had no idea. Number one, total massive respect to any author of any kind. Writing a book is very, very hard. And so, I'm just honored to be able to help people in that format as well as this format, and in addition to CBT School and in my practice. What a joy.
All right. Let's get to the show.
Let's talk about the Common Roadblocks to Self-Compassion. Now, the first one is related to OCD. Like I said, if you don't have OCD, stay with me because the rest are really going to maybe resonate with you, but this one is very much hands down, was the number one roadblock people reported who have OCD to have a roadblock with self-compassion.
1. "I do not deserve self-compassion because of the content of my obsessions."
In the book, we go through each and every one of these in detail, but today I'm just gonna quickly knock each one of them out. So here we go.
Your obsessions do not determine whether you are worthy or deserving of self-compassion. The minute you say that, you're giving too much importance to your thoughts, feelings, sensations, and urges. So the big thing to remember here is, your job is to have these obsessions and not respond to them as if they're important, and to practice taking care of yourself, whether you have them or not, that this idea that you're not deserving of them is completely false. In fact, we talk a lot about calculations in the workbook. Some people like we have these weird algebraic calculations where we go, me + obsessions = undeserving, or me + intrusive thoughts = I'm a bad person.
I want you to keep an eye out for these little nuanced calculations that you have in your mind because they are dead wrong. Your thoughts are thoughts. Your feelings are feelings. Your sensations are sensations. You are not disqualified from being treated with respect and kindness because of them.
2. "I am not worthy of self-compassion because I have a mental illness."
Now in the book, we use a case study where we talk about this idea of stigma around mental illness. I really want to urge you, as I do in the book, to start to break this belief that there is anything wrong with you for struggling with a mental illness. We have to be the change here. We have to lead by example.
If you have a mental illness and someone has shamed you, or you've experienced the stigma of that, your job is to be the change by treating yourself how you would treat anybody else who was struggling with a mental illness. And that would be with kindness and respect and care and nurturing.
You're not disqualified, again, because you have a mental illness. There is nothing wrong with having a mental us. That doesn't mean you're less worthy, less valuable, less successful, less lovable. We have to break through all of those faulty beliefs we have around mental illness because it's no different to a medical illness.
In my belief, the more you suffer, the more you tend to that suffering with kindness. It's not like, oh, well, some suffering is okay. We'll give some of my suffering kindness, but not the ones with mental illness because society has told me that there's something wrong with that, which is absolutely incorrect.
3. "I am too preoccupied with anxiety, panic, and uncertainty to practice self-compassion."
This is a common one, and I fall into this category as well. Sometimes when we're anxious, we rush too much, we speed along, we try to push it away, and we don't stop to go, "Wait, maybe I could be just kind. Maybe I could just be really gentle with myself while I feel anxious. Maybe I could slow down and tend to my anxiety." Maybe that's the answer instead of trying to push it away or have it be gone, because that is the answer.
4. "It feels wrong to practice self-compassion."
Now, this is a really good definition of what we would call "emotional reasoning." It goes under the cognitive distortion that, just because I feel it, it must be true.
Now, just because things feel wrong doesn't actually mean they're wrong. It's often because you've been taught for many years based on society or your family about what's right and wrong, and we've never stopped to question, is that even true? Because it's not wrong to practice self-compassion. In fact, it's effective to practice self-compassion. It's helpful to practice self-compassion.
We've already sort of declared you're worthy and deserving of practicing self-compassion. So your job is, even though it feels wrong, do it anyway. Do it anyway. It might feel awkward and weird to start with, do it anyway. It might feel bizarre and self-centered, do it anyway. That's what we want to do.
5. "Self-criticism and self-punishment are how I motivate myself."
Whoa, this one is so strong for some people. So many of my patients and clients have told me in the past, "If I don't beat myself up, I'm going to turn, you know, it's the only way I get myself to do things." And I often say, "Okay, maybe that's true. It might work. You might find that self-punishment and self-criticism does motivate you. But is there possibly a more effective way? Is there possibly another way that you can motivate yourself? And yes, self-compassion can be used as a motivational force. Is there another way you could do it that actually doesn't create more problems?"
In the book, one of the main concepts I talk about is compassionate responsibility, which is where you honor what your needs are, and sometimes that you do need to get things done.
So you practice motivating yourself using what we call a kind coach voice instead of a critical voice. Both have the same outcome. Both are motivational. One tends to bring you down and the other one tends to cheer you on and make you feel empowered. Let's choose the latter. Let's choose the voice that says "You can do it. Keep going. You've got this. Keep trying. It's okay that you fell down. Just one minute at a time, get up and keep trying," instead of the critical voice and the punishing behaviors and voices.
6. "What if self-compassion makes me lazy?"
This goes together with the last one. A lot of people are afraid that if they're self-compassionate that they'll just become some sloth that doesn't do things and lets themselves go. I'm here to say, no. If that's what happens, that's not self-compassion anyway.
Self-compassion is doing what you need to live a good life. It's not letting yourself off the hook all the time. Sometimes it can be to say, "You've had a rough day, it's time to rest." But a lot of the time it's saying, "Yeah, you've got some hard things to do."
Let's be so gentle and so encouraging of you as you do those hard things. The whole phrase "It's a beautiful day to do hard things" is a self-compassionate statement. You just didn't know it yet. We didn't call it that, but that's what it is.
The thing to remember here is, maybe you want to check your definition of lazy and weak. For me, this has been a huge part of my recovery, especially having a chronic illness and mental struggles. Is taking time off to rest really the definition of weak and lazy? No, it's just what human beings do. Humans need to rest so that they can restore themselves to go and do amazing hard things. Sometimes we're taught to believe that you should never rest, and you should never be lazy. And so you don't give yourself that basic need of restorative rest. So, so important.
7. "What if practicing self-compassion makes me snap or lose control?"
Now, this is a big one, particularly for people with anxiety. This comes under the misconception that we must constantly brace ourselves for the worst. We must constantly be hypervigilant and hyper-aware of all the possible dangers. And so we have to constantly be scanning for danger, looking for danger, what's going on, what could go wrong. We know, number one, that that's compulsive in nature. It keeps you stuck in anxiety. But it also is a block, a roadblock to your ability to tend to your suffering, tend to the sensations that are uncomfortable, the feelings that bring pain to you.
So an exposure, we want to actually practice not engaging in those hypervigilant behaviors and practice being uncertain on whether you will snap or not, or lose control or not, and just tolerate the uncertainty of that. Sometimes self-compassion is an exposure in and of itself because when you're practicing self-compassion, you're not engaging in those compulsive rituals that keep you stuck in that cycle. It's really, really cool that it can be both an emotionally intelligent behavior, but also be an exposure. It's like to bang for your buck, I guess.
8. "Practicing self-compassion makes me self-centered."
Now, we've had amazing guests on the podcast who have addressed this, but I will address it again. Being self-centered is not the definition of self-compassion. Self-centeredness is this idea that we're egotistical and everything has to be about me and so forth.
What I have found in my own practice is, the more self-compassionate I am, the more I'm able to tend to other people's needs and be aware of other people's struggles and difficulties because I'm connected to my suffering. The more I am aware and meet my suffering, the more I can acknowledge and be in relation with other people when they're suffering. I can sit with them and go, "Yes, me too." I can tend to their pain without having to make it about me because I'm there for myself. I don't need other people to make it about me anymore because I have already tended to my needs. I have unconditionally been there for myself, so I can be there for other people. It's so, so important.
So that is the top 8. In the workbook, I have room for others. There's lines where you could add your own and you might find you have your own roadblocks. They are valid too. Identify them and keep an eye on them.
The main work here is once you catch them, and you know they're happening, you can then move on to dismiss them and correct them and move towards tending to your discomfort, being kind while you ride the waves of uncertainty and anxiety and discomfort. It's so, so important. It's so, so important.
Let me go right to the top. You deserve this. YOU. Yes, you. I'm talking directly to you. I'm looking you right in the eye. I'm going to conclude this episode by saying YOU DESERVE SELF-COMPASSION.
You are valuable.
Your pain matters.
You deserve kindness and respect and tenderness in your suffering. Your suffering is important. It's not irrelevant. It's not silly. It's not childish. It's important. You deserve to tend to that kindly. I'm talking to you right now. I hope you're listening.
All right, folks sending you so much love. I hope that you're finding this Self-Compassion Challenge helpful.
Continue to follow on the lives on Instagram. That's where we're doing tons of live work. Continue to look at the emails. If you're not signed up for the newsletter, please do. You can go to cbtschool.com and click on Resources and we can sign you up there. Or you can click on the show notes, we have links there where you can sign up and you will get all the challenges that you need for each day and each week. They're Monday through Friday, we take the weekends off because that's the self-compassionate thing to do.
All my love to you. Really go and be gentle. Go and be kind. Go and honor and respect your own experience. It's so important.
I'll talk to you soon.