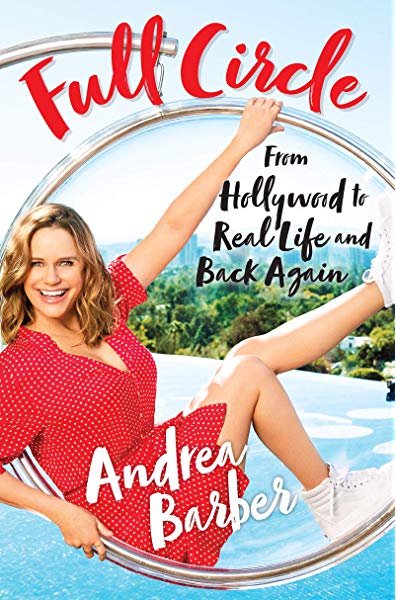 In this beautiful episode of Your Anxiety Toolkit, I speak with the amazing Andrea Barber about her new book, Full Circle: From Hollywood to Real Life and Back Again. In this interview, Andrea shares her experience with anxiety, panic and mental wellness. She shares
why she wrote this book and her hopes for this memoir.
In her book, Andrea Barber shares, "To fans, I've always been synonymous with my character, since most people don't know me in any other role. But now, I want you to accept the real me . . . and the fact that I'm nothing like I appear on TV. To know me is to realize that I am very flawed, and I have many shortcomings and insecurities. By sharing them with you, you may recognize things in yourself, and discover that you and I are not so unalike after all. For once, it will be nice to share Andrea with the world."
Andrea shared what it was like having a huge support system, but still feeling completely alone with her anxiety, panic and depression. Andrea spends some time talking about how her anxiety manifests in stomach related symptoms. She also tells us about the process of accepting the application of medication in her wellness journey and her experience with the side effects of medications.
I just adored when Andrea shared what she learned about herself since going through her mental health journey and her new reflection on mental illness and mental wellness. One of my favorite lines from her book, she shared "It's actually very empowering to think about: I have the power to change my life".
One of the coolest things about Andrea Barber is her passion for speaking about suicide prevention and awareness. You will just adore the advice she gives. And finally, her most impactful message is this: "The most important thing perspective has taught me, and what I want to tell anyone out there who has been made to feel too broken to love, is that your illness does not define you."
Isn't she just incredible?!

Andrea's book
https://www.amazon.com/Full-Circle-Hollywood-Real-Life/dp/0806539887
Follow Andrea on social media @andreabarber
If you would like to apply for the 3rd annual UK OCD Camp please visit theocdcamp.com
• Applications close 19th January
• Interviews (15 mins) – W/C 27th January
• If selected payment due by 1st March