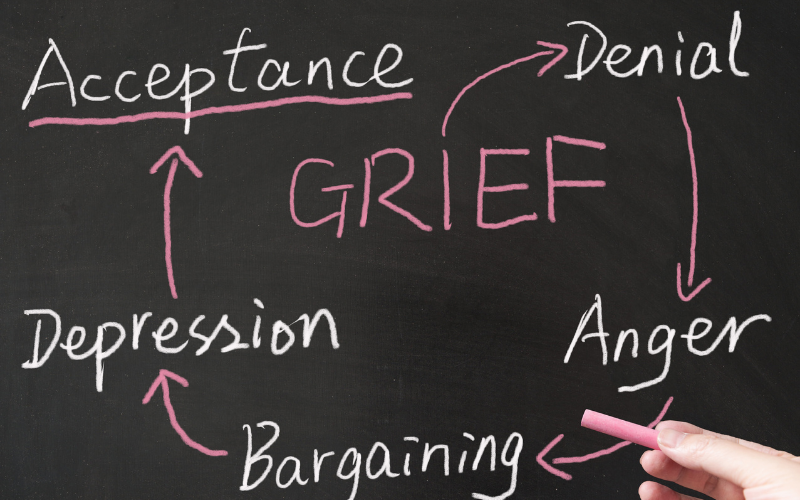 Welcome back to another episode of Your Anxiety Toolkit Podcast. Today we are going to be talking about a subject that I hope will resonate with a lot of you. We are going to be discussing the stages of grief because I really want to normalize the experience of grief and give you all permission to grieve what we are collectively going through right now.
The stages of grief were first identified by psychiatrist and researcher, Elisabeth Kubler-Ross. The first stage is denial. You may deny that the event happened, or deny your feelings, or you isolate away from people so that you don't have to talk about your feelings. The second stage is anger. You are grieving the loss of something and that makes you angry because it feels unfair. You may be angry about coronavirus or the loss of a loved one or maybe even your mental illness. The third stage is bargaining. You may do an analysis of the event and then start to go into a negotiation process in your mind. "If only I hadn't done this, it would have been better." The fourth stage is depression. In this stage, things feel really hard and you deeply grieve and have a deep sense of sorrow. The fifth stage is acceptance. In this stage, you come to an acceptance of the situation. You start to reintegrate into your life and begin to move on. There is a final stage that has also been described called the making meaning stage. In this stage, you try and give your grief meaning by turning your pain into purpose.
These steps are here to help you acknowledge the normal experience of grief. So often people have these feelings and are not quite sure what it is, which can make the experience far worse. I want you to remember that these are normal processes that we go through during life. With life, there is loss. Your job is to be your own most compassionate, supportive friend as often as you can and as unconditionally as you can.
I hope that you are finding some peace and joy in these very difficult days. If not, just keep reminding yourself that is a beautiful day to do a hard thing, and this is a very hard thing that we are all doing right now so please give yourself tons of grace.
ERP School, BFRB School and Mindfulness School for OCD are open for purchase. Click here for more information.
Additional exciting news! ERP School is now CEU approved which means that it is an accredited course for therapists and mental health professionals to take towards their continuing education credit hours. Please click here for more information.