Welcome back to another episode of Your Anxiety Toolkit Podcast. Today I want to share with you the 5 mindfulness tips that I use with my clients to help manage symptoms of anxiety and depression.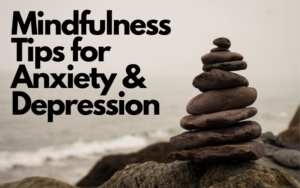 The first tip is to observe. Instead of taking thoughts as fact, try simply observing your thoughts. An example may be "I am having the thought that bad things may happen." The second tip is to be curious. If you are able to be curious, you can actually change the narrative. Instead of being rigid, try being open to other possibilities. The third tip is to leave judgment behind. We often make the statement that our thoughts and feelings are wrong. Instead leave out the judgment and try "I am noticing this feeling is making me uncomfortable." This brings you back to a place of objectivity. The fourth tip is to be present. Bring your attention back to the present moment. Try to not focus on the past or the future. The fifth and final tip is to catch the stories you tell yourself. Be very careful when you say things such as "I can't handle this." Try to reframe that statement with "I can tolerate the discomfort." or "I can do hard things." I hope these tips have been helpful to you. I know that I find them incredibly helpful and use them often myself and with my own children.
If you get a moment, please go over to wherever you listen to podcasts, whether that be Apple Podcast, Stitcher, Spotify, Podbean, and leave an honest review. Tell me how you feel about it, whether it's helping you, what you'd like to see. We are going to give away a pair of Beats headphones of your choice of color once we hit a thousand reviews!
ERP School, BFRB School and Mindfulness School for OCD are open for purchase. Click here for more information.
Additional exciting news! ERP School is now CEU approved which means that it is an accredited course for therapists and mental health professionals to take towards their continuing education credit hours. Please click here for more information.