This is Your Anxiety Toolkit - Episode 203.
Welcome back, everybody. Today's episode is all about why it is so important that we expose ourselves to our fears. It's one of the most common questions I get asked from my clients, right? Which is, why do I have to do this hard work? Why? Why of all the treatments is mine the one where I have to face my fears. Because my clients ask this all the time, I wondered whether you needed a quick pep talk just to get you back on track, to remind you why and to motivate you towards facing your fears, because it is probably the most valuable change of behavior that you will do.
Welcome back. I am so happy to have you here with me today to talk about that specific topic. Before we get started, I would like to quickly dive in to really set the scene today. We're going to talk about the hard thing, the "I did a hard thing" segment.
Today's hard thing is from anonymous, and they have submitted saying:
"I haven't drank coffee for over two years since my OCD breakdown because I was too scared. But today, I went to Costa and I had a caramel latte. I got heart palpitations for a few hours, but I sat with it.
This is exactly what I'm talking about. So, Anonymous, this is so good. I am so proud of you. This is the work that we do. And I'm going to use Anonymous' example here throughout the podcast to really tie this together.
All right, one more thing before we get moving, I want to do a shoutout to the review of the week. This one is from Hahajack, and they said:
"This is the best short therapy lesson. This podcast is amazing! I love that episodes are short and succinct. You can't say that you don't have time when episodes are as short as 10 to 30 minutes. If you are struggling with OCD or anxiety, this is a great podcast to listen to for extra therapeutic support in addition to therapy. I treat OCD and I learn so much every time I listen to Kimberley's podcast."
Thank you Hahajack for that amazing review. We are still doing the drive for reviews. So if you can go over to Apple podcast, leave us a review or wherever you listen. Once we hit a thousand reviews, we're giving a free pair of Beats headphones. I cannot tell you how much I love, love, love, love your reviews. Thank you. It helps me help more people reach more people. And that's what I'm here to do. All right, so let's get to the meat of this episode, right?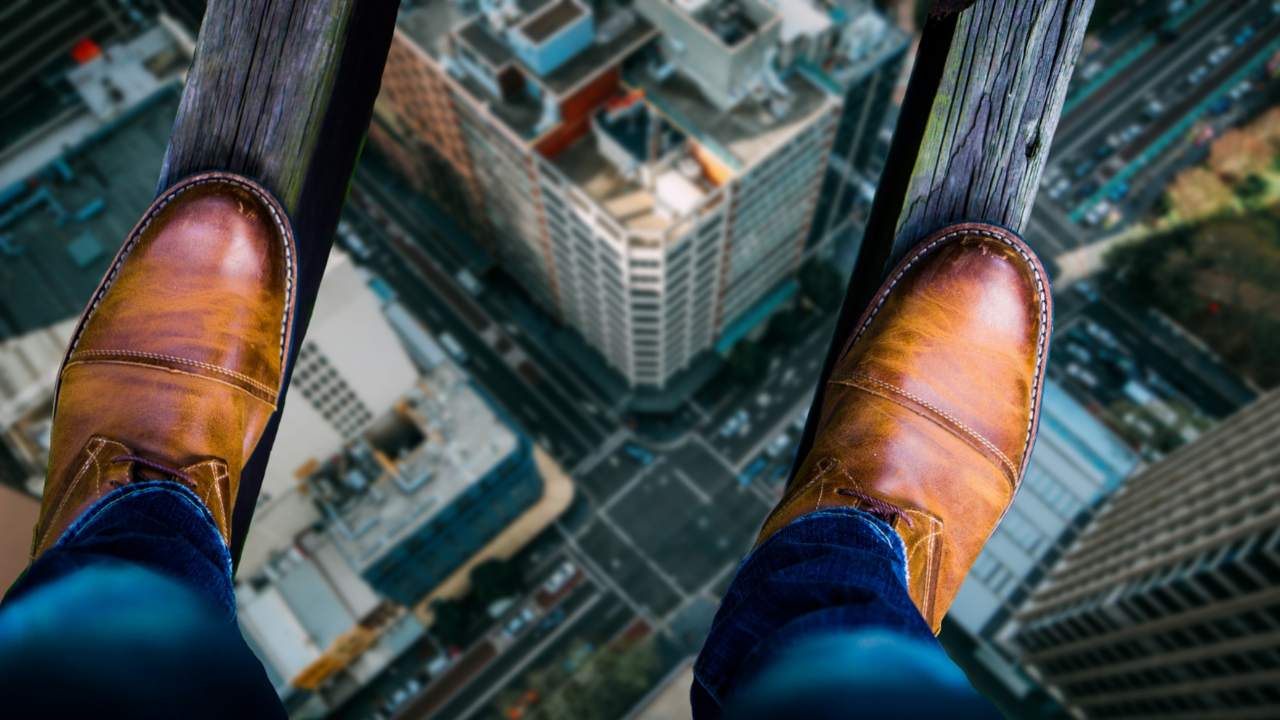 I, in the past – I think it's Episode 86 – did a whole episode called the Science of Exposure and Response Prevention. You can go back and listen to that episode once this is done. We talked about the science behind ERP, and I'm going to be using a lot of that reference to talk about why. Why do we stare fear in the face?
Instinctually, when we have fear – I'm just going to give you a quick education here – when we experience fear and our brain sets the signal off to say, "There might be danger, there might be trouble, please be alarmed," – when the anxiety hits our body and our cognitions, our natural instinct is to remove ourselves from the perceived danger. And that has kept us alive. It is an important process that we humans have and other animals have. It's an important piece that keeps us alive, like I said.
The problem is, that behavior, the removal of anxiety, the avoidance of the thing that created the anxiety is only effective if the danger is imminent, not just a thought about a possible danger, right? And so, if, like I said, there was a real thing that was happening in your life that is dangerous, yeah, you may want to remove yourself from it. But if you have a brain that's anxious like mine, where your brain sets off alarms quite often telling you, "Ring, ring, ring, something bad might happen. Ring, ring, ring, the future may have some problems. Ring, ring, ring, you're a bad person," and so forth – when we instinctually try to remove that, we actually reinforce the fear, the faulty fear. We reinforce the thought, right? And then what we are in a cycle of is thought, reinforcement of thought, thought, reinforcement of thought, thought, reinforcement of thought.
The whole reason we choose to face our fear is to break that cycle, right? If you have a thought about imminent danger or threat, and you respond to it as if it's important, your brain will continue to perceive it as an important and an imminent threat. If you have a thought about something that is imminent and dangerous, and you don't respond to it as if it's imminent and dangerous, your brain starts to learn not to set that alarm every time you have that thought. Your brain learns not to ring the alarm bell and send out all those anxiety hormones throughout your body. Right? And that's how you break the cycle. And we do that by – if you just happen to have the thought, you could do that by being aware that you're having the thought, observing the thought, and then not engaging in the avoidant or reactive behavior, right? That's hard, right? It's doable, but it's hard, right? Because you have to be aware and you have to be very mindful and you have to have a lot of motivation in that moment. I still strongly encourage you to try that and practice it every single day.
But what we can do to really help that process is, instead of waiting for the thought and then practicing not just engaging in that thought as if it's real and imminent, what you can do is purposely expose yourself and purposely bring on those thoughts by facing your fears. Right? Think of it like, you wouldn't just show up to a football game or a tennis game or a track and field event and just run and hope that your body will keep you going. No, we don't do that. When we know there's an event happening, we train for it. In a situation, we simulate the scenario, right? So we simulate the track and field event, or we simulate the soccer practice so that you can practice strengthening those muscles.
This is why it's so important that we choose to expose ourselves to our fears on purpose. You're training your muscles to respond differently. When it does have a thought, your brain's going, "Oh, she actually purposely had that thought yesterday. So maybe I don't need to set off the alarm bells this time. Maybe it's not as imminent as I originally perceived it to be." That is why it is so important that you expose yourself to your fears.
Now, like I said, there's lots of science behind that. You can go back and listen to the episode – it's number 86 – to get a little bit more, right? But the thing here to remember, and I always try to remind you, is it is hard. This isn't easy, right? So what you want to do is, as you go to face your fear and expose yourself to your fear on purpose, you want to keep in mind for yourself your own why. Why would I purposely do this hard thing?
We could use the example here of the hard thing, right? They wanted to have a caramel latte. They don't want to feel uncomfortable, but they want the outcome. They want the delicious, warm caramel latte, right? For you, be really clear on what you want to get back by facing your fear. Sometimes it's more time with family, it's to be able to get to work and not have to manage mental compulsions with work. For some people, it's to be able to get through school without having to double-check your work. For some people, if you have an eating disorder, it might be so you can be with friends and have freedom around food. If it's panic disorder, it might be so that you can do the things you want to do without panic-making your choices, right? If it's hair pulling and skin picking, it might be so that you can do your normal grooming without engaging in these behaviors. Right?
So there's so many reasons why we would practice facing your fear. And I want to give you this call to action, which is, get really clear on what you want, how you want your life to be. Identify what things you're going to need to face in order to get that life. And then go and face those fears. That's exposure and response prevention in a nutshell. In a nutshell, and it might feel really silly. You might be thinking, oh, I've got to do so many steps just to be able to get out the door or go to school, or to be able to have a dinner party or even get out of bed. Okay, that's all right. Break it down into small baby steps. For every time you face your fear, you're strengthening that muscle of being able to tolerate discomfort.
It's so important. It's so empowering. It's why I always say, it's a beautiful day to do hard things, because it's a total flip flop on what your natural brain wants to do, your instinctual brain, which is, it's a beautiful day to run away from hard things. So really remember that. It is a beautiful day to do hard things. Really think about what you want to be able to do with your life. Write down what fears you'd need to face to do that, and then go and face those fears. That's what I'm going to encourage you to do.
That being said, I, myself, am about to embark on a very, very hard thing, which is the exciting news. I'm almost done with this episode. I'm going to drop you my exciting news, which is the book, the Self-Compassion Workbook for OCD comes out literally next week. You can go to wherever you buy your books to get it. It's called the Self-Compassion Workbook for OCD. It is literally the example of facing your fears. I have quite a large degree of anxiety about this, but I am going to face it every step of the way.
That being the case, because I am so insistent on facing my anxieties about it, sort of feels like I'm putting myself out there a lot – next week, I am going to announce an exciting, what would we say celebration of the book. It is going to be a month-long celebration. I hope you come along for the ride. In order to really benefit from this celebration, you will need to sign up for the newsletter because I will be sending tons of resources for you. I'm going to try and get you to engage in self-compassion like you have never done before. I want to use this as an opportunity to teach you and deep dive into the practice of self-compassion like you've never done before. You can go at your own pace. I strongly encourage you to sign up for the newsletter. You can go to cbtschool.com to sign up and it will give you tons of information. But next week's episode, I'm going to tell you all about it, and I am so excited. So, so, so excited.
If you want a ton more information, you can go and follow me on Instagram. I'm going to be doing a ton of lives, talking about the book, reading through the book, showing you some of the exercises. I'm just so excited. I'm almost a little too excited. I'm probably going to burn out midway, but I'm going to do my best not to do that. But please do stick around. I cannot wait to share that with you. I will give you all the information next week. Yeah, so excited. And go ahead and get the book if that's something that would be beneficial for you.
Well, that is all I have to say for today. That is the core of this podcast – facing your fears compassionately, willingly, in a joyful way. Even I encourage you to make it in any way possible, joyful. That is what I want you to do, and I'm really so excited to hear all of the hard things that you guys are doing because that's what we're here for. If that's the one big impact I can make in my career, I'm going to be a happy camper.
All right. I am sending you so much love. I hope you are well. It is a beautiful day to do hard things. I love you so much. Take care of yourself and I will see you for a very exciting episode next week.The Self-Compassion Workbook for OCD is here! Check the link HERE for more information.