This is Your Anxiety Toolkit - Episode 207.
Welcome to Your Anxiety Toolkit. I'm your host, Kimberley Quinlan. This podcast is fueled by three main goals. The first goal is to provide you with some extra tools to help you manage your anxiety. Second goal, to inspire you. Anxiety doesn't get to decide how you live your life. And number three, and I leave the best for last, is to provide you with one big, fat virtual hug, because experiencing anxiety ain't easy. If that sounds good to you, let's go.
Welcome back, everybody. This is a really exciting podcast today. We have back on the show the amazing Kristin Neff. Now, as you all know, we're doing a 30-day Self-Compassion Challenge and it is the perfect time to bring on Kristin Neff, who has written a new book called Fierce Self-Compassion: How Women Can Harness Kindness to Speak Up, Claim Their Power, and Thrive.
Now, while the book is directed towards women, it actually is for everybody. So, we're speaking today in this interview about fear self-compassion and it's for everybody. It's particularly valid to those of us who are struggling with anxiety and have to really work hard at facing fears every day.
I am so grateful we got to have Kristin on. She had so many beautiful things to say. If you like the episode, please go over and purchase her book. She too has a book out and again, it's called Fierce Self-Compassion, and it might help you really deep dive into this practice of fierce self-compassion.
Before we get over to the show, let's talk about the "I did a hard thing" segment. This one we have is from Eric, and he has said:
"I've been working on my anxiety about the heat by spending every day I can in the sauna of my gym. I work up a good full-body sweat, and it feels so uncomfortable, but I stick with it knowing it will pay off."
Eric, this is so amazing. What an amazing way for you to stare your fear in the face, practice being uncomfortable. I love it.
In addition to that, let's move right over to the review of the week. This one is from Emily. Emily says:
"Kimberley consistently shares a genuine compassion across all of her podcast episodes. She's been a source of encouragement on my journey with OCD, anxiety, and depression because her message remains one of the consistent self-compassion while sharing a realistic perspective and the reality of mental health struggles."
Thank you so much. You're so welcome, Emily. I am just so honored to be on this amazing path with you all doing such amazing hard things and really doing the hard work. It's really an honor to hear these stories and hear the hard things you guys are doing.
That being said, let's move over to the show again. Thank you so much, Kristin Neff, for coming on. I just found this episode to be so deeply helpful with some profound concepts and I can't wait to share them with you.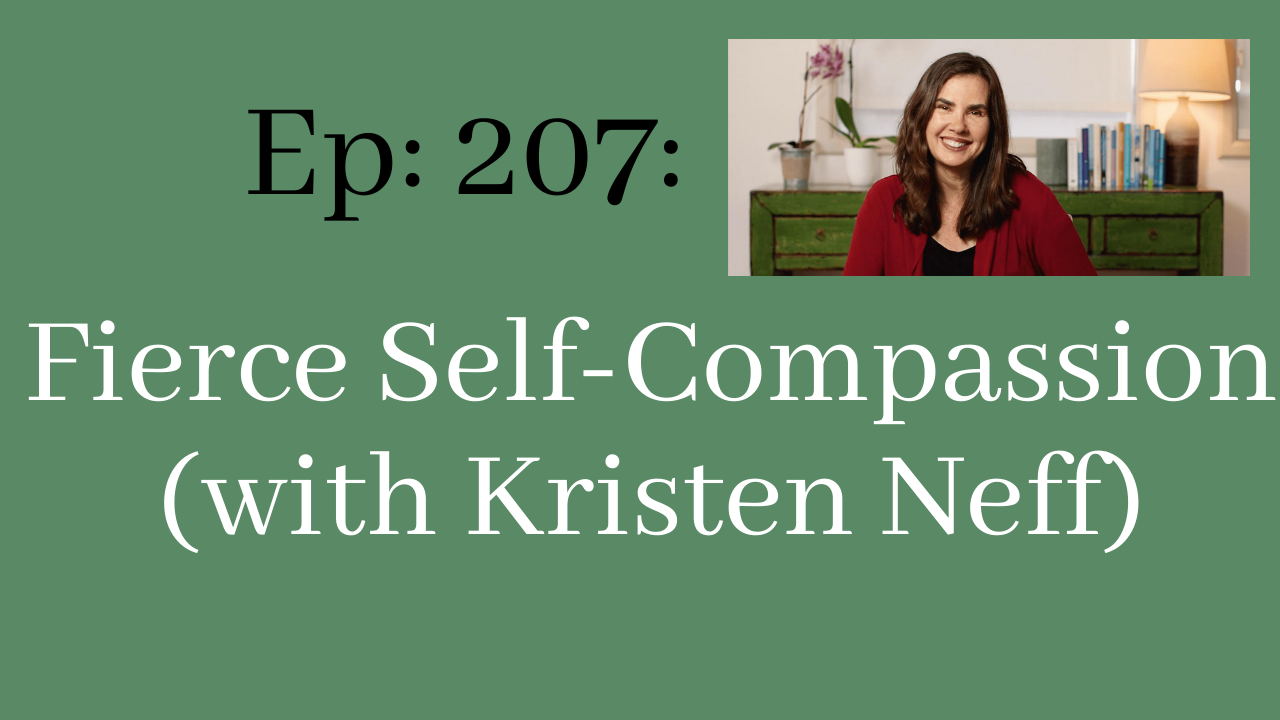 Kimberley: Welcome. This is an honor to have with us again the amazing Kristin Neff. Welcome.
Kristin: Thank you for having me. Happy to be here with you again.
Kimberley: Yeah. You have a new book out, which is by far my favorite. I am so in love with this book—Fierce Compassion. Yes. I actually have mine on my Kindle, so I was holding it up, going, "Look, it's right here."
Kristin: Thank you.
Kimberley: I loved this book. Thank you for writing it. This is so important for our community because you're talking about how to use compassion in I think ways that we haven't talked about before and is so important for those people who are suffering with anxiety or just any kind of severe mental illness or struggle. Can you tell me exactly what fierce compassion or fear self-compassion is?
Kristin: Yeah. Well, self-compassion, in general, or compassion in general is concerned with the alleviation of suffering. It's a desire to help. It's the desire for well-being of others, and then self-compassion is of yourself. There are really two main faces that it has, the two main ways that it can express itself. There's tender self-compassion, which is really important, which is about self-acceptance. It's about being gentle, more nurturing, warm with yourself, soothing yourself when you're upset, really offering support, being with yourself and all your pain and all your imperfection, and really accepting a kind way. This is a hugely important aspect of self-compassion because most of us don't do this. Most of us think we aren't good enough or we criticize ourselves. We're really harsh with ourselves.
This is huge. But it's actually not the only aspect of self-compassion. Sometimes compassion is more of a gentle, nurturing energy, almost like you might say a mother. Metaphorically, a mother or a father, but a parent. Fear self-compassion is more like mama bear, like fierce mama bear. In other words, sometimes in order to alleviate our suffering, we need to take action.
Acceptance isn't always the right response when we're suffering. For instance, if you're in a situation that's harmful, maybe someone is crossing your boundaries, or someone is harming you in some way, threatening you in some way, whether it's society. Maybe it's racism, sexism, or some sort of injustice, or whether it's yourself. Maybe you're harming yourself in some way. Although we want to accept ourselves as worthy people, we don't necessarily want to accept our behavior.
And so sometimes we need to take action to alleviate suffering. So, that could either be protection against harm. Sometimes it's providing for ourselves. This is especially for women, women who are told they should always self-sacrifice, they should always meet others' needs. Actually, sometimes for self-compassion, we have to say, "No, I'd really love to help you, but I've got something I need to tend to for myself." So taking action to meet your own needs. And then also motivating change. It's not self-compassionate to let behaviors or situations slide that are not healthy. So, really taking the action needed to motivate healthy change. But it comes from encouragement, not because "I'm unacceptable unless I change."
The tender and the fear self-compassion, they go hand in hand. I like to say it's like yin and yang. We need both and we need them to be in balance. If they aren't in balance, it's a problem.
Kimberley: Now this is so good because my first question was how to get it into balance, right? I love in your book, you have a little questionnaire. You fill it out, is there balance, and what side is that all? But can you share how people may get some balance if they're finding they're doing one of the other?
Kristin: Yeah. It's a tricky question, right? Because sometimes we don't know, but we need to ask. Really the quintessential self-compassion question is, what do I need right now to be healthy, to be well? And just pausing to ask that question is huge. Usually, we're just doing our daily routine or we're striving to reach these goals that people tell us we need to reach. We don't even stop to say, "Actually, what do I really need to be healthy and well?" So asking that question is huge. And then you may not get it right at first. You may think, oh actually I thought I needed that, and I don't.
Really self-compassion is a process. But it helps to know the different types of self-compassion. You might say, "Do I need a little tenderness right now? Do I need some acceptance? Do I need some softness and gentleness? Do I need to kick in the butt? Do I need to get going? Do I need to stand up? Do I need to speak up? Do I need to say no to people? Maybe I'm giving too much of myself in order to find balance." You really just have to ask yourself the questions. It's really the process of being committed to yourself that you're going to do the work necessary to be healthy and well.
Kimberley: Right. You've outlined so many pieces of this puzzle, right? Particularly, and this is why I was just-- I think I reached out to you months before your book came out because I just wanted to hear your opinion on this. For people who are struggling with the inner bully, whether that be the disorder they have, or they're just very self- critical, it can be really hard to stand up to that. Almost feeling like it's just impossible. I've heard people saying like, "This is just who I am. I'm just going to have this voice." I'm wondering, you might maybe share where would somebody start with this practice?
Kristin: Yeah. And then we also need to get in the different parts of ourselves, right? Because the inner bully, that's a part. We also have a part that's compassionate. We also have a part that feels bullied by the inner critic. So, we've got the person who's pointing their finger. We have the person that feels the shame. We've got all these different parts of ourselves. And really all of them need to be treated with compassion, but how that compassion manifests is going to be different.
For instance, I have a compassionate motivation exercise in there, where sometimes what we need with an inner critic is we need to thank it. "Thank you for trying to help me." This may be the only language it has to try to help us, and it needs to feel listened to and heard. "Thank you so much for trying to help me." It's actually not been that helpful, but I appreciate your efforts. That's almost using more the tender self-compassion for the inner critic. But sometimes it needs the standing up. It's like the mama bear, like, "I'm sorry, I'm not going to listen to that anymore. You can't say that. It's not okay. I'm drawing a line in the sand." So that's part of it.
But then also, we don't want to forget having compassion for the part of ourselves that feels criticized. People who say the inner critic, that's just who I am. Well actually, who they are is, there's a part of them that hurts from the inner criticism. There's a part of them that feels compassion for the pain of that. There's a part of them that's trying to help, keep themselves safe through criticism.
Inner critics don't operate really to try to harm. They operate to try to help to keep us safe. I've talked about a lot in my book, my son has very harsh self-criticism and I can see he really believes-- by the way, I'm just going to turn this off. Sorry. It's going to be cooking for me the whole time.
Kimberley: No problem.
Kristin: My son really believes that if he's hard with himself, somehow, it's going to allow him to get it right not make mistakes. So, usually, our inner critic, some part of it believes that if we're harsh enough with ourselves, we'll get it right not make mistakes. And that's the safety behavior. So, we need to have compassion for that safety behavior at the same time that we don't want to be railroaded by it.
It is complex. The human psyche is complex. Pretty much the answer is always compassion. But what form that compassion takes just depends on what the situation is. There's no one-size-fits-all.
Kimberley: And I think that it's so important that you're addressing both the yin and the yang side. Because there are times when, let's say somebody's struggling with incredibly painful intrusive thoughts related to their OCD or their disorder, where they need to really just go, "Wow, this is so hard for you. I'm so sorry you're going through this." But there are other times where you have to be like, "Nope, we're not doing this today. We're not going to go down that road today." So, I think it's beautiful that you're bringing that Together.
Kristin: It's funny, I have to use both sides with my son. He has both autism and OCD, as I was telling you, and anxiety just to make things fun. But sometimes what he needs is he needs my warmth and compassion. Just that caring, that tenderness. He knows always the bottom line is unconditional acceptance. But sometimes they need to draw boundaries. He's learning to drive, for instance, and he started having an episode while he was driving and I'm like, "No, you cannot do this while you're driving. It's not safe."
Part of them doesn't have the ability to stop it, but part of them does. So, it is complex. Sometimes I need to appeal to that part of them that does have the ability, at least temporarily, to say, "I'm not going to go there. You need to choose. You need to stop up." Sometimes I say it almost really firmly and it shocks him, and it actually helps him to stop. So, it's complicated.
Kimberley: It really, really is. Now, it's interesting because you and I were talking before, and I want to touch in because the first part of the book-- the book is directed specifically to women, but it also is addressed to anybody, I think.
Kristin: Yeah. All people live both yin and yang. The reason I do it for women is because women are so socialized not to be fierce. And that's partly patriarchy. Women have been kept in their place by not getting angry or not speaking up. So, that's why it's written for women. But a lot of my male friends have read it and they say they get a lot out of it because first of all, all the practices are human. They're for all people, not just women.
Kimberley: Right. But the reason I loved it is you did speak directly to getting angry, right?
Kristin: Yes.
Kristin: There's a lot in the front about getting angry. Is it helpful? Is it not? Do you want to share? I mean, I think a lot of people who are anxious are afraid of their anger or are afraid of that. So, do you want to share a little bit about how people can use these practices for anger?
Kimberley: Yeah. Well, because part of the whole messaging of the book is anger communicates expression of compassion. Again, think of fierce mama bear, that ferocity, and think of someone who tries to harm someone you loved. There would probably be this arising of anger that comes up to protect.
Anger is a protective emotion. Now again, anger can be problematic for sure. It's very easy. What's the difference between helpful and unhelpful anger? It's dead simple. Helpful anger alleviates suffering, unhelpful anger causes suffering. We know it can do both. But anger should not be undervalued as an important source of protection and compassion. It energizes us, it focuses us, it gives us energy, it suppresses the fear response, especially with people with anxiety.
It's funny, my son is afraid of dogs. It's one of his anxious things. I taught him very early on that when a dog is threatening him to rise up and yell at the dog and flop his arms, scare the dog. He does that. It's funny, it also helps suppress his fear response for the dog when he does that because he's basically getting angry and yelling at the dog to back off. I have to say sometimes he overuses it, like he's done that with poodles at the park. I'm like, "Poodle is not a threat. Poodle will survive." In his mind, the poodle is a threat.
So, being able to call on that fierce energy, one of the things it does is it does suppress the fear response. So, if you never allow yourself to be angry, it feeds into that fear response. That anger can actually be opposite to the fear response.
Kimberley: Right. This is where this is so beautiful because actually, a lot of the work I do with my patients is, instead of being angry at the dog or expressing anger, is to talk to fear and set the limit with fear. You were talking in the book about the inner critic and the inner voice or it could be the inner fear. I often will have patients say, "No, fear, you can come with me to the dog park or you could come with me to this, but you are not winning," and getting really strong with an angry back at fear, which I think is another approach.
Kristin: Yes, that's right. Again, you can say, "Thank you for trying to help me." In my son's script, "Thank you for trying to keep me safe, but you aren't helping." It's both. It's the appreciation. Because we don't want to feel that any parts of ourselves are unacceptable. If we make our inner critic or if we make our anxiety or OCD, or any of those parts of ourselves feel unacceptable, then we're harming ourselves.
Kimberley: That's the key point.
Kristin: We can accept it with love, with tenderness. Just because my OCD is not helping me doesn't mean it's not acceptable, and act as a way in which it's a beautiful part of me trying to keep myself safe. So, it's differentiating between us as people and particular behavior. Behaviors can be helpful or harmful, but we're always okay exactly as we are.
Kimberley: Right. And that's the point. You just dropped the mic on that one. That's so important. This is actually a question more than a statement—as we're navigating, standing up to fear or depression is that we're not disregarding it or criticizing the fear that's inside us either.
Kristin: Yeah. Because it serves a purpose. All these emotions serve-- and usually, it comes down to safety or the sense of belonging or some sort of deep survival mechanism because these are all evolutionarily-- they came from our brains and our brains designed to survive. So, they have a negativity bias, say they tend to get really anxious. They tend to use the fight, flight, or freeze response. Fight is the self-criticism, flight is the fear response or shame response, freeze is when you get absolutely stuck over and over again, like rumination. Interesting, which may be related more to OCD. I've never thought about that. But it might be that that loopy might be the freeze response where you're just stuck. All of these evolved as safety mechanisms as a way to avoid, like the lion chasing you, and they still remain in our brains, even though nowadays, most of us, at least in the first world, don't have those types of threats to our physical being as often.
Kimberley: Oh, I love it. Okay. You already touched on this slightly and I just want to go over it quickly is, how might people use fierce compassion as a motivator and as something that encourages them? Because I think the way I conceptualize it is, you conceptualize the basketball coach who's like, "Get up in there and just go harder." It's motivating, but it's almost also very critical. Can you share a little on that?
Kristin: Yeah. Self-criticism or harshness does work as a motivator. There are coaches like that who do get some results out of their players, but there's a lot of unintended consequences. Anxiety actually, believe it or not, is one of the poor byproducts of criticism because fear of failure, fear of not performing up to your ability, fear of making mistakes, that actually gets generated. When you know that you're going to beat yourself if you don't reach your goals, then that actually adds to your anxiety, and that makes it harder to reach your goals. Fear of failure, procrastination is a classic example. Self-handicapping, some people do that because they don't want to risk failure because they're too afraid of failing, because they know they're going to be so harsh on themselves if they do fail.
But some people make the mistake of thinking that self-compassion is just about acceptance. Like, "Well, it's okay if you don't succeed. Well, everyone is imperfect." Although it's true, it is okay if you don't succeed, it is true that everyone's imperfect, that doesn't mean that you don't want to succeed. But the reason you want to succeed is very different. Some people want to succeed because if they don't succeed their failure, they're going to hate themselves, they're going to shame themselves. Other people want to succeed because they want to be happy. They care about themselves. They don't want to suffer. It's a much healthier form of motivation. It comes from the desire for care and well-being as opposed to fear of failure or inadequacy.
And then because of that, when the bottom line is, "Hey, I'm going to try my best. I'm going to do everything I can to succeed. But if I fail, that's okay too," what that means is anxiety levels go down. There's less fear of failure. There's less procrastination. There's less performance anxiety. This is the key. When you do fail, you're able to learn from it. I mean, it's a truism that failure is our best teacher. If we shame ourselves when we fail, when we're full of shame, we can't actually learn. We're just hanging our heads. We can't really see clearly. We can't process. But when it's like, "Okay, wow, that hurts. Ouch. Well, everyone fails. What can I learn from this? It doesn't mean that I'm a failure just because I failed." That ability to learn actually helps your motivation and helps sustain your motivation. It's just much more effective.
We know this with our kids and a lot of coaches know it. Not all coaches know, but a lot of coaches know their players. They may be tough like mama bear tough. But the thing about mama bear is you also know mama bear loves you. She's doing it because she cares. When she's just snarling at you, you don't get that sense of being cared for. You get that sense of being inadequate. We know the difference, including with her own internal dialogues. We know the difference. Does this come from a place of care or a place of shame?
Kimberley: You know what's interesting, and you probably know this, probably experienced this, but as I was writing my book, I was saying nice things, but I caught myself saying them in a tone that wasn't nice. I was going, "No, I haven't said anything." I was saying like, "You could do it, keep going," but the tone was so mean like, "Keep going!" Do you want to share a little bit about that?
Kristin: Yeah. Well, tone is so huge. One of the main ways, the idea that the feeling of compassion is communicated, especially the infants before they get language, is through touch and through tone of voice. Universally, we know the certain types of touch that feel caring and supportive and others that feel either indifferent or threatening in some way. Also tone, there's a certain quality to the voice when it's caring versus when it's harsh. Most of that is communicated to infants before they know how to speak. It's not just what you say, it's how you say it, and it's also how you hold your body. There's physical touch. But even just like, is your body slammed or is upright, physical signals of care are really important. We teach both right.
Kimberley: I'm asking this actually for myself because it didn't occur to me right now is how might I be fierce with the tone? How does the fierce tone sound?
Kristin: Yeah. It's firm, but it's not harsh. It's like, "No, that's not okay," instead of, "No, that's not okay!" It's not vicious. It's not, "No, that's not okay, you stupid idiot!" It's like, "No, that's not okay."
Kimberley: Yeah. That's the nuance that I think I have to work on.
Kristin: "It's not really okay. Is it okay?" It's like waffling and wish-washy. By the way, I'm saying this, it's not easy to get it right, and I get it wrong all the time. Fierceness and tenderness have to be balanced. My problem is, even though I was raised as a woman and for most women, they aren't allowed to be fierce, I'm actually probably more yang than yin just by nature, just by my genes. My problem is I am too fierce without being tender enough. I'm always apologizing and saying, "I'm so sorry, please forgive me," because I get out of balance the other way. Sometimes I just say it so bluntly and I forget to cushion it with some sort of niceness or reminder that I care. And that's not healthy either.
It's a process. It's not like a destination, you get there and you're done. It's like, "Okay, I got it wrong this way, got it wrong that way." You always have to be trying to recorrect. But as long as you allow yourself not to have to be perfect, then you can keep going. You keep trying. It is a process. It's a process of compassion. The goal isn't to get it right, it's just to open your heart. So, as long as we do all of this with an open heart, out of goodwill, the desire to help ourselves and others, then it's okay. But it is tricky, and I would be lying if I said that it wasn't. It is.
Kimberley: Yeah. Here I am thinking that I'm really good at this stuff, and I was hearing my tone and going, "Wow, that's not cool. You're saying kind things, but not with a great tone." I have two more questions or things I want to touch on really quickly. Will you talk about these two topics of fulfillment and equanimity? I know you touched on them in the book, but I loved what you are to say.
Kristin: Yeah. Fulfillment is also an aspect of self-compassion. So, if we want to help ourselves and be well, we really need to value what's important to us. First of all, we need to know our values. Is it just what society says? You have to earn a certain amount of money. You've got to look a certain way. You've got to be popular. What's really important to us? Sometimes it's personal, like music or art or nature. Sometimes it's honesty or sometimes it's helping others. But we know our inner values. Part of compassion is asking ourselves what's really important to us and valuing ourselves enough to actually fulfill our own needs.
Again, there's a gender difference. Men have raised feeling entitled to get their needs met. It's not really the question. Of course, I'm going to get my needs met. Isn't it to everyone? Well, actually, not necessarily. Class, and a lot of things go into this, but gender certainly does.
Women are valued for being self-sacrificing. Women are valued, especially toward their kids, for denying their own needs and helping others. That's how people like us. That's how we get our sense of worth.
So that sets us up in a situation that in order to feel worthy, we have to give up what's important to us, which actually undermines our own sense of self. Sometimes the term we use is "Give to others without losing yourself." Part of that is knowing what you need to be happy and fulfilled and giving yourself permission to take the time, energy, effort to meet those needs. It's not instead of other people, it's in addition to. It's including yourself in the equation.
My research shows that self-compassionate people, they don't subordinate their needs, but it's not like my way or the high way. They actually are more likely to compromise and say, "Well, how can we come to a solution that meets everyone's needs?" And that's really what we need to do to be balanced.
Kimberley: Yeah. I loved that. I really did. Oh my goodness, this is so good. Before we finish up, would you tell us where people can hear about you and your book or your books? Tell us where we can get to you.
Kristin: Yeah. Probably the easiest place to start is just my website, which is self-compassion.org. If you Google it, you'll find me. I got in early, so all the algorithms come to my website. Just type self-compassion, you'll find me. On that side, I've got, for instance, if you want to test your own self-compassion level, you can take the scale that I created to measure self-Compassion. I have guided meditations, I have practices, I have exercises. I have a new page on Fierce Self-Compassion that especially has fierce self-compassion exercises. I have research. If you're a research nerd, there's hundreds and hundreds of PDFs of research articles on there. There's also a link to the Center for Mindful Self-Compassion, which is really the nonprofit I started with Chris Germer that does self-compassion training. That's also a really good place. You could take courses online. You can get training really easily now.
Kimberley: I've taken the training three times and in three different ways. One was a weekend. One was the eight-week course. One was a two-day. I think that can meet everybody. Online, I did one of them that was finished online because of COVID. Really, really great. So, thank you. Is there anything you feel like we've missed that you want to make sure we cover before we finish up?
Kristin: I just like to encourage people just to try it out. I mean, the research is overwhelming in terms of the well-being and strength and resilient self-compassion can give you. Life is tough and it's getting tougher every day with this pandemic and global warming. I mean, everything is really, really tough. So, we have this resource available, this resource of friendliness, of kindness, of support, just available at any moment. You don't have to sit down and meditate. You don't have to even go to a class. You just have to think, what do I need to care for myself in this moment? You can actually do it. It's like a superpower that people don't even know they have. It's just like to tell people, "Hey, you've got this ability. It's right in your back pocket. You just need to remember to take it out."
Kimberley: I love that. Thank you. Thank you so much for your time. I'm so grateful.
Kristin: You're welcome. Thanks for having me.
-----
Please note that this podcast or any other resources from cbtschool.com should not replace professional mental health care. If you feel you would benefit, please reach out to a provider in your area.
Have a wonderful day and thank you for supporting cbtschool.com.
Links:
Kristen Neff's Website
https://self-compassion.org/
Fierce Self-Compassion
https://www.amazon.com/dp/006299106X/ref=cm_sw_em_r_mt_dp_BT4GGYF8XFE1TJ7DPGBT?_encoding=UTF8&psc=1