SUMMARY:
Quite often, my clients forget to recognize avoidance as a compulsion. While you might be spending a lot of time in your recovery reducing compulsions such as reassurance-seeking compulsions, behavioral compulsions, and mental compulsions, it is important to recognize that avoidance is also a compulsion. In this episode, we address why it is important to address the things you are avoiding and find a way to incorporate this into your OCD treatment.
In This Episode:
Why Avoiding your fear keeps you stuck in the obsessive-compulsive cycle
What is an avoidant compulsions?
How to manage avoidant compulsions?
Links To Things I Talk About:
Episode Sponsor:
This episode of Your Anxiety Toolkit is brought to you by CBTschool.com. CBTschool.com is a psychoeducation platform that provides courses and other online resources for people with anxiety, OCD, and Body-Focused Repetitive Behaviors. Go to cbtschool.com to learn more.
Spread the love! Everyone needs tools for anxiety...
If you like Your Anxiety Toolkit Podcast, visit YOUR ANXIETY TOOLKIT PODCAST to subscribe free and you'll never miss an episode. And if you really like Your Anxiety Toolkit, I'd appreciate you telling a friend (maybe even two).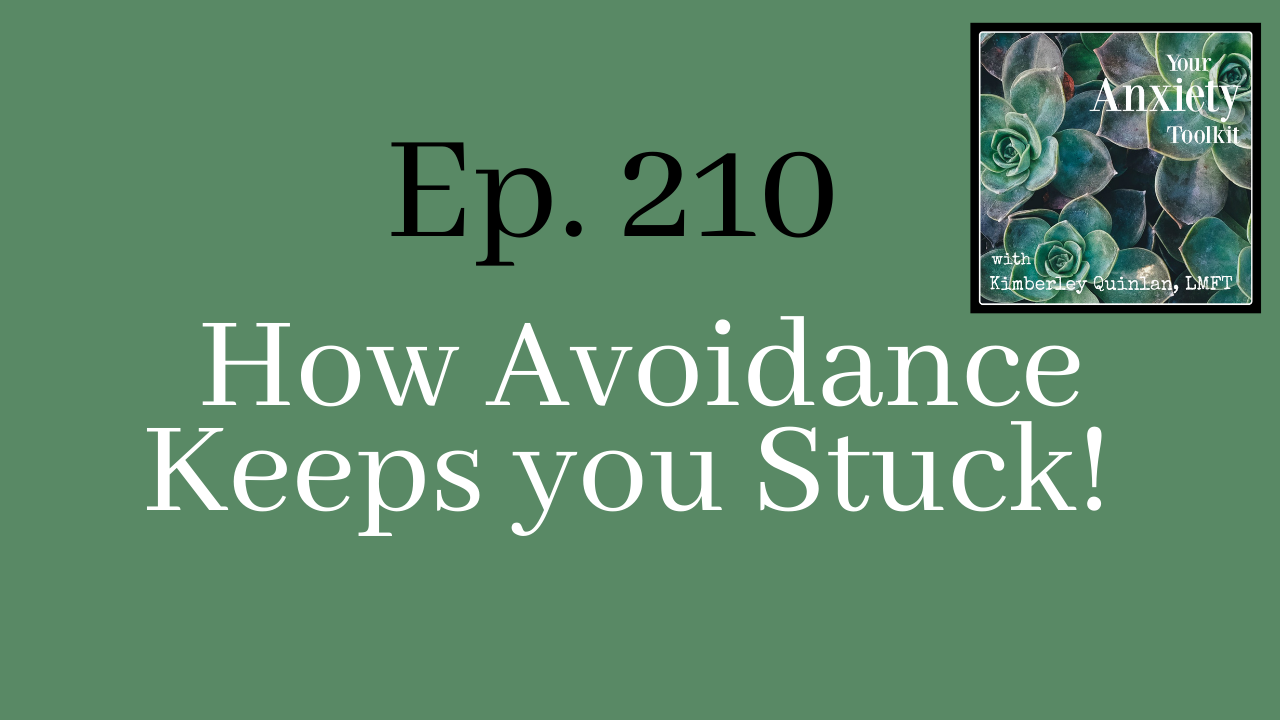 EPISODE TRANSCRIPTION
This is Your Anxiety Toolkit - Episode 210.
Welcome back, everybody. I am so thrilled to have you here. How are you doing? How is your anxiety? How is your depression? How is your heart? How is your grief? How is your anger? How is your joy? How are you? How is your family? All things that I hope are okay and tender, and there's a safe place for all of those things to be.
Today's episode is in inspiration of a session I recently had with a client—a client I've seen for some time. We are constantly talking about safety behaviors, ways that we respond to fear. I had mentioned to him that of course, one of the safety behaviors we do are from fear, and in response to fear is avoidance. We avoid things. And he had said, "Oh, I completely forgot about avoidance. I completely forgot that was one of my safety behaviors." Sometimes we put so much attention on the physical behaviors and the mental compulsions that we forget to check in on what are you avoiding and how avoiding things and fear keep us stuck. So, that's what we're talking about today.
Before we do that, let's first do the review of the week. This is from Ks Steven, and they said:
"Short and sweet. This podcast is one of my highlights of the week. It is short, sweet and so helpful. I look forward to each new episode. Episode 99 on self-compassion has transformed my relationship with myself. As I start each day to face my obsessions, I remind myself it is a beautiful day to do hard things."
I love that review. Thank you so much. I love that. It basically is exactly what I want this podcast to be. I want it to be short, I want it to be sweet, I want it to be helpful, and I want it to remind you that it is always a beautiful day to do hard things.
Before we get into the episode, we have one more part of the episode that we want to do, which is the "I did a hard thing," and this is from Anonymous. They said:
"My husband and I have been going through infertility treatments for years. This year, we did IVF and it was triggering, maybe because it felt more "real." I was panicking that I didn't feel perfect enough since I struggled with some mental health issues earlier this year. I had the false narrative in my mind and major intrusive thoughts about not being a good mom, ruining my children, fearing postpartum mental health issues. I wanted to cancel our embryo transfer because of all of these intrusive thoughts and fears. But on Monday, I did it afraid and we transferred our embryo. We'll find out next week if I'm pregnant and I'm so glad I did it."
Oh my goodness, I cannot tell you how impressed I am. I wish nothing but joy for you. You did that hard thing, and I hope that however that turned out that you are standing by yourself and you are gentle and kind and reminding yourself that you never have to be perfect. Never, never, never. We are not meant to be perfect.
Okay, here we go. Let's talk about avoidance. I mean, listen, that "I did a hard thing" is exactly what we're talking about, so we'll even use that as a reference today.
Fear is scary. Nobody wants to feel it. It's not fun at all, and instinctually, we go into fight or flight, and flight is a normal human response to fear that has us avoid danger. Now, this instinctual response is what keeps us safe. If a bus is coming for you, you run off the street. That's what we do. It's the right thing to do. However, if you are using avoidance on repeat, and if you're using avoidance to avoid the sensation of fear, not an actual current, real imminent danger, well then chances are you're going to get stuck.
So I want to be really clear, if you are actually in physical danger, avoidance is not a compulsion. It's not a safety behavior. But if you're avoiding thoughts about things or you're avoiding things because there is a small or a medium probability of something happening, or even maybe even a large probability in some situations, chances are in this case, you're going to walk away quite unempowered. Because the truth is, life is scary. Life doesn't always go well. Bad things do happen. It sucks to say, but it's true. Bad things do happen. And so, it makes sense that we naturally want to avoid lots of things to avoid bad things from happening. But what happens when we do that is life starts to get really, really small. We have to be willing to take some calculated risk, and ideally, the calculating part doesn't take too much of your time either because we can spend a lot of time ruminating about potential risks, probabilities, uncertainties, and so forth.
So what we want to do and what I want you to do when you're listening to this and after listening to this is reflect on, what am I avoiding? Is the avoidance helpful and effective? Or is the avoidance impacting my ability to live my life? Is the avoidance impacting my ability to grow and thrive? Is the avoidance impacting my family and their ability to grow and thrive? That's a big one, because sometimes our fears impact the people we love by no fault of our own. It's not our fault, but we always want to check in on this stuff.
When you avoid, ask yourself, what specifically am I avoiding? Am I avoiding actual danger? Or am I avoiding fear or other sensations? Because if you're doing the avoidant behavior to avoid sensations or an emotion or some thoughts, the problem with that is what you suppress often comes more, what you resist often persists. So even your attempt of avoiding it so that you're not having to endure the discomfort often only increases the frequency and duration of the discomfort or the thought or the feeling or the sensation or the urge. And so, therefore, it's not effective.
Some people avoid because they don't want to feel humiliated or embarrassed. But the problem with that is, once we start avoiding, what often happens is people start noticing that you're avoiding and then you end up feeling humiliated and embarrassed anyway.
So what I'm trying to show you here is, while avoidance does give you some pretty immediate relief, it often has long-term outcomes that aren't that great that keep you stuck. As the "I did a hard thing" segment that we feature each week and as we see even in the reviews often or almost every time, people who face their fear, even though it's so painful and so uncomfortable, they leave that experience feeling empowered. They leave the experience saying to themselves, "That wasn't fun, but at least I know I can do it. Now I have proof that I can. Now I have proof that I survived it." And with that comes powerful cognitive learning.
One of the best outcomes of ERP (Exposure and Response Prevention) is learning that you can survive really hard things. When we avoid that most of the time, the main thing we learn is when I can avoid bad things for you, but I can't handle hard things. That's what we really walk away learning. And our brain knows this. It's keeping an eye on this. Our brains are very, very smart. They're keeping track of this. And the more that we avoid, the more disempowered we feel and the more alert and hypervigilant the brain feels. "Oh, I avoided that. What else can I avoid? What else can I avoid?" So that next time you're put in a situation where you can't avoid, the chances are that you probably will panic even more.
Panic is a huge one for people where avoidance shows up. It's a huge time where naturally of course—this is where I want you to practice compassion—you don't want to have a panic attack. Of course, you don't want to be uncomfortable. Of course, you want to avoid the discomfort because it's not fun. No one wants to go through that. I don't blame you. I do it myself. So we're never going to be perfect at this. I wouldn't expect you to be perfect at this. But there is this beautiful inquiry that we can deal with in ourselves or with a therapist or a loved one to go, "This isn't working for me anymore. I deserve to live a life where fear isn't running the show. So I'm going to choose to face this fear." It is a fierce, compassionate action. It is a badass, shoulders back. "I'm going to show up for myself behavior and action." It takes courage. It takes bravery. It takes a small amount of grit, I'm not going to lie.
But I really want today to be about reminding you that you can do the hard thing. You can ride that wave of discomfort. It will be temporary. It will be hard, but it will rise and fall on its own. And with repetition, if you can gift yourself with the repetition of facing your fears, not avoiding them, you will feel so strong. You will learn that you can tolerate discomfort, that you are able to get through hard things. And so, next time, when you have to do a hard thing, you'll feel a little less afraid, or in many cases, you'll feel a significant degree less afraid.
So, I'm going to leave you with that. Compassionately do an inventory on where avoidance shows up in your life. And then do your best to work through each and every one. This is what we do in ERP School. One of the first few modules is identifying what you avoid and then takes you through the steps of one by one by one. We're going to face each and every one of those fears. You don't have to have a therapist to do this. It's ideal, but you don't have to. We had an episode last week about people who do it on their own. It's so cool.
So I want to really empower you to, number one, face your fears, but just always remind yourself, avoidance is a safety behavior or a compulsion as well.
All right, I love you. It is a beautiful day to do hard things. I believe in you. I really believe you. I really want you to understand that you have everything you need. It doesn't have to be perfect. You don't have to show up perfect. You can face your fears imperfectly and you don't have to have it all figured out first, just give it a try. Throw yourself in there a little. Be kind. And I hope that this inspires you a little and reminds you that it is a beautiful day to do hard things.
I love you. I believe in you. I hope you have a wonderful day. I hope you're being tender with your heart. I'm sending you all the love I have from my heart to yours. I'll see you guys next week.