SUMMARY:
Today we have Windsor Flynn talking about how she realized the benefits of meditation for anxiety and OCD in her recovery. Winsdor brought her lived experience and training to the conversation and addressed how meditation has helped her in many ways, not just with her OCD and mental health.
In This Episode:
The benefits of meditation for general anxiety
The benefits of meditation for OCD
The roadblocks to practicing meditation
How Mindfulness and mediation help with daily stress (especially through COVID-19)
Links To Things I Talk About:
Instagram: @windsormeditates
Instagram: @Windsor.Flynn
Website: www.windsorflynn.com (Windsor is certified to teach the 1 Giant Mind 3 Day Learn Meditation course).
ERP School: https://www.cbtschool.com/erp-school-lp
Episode Sponsor:
This episode of Your Anxiety Toolkit is brought to you by CBTschool.com. CBTschool.com is a psychoeducation platform that provides courses and other online resources for people with anxiety, OCD, and Body-Focused Repetitive Behaviors. Go to cbtschool.com to learn more.
Spread the love! Everyone needs tools for anxiety...
If you like Your Anxiety Toolkit Podcast, visit YOUR ANXIETY TOOLKIT PODCAST to subscribe free and you'll never miss an episode. And if you really like Your Anxiety Toolkit, I'd appreciate you telling a friend (maybe even two).
EPISODE TRANSCRIPTION
This is Your Anxiety Toolkit - Episode 217.
You guys, 217. That's a lot of episodes. I'm very excited about that.
Today, we have with us the amazing Windsor Flynn. I cannot tell you how incredibly by inspired I am with Windsor. She is very cool and has so much wisdom and so much kindness to share.
Today, we have her on to talk about having anxiety and learning the importance of meditation. Now, Windsor speaks specifically about having OCD and how much it has helped her to take up a meditation practice. She goes over the couple of main key points, which is number one, anyone can meditate. And that meditation can be user-friendly for people, even with OCD. And she said, "Especially for people with OCD." And she actually gives us the amazing gift of a guided meditation at the end, that just helps you bring your attention to the present and learn to drop down into your compassion and your body. And then the third point she makes is that meditation can be integrated into your life, even if you feel like you don't have time, or even if it's really uncomfortable. And she shares some amazing experiences and examples of where she really struggled and how she got through those difficulties. So, I'm going to quickly first do the "I did a hard thing" and then I'm going to let you guys get right into the amazing conversation with Windsor Flynn.
So, today's "I did a hard thing" is from Anonymous, and they said:
"I wear a dress that has been sitting in my closet for months. I was always scared to show my skin since breaking out in hives over my social anxiety. I felt proud for the first time in a long time."
This is so cool. You guys, I love this so much. They're really talking about showing up imperfect and all, or letting people judge them and going and doing what you want to do anyway. And that is what this podcast is about. It's about living the life that you want, not the life that anxiety wants you to have. And often, anxiety will keep your life very small if you only listen to it and only follow its rules. And so, anonymous is doing this work, walking the walk, not just talking the talk. So, yes, I'm so, so in love with this.
Now you guys, you can go over to my private practice website, which is where the podcast lives. It's Kimberley Quinlan - L for License, M for Marriage, F for Family, and T for Therapist – I had to think there – .com. So, KimberleyQuinlan-lmft.com. And then you can click on the podcast and right there is a link for you to submit your "I did a hard thing" and you can be featured on the show. So, go do that, but not right away. First, I want you to listen to this amazing, amazing episode.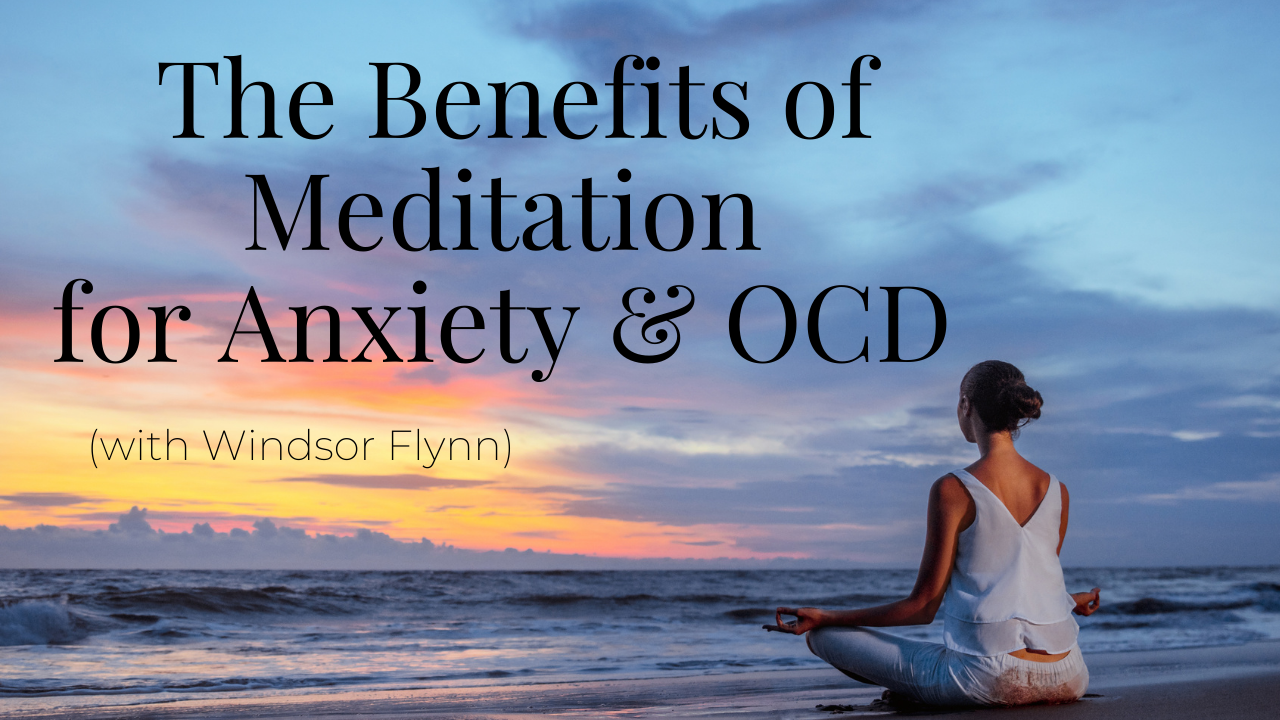 Kimberley: Welcome. I am so excited for this episode. I have a reason for being so excited, which I'll share with you in a second, but first, I want to introduce to you Windsor Flynn. She is incredible. I have watched you grow over the last what? A year or two years since I've known you. It is so wonderful to have you on, so thank you for coming.
Windsor: Yeah. Thank you for inviting me. This is so cool because I've spent a lot of time listening to your podcast and, I don't know, just hoping to be on Monday, but I didn't know for what. So, this is really cool for me.
Kimberley: Yeah, this is so cool. So, you're coming on to talk about meditation. And the reason that this is so exciting for me is that is actually what this podcast was originally for – was to bring mindfulness and meditation practice to people who have anxiety. And I did a lot of meditations at the beginning and then I lost my way. So, I feel like you coming here is full circle. We're going back to the roots of the show to talk about mindfulness and meditation. Do you want to share a little bit about your story with mental health and why you landed on this as being your passion project?
Windsor: Yeah, sure. So, I started-- I guess my mental health story goes way back, but I'll just start at the beginning when I first came to my OCD diagnosis. I had been experiencing anxiety. Looking back, I will say it was pretty debilitating, but I was sort of just powering through it. I was a new mom. I didn't have a lot of mom friends, the first in my group to have kids. My parents are across the ocean in Hawaii. I'm in California, in San Francisco with my boyfriend who is shocked at being a dad.
So, I'm very anxious, but I'm doing all the things. And I had started experiencing intrusive thoughts, which I didn't know were intrusive thoughts. I was just really worried that I was going to become a headline for like moms that murder. I hate moms that kill because I had heard of this story. I'm sure so many people who grew up at the same time as me were really familiar with the Andrea Yates story. I don't need to go full into detail, but she had some mental health issues and she ended up killing her kids. It's a very, very sad story, but I had attached to that because I was just so, so scared that that would happen to me. And I don't know why I was nervous that this would happen to me. But ever since I was little, I just always thought that anything drastic, it would happen to me. I would be there for the end of the world. I would be there to witness a mass murder, or I would be a victim of a serial killer. All these things, I just thought it had to be me. I don't know why.
So, of course when I have a baby, I'm thinking, "Oh no, this horrible thing, it's bound to happen to me. I need to pay attention." So, that's when the hypervigilance started, all of these things that I now have language for, but I wasn't quite sure how to explain, and I also didn't want to explain it to anyone because it sounds unhinged. So, I was doing this alone. I was trying to keep myself very busy. I was doing all the classic compulsory activities that happen when you're trying to avoid intrusive thoughts and avoid this massive discomfort in fear. And eventually, we moved out of the city. So, not only was I mothering by myself-- not really by myself. I had a partner, but he was working a lot just with his schedule. So, he was sleeping most of the day and gone all night.
So then we moved across the bay to Alameda and then I just didn't even have friends anymore. So, I was all alone. So, I was thinking, "Wow, if there's ever going to be a time that I'm going to just completely go off, it'll be now." And then it just snowballed. It spiraled into this thing where I couldn't not be scared and I didn't know what was going to happen. I was convinced that I was going to kill my son for no other reason. Then I just had a feeling that something bad was going to happen.
So, I looked up postpartum mood disorders because somehow, I knew those existed. And I was hoping that this had something to do with it. I still had hope that there was an explanation. And I found something that said Postpartum OCD, and anxiety. And of course, I hit every single track mark. It wasn't mild symptoms. I was just, yup. Check, check, check, check, check. And so, I felt a little okay. Not really, right?
And I finally saw someone who ended up being-- she said she was a postpartum specialist, which was great. I signed up with her. We talked. She told me I had OCD. It was cool. But she didn't give me any tools. She was doing the root cause stuff, which is probably really helpful in other circumstances, not necessarily for OCD. But she reassured me enough that I was cool with my OCD. I was like, "Well, I'm not going to kill anyone. That's fine. I can go home. I can continue being a mom as long as you're telling me I'm not a murderer." Just like, "No, you're not a murderer." I was like, "Great, well, we're done here, I guess." And I got pregnant again. And of course, I was so scared. I was like, "That's going to happen again. I'm going to have postpartum OCD."
So, I couldn't pause my whole pregnancy, but it was in the name of preparedness. So, I didn't know that I was making my symptoms worse and worse and worse until I had the baby. This time I'm not scared I'm going to kill anyone. I'm just scared that now I think she's the devil, which I did not know how to recognize it.
So, finally, I'm experiencing a whole different subset of OCD symptoms. I didn't know, but I just thought, well, it was OCD the first time. I'm just going to check. And luckily, I landed on my therapist. I still see-- even though this was four years ago, I still see her every two weeks. I love her. She's the best. She's given me all the tools I needed to manage my mental health, got me to a place where not only was I totally understanding the disorder, but I felt really comfortable sharing and sharing in a way that I thought would be helpful to other people.
So, that's when I started advocating for maternal mental health and OCD, and that's how we know each other, through the internet, social media space. And I guess that was a mouthful, but that was how I landed onto the advocacy part. And eventually, I switched to meditation because I felt like this was a tangible way that I could offer a service that I know to be helpful for the management of mental health. And I know how much resistance there is towards starting this meditation practice because I too went through a number of years where I absolutely said no to this idea of meditation. But once I started, I realized, wow, I don't know why I didn't do this sooner. There's really something to it. And it's very teachable. And I know from firsthand experience how beneficial it is.
Kimberley: I love that. I actually don't think I've heard your entire story. So, thank you for sharing that with me and everybody. I didn't realize there were two waves of OCD for you and two different subtypes, which I think is common, for a lot of people.
Windsor: Yeah.
Kimberley: I love that. So, I think what you're saying, and can you correct me if I'm wrong? So, the first wave was reassurance, what you used to get you through. And then the second you used ERP?
Windsor: Yes.
Kimberley: Okay, great. And then from there, the third layer of recovery or however you want to say it, was it meditation, or were there other things you did to get to the meditation place?
Windsor: Well, I was doing ERP and that really helped with my OCD management. I was able to recognize whenever I had a new obsession, and I feel like I could recognize anyone's new obsession. At this point, I was like, 'Oh, that's this, that's this. It's tied into this." So, I had a really great understanding, and that was cool. But I still have two kids, we're still in a pandemic, I still have communication issues with my partner – all these normal things that ERP doesn't necessarily help with. So, it was really just about finding that balance between working on myself and stress management and really getting to be that calm, chill person that I've always wanted to be. Even when I was doing the best with my OCD, I was still not so relaxed because I had a lot of attachments to how I wanted people to perceive me, how my children were behaving, not necessarily in a controlling way, but just really feeling a lot of responsibility over everything.
And so, the meditation was just this next step that I was hoping would get me there, because I was feeling a lot of stress, not even related to my OCD, just in general. And I wanted to be able to find something that would help me get through that stress so that I could start really figuring out what it is I wanted to do, just even for fun again, instead of just only feeling this overwhelmed.
Kimberley: Yeah. No, I really resonate with that. All I can say for me is, while I had a different story, I had an eating disorder, I was trying to do meditation during that, but the thoughts and everything was just too big for it. And it was hard for me to access actual meditation without it just being an opportunity to ruminate, sitting there, just cycling. So, the main thing I really want to ask you, if you're willing to share, is let's say specifically someone with OCD, what were some of the struggles that you had with meditation? Because I know so many people with OCD are really resistant to it because the thoughts get louder when you sit still and so forth. So, what were some of the things that you had to work through to be able to sit on a cushion?
Windsor: Yeah. That's such a great question because I feel like, had I not figured out that I had OCD and then done all this work with ERP to really learn how to acclimate myself to the presence of intrusive thoughts, I don't know that I would've been successful in meditation. Actually, I know that I wasn't because I had tried it before, and it was too hard. So, I really-- even with ERP, once I started the meditation journey, the first few weeks were pretty challenging for me because as someone with OCD, every time I close my eyes and I'm not occupied, or my brain is not occupied, it's like prime time. This is OCD's favorite. It's like the time to shine. It's like, "Okay, here I am. What can we throw out to you today?"
And so, knowing that this was a possibility, even when I signed up to learn meditation, I was like, "Okay, I'm going to do this. I'm going to try, I'm going to give college a try." Then my OCD was like, "No." You close your eyes, something could happen, like you could have a breakdown or you could make all these realizations that you are a psycho killer. And then you'll just definitely kill everyone. Thank God you tried meditation. Now your true self can come out. And I was like, "Okay, I'm going to just do it anyways. I'm just going to meditate because I have to see, not even in a compulsory way, I have to see if this is true. But I can't-- knowing now what OCD does, I couldn't-- it was almost I took it as a personal challenge.
Kimberley: Like an exposure, right? It was like an exposure, like, "Okay, fine. I'm going to-- let's see."
Windsor: I signed up to learn meditation as a true exposure because now I had this fear that if I come to all these realizations, it won't be cool. It will be devastating for everyone around me. So, I was like, "Well, I'm going to try. I'm going to try to meditate." And do you know what? I cried and panicked the first time. I had to turn off my camera because I did not want the teacher to see.
Kimberley: So you did it live.
Windsor: I did it live. It was so hard. It was like a total exposure because this was in front of-- I think there were 25 people in the course and everyone was closing their eyes, I'm assuming. But 20 minutes is a long time to meditate. So, I know people were going to be opening their eyes. So, I was live having this fear that I was going to turn into a psycho killer on the camera. So, I was crying because it was hard. But you know what? I'm so glad I did because also ERP showed me that crying is fine. We can cry when we do hard things. I was doing the hard thing and I was proud of myself. I even shared afterwards. We were like, "Who wants to share?" And I was like, "Me." I cried and I had a panic attack.
Kimberley: See. That is so badass in my mind. That is so cool that you did that. You rode that wave.
Windsor: Yeah. And it was great because if I didn't do that or purposely put myself into the situation to cry and do this hard thing, I wouldn't have been able to get to the good part of meditation, which I love. I like to talk about the good part of meditation. But having OCD makes starting the hardest part.
Kimberley: Yeah. What is the good part of meditation for you? Because I think that no one wants to do hard things unless they know there's some kind of reward at the end. Everyone's going to be different, but for you, what is the why? Why would you do such a thing?
Windsor: Well, because I learned this thing, right? That was so valuable. Someone told me, we don't gauge the benefits of meditation for how we feel when our eyes are closed. We're more interested in what happens while our eyes are open. How is it impacting? And I noticed almost right away that when tensions were high, when I usually would be the first to participate-- because I'm really affected by the way other people's moods are. I feel responsible or I have to change it. I became dysregulated really easily. I noticed almost right away that when other people were feeling their feelings around me, I was able to observe them instead of participate in that, which was really cool. And it was just so much nicer to be able to be supportive instead of become one of those people who also needed support in that moment.
And I also noticed right away that I had a higher tolerance for loud noises and just disruptions, because I'm pretty sensitive to lots of different noises at once. It gets me pretty anxious and agitated. So, having kids at home all day isn't ideal for that. And so, the meditation really helped me a lot with that. I was able to recover more quickly from periods of dysregulation. Maybe I would become dysregulated, but I could calm down quicker. And so, I really loved that.
And I noticed that as before where I would be like, I need wine at 4:30 or whatever time it was. Once I started meditating for a few weeks, then wine just became something that tasted good that I liked in the afternoons. I didn't need it. Sometimes I would be like, "Wow, we're having dinner. Oh my God, kids, I didn't even have wine." And they were like, "Wow, you're right." And so, I would pour myself a glass just because I like it.
Kimberley: Right. Not because you needed it to get through the afternoon.
Windsor: Yeah. And so, I really liked all those changes. And it just is really restful, which I wasn't expecting. The practice itself, the one that I practice, it's twice a day. And I find that doing those two meditations really gives me more energy because I'm not a coffee person. So, yeah, I just feel like what started as a thing that I wanted to feel more rested and less stress, it has actually become a tool that I can use to help maintain a busier lifestyle, which as much as I don't love for everyone, I can't avoid it. Anyway.
Kimberley: That is so cool. I mean, how amazing that this practice came to you. So, you are talking about this specific meditation practice that you use and the benefits. Do you want to share a little about what specifically you use? I'm sure some people here have heard from me of self-compassion meditations and mindfulness meditations, but do you want to share specifically what practices you are interested in practicing?
Windsor: Yeah. So, the practice that I find the most success and enjoyment out of is a silent meditation, which actually was the most intimidating for me, but I love it. It's the one giant mind being technique. It's called a being technique because, I guess the focus of the meditation is to connect with your being, which I guess if you say it without sounding too woo-hoo or anything like that, we're just connecting to your true self apart from all the thoughts and the ideas and all the conditioning we have. Just getting back to you, which is something that I really wanted, especially after having two kids and being confused in the state of life that's not really developed yet. So, I love that part. And since I didn't have to focus on anything like someone else's voice, or trying to follow a guided meditation, sometimes I feel that takes more energy because I still have to pay attention to something. A silent meditation allowed me to really find that rest and allowed my brain to just slow down.
Kimberley: Yeah. I too. I mean, I love guided meditations for people who are starting off and need some instructions. But I find the silent meditation once I got the hang of it, I could practice it in a minute between clients. I could just sit for-- I could quickly go into that and then come out. Or if I'm presenting and I'm listening to someone, I could just drop down into that. So, I really love the idea of this as well because it's something you can practice in small pieces. Not so formally, but drop into just connecting down out of your head into your body kind of thing. Okay, so the biggest question I'm guessing people have is, are you "successful" with your meditations daily? What does it look like day-to-day? Are there ups and downs? How is it for you?
Windsor: Yeah. This is something that comes up a lot when people ask, because we know that, yes, all meditation is helpful. But we also know that to get the most benefit out of meditation, it's best to have a regular practice. And this could mean meditating once a day, or with this particular technique, meditating twice a day. And it sounds a lot. And I would love to say I meditate twice a day every day, no matter what. But I have OCD, so I allow myself to be a little bit more flexible. I don't really love rigidity when it comes to things like that because I have a tendency to really grab onto them. So, I do allow myself to skip it sometimes, either for reasons like I forget, or the day just gets ahead of me. As important as meditation is, there's a lot of things that trumpet, like do my kids need something? Do I have to pick someone up? Is everyone being fed? There's all these things that are also really important. So, I do try to meditate twice a day. Most days I do. Sometimes I don't. But that's okay because I did what I had to do to keep everything going.
Kimberley: What about during your meditation?
Windsor: What, excuse me?
Kimberley: What about during your meditation? Is that an up and a down process? Do you have "good days" and "bad days" with it or is it pretty consistent for you now?
Windsor: Well, I don't like to talk about the meditations as being good or bad. Some are really gratifying and some are less gratifying, because even the less gratifying meditations are really good for you. You're still going to benefit from them, even though it wasn't necessarily easy or didn't feel good. But that's just like a lot of things. Meditation can be categorized as something like that, like maybe brushing your teeth or exercising. Maybe you don't love it all the time, but you do it because it's good for your body and it helps you reach certain goals. And sometimes it's really hard for me to get to a good juicy place, and that's okay. I've just started to not expect a certain experience when I go into the meditation. And that makes everything a lot easier because then I'm not letting myself down or I'm not feeling disappointed or I'm not crushing a goal. I don't go into the meditation feeling like I'm going to feel so relaxed and cool. I just say, "Oh, I'm going to close my eyes and we'll just see what happens during this session."
Kimberley: And that's why I love what you're saying because it's so in line with recovery, like dropping the expectations, dropping just the good feelings, dropping goals, having these big goals all the time. I think that's-- sometimes I have found, what happens in your meditation is like a metaphor for life, right? Like, okay, today is a busy brain day. There's going to be days like that. And I think that it's a great way to just practice the tools in a small setting that you would be practicing in the day anyway.
Windsor: Exactly. That's why I love it for people with OCD too because let's say you commit to doing it 20 minutes a day or 20 minutes twice a day. During that 20 minutes, you know that any thoughts can come up, any feelings can come up, and you're just going to let them be there. And this is excellent practice for when you're going about your daily life and you have no control ever over what comes into your mind or what happens. But since you've been practicing this in your meditations, those responses to accept and let go become more automatic. So, not only are you having great meditation experiences or anything, but in your life, you can use those same tools. It's not just adding another thing. It all works together. The meditation is so helpful in every aspect.
Kimberley: Right. It's like we go to the gym to strengthen our muscles and we meditate to strengthen our brain muscles, right?
Windsor: Yeah.
Kimberley: Yeah. I love that. So, one thing I didn't ask you ahead of time, but I'm wondering, would you be interested in leading us through a couple of minute meditation to get us experiencing that?
Windsor: Yeah. And you know what? I was thinking of like, maybe I should think of something to say in case she asks it, but I don't think she will. So, yeah, we can just do a short-- what I do sometimes when I don't do the whole 20 minutes is I just do a short mini one, like a minute or two.
Kimberley: Would you lead us?
Windsor: Yeah. Okay. So, for everyone listening and for Kimberley, I just want to show you a little bit about what it looks like to connect to your being and to practice a silent meditation, just for a short little grounding experience in the middle of a busy day or before a meeting, anytime you need to.
So, what I like to do before I meditate is to just get into a comfortable spot. You don't necessarily have to be on a fancy cushion. You just have to have your lower back supported. And go ahead and close your eyes. And what I like to do before I start any meditation is take a few deep belly breaths. So, we'll just breathe into our noses right now. Feel your belly. Feel your chest... And release through the mouth.
One more deep breath into the nose... into your belly... and release.
And one more deep breath into the nose. Feel your belly... and release.
So, now you just want to let your breath settle into its own natural rhythm. This isn't a breathing meditation. We're not going to focus on our breath. And you can scan your body for any tension that you might be holding. A commonplace is in your neck and your shoulders. Make sure you drop your shoulders, can wiggle your jaw a little bit, and just let all of that tension go.
So, when we're meditating, we don't want to put a focus on any thoughts that might come into our mind. But when they do come in, we just want to acknowledge them and recognize that this is a normal part of meditation. We never want to resist any thoughts or feelings that we might have. These are all important.
And just continue following your natural breath. And has any thoughts come into your mind, just remember that we don't have to engage with them. It's okay to just witness them and let them pass through you.
Maybe you might notice a sound outside or a body sensation. That's okay. Just be a witness to that too.
Now you can take another deep breath into the nose... Into your belly... and breathe out.
And you can start to bring your awareness back to your body and see how it feels to be where you are.
You can start to bring your awareness back into the space. And slowly, when you're ready, you can open your eyes.
Kimberley: Oh, what a treat.
Windsor: And that's a little meditation, but I was really feeling it for a second.
Kimberley: Yeah. I just kept smiling because it was such a treat. What a treat that I get to have my own little meditation instructor in the middle of a podcast. It's my favorite. What a gift. Thank you so much.
Windsor: You're welcome.
Kimberley: Yeah. Thank you. I think I love-- I just want to highlight a couple of things you said, which is, for those who have anxiety, meditation is not the absence of thoughts and feelings, right? You highlighted that and that was so helpful, just to acknowledge that thoughts and feelings will happen, sensations will happen, but we just become an observer to them, which I think again, not only helps us with meditation, but it helps us with response prevention, during our exposures. It helps us during panic. Such a great tool. So, I'm so grateful for you sharing that.
Windsor: Cool. Well, thanks for letting me. I love to talk about it when I have the chance.
Kimberley: Yeah. Okay. So, I want to ask one final question, which is, what do you really want people to know? If there's something we've missed today or if you want to drive home the main point, what is your main message that you're wanting people to take away from today's podcast?
Windsor: I guess what I really want people to know about meditation is that you don't have to be a certain type of person to do this. You don't need to be a specific personality type or have certain interests to make meditation work for you. You can just be yourself and come as you are and treat this practice as a gift that you're giving yourself, that you deserve to take part in because it offers such deep rest and relaxation. That meditation can be a part of a modern, busy lifestyle. You don't have to be common Zen all the time to do it. I think that meditation is for everybody.
Kimberley: I love that. I always remember, I think I could be killing this here, but the Dalai Lama says, and this always gets me laughing because he always says, if you don't have time for meditation, you are the one who needs to meditate the most.
Windsor: Yeah. I love that one.
Kimberley: I killed the way that he said it, but for me, so often I'm like, "Oh, I don't have time. Oh, I didn't get time today." And he really keeps nagging me in my mind in terms of knowing the more busy you are, the more you may want to prioritize this. Of course, like you said, that happens and priorities happen. But for me, that was the main message I had to keep reminding myself when it came to meditation. So, I loved that.
Windsor: Yeah.
Kimberley: Well, thank you so much. This is just delightful. Really it is. It has brought such joy to me today because like I said, it feels full circle to be coming back and talking more about meditation and doing more of that here. Where can people get a hold of you and hear about your work?
Windsor: So, I have my Instagram, @windsor.flynn, and that's my OCD one. I talk a little bit about meditation on there, but I know that not everyone is necessarily ready for that. So, I do have my other Instagram, @windsormeditates. And that's when I focus a little bit more on the meditation. And if you're interested in taking any of my group courses or private meditation sessions, you can just go to my website, windsorflynn.com. All very easy, just search my name on the internet, and then you'll find some links for those.
Kimberley: And we'll have all the links in the show notes as well. So, if people are listening on, they should be able to connect to that. So, amazing. I'm so-- pardon?
Windsor: I was just going to say thank you so much for having me. I'm a big fan of yours and I love the work that you're doing and I feel so honored that I get to be on your podcast.
Kimberley: No, I feel likewise. I love what you're doing. There's so many things I wish I could focus on. And I love when somebody like you will come along and they focus on that one thing. It just makes me really happy because I just love when people are finding little areas, particularly in the OCD and mental health space where it's like, we need these sources. So, I'm so happy that you're doing that work. Thank you.
Windsor: Cool. Thank you so much.
Kimberley: My pleasure. And like I said, go follow Windsor. She's amazing, and I'm just honored to have you here.
Windsor: Thank you.
-----
Okay. So, before we finish up, thank you so much for being here and staying till the end. Before we finish, I want to share a review of the week. This one is from Cynthia Saffel and she said:
"I'm so excited to share these podcasts with my clients." She gave it a five-star review and said, "I first was introduced to Kimberley's clear and compassionate teaching style when I took the ERP school course for therapists." For those of you who don't know, we have a CEU approved course called ERP School, where you can learn how to treat OCD using ERP. And she went on to say, "In the past 3 weeks since taking the course I recommended both the course and podcasts to my clients."
Thank you so much, Cynthia, for your review. And for everyone who leaves a review, it is the best gift you can give me in return for these free resources. So, if you have the time, please do go over and leave a review and have a wonderful day. It is a beautiful day to do hard things. Have a wonderful day, everybody.