SUMMARY:
This week's episode is incredibly inspiring, with Lora Dudek talking all about getting real about OCD recovery. Lora shares her experience of having harm obsessions and harm OCD and how she managed being a mom during ERP. Lora also shared some wonderful ERP activities she did to help her keep track of her exposures.
In This Episode:
What OCD Recovery looks like for Lora
Her experience with Harm OCD
What kind of Exposure and Response Prevention (ERP) Lora used for harm OCD
How she used ERP and recovery to decide what her values were (starting a career in ERP)
Links To Things I Talk About:
Episode Sponsor:
This episode of Your Anxiety Toolkit is brought to you by CBTschool.com. CBTschool.com is a psychoeducation platform that provides courses and other online resources for people with anxiety, OCD, and Body-Focused Repetitive Behaviors. Go to cbtschool.com to learn more.
Spread the love! Everyone needs tools for anxiety...
If you like Your Anxiety Toolkit Podcast, visit YOUR ANXIETY TOOLKIT PODCAST to subscribe free and you'll never miss an episode. And if you really like Your Anxiety Toolkit, I'd appreciate you telling a friend (maybe even two).
EPISODE TRANSCRIPTION
This is Your Anxiety Toolkit - Episode 222.
Welcome back, everybody. I am so happy to be with you today. Oh my goodness, I'm going to tell you a story, totally off-topic. But today's episode is number 222, and coincidentally, it's coming out just by coincidence the week of February 22, 2022. The reason that that is special for me isn't because I have any kind of affiliation with numbers, it's that I have this amazing memory of when I was very young. It was the 9th of the 9th, 1999. My mom, who is the most amazing human being in the whole world, had a 9/9/99 party, and everyone had to bring nine of something, nine flowers, nine chocolates. You could bring whatever you wanted. Nine of... We had nine of everything – nine shrimp on the plate, nine prawns. In Australia, we call them prawns. It was such an amazing memory.
I told my children that we were going to do something similar because I just feel like that was such a beautiful memory. And so, I feel like I'm beginning that whole celebration with you because coincidentally, it's episode 222 on the week of 2/22/2022. Oh my goodness. I'm sorry. I know that has nothing to do with the episode, but it is a story that is so near and dear to my heart and I just wanted to share it. It isn't actually an off-talk topic because I really do want to bring some more joy to this episode and I really do want to slow down and enjoy with you all. It is a huge part of my goal for this year. So, thank you for sitting in that joyful story with me.
If you would like, I hope you do something with twos, if you can, on that day, something fun. Buy yourself 22 flowers, say 22 nice things to yourself, whatever it may be, because these are very much once in a lifetime experiences and memories.
Today, we have Lora Dudek with us on the podcast. Now, to say that I am a Lora Dudek fan is an understatement. I love this human being. She is such a shining light, especially for people who have OCD and want to feel like there is hope. She has such a beautiful story, such a hard, but beautiful story, and a real authentic, genuine story to share. I am honored to have her on the show like I am to have so many people come on who have a recovery story to tell. I particularly love when I can be a part of it and I was a part of their story, or CBT School was a part of their story or ERP School was a part of their story. And so, it is just such an honor to have Lora on here. She's talking about what recovery looks like for her. The reason I love this idea is, recovery is different for everybody. I really wanted you to get an experience of what it looks like for someone who has really done the work. Like I said, so many of our podcast guests have done the work and Lora is no exception. So, I'm going to head over and let you guys listen to that.
Before we do that, I first want to do the "I did a hard thing." This week's "I did a hard thing" is from Fabian, and they said:
"Hi, Kimberley. First of all, thanks for creating the room to write about my anxiety. I am recovering from OCD, and today I was at the dentist for a tooth filling. I don't like it because my mouth is blocked and I'm scared of getting enough air. And moreover, I do not like to get injections." Oh my goodness, Fabian, I feel you on this one. "I was able to face both and stay very present with the body sensations like cold hands, many, many thoughts, high heartbeats. It was a hard thing to finish the week and I'm happy that I did it. I will have to face it again in February 🙂. All the best to you and your team."
Amazing, Fabian. I feel you on so many levels. The dentist is so hard for me. No matter how many tools I use, it's always going to be hard, but you did the hard thing. And that is what I love. So, thank you so much for contributing your "I did a hard thing." I am honored and major props to you.
Okay. Let's get over to the show.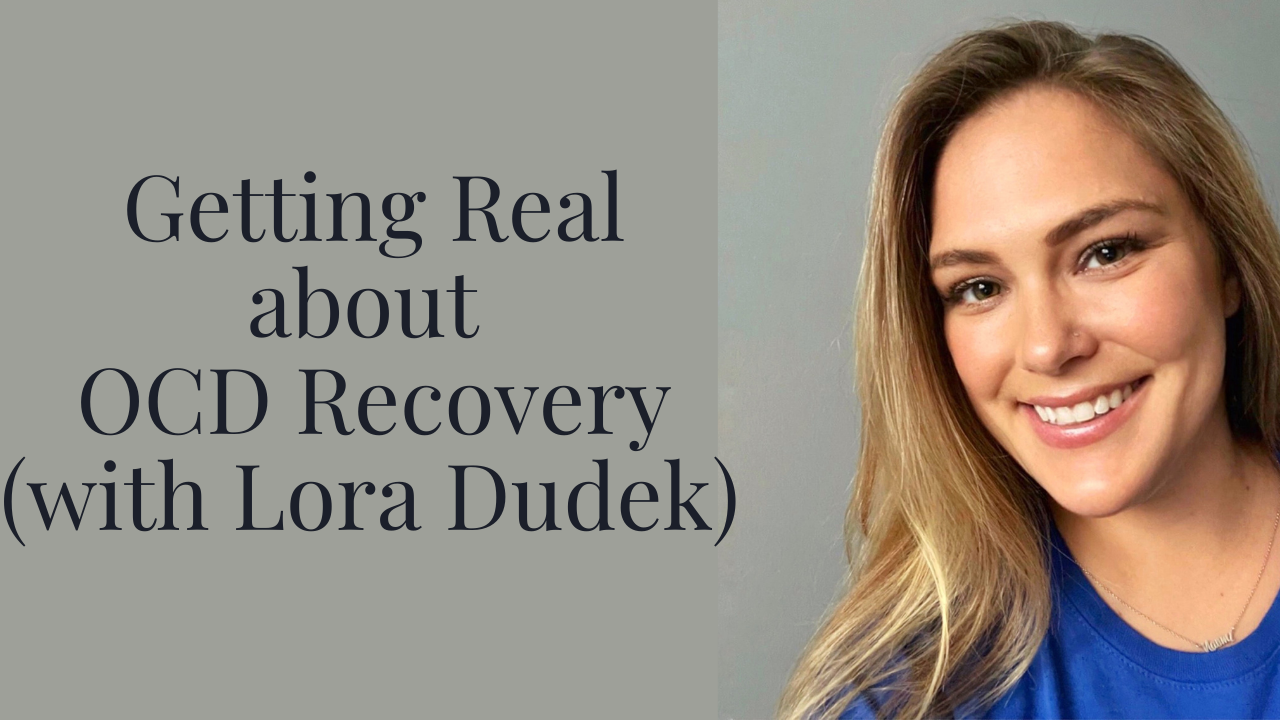 Kimberley: Welcome, everybody. I am so excited about this episode today. We have Lora Dudek. She is now a Licensed Professional Counselor, but when I first met her, she was going through her own journey, and I wanted her to share her journey with you today. Welcome, Lora.
Lora: Thank you so much. I'm so excited to be here.
Kimberley: Oh my gosh. Okay. So, we've already pretty much cried before we even got on today together, which is beautiful. And so, I can't wait to get into this whole conversation together. You and I met online many years ago, and now you're a therapist, which just blows my mind, helping people. Can't believe that. So, that's amazing. Do you want to share with us your full-circle story?
Lora: Yeah, absolutely. So, one of the things that we were just talking about was that I started listening to Kimberley's podcast back in 2017, somewhere around then, when I had been newly diagnosed with OCD. This is a total full-circle moment for me because she was such a-- I just called her a 'lighthouse' back in the day.
My own story really started when I was just a kid. I mean, I was a little girl and was having intrusive thoughts. My intrusive thoughts have always been harm-related. As a kid, I didn't obviously really didn't know what that meant. I had a big obsession with death. I was very, very scared to die and other people around me dying or me somehow hurting them. But when I was little, it always just manifested as telling someone I was scared that they were going to die, and then them reassuring me that they weren't going to die, which is such an interesting thing to look back on. No one ever knew that. But that's where the reassurance started.
I was looking back. I can see these areas of my life that were impacted from the get-go really. And then when I had my daughter in 2014, the anxiety just became absolutely overwhelming. From the moment that I knew that I was pregnant, there were just basically constant thoughts about something bad happening. I felt the entire time that I was pregnant like, I don't know how to describe it really. Maybe nine months of almost getting ready to attend a funeral truly is how I felt, because it just seemed so heavy, already knowing I was going to be really responsible for this life.
While I was pregnant, I even got one of those sonogram machines or the fetal heartbeat machines. I would be sitting at the office and have an intrusive thought that something had happened to her, and I would rush home and I'd make sure that her heart was still beating. My doctor knew me very well because I was basically calling every other week with something that might be wrong, that never was. And then once she was born, it really manifested as just constantly checking on her. These intrusive thoughts that something really bad was going to happen to her, that I wasn't going to be able to take care of her, and constantly asking my husband at the time that I'm an okay mom. I can do this. I'm able to do this.
Those went on really. These thoughts and that heightened anxiety went on for-- she was 16 months old at her first Christmas or her second Christmas, sorry. We traveled with family to go see family, and I was putting her down for her nap and ended up laying down beside her. She fell asleep and I fell asleep next to her. It was in a bed. When I woke up, my first thought was, oh my God, is she breathing? I thought I had smothered her. And so, I put my hand on her chest and I could feel that she was breathing and I went to get up and walk away. I had the thought, what if she's not? I was like, "Okay, let me check one more time."
That is where I say the walls came down, because from that moment on, it was like, there wasn't any-- the checking just got out of control and it flipped. It got into this area where I was scared that something bad was going to happen to her, but now, I was going to do something bad to her. It just changed flavors really quickly.
We got home from that trip and I told my husband. He had to go on a business trip for two days. I basically didn't sleep for two days. "I thought I'm going to hurt her. Something awful is going to happen to her. I can't take care of her." Just going out of my mind. I used to get up and check on her, probably 10 times a night, to make sure she was still breathing. At this point, I became so scared of myself that I would block my bedroom door at night with my dresser to make sure that I wasn't going to get up and do something to her. I was like, "Whoa, something's really wrong here."
So, I looked up an Anxiety Specialist and went and saw her. It took me about a couple of months seeing her and building rapport with her to actually let her in on some of the thoughts that I was having. I remember very vividly. It was an early morning appointment. It was a 7:00 AM appointment. The night before I barely slept, because I really did think like, this is it. I'm going to get hauled away tomorrow. I'm going to tell her these thoughts I'm having, and this is going to be the end of me. And so, that morning, I kissed my daughter, I kissed my husband. I walked out the door and got in my car and I was like, "All right, that's the last time I see him for a while."
But I got into my therapist's office and I broke down. I'm like, "I have these thoughts that I'm going to hurt my daughter. It's the worst thing in the world." She was like, "Do you want to?" I was like, "Oh my God, how could you even ask me that? She's the most important thing in my life." She asked me a couple of other questions. But then she said, "Do you know anything about OCD?" Through my tears, I was like, "Yeah, I do. I know OCD. I'm not clean. In fact, I'm really messy. I don't even know why you're asking that." I was frustrated.
And then she told me about intrusive thoughts and compulsions, and it was the biggest light bulb moment of my life. Everything just started making sense really from some of my earliest thoughts. I do have to say it was a bit of a relief at the beginning. So, that's the story. That's how I got diagnosed, and it started a whole new part of my journey.
Kimberley: Yeah. So you had relief.
Lora: Yeah.
Kimberley: And then what was your emotion?
Lora: Yeah, I mean, the relief was like, I'm not crazy, that it was so like something has got to be really wrong with me. And then it was just like, whoa, I checked the box for everything she just talked about with this disorder. And then the emotion, after a little bit, the emotion became like, this is going to take a lot of work. This is going to be a level of acceptance that was like, I started getting acclimated to what exposure therapy was. She didn't practice exposure therapy, but she was amazing in the sense that she was like, "I have the person for you." She knew enough, which is so important--
Kimberley: Yeah. Thanks for that.
Lora: Yes. To send me to an OCD Specialist. That therapist was amazing. She laid out for me how this was going to work, what we are going to do. It was a relief at first. And then there was a lot of grief. There was a lot of heartache, realizing how much this disorder had taken from my life. Ignorance can be bliss sometimes. I think that I dismantled that notion through doing ERP and exposures, and it became a very interesting part of the journey.
Kimberley: I know, I was thinking about you. You were saying you got in your car, you said goodbye. And then you had to walk back to your car and drive back to your house, right? How is that?
Lora: It's like, I mean, I have some health anxiety too, so I always liken it too. I walk into a doctor's office thinking this is going to be cancer. And then I walk back like, "Okay, now I just go back to life."
Kimberley: Right. I can just have this image of you, walking back to your car, going, "I guess I'm going home now."
Lora: Yes. And I got back. My husband was like, "Hey, you doing okay?" I was like, "I got to tell you what just happened. This is what they said. Did you know that obsessive-compulsive disorder is like this?" And he is like, "No, but I mean, makes a lot of sense."
Kimberley: Yeah. How crazy. It's so amazing that you had that opportunity. Again, we know that that's not a lot of people's stories, so I'm so happy that you had that experience.
Lora: The thing, Kimberley, is that I do want to point out that I had been seeing someone for anxiety almost my entire adult, different therapists. This is the first time. Like, I said, I would have these harm thoughts, but I was just like, push them away, get rid of them. This was the first time I'd ever come head to head with being actually like, "I'm responsible for a little life. This is all on me." It felt like I wasn't going to be able to live the life I truly wanted to live. Other times, it was just like, okay, I can walk away from it. I can find some way to not be around it. Now I'm talking about my daughter who means more to me than anything in the world. Something has got to give.
Kimberley: Yeah. That's really helpful to know that you have been in therapy.
Lora: Yeah.
Kimberley: When I had previously done a presentation with you through the International OCD Foundation, and you shared about your exposure board, this whole idea blew my mind. The reason I really want the listeners to understand, when I teach ERP, I'm literally just teaching my way of doing it and I love hearing other people's way of doing it. It's the same, but it's different. And so, I'd love for you to share about that as an idea for people.
Lora: Yeah. Well, what started as one of the biggest, I felt like, almost hindrances of my pregnancy was that at the time I was pregnant, there were seven other women at my work that were also pregnant. I remember seeing them all being so happy. And then they had their babies and they were so happy, and they were-- obviously, it wasn't like, we're not going to blow this up like some kind of blissful totally time. They were new moms too, but they were going out and doing stuff. And that's all I wanted. That's what I wanted so badly, was to have those experiences with my daughter.
So, my therapist and I started with imaginals and started with some really small things. I mean, I laugh about it now, small. Back then, it was like, no way. I did one where I was going crazy, where this wasn't really OCD, the timeless tale of it's not OCD. Such a classic. So, we started with imaginals and then even imaginals into sleepwalking at night, hurting my daughter, things like that. So, we worked our way up then to one day I was sitting in her office and she said, "What do you want to do?" I was like, "I just want to do normal stuff. I want to go to the zoo." And she's like, "All right, we're going to the zoo." And I was like, "What?"
Kimberley: You're like, "Take it back."
Lora: "I don't say zoo."
Kimberley: "I meant Zoom."
Lora: "I want to have a video conference in the safety of my own home." So, we started putting together this hierarchy based off things that I wanted to do with my daughter. And then she said, "I think a really good idea would be to take some pictures while you're doing these and we'll see what happens." And I was like, "I'm absolutely not doing that." There's no way I'm taking pictures, because as I'm sitting there and having this conversation with this OCD on my shoulder, telling me, "You're going to bring pictures back in here of you dumping your daughter into a tiger cage. Great. Let's do that." But we talked about it and I was like, "Okay, I'm going to do it." So, that was the first real exposure I did when I went out on my own.
We start actually-- I should back up, we did start with driving, because I had this thing with my daughter not actually being in the car. I had left her somewhere. So, we drive and I wouldn't look in the rear view. That was a whole exposure. When we got past that, then we went to the zoo. We went to the mall to have lunch. We went to the swimming pool, which was just like the death pool as far as I was concerned. Let's see, I have the whole exposure board still on the side of my wall. I mean, we went and got pedicures and manicures. We did things that I wanted to do with my daughter. We got flu shots. That I wanted to do with my daughter that OCD told me was absolutely not possible, without having someone to tell me the whole time what I was doing.
My reassurance came in the form of calling my husband, texting my sister pictures because then everything's okay. They can see what I'm doing. And so, doing these exposures without engaging in calling anybody the entire time, without texting anybody the entire time. Just me and OCD and my daughter and here with the three Amigos. Here we go.
Kimberley: Mom and daughter and the third wheel, right?
Lora: Yeah. So, that's how they looked. It was like, I really, really hit it hard over a summer, the summer of 2018. I called it my summer of ERP. Once I got going, I just wanted to keep going. It was terrible at the beginning, terrible because I would complete an exposure and I'd get home and then the rumination would want to start. It was difficult not to engage in that. It was difficult to just watch it. But through the exposures, I said at one point that the butterflies were my yellow brick road. Whenever I'd think about something and I got that feeling like, oh, it was OCD being like, "Really, are we?" And then I was like, "Ah, okay, here we go. Follow, follow, follow, follow."
Kimberley: Isn't it that in and of itself is beautiful? I always say with my staff, is you follow the smell. Meaning wherever it's smelly and you don't want to go, you go there. And that's what you were doing, is just wherever you felt butterflies, if I'm right, you would go and do that thing.
Lora: Yeah, absolutely. Because it became that-- my therapist phrased it in a way where she was like, "We're going to play scientist." That's what she'd tell me. "We're going to go try this out. Let's just bring back what we find." It was such a compassionate way to do that. It wasn't like, "Here's your exposure, do it. Go. Boom," which sometimes I think can be a little helpful. But for me, it worked to be like, "Let's go see about this."
Kimberley: Yeah. "Let's be curious." I love it. Now I've seen this exposure board and it is so beautiful. You would have no idea you're doing exposures. You look delighted most of the time. I wonder if you could even send me a photo and maybe we could show that in the show note, that would be wonderful.
Lora: I would love to.
Kimberley: Yeah. I'd love to be able for people to click and actually see what it looks like. Maybe we could even say-- I try to give homework during the podcast. We could even say, "If you have anxiety, you could create your own."
Lora: Yes. That would be awesome, because I'm telling you, whoever's listening to this right now, you're going to see that I look back on this board and it's us smiling. There is one picture where my daughter is screaming, but that was the flu shot picture, and we did a hard thing. It was a beautiful day to do a hard thing, and I put it on that board, man.
Kimberley: Good for you. She deserved to cry. I think that you're making a good point here, and I've had this conversation with some of my clients, is exposure is even if you don't smile for the photos, still put it up because you did it, right?
Lora: Right. You did it. And that's a thing. Along the way, those victories, I really don't believe that there's such thing as small victories. I know we say it a lot. A victory is a victory is a victory. Take it, hold onto it, and know that's the fuel that you're putting in this device right now that is getting you through this.
Kimberley: Yeah. I love it. Are there any other exposures that you did that you want to share that people may find different or creative? I love the creative ones.
Lora: Well, I just think that the exposures started to become organic. When I was first diagnosed with OCD, I did not know OCD's voice at all. I was like, "No, no, no, that's the voice that's kept me safe my whole life." And so, along the way, the more I started to do some of the work, I started to realize that that what-if voice, that's when I'm like, "Ah, if I'm going along and doing something, what-if pops up." That's my voice of OCD. I've learned that. And so, for me, a lot of my exposures, even to this day, have to do with when the what-if pops up. How can I look the what-if in the eye? I left out obviously in a place where my daughter couldn't get them, but I've left out kitchen utensils before. Just last night, I mean, I mentioned how I'm doing some OCD work again right now because it continues. The what-if popped up and my daughter hadn't drained the bathtub. I was going to drain it right away. Now it's not even like what-if. It's OCD being like, "Whew, way to think of that one." That was it really. And then I stopped myself from draining the bathtub and it's like, "No, no, no." And so then, I left the bathroom and I'm like, "We're just going to leave that tonight."
Kimberley: That's so cool.
Lora: Really anywhere that I can poke the bear, I guess me and my daughter doing things out in public, then that just confronting that fear of me that I'm going to lose control, not be able to help her if she needs it. All those things, wherever the what-if pops up, that's where I knew my work was. And it still is to this day.
Kimberley: Yeah. I love that you share that too. So, it sounds like some people, when we're hearing this amazing story, they think it's just, you're done. Your exposure is done. Is that the case for you?
Lora: Yeah. I was one of those people, I'm going to get through this summer of ERP, which is why I still call it summer of ERP. It was the one summer. I had these high hopes that then once I get into grad school and once I really start working with people with OCD and helping people that the OCD just fizzles. I have recently just come into this space of understanding and ultimately, some acceptance of like, this is kind of a way that I live right now. I don't know what five or 10 years down the road looks like. And I'm really, as far as OCD is concerned, not too focused on it. I'm focused right now on, how's it showing up and are the things that I'm doing helpful? Are they getting me to where I want to be or am I staying in the same spot? That's my litmus test, is am I living the life according to my values that I want to live?
So, recovery for me right now looks like I do exposures still, and I have even after the 20 months of COVID. I thought, man, I bet it could be really helpful to speak with an OCD Specialist again to get a little bit of guidance, get some creativity because that can help sometimes. So, I'm doing that right now even, and it's been amazing. I think it's just a process of building the muscle, of keeping the muscle and I think I'm gaining more acceptance by the year.
Kimberley: Yeah. I mean, that's a piece of it. You had said before, as we talked like mindfulness and self-compassion and act was such an important piece of your work and acceptance is such a core part of all of that, because there is so much grief. We don't talk about it enough, right?
Lora: Yeah. There is though.
Kimberley: What was it like for you-- let me rephrase that. Was mindfulness and self-compassion a part of this process for you?
Lora: Yeah, absolutely. So, my amazing therapist knew about Mindfulness-Based Stress Reduction and she had mentioned it to me. There was a program that was going on. I lived in Dallas at the time, at the Dallas Yoga Center. It was an eight-week MBSR program and I signed up for it. We did a body scan, a 40-minute body scan, the first class, and everybody woke up and they were like, "That was so relaxing. That was so awesome." I raised my hand, I literally raised my hand and I was like, "I don't think I did that right. I just had a 40-minute panic attack." It was awful.
But I should say too, that shortly after I got diagnosed with OCD, I realized I had become incredibly dependent on alcohol, especially being a new mom. So, I had completely quit drinking. I was like, "All right, if I'm going to do this, I'm going to do this. Let's go." I quit drinking. I didn't want to have that crutch. I was in the MBSR program. I talked to the teacher. She convinced me to come back the next week. And then the next week, we did another meditation. Towards the end of it, she read a Mary Oliver poem that ends with "Tell me what you plan to do with your one wild and precious life." It felt like a dam burst open in me at that moment. I was like, it is so precious and it is so amazing, and like, "Lora, you can do this. Let's give this everything we've got, the exposures." Learning to sit with myself through mindfulness was huge because OCD and anxiety do not like that. We need to be moving.
So, mindfulness was so huge for me to be able to just breathe and be in a moment and watch my thoughts instead of engage with them. Mindfulness then I say was the gateway to self-compassion because I'm not sure-- maybe I would've gotten there, but it wouldn't be as soon to be able to be with myself and to hold myself and that loving-kindness. When you don't even want to sit with yourself, it's really hard to be able to look at yourself and be like, "I'm here." You want to be like, "Let's go." So, yeah, self-compassion then was huge, because that voice of OCD is so nasty. I worked on a self-compassion journal for about six months straight, every day, really journaling.
Kimberley: What would you write? What would that look like?
Lora: Yeah. So, I read and worked through with my therapist the Kristin Neff's first book. And so, each day I would pick something that had happened, that was a little difficult and I would break it down into the three components of self-compassion. I would be mindful about what happened. Didn't need any of my judgment in there. Let's just lay it out there, what happened. Then the common humanity of it. Who else do you think in the world might have experienced this, or that feeling of not being alone. Man, probably a lot of people ran into something like this today. And then self-kindness. A lot of times, my self-kindness sounded like, "I'm really proud of you. That was really hard." I don't know how many entries I had over those months of being in a grocery store. Like a toddler going nuts in a grocery store and then just the flare-up of like, "Ah!" At the end of the day, that's what I choose.
I remember a couple of months, maybe three or four months in, where I was sitting down to write and I couldn't think of something really hard that had happened that day. And I was like, "What?" It was such a weird feeling. After months and months and months of really intense therapy and some difficult things I was working with, I was like, "Today, I'm just going to be compassionate then about how much work I've been doing."
Kimberley: Wow. I love that you're sharing that because I've found even since-- I mean, I wrote a book on self-compassion, but since I wrote the book, I'm even pushing my clients to do it even more. The journaling and the writing to themselves seem to be the most powerful part of the work, the writing to themselves.
Lora: Yes. And I think that the writing to myself and the speaking to myself was the most powerful part of it. In the beginning, it was absolutely the hardest, especially with the voice of OCD. When I would look in the mirror and I would say, "You're doing the best you can, Lora. You're really doing this," OCD would be right there to be like, "Are you?" It's so egotistical. It just wants all the attention. "Maybe you're not." I sat down with my therapist a couple months into really keeping that journaling and I was just exhausted, just so tired from some of the work. I don't know if you can see it. Can you see on my back wall "As long as it takes"?
Kimberley: Yeah.
Lora: I sat down and I just started crying one day and telling her this has just been so hard that sometimes I feel like I haven't made any progress. I feel like I take two steps forward and five steps back, and was just really down about stuff. She sat there, just really holding some amazing space for me, but I said, "How long is this going to take?" She just looked at me and she just put her head to the side. Really, she's such a sweet person, and she said, "As long as it takes." She said it just like that, "As long as it takes." And I was like, "Okay. As long as it takes. Throw out the timeline then. Let's just keep going."
Kimberley: Yeah. I love that I got goosebumps hearing you say it. All the hairs in my arms are standing up. And I love that you have it on the wall, because I read it as we were starting. I was like, "You know what? We're good." It shakes off all the rules and stories we tell ourselves.
Lora: Yes. My mom actually, she made that for me, for my graduation from grad school. She made that and framed it for me.
Kimberley: I love it. Yeah. You are so inspiring really.
Lora: Thank you so much.
Kimberley: Yeah. Number one, I'm so grateful that you're here and you're sharing this, and number two, I'm so excited that you're going to change lives for people, being a therapist and so forth. I'm just so grateful that I got to see some of it.
Lora: Yes. Because before we even started recording, we were talking about how on the Mondays-- what were they? Magic Mondays?
Kimberley: Magic Mondays.
Lora: Magic Monday. I'd be like, "All right, it's magic Monday." I'd log on and I'd ask questions and I was really inquisitive and you were so sweet. You answered all the questions and you were just so-- it was like this feeling of it's going to be alright. It is. I think when we can cultivate that and know the sky sometimes can feel like it's falling, we do really have the power to look around and say like, "Here I am." Here I am, put our hand on our heart and say, "This is what I can do in this moment. I can at least show up for me at the very least." And that's not the least thing at all.
Kimberley: No, no. Like I said, you're so inspiring. I've written so many notes, which is so fun. I don't usually get that many notes down. So, I'm just so grateful for you for coming on and sharing your story. I loved presenting with you. That's where I felt like I got to know you, so I'm so grateful. Where can people find you?
Lora: I am on Instagram and the account that I share a lot of my OCD journey with and things that I have learned along the way is Judgment-Free Anxiety, but it's judgment_free_anxiety.
Kimberley: I love that. What's for you in the future? Tell us about what's popping out for you.
Lora: Oh man. Well, right now, I hope to be employed somewhat soon. It's a new life now after grad school and after becoming licensed, and just hopefully a lot more adventures with my daughter, going to do that. And man, that's it. I did actually recently become certified to teach mindfulness, so I'm also looking at doing something with that as well, but I'm not sure exactly what.
Kimberley: Yeah. Such good skills to have in your toolbelt.
Lora: Yes, absolutely.
Kimberley: Well, thank you so much. You filled my heart up today. Thank you.
Lora: Thank you so much, Kim. Thank you.
-----
Thank you so much for coming and listening to our podcast. Before we finish up, let's do the review of the week. This is from nmduncan827, and they said:
"Compassion, comfort, and wisdom. I've been following Kimberley Quinlan for years now and I can't say enough wonderful things about her and her work. As someone who has had OCD their entire life, I feel like finally at the age of 33 I'm beginning to find helpful resources to really push me along in my road to recovery. Between Kim's Instagram page and her podcast and her new book— there's little nuggets of compassion, comfort, and wisdom. I found this no matter where I am on my journey. I couldn't recommend this more for my fellow OCD and anxiety-disorder community! So grateful for Kim."
Thank you, nmduncan827. Thank you so, so, so much. I am so honored. And of course, you can find me at Your Anxiety Toolkit on Instagram. You can get my book anywhere where you buy books, specifically on Amazon and barnesandnoble.com called The Self-Compassion Workbook for OCD. And of course, the podcast is here. Any time you like, go back, listen to old episodes. Sometimes they're the best ones. I will see you guys next week.