SUMMARY:
We all know that self-compassion is am important tool for anxiety recovery. In this weeks episode of Your Anxiety Toolkit podcast, I address a common concern; "What if I dont deserve self-compassion?" This is such a common reason people do not provide themselves with compassion. In this episode, review the reasons YOU DO DESERVE SELF-COMPASSION and some key concepts and self-compassion mediations to help you practice self-compassion.
In This Episode, we cover:
Self-Compassion Definition
Reasons people feel they do not deserve self-compassion
Ways to manage feeling unworthy of self-compassion
How to practice Mindful Self-Compassion
Links To Things I Talk About:
Self-compassion Mediation: Here is a link to several self-compassion meditations from previous episodes.
https://kimberleyquinlan-lmft.com/episode-2-lovingkindness-meditation/
https://kimberleyquinlan-lmft.com/ep-134-giving-and-receiving-meditation/
https://kimberleyquinlan-lmft.com/ep-110-this-compassion-practice-tonglen-meditation-for-anxiety-will-change-your-life/
Episode Sponsor:
This episode of Your Anxiety Toolkit is brought to you by CBTschool.com. CBTschool.com is a psychoeducation platform that provides courses and other online resources for people with anxiety, OCD, and Body-Focused Repetitive Behaviors. Go to cbtschool.com to learn more.
Spread the love! Everyone needs tools for anxiety...
If you like Your Anxiety Toolkit Podcast, visit YOUR ANXIETY TOOLKIT PODCAST to subscribe free and you'll never miss an episode. And if you really like Your Anxiety Toolkit, I'd appreciate you telling a friend (maybe even two).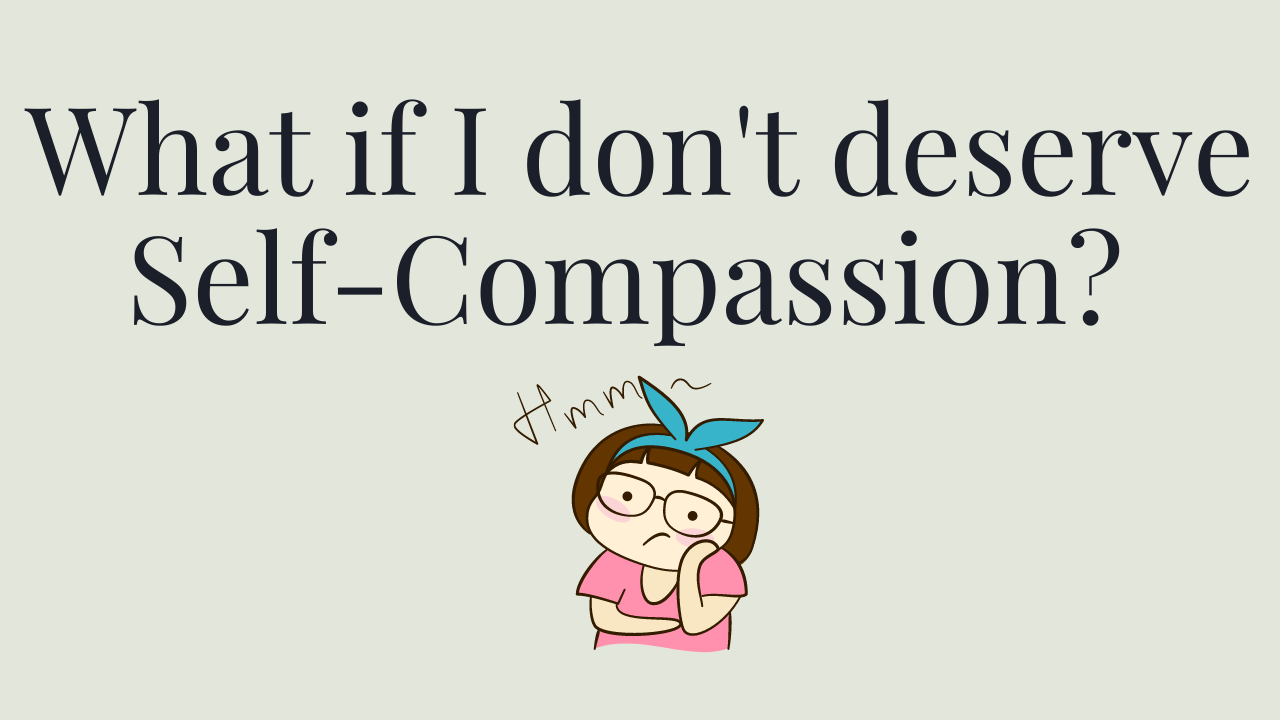 EPISODE TRANSCRIPTION
This is Your Anxiety Toolkit - Episode 223.
Welcome back, everybody. It is a joy to be with you again. Thank you so much for being here with me. Thank you so much for putting aside your valuable time to spend it with me. I feel so honored.
Today, we are talking about a question. And in effort for us to respond to this question, we're actually going to ask ourselves some questions and I'm going to have some questions for you, and you're going to think about them, hopefully, and then make some changes if you think that is what you need.
The big question of the week is: What if I do not deserve self-compassion? Now, one of the most common questions I get is this question, particularly when I'm with patients and we're discussing the idea of practicing self-compassion or kindness towards themselves. Often, that is a question they ask, what if I don't deserve it, or they may even make a statement like, "I don't deserve self-compassion."
Now, this is particularly true for those who are very self-critical and blame themselves for certain things that have happened either to them or that they have done. Like I'm saying, it's like things that were accidental, things that they didn't have control over, or maybe some things and mistakes that they did make. This is a really important question for us to explore. I'm going to hopefully get to explore it with you.
Before we do that, I would like to do the "I did a hard thing" for the week. This one is from Sophia. Thank you, Sophia, for writing in and telling us your hard thing. Sophia said:
"I suffered from OCD starting when I was 19. My hard thing I did was I reported my stepfather in for sexual abuse that occurred when I was nine when I found out I wasn't the last victim. It took me 28 years to get to this place. And let me tell you, OCD really played into my intrusive thoughts. It made the process so much harder. But I did it and I feel like I'm out of the web of manipulation from my stepdad. This podcast helps so much and the book for self-compassion and fear workbook my OCD therapist recommended to me. I saw your podcast listed in the first few pages. Thank you for being a part of my support system without even knowing."
Wow, that was an amazing "I did a hard thing." Thank you so much, Sophia, for sharing that amazing hard thing. You are showing up and facing fear and pulling your shoulders back and living your life according to your values. That is impressive. I'm so honored to have you share that with us and really do wish you the best. You are doing amazing things.
Okay. So, let's move into the bulk of the podcast in terms of let's talk about what if I don't deserve self-compassion. This is so important. I'm going to first pose to you the first question I have for you, which is, who actually deserves self-compassion?
If someone says to me, "Well, I don't deserve it." I'll say, "Well, who does? What do you have to do to be warranted of compassion? Who does deserve it?" I really pose this question. I really hope you answer it. I would like actually you to sit down and ask yourself, "Well, then who does?" And you will begin to see very quickly, I'm guessing, the rules in which you have for yourself that keep you stuck.
Oh, the people who don't have these thoughts, the people who don't make mistakes, the people who are perfect, the people who look like they're happy and are doing well. Or often people will say, "Everybody else is off the hook. It's just, I'm not off the hook. Everyone else can be imperfect, mistake makers, but not me." You'll quickly learn the rules of your life.
I want to ask you, do you want to live by those rules anymore? Because this is not playing games. This is your life. Do you want to keep holding yourself to those rules that you just listed off? How does it benefit you to continue to hold yourself to that high, high standard? Often, we say, "I shouldn't have these feelings. I don't deserve it because I'm weak. I don't deserve self-compassion because I'm not valuable. I don't deserve self-compassion because of the content of my thoughts. The content of my thoughts is too heinous." Okay. So, there you might want to look at, again, what are the rules and do you want to live by those rules? Because the truth is, you can't control your thoughts and you can't control your feelings and you can't control life a lot of the time, almost all of the time. And so, again, do you want to live by those rules?
Next question: Are you beating yourself up for something that's not your fault? Meaning can you control your thoughts? Because my thoughts aren't my fault. I know my feelings aren't my fault. I know how I interpret things aren't my fault. That's usually coming from years and years of being trained to think that way. I know my beliefs aren't even my fault. I actually think we're just creatures of habit and we were raised to believe certain things and we are going to make mistakes. I'm going to say this again: What would you have to do to warrant deserving self-compassion?
Often when we actually explore this, I really, really hope you start and actually write your answers down to these questions because when we stop and we look at like, okay, so if you don't deserve self-compassion, we really know the benefit of you practicing self-compassion so much so that I am in the process of creating a course that will teach you. I've already written a book for people with OCD, but I'm creating a minicourse on how to practice self-compassion. It's that important. I want everybody to have access to it, not just those who have OCD. That is a big part of my mission, is to get everybody to be practicing self-compassion.
Let's say we really understand the benefits of it. We know it's important. We know it can increase motivation, make you more successful, decrease procrastination, make you feel like a better sense of self. It can help you achieve your goals. So many benefits. It actually reduces inflammation. It gives you better wellness and health. It increases life satisfaction. So many benefits. Let's say we want you to do it because it's healthy, just like you would exercise because it's healthy, or you would go get it to the dentist because it's healthy. What would you have to do then to be warranted and deserving? And often then, again, you're going to be very clear in terms of this list of things.
I'm going to ask you, are the list of things even realistic? Really, if you said, "Okay, I'd need to no longer have these thoughts and I would have to have changed the past and done something different. I'd have to regulate my emotions all the time. Never snap at my children and never say something silly at a party." Is that even possible for any human? Really for any human, is that realistic? Do you actually think you can actually achieve that really honestly? This is a question. This is not rhetorical. This is an actual question.
The chances are, when you really answer it, the truth is, you're not giving yourself self-compassion because you don't feel like you deserve it. But the truth is, you will never be able to meet these rules that you've created for yourself. I don't want to say that as if I'm blaming you. We've all done this. But I want you to be really honest with yourself in regards to, you're never going to get to the place where you practice self-compassion if you keep those high level of rules, those perfectionistic rules. And then you miss out on this wonderful opportunity for your mental health and for your physical health, and for your wellbeing.
Here is another question: What would you have to feel in order to offer yourself self-compassion? Meaning how would you need to feel about yourself? What emotion would you need to feel in order to feel like you deserve it? What would you have to experience about yourself? Not the rules, but like would you have to. Some people say, "I don't feel like I deserve it." It's a feeling.
The reason I ask this question is because often people will say, "It's just a feeling I get. Sometimes I feel like I do and sometimes I feel like I don't, usually depending on whether I've checked off all of these boxes." But it's still a feeling that you're going off because it's different. It's not like you get your notepad out and you check the boxes. It's a feeling.
I might pose to them, could you actually offer yourself self-compassion without the feeling and just do it anyway? It's a very, very radical thought. What a radical idea that you might offer it to yourself even though you don't feel like you deserve it. Could you offer it because of what you've been through or because of the checkboxes that you haven't checked? Meaning I believe, and I've said this on the podcast before, and I'm going to say it very, very clearly here for you, I believe the more that you suffer, the more you are deserving of self-compassion. It's not the more mistakes you've made and the more you've suffered, the less you deserve it. It's actually the more you deserve it. "Oh, I've made a lot of mistakes today." Oh, you're even more deserving of self-compassion. We want to offer more to you. Oh, you are having a really hard day with some really hard emotions and some strong emotions. Oh, even more of a reason to offer compassion.
Now, usually when we talk about this, clients will say, "No, that's just letting yourself off. That's just getting out of jail free card." I'm going to offer to you, like let's trick this belief and check made it a little bit if we were talking chess, is self-compassion is not a get-out-of-jail-free card. It doesn't mean you stop holding yourself accountable. It's actually what helps you towards change. You are saying, "I don't deserve self-compassion. I need to suffer and be criticized and punished because of something that happened." Does that actually move you towards perfection? No, it doesn't. It doesn't create any change. In fact, it keeps you now doing behaviors, like I said, self-criticism, self-punishment, which keeps you stuck in a cycle of feeling bad and negative thoughts and feeling depressed and feeling hate towards yourself. Very little good comes from that. That is not getting you out of any problem. It doesn't lead you towards being the best version of yourself. In fact, it leads you towards more and more suffering.
Mindful Self-Compassion
Offering mindful self-compassion doesn't absolve you from what happened in the past. Ideally one day you will forgive yourself, but that's a different topic. Forgiveness is not self-compassion. You can do both. You could forgive yourself as a form of self-compassion and you could be self-compassionate, which could lead you towards forgiveness. But here, what I don't want you to think of is that people who are self-compassionate are just like, "Oh no big deal. I just totally did a terrible thing, and it's not a big deal. I don't have to beat myself up because that would be unkind." No, that's not what we're talking about. And no one does that. If that's the case, you're not practicing self-compassion at all.
Self-compassion is just simply offering kindness towards suffering. That's it. It's not ranking you higher or lower and the good or bad person. It doesn't mean that you don't matter. It doesn't mean that your pain doesn't matter. It doesn't mean that you can't hold yourself accountable and take responsibility. It just means the absence of beating yourself up and meeting your pain with kindness and compassion instead of criticism and punishment.
The thing you've got to run mind yourself, and this is a huge thing I'm doing this year, is really trying to identify what's working and what's not. I do a lot of therapy. I think a lot. It's one of my best skills and one of my biggest flaws, is I think a lot, I feel a lot. And it's not a bad thing, but I'm really trying to be more efficient and effective. Meaning, okay, what's the right amount of being responsible and taking responsibility? Because you could do a little bit, which is really responsible and very helpful. But then if you do too much of that, that doesn't make you a super responsible person. It means now you're moving into self-punishment. So, too much of one thing can be good and too much of one thing can also be bad. It gets you into trouble.
So, how can you be effective with the behaviors that you engage in, is the amount of criticism or self-punishment or deprivation of compassion, which is what we're doing here and talking about, does that bring you benefits to your life? It's an important concept for you to think about. Whether you think you deserve it or not, or whether you feel you deserve it or not, is it effective? We'll come right back to one of the first concepts, which is, just because you think it, still doesn't make it true. So, just because you think you don't deserve it doesn't mean you don't deserve it. It just means you're having thoughts that you don't deserve it and thoughts aren't always right.
We recently did a whole episode on guilt, quite a few months ago, but the whole concept was just because you feel guilty doesn't mean you've done something wrong. Our brains make mistakes all the time. So, just because you think you don't deserve it doesn't mean you don't deserve it. We think messed up, scary, wrong things all the time, and the truth is, anxiety lies. Depression lies. OCD lies. Panic lies. Chances are, a lot of these beliefs you have around self-compassion are also just lies. We want to move you towards recognizing that everyone deserves compassion. So, that's the final where we land here, which is everyone deserves it. Everyone.
Really to be honest, even when I say the more you suffer, the more you deserve it, that's actually not completely correct too, because that would still be buying into this idea that certain people deserve it more than others. Everyone deserves it equally every day, 24 hours. It's just a done deal. You don't have to give yourself self-compassion. But what are the negative impacts of your life, if you don't, and what are the positive impacts in your life if you do? Think about how much good you can do in the world if you did. That's the point I want to make.
Keep an eye out. We have a whole course on self-compassion coming. It will be for everyone. It will be $27. I'm in the process of making it. It will probably be available when this comes out, but just in case it's not, keep an eye out in future podcasts. I will have a link on CBT School. You can go there and check it out. I cannot wait to share that with you. It'll be a lot of these concepts, but actually more applicable skills for you to practice. Head on over to CBTSchool/self-compassion. I'm sure it'll be there by the time we get to this episode and I am so excited to share it with you.
Before we finish up, let's do the review of the week. This one is from Kanji96 and it says:
"This podcast is very helpful for me, especially when I'm going through hard times. Right now happens to be one of those hard times and here I am back listening to Kimberley. Thank you."
Thank you so much, Kanji. Your reviews mean the world to me. Please, please, please go and leave a review. I mean it. If you get any benefit from the podcast, this is one way that if you feel at all so inspired to leave a review, it really helps me. It helps me to reach more people. It helps people to feel like they can trust the information here. I would love your honest review. So, go over to podcast app or wherever you listen and leave a review there. I am so grateful.
Have a wonderful day, everybody, and I will see you next week.