SUMMARY:
Many people ask me, "Why do I have anxiety?" and the truth is, there is no clear-cut answer. However, in this week's episode, I give you nine possible causes of anxiety and what you can do to manage anxiety in your daily life. Some causes are in your control, and some are not. Either way, it is important that you are super gentle with yourself as you explore some of the reasons for anxiety in your life.
In This Episode:
NINE possible causes of anxiety for you in your life
What you can do to manage your anxiety
How to overcome anxiety by changing small behaviors
Reasons you experience anxiety may include

Genetics
Caffeine
Distorted Thoughts
Behaviors
Trauma
Environment
Stress Management
Lack of Tools
Isolation (lack of community)
Links To Things I Talk About:
Time Management for Optimum Mental Health https://www.cbtschool.com/timemanagement
ERP School: https://www.cbtschool.com/erp-school-lp
Episode Sponsor:
This episode of Your Anxiety Toolkit is brought to you by CBTschool.com. CBTschool.com is a psychoeducation platform that provides courses and other online resources for people with anxiety, OCD, and Body-Focused Repetitive Behaviors. Go to cbtschool.com to learn more.
Spread the love! Everyone needs tools for anxiety...
If you like Your Anxiety Toolkit Podcast, visit YOUR ANXIETY TOOLKIT PODCAST to subscribe free and you'll never miss an episode. And if you really like Your Anxiety Toolkit, I'd appreciate you telling a friend (maybe even two).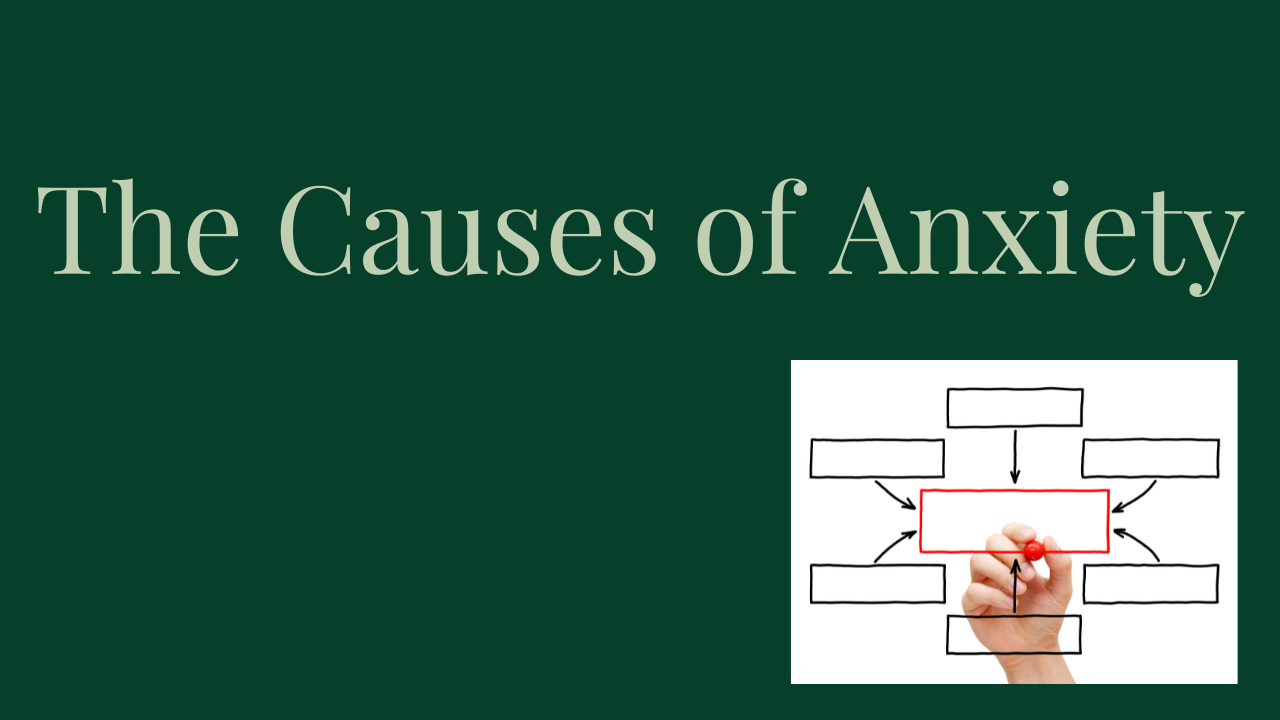 EPISODE TRANSCRIPTION
This is Your Anxiety Toolkit - Episode 225.
Welcome back, everybody. Today, we are talking about the causes of anxiety, why you are anxious and what you can do about it. This is a topic I feel like keeps coming up with my clients like, "But why? Why is this happening?" And I totally get it. Now, a lot of the times, I encourage my patients the end goal, jump straight to the end goal is we don't want to spend too much time trying to solve why we're anxious. That in and of itself can become a compulsive problematic behavior. But I wanted to just address it because I don't think I have addressed it yet in the podcast. I thought now is a good time to really just look at some of the reasons we humans are anxious. I'm an anxious person, my guess that the fact that you're listening to Your Anxiety Toolkit means you or someone you love is an anxious person. So, let's talk about why we're anxious. What are the causes of anxiety and what are some of the reasons we are anxious.
Now before we do that, we want to, of course, do our "I did our hard thing" segment, and this one is for Bradley. Bradley wrote:
"I was at a family event and had to see a family member I haven't seen in four years. I said a firm, no contact boundary with her since she was so toxic. And as much as I tried, I knew I could not control whether she came or not. Seeing her was very hard, but I gave myself loads of self-compassion and allowed that moment to be very difficult." Oh, Bradley, this is so good. "I was pleasant to her, but I did not engage beyond what was necessary. I took multiple moments throughout the event to check in with myself and see what my body needed."
This is so good and this is such great modeling of how we can regulate and monitor ourselves, giving ourselves kindness as we do hard things. I love this. Thank you so much for sharing it. This is really super inspiring. I think we all need to practice this one a little better, myself included. I hope that that brings you some inspiration before we move on into the episode. Thank you again, Bradley, for submitting that. I love hearing the "I did a hard thing."
Let's talk about why you and I, and we might be anxious.
1. Genetics
Reason number one is genetics. I think that if I'm with a client and they ask me, this is usually the spiel I would give them, which is, genetically, a lot of us are set up to have anxiety. What that means is somewhere in our lineage, our parent, our grandparent, someone had anxiety and it is quite a genetic trait to have. As we go through these, I'm really wanting you, just as a side note, to think about these things, but we don't want to use these as an opportunity to blame other people. We don't want to blame, of course, our parents or our grandparents. It wasn't their fault. Obviously, they probably had it passed down from somebody else as well. But as we move through some of these, I also don't want you to displace blame onto yourself, and we can talk about that as we go. But genetics is a reason that some of us are anxious.
I'll give you a little bit of a piece of my personal experience here, is I often-- I mean, I know every anxiety tool in the book and there's been many times where I've visited doctors or psychiatrists and they ask me about anxiety and I'll say, "Yes, I have anxiety." They'll say, "Well have you had therapy? Have you tried medicine?" "Yeah, I've tried all of those things and I'm highly functioning and I have a wonderful life." But I also have to accept that some degrees of anxiety are just genetic. I'm not going to get rid of them all. In fact, I don't want to get rid of all anxiety.
I want to use this as an opportunity to remind you that this is not meaning that it's a list of things you now have to go and fix. Not at all. This is about just being aware of what's going on. Hopefully, at the end, we'll talk more about this, is you can then acknowledge what might be bringing the anxiety on, but then go straight to your toolkit. The tools are the most important part here –acceptance, not judgment, willingness, compassion, being mindful. Go straight back to your tools once you've listened to this podcast because that's going to be the most important piece.
2. Caffeine
The second reason you might have anxiety is because of caffeine. A lot of people report that if they have too much caffeine, they get jittery and it sets off a nervous response in the body where the brain then sends out a whole bunch of anxiety hormones and chemicals in the body. Caffeine mimics anxiety, which then means that now you have more anxiety, because when you have anxiety and you experience something like it, usually, if you go, "Oh my gosh, yeah, something must be wrong," your body proceeds to send out more and more and more and more anxiety.
Caffeine can be one, but I will also tag on additional one here, which is alcohol. A lot of my patients have reported that if they're drinking too much alcohol, they do feel that same jitteriness the next day, which then causes their brain to think something is wrong. Therefore, again, send out more anxiety, chemicals and hormones, something to think about.
3. Distorted Thoughts
Now, the third is really important. I've done podcast episodes on this before, and it's distorted thoughts, catching your distorted thoughts. If you are at the supermarket and the man or woman next to you drops the cereal box all over the floor or they drop a can or a glass bottle, and it shatters everywhere, you are naturally going to have anxiety. Normal. Anyone would have anxiety. It's a big shock to the system. But if you then have distorted thoughts about that, like that means it's bad luck, I did something wrong, I've humiliated myself, they're going to be judging me – there are so many different distorted thoughts. I'm just using this as an example. Or another example would be you are interacting with someone at the bank and you have then following the distorted thought of like, "They are judging me. They think I'm stupid. I I didn't handle that well." Maybe you have the thought bad things are going to happen and you're catastrophizing. Those thoughts will create anxiety.
Now again, if you go back and listen to those episodes back a few weeks ago, you will remember me saying, we cannot control our intrusive thoughts. I want to make that really clear. There are a lot of thoughts you are having right now that you have no control over. What I'm talking about at distorted thoughts are the thoughts on how you appraise a situation. Let's say you have a thought, let's say you have harm obsessions, and you have a thought like, "What if I wanted to hurt somebody or so forth?" That you can't control. But if then you appraise it going, "I'm a terrible person for having that thought," that's the distorted thought that you can actually work on. Those distorted thoughts can cause anxiety as well.
4. Behaviors
Sometimes our behaviors can create anxiety. Avoidance is one of them. You would think that avoiding your fear makes anxiety go away. Makes sense, right? But actually, it's not true. The more you avoid things, the more you actually increase your anxiety about that thing.
If you've avoided something for a very long time, let's say you avoided flying. Now, even the thought of flying is going to give you anxiety. So, behaviors can cause anxiety as well. Now, this also includes compulsive behaviors. It includes reassurance-seeking behaviors. It includes rumination in your mind, mental compulsions. Behaviors can increase the degree in how your brain responds.
People pleasing, this is a big one for me. If I'm people pleasing, trying to make everybody happy, no one upset, you would think, oh, that's a good thing. You're being a kind human being. Well, yeah, except it then creates a lot of anxiety at the idea that someone doesn't like something you did or that they're upset with you about something that you did. Now, you haven't built up a tolerance to just the fact that we can't please everybody. These are ideas on how behaviors can actually cause anxiety.
5. Trauma
In the mental health field today, everybody is saying everything is trauma. It's like, "You've traumatized me. I was traumatized by this." It's important that we-- and this is for another conversation, but I'm going to slide it in here. When we talk about trauma, where I'm actually talking about life-threatening trauma. Not to say that we call it little "t" trauma. There's big "T" trauma, which are life-threatening events, war, assault, witnessing a death, and so forth. There's some examples. It doesn't include all of them, but that's what we call capital "T" trauma. There are little "t" traumas. We all have little "T" traumas and they can cause anxiety.
I'll give you an example. When I was a kid, we went through, in 1992 I think it was, this devastating drought. I grew up on a farm. We really needed water and the whole environment was just desperate for water and we didn't have enough water. We had to pay to have a truck bring water just so that we could have baths. It was really scary as a very young child to be afraid of not having enough water to drink. It was scary. We could call that a little "t" trauma. Still to this day, when my kids, my son just spends forever in the shower, I start to notice I get anxious when he's in there for a long time because my brain is telling me we're going to run out of water. That's an example of why you may notice some anxiety show up.
Now I can correct that and remind myself that I live in times where there's no drought or that we have excess water and so forth. And that's where I check those cognitive thoughts and errors of my thinking. But the trauma itself can cause the anxiety. Again, I want us to be really careful around the word "trauma" because I don't want us to be using "trauma" about all the things, because that actually isn't good for our brains either to keep telling ourselves we were traumatized. That actually can create anxiety in and of itself.
6. Environment
You all have experienced this. Even though I don't know you and your beautiful face, this you would have experienced in the last few years – the environment of COVID creates anxiety. Seeing people with the mask at the beginning of COVID, I'm guessing you would've had a bout of anxiety. Being around loud noises can create anxiety. Being in countries or regions where there are discord, conflict, war, they can create anxiety. Being in an abusive household, the environment of abusive household can create, of course, anxiety. Having someone around you who yells a lot and screams and throws things can create anxiety. There we're going into the line again of trauma, but we want to consider environment.
7. Stress Management
A big one for right now as well. If you have an incredible amount of stress on your plate, you will naturally have anxiety. If this is you, I'm going to encourage you to consider taking some of the stress off your plate, if possible. I know it's hard. Some of you have double jobs and family and chronic illnesses and medical, mental illnesses. It's hard. But anywhere you can, ask yourself, is there a way I can make this easier or simpler so that I can reduce my stress?
8. Lack of Tools
Now this is a big one for me because I get really grumpy and cross. That's an Australian term for everyone who is an Australian. When you say you're cross, it means you're angry or very grumpy about something. I get really cross when people who claim to be anxiety specialists give these strategies that actually make anxiety worse. Sometimes people do have generalized anxiety, but the tools they've been given can actually make it worse.
Telling people just to use oils – oils are fine. I have nothing wrong with oils. I actually, PS, love oil. But if that's your only skill and only tool that you have and your only agenda for recovery, that's not going to help. It's actually going to create more anxiety because you're going to keep getting frustrated on why it's not working. If your only tool is to, again, another gripe I have that makes me very cross – ah, so funny that I get so upset about it – is people who talk about thought-stopping, like just think about a big red stop sign. That is not a helpful tool. Sometimes it works for some people. But if you have a repetitive intrusive thought, that is not going to work. It's actually going to make your anxiety worse.
Lack of tools is an important one. I'm even going to say be critical, even of me when I'm giving tools. Really stop and ask yourself, does this work for me? Because I don't know each and every one of you and all the intricacies of what's going on for you psychologically. Always stop and ask yourself, is this helpful? I like to give you as many science-based tools as I can. I try not to just decide of a strategy that I use and just use it. But I want you to be really critical of everybody. Be very wise in your selection of who you choose to get advice from. That's just a little piece to think about. Like I said, I always say this, take what you need and leave the rest if it's not helpful.
9. Isolation
The last one is important. It's not last for any specific reason, but it's isolation. If you are in isolation for too long, meaning that you're alone, you don't have community, you don't have connection, your brain will naturally get anxious. Sometimes people love isolation. I myself love isolation and quiet and to be by myself. Oh, it's so good. I just love it. I just can sit and be still.
It's good for some people, but too much isolation, prolonged periods of isolation often can cause anxiety, because we are community humans. Humans are built on community and tribe and needing each other. That goes back thousands, millions of years. For those who are struggling, they're like, "Everything's fine. I don't know why, I'm in my safe house." It's like, "Well, when's the last time you saw somebody?" "Oh, it was months ago." "Okay, well, that makes sense. You haven't had any of that." There is some science to showing that your parasympathetic nervous system slows down when you're in connection and even physical touch with somebody. That's just something to think about as well.
There you have it. Those are the nine reasons, 10 if we include alcohol. They're the reasons that you might feel anxiety in your life or in your lifetime. I hope that this brings you some insight and you had a few aha moments about maybe why your anxiety is showing up again. I promised I would say at the end, this is not to say that now you have to go and fix all of those nine things. Actually, quite the opposite. We don't fix anxiety. In fact, the more ideal option would be to practice befriending and allowing and not judging anxiety. But if this is helpful for you to maybe make some tweaks in your life, change your distorted thoughts, reduce your caffeine, manage your stress, change your environment, get some connection, get some helpful tools, that would make me so, so happy.
Before we finish up, we are going to do the review of the week. This one is from Tennessee Lana. She said:
"Game changer. I found this podcast four years ago and it has been monumental in my anxiety and OCD recovery. Many podcasts led to new content that I could follow and learn. I could write about this and never stop but instead I'll leave a few adjectives that I think adequately describe this podcast. Kind, insightful, intelligent, easy, interesting, practical, helpful, uplifting, and LOVING."
Oh my goodness, Tennessee Lana, do you know the word I love the most? Practical. If I can be practical in helping you, I feel like I am winning in my career. All of those adjectives make me so overjoyed, but I love these. Actually, Tennessee Lana, I'm going to steal them from you. Copy and paste them. Maybe put them on my desktop just to remind me of the goals of the podcast. Love it.
I hope you found this helpful. Have a wonderful day. Please go to leave a review if you can. Those reviews allow me to reach more people from people who trust the show, which is key. If someone can see that other people are enjoying it, that means they can trust us quickly, which is the goal. And then from there, I hope that this episode was helpful and gave you some insights.
All right. I will see you next week. Have a wonderful day.