In This Episode:
The difference between Reassurance seeking vs. holding in emotions
Why Reassurance seeking OCD is problematic and keeps you stuch
What tools you can use to help you manage emotions with OCD
Links To Things I Talk About:
ERP School: https://www.cbtschool.com/erp-school-lp
https://kimberleyquinlan-lmft.com/32-reduce-reassurance-seeking-behaviorscompulsions/
Newsletter https://www.cbtschool.com/newsletter
Chatter Book:https://www.amazon.com/Chatter-Voice-Head-Matters-Harness/dp/0525575235
Episode Sponsor:This episode of Your Anxiety Toolkit is brought to you by CBTschool.com. CBTschool.com is a psychoeducation platform that provides courses and other online resources for people with anxiety, OCD, and Body-Focused Repetitive Behaviors. Go to cbtschool.com to learn more.
Spread the love! Everyone needs tools for anxiety...If you like Your Anxiety Toolkit Podcast, visit YOUR ANXIETY TOOLKIT PODCAST to subscribe free and you'll never miss an episode. And if you really like Your Anxiety Toolkit, I'd appreciate you telling a friend (maybe even two).
EPISODE TRANSCRIPTION
This is Your Anxiety Toolkit - Episode 306.
Welcome back, everybody. We are well and truly into OCD Awareness Week, and I have been so excited to be a part of some amazing awareness projects, being an advocate for the International OCD Foundation, doing a lot of social media on self-compassion this week. It's been such a treat.
This week, I actually wanted to discuss a concept that I-- actually, I say this often these days, but I get asked this question a lot in some various forms by my clients, so I wanted to address this question that I got with you. This is actually a question from one of the people in ERP School, which is our online course for OCD. If you click the link here in the bio or you can go to CBTSchool.com, we have a course called ERP School where we teach, or I teach step by steps that I take with my patients on how to set up an ERP plan so that you can slowly face your fear and reduce your compulsions and take your life back from OCD.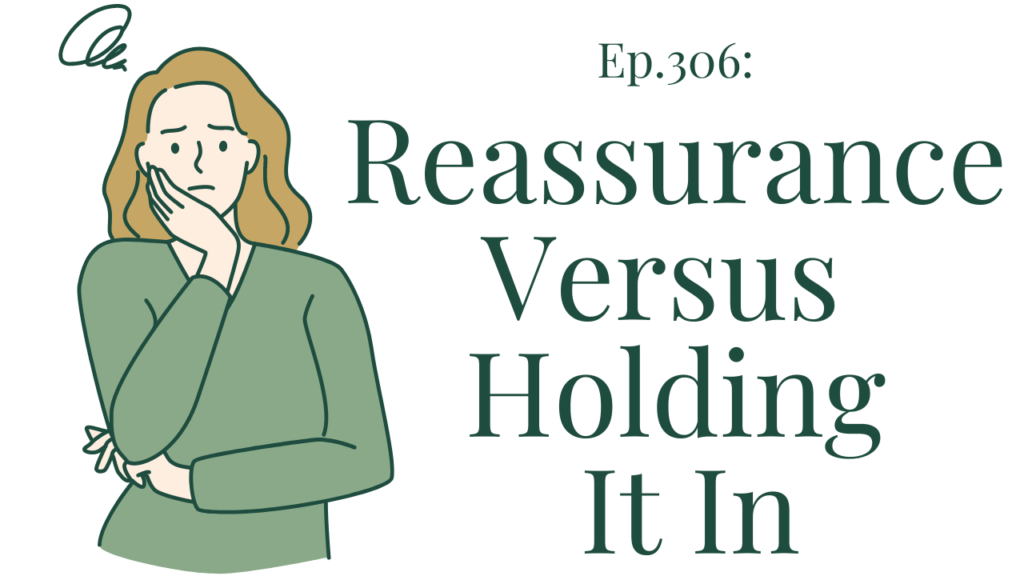 Reassurance Vs Holding In Emotions
One of the members asked a question, and there's a whole portal in there where you can ask questions to me directly, and they asked: "I have a question to you regarding reassurance seeking." They said, "I've been trying to stop doing my compulsions and my go-to is reassurance seeking." "What is the difference between Reassurance vs holding in emotions?"
Reassurance Seeking OCD
Reassurance seeking is a type of compulsion where you usually go to Google or you go to a loved one or another person and you ask for reassurance on your fear or your uncertainty. They go on to say, "One thing I do understand about is why it's bad and how it keeps the cycle going." So, they do understand that reassurance seeking OCD is a problem. They do understand how it keeps the OCD cycle going. We talk a lot in ERP School about this OCD cycle. It's a huge component of the treatment. We have to first understand the cycle so that we can then know how to stop the cycle. And they go on to say, "I know that I have to learn to rely on myself to manage my anxiety and seeking reassurance makes me dependent on others for my relief, which can increase my anxiety when they're not around. But I've always been told by friends and family that talking about things that are bothering you is healthy because that way you get it out as opposed to bottling it in. When I don't seek reassurance, I worry that I'm bottling it in and that the only way to feel better is to let it out by talking to others. How do I join these two seemingly healthy ideas?"
This is such a core component of all the work that we do. And so, I really want to go deep into this with you here in just a sec. Now, before we move on, if you aren't quite sure about reassurance seeking yet, you can go back and listen to a previous podcast we did, Number 32, which is called How to Reduce Reassurance Seeking Behaviors. It's an amazing podcast episode that really goes deep into what is a reassurance compulsion. You can click that there. But let's talk more about this specific question.
Before we do that, let's quickly do the review of the week. This is from Isha.Isha and they said:
"An invaluable resource. I have read many books on anxiety and OCD, and yet I am continuously surprised to learn new things with this podcast. It is thought-provoking and brings forward new, helpful, and interesting content."
She went on to say: "Kimberly, your 6 Part series on Mental Compulsions has truly been life-changing for me. Despite reading dozens of books on OCD and Anxiety, including yours, I was astounded to realize how many mental compulsions I actually have. The approaches to dealing with them, suggested by a few of the guests (thank you, Hershfield, Nicely, and Reid), have been nothing short of miraculous for me. Thank you for your hard work here! It is deeply appreciated!"
Again, you guys, if you go to CBT School and you sign up for our newsletter, you will be given a gift from me, which is a link where I have put all of those six-part mental compulsion audio files together and we've thrown in a whole bunch of PDFs that will help you really strategize your own way of managing mental compulsions. So, go sign up for the newsletter. If you go to CBTSchool.com, you'll be able to get access to it there.
And then one more thing before we move on, let's quickly do the "I did a hard thing" segment. It sounds like this person who asked the question is doing hard things too, but this one was so fun, I wanted to share it with you. Anonymous says:
"Having OCD has made wedding planning and the wedding process in general challenging for me. But this weekend, I made it to my bridal shower and I had the best time, even despite my OCD being along for the ride. I actually took the day as an opportunity to face the disorder head-on. I left feeling empowered as F***."
Amazing, Anonymous. I'm so happy and congratulations on your bridal shower. I hope you had the most incredible time.
All right, so let's look at this question. Let's break it down. Okay. So, yes, this person has already shared they understand that reassurance-seeking keeps us in the OCD cycle, keeps the fear going strong, and only makes more problems. It makes problems for the person with OCD, but it also impacts the relationship. In fact, I would go as far as to say, those who engage in reassurance-seeking behaviors tend to have a bigger impact on their family members because they're constantly going to their family members saying, "Would this happen? Could it happen? Do you think it could happen? What would happen?" And that person, because they're not trained as a clinician, they don't know how to respond. They haven't been trained. Usually, they try many different ideas and it actually ends up making the person with OCD even more confused. And then that can create conflict in the relationship. We know this. We know that reassurance-seeking can be very, very problematic and we want to slowly reduce it.
It sounds like this person is doing amazing work, but they've got this dilemma in saying, "But I thought I was supposed to let things out." Let's take a look here.
Managing emotions with OCD
When you have an obsession, naturally, your instincts are, "How can I make this fear go away or this discomfort or feeling go away?" You're going to want to do a compulsion. The goal of ERP is to reduce those compulsions. So, now what are you doing? So, you're reducing the compulsion, you're not trying to get reassurance, and now you're handling a large degree of anxiety and stress. Yeah, that's true. You will have to rise and fall in discomfort. Absolutely. We know that that's a part of the work. Willingly, ride the wave of discomfort.
So, what I want to say to you here is you have some choices. You could ride that wave on your own. Let it go high, let it go low, let it go up and down, do what it wants, and you can practice actually allowing that discomfort and really building a resilience to that as you go. Similar to what Anonymous said in "I did a hard thing" is they left feeling empowered. When we do it on our own, we can actually feel incredibly empowered.
Now, that is one option. That doesn't mean to say that when things are really hard, naturally, we do want connection. That's what human beings want. So, sometimes we do want to go to our loved one and say, "I'm having a hard time." But there's a really big difference between going to a loved one and saying, "I'm having a hard time. Will this bad thing happen? Or do you think it will happen?" and saying to your partner, "I'm going through some stuff right now, would you sit with me?" One is very compulsive and one is not. But this is where OCD can be very, very tricky. Sometimes, just having a partner there forms reassurance. If your fear is like, "Well, what if I'm going to go harm someone?" keeping them in the room, even though you're not talking, that can still serve as a reassurance because you're like, "Okay, they're here. They'll stop me if I'm going to do something bad and I snap." So, we want to keep an eye out for how reassurance seeking doesn't have to be just verbal, it can be physical, it could be us just looking at them to see their face and go, "Okay, they look fine, they don't look stressed. Okay, that gives me the reassurance that nothing bad is happening." Catch the little nuances that can happen here because as we know, OCD can be very, very sneaky.
Again, we can use the option and it is healthy to go to your partner and say, "Hey, I'm really dealing with something. This is really hard. I'm riding a wave of discomfort." But you're doing that without getting any reassurance, without seeking any reassurance, without them reducing or removing your uncertainty or anxiety. So, you can do that. There are ways to do it. But the main thing to remember here is, are you doing this with urgency? Because that's usually a very good sign that you're doing something compulsive. Are you doing it in attempt to reduce or remove your discomfort?
If you're able to be in conversation with them and discuss and seek support from them without seeking it in an urgent way or trying to reduce or remove your discomfort, well then that's fine. But here is what I want you to consider just to start, is I am all for support. In fact, it is a human need to have support. But what I'm going to offer you is an idea, which is, when it comes to OCD, if you're going to them for support because of this discomfort, there is a chance you're still treating the fear like it's important, and you will suffer. I get that. You're going to have a lot of emotions. But if you have the emotions and you're like, "Oh my God, I feel so bad, I just have these thoughts, or having this anxiety," and you're giving that too much attention by saying, "I need your support, I'm really, really suffering," sometimes that in and of itself can actually reinforce the anxiety.
I guess you're still probably thinking, well, what's the balance? And there is no perfect answer. I'm sorry, I can't give you a yes or a no. What I can say is, when it comes to OCD or anxiety, I personally am always going to encourage that you do it yourself as much as you can because that's where you actually learn how much you can actually tolerate. Remember here, anxiety is always going to be sneaky and say in the back of your mind, "Kimberley, just in case, just so you know, my anxiety is high, but I can really turn it up and freak you out, so you better be careful. Do your best to avoid me." That's what anxiety says in some way or form. So, if we still treat ourselves as if we're really fragile, we can actually reinforce that belief in that thought or intrusive thought.
So, I personally am always for myself going to say, "Okay, fear is here, how can I ride this one out 100% by myself?" and this is the key point to remember. Ask yourself in that moment, because you're probably having some pretty strong reactions right now. Ask yourself in this moment if you are having a strong reaction, "What is my strong reaction to that?" Is it "it's not fair"? Is it "that's uncool, that's too much to handle"? That just shows you where our work is and here is the key point. What is it that you want them to provide you? Is it warmth? Is it compassion? Is it relief from the shame you feel? Is it to know that they won't leave you or they're not judging you? What is it that they're, this one particular person in that moment, what is it that they can provide you? And now, can you provide it for yourself? Or, is this thing you're looking for even really that helpful?
So if you're like, "Oh my gosh, I just need a safe place to land right now," I beg for you to practice being the safe place to land. Not your partner, not your family, not your friends. You be that for you. You deserve to be the safe place to land.
If there's a sneaky part of this where you're like, "No, I just want them to tell me that I'm good and not a terrible human being," well, that is in fact still reassurance. Yes, we're all allowed to get that reassurance, but you have to ask yourself, is that reassurance a healthy reassurance or is it something keeping you stuck in the cycle? You get to choose. I'm not saying what's right or wrong here because each person is different. If I'm with a patient, we will look at this and go, "Okay, let's talk about why you want your partner to provide you support. What is it that the partner support provides you?" And we pull apart whether that support is in fact benefiting their long-term resilience and success in treatment or actually slowing them down. There's nothing wrong with getting support at all, but is this an opportunity where you can show up and be your best person? Be the first person that's standing there going, "I got you."
Mindfulness & Self Compassion For Reassurance Seeking
Now here is the other piece of this, which is they're talking about bottling it in. Let's say you decide, "Kimberley, I'm on with this idea and I am going to commit to 30 days or seven days or one day or 10 minutes where I'm actually going to be the support for myself. I am going to practice my self-compassion skills, my mindfulness skills, my radical acceptance skills, and I'm going to be it for myself." That doesn't mean you're technically bottling it in. Bottling it in is when you have the emotion and you shut it down and you refuse to let it pass through you and you hold it in and you pretend it's not there and you're faking your way through it. If sometimes you need to do that, that's still fine. But this question is around saying that's a problem.
Now here's what I'm going to say. There's really no scientific evidence to say that bottling things in is particularly bad, because how do we know what's bottled in really? We can't really measure what's being bottled in, but we do know that if you don't talk to people and you aren't processing stuff that, yeah, it can create some problems. So, this again is, how can we be healthy in our expression and effective in our expression of what's going on for us? Can you journal? For me, this might sound a little weird, but I am a little weird, is when I really have something I've got to get off my chest, I record an audio, I take a walk. I leave my kids and my husband and I take a walk and I record an audio of me just venting it out because, the truth is – this was particularly true during covid – me venting it out to my partner when he's got his own stuff he's working on, he's also going through some things as well. It's not helpful for me to dump it on him, so I would audio it into myself and listen back and listen for things that I could maybe work on. So, there are ways.
Another way is to practice just feeling your feelings. That's probably the most important thing I want to mention here and which is why I wanted to really report it, is feel your feelings instead of bottling them in. Now, we recently did an episode about this and how this idea of sitting with your emotions. Go back and listen to that because that's important. When we talk about feeling your feelings, it doesn't mean lashing out and having them all over the place and being really unskilled in how you manage them, and it also doesn't mean having your feelings and staring at the wall and just being like, "Oh my God, I'm just so overwhelmed with this feeling, but I'm sitting with it." It's saying, while you go and engage with your life, you allow and embrace whatever emotions to come up. That's not bottling it in. You saying them out loud is not what's preventing you from bottling it in. They're two completely different concepts.
Let's finish up by really talking about what is a healthy way to ride a wave of discomfort instead of having reassurance-seeking compulsions play out. You could journal, you could feel your feelings while you engage with your life, and use skills that you have, mindfulness skills, skills from this podcast. Go all the way back to the beginning. We've got tons of good stuff at the beginning of the podcast episodes where you can actually mindfully experience your emotions while also engaging in life. You could do those.
You could also go and ask for support and say, "Hey, it's a really hard time. I just did a really hard exposure. My anxiety is really high. I don't want you to try and reduce or remove my anxiety, but your presence here is really wonderful. Thank you."
You could be the one who shows up for you radically so hard. You could be like, "Hey Kimberley, what do I need? What do you need right now? How can I show up for you? Do you need my fear support? Do you need my nurturing support? Do you need my champion support? What do you need? And I'm here for you, sister." That's what I really want you to practice.
You could also find an OCD therapist who's trained in ERP and say, "Hey, I'm working through some things. Can we talk about it in a way that doesn't provide me reassurance?" Because you trust that they understand how to not provide reassurance. And that can be a really helpful way.
But there's one thing I want you to remember here at the very end. The reason I'm saying it at the very end is I think this is probably one of the most groundbreaking things that I learned just this year, and this has changed my marriage. I'm not going to lie, it's changed my marriage, which is this: At the beginning of this year, I read a book called Chatter. I will link it in the show notes. The book is-- let me pull it up really quick. The Voice in Our Head, Why It Matters, and How to Harness It by Ethan Kross. It is an amazing book.
One of the things that blew my mind was the research that venting actually increases a person's distress and does not benefit them. What? That is the opposite of what I have been trained in my career. I was trained that venting is a really healthy thing. I know some of you may be like, "Well, duh, I've had issues with this in my past." But the truth is, it really showed the data on why venting actually makes us feel worse. It actually has a negative impact and there's no benefit to venting. So, I'm going to leave you to think about that because for me, when I read that, I can be-- I'm not going to lie, one of my not-so-great traits is I can be a little bit of a ventor. A ventor? Is that a thing? I can be a person who vents and unfortunately, my husband is the one who has to hear me process stuff. I'm a real process kind of person. What I realized when I learned this is, holy moly, I've been thinking that this is important and this keeps us connected, but the truth is, it doesn't. It doesn't impact me positively. It doesn't impact him positively, even though he is the most kind, supportive man in the history of the world. This is actually not a good behavior and I got to stop it.
So, what I did is I called my best friend and I called my husband and I said, "From now on, I'm going to be much more mindful around venting. There will be times when I'm really struggling where I'm actually going to choose not to share about it in that moment. You might see that I'm spiraling on something." I'm going to say, listen, now is not the time because I now understand the science that venting is not in fact beneficial. It just makes me feel worse and works me up more. So, I use all my tools and I double down and I ride the wave and I journal and I audio in and I ride the wave on my own.
So, here are some ideas you take and choose what you want, but that's the main concepts I want you to consider. And there's your answer, is this whole idea of holding it in is not the only option. You can, in a healthy way, ride your emotions and your wave of anxiety and you can do it in a way that actually is very effective that doesn't require anybody else. However, if you require somebody, no problem. That's wonderful. I hope that you have the most amazing, supportive people in your life and it's all good.
So, that is it. I hope that is helpful for you guys. We did go around and around into all of the little cracks and crevices of this topic. If you've got any questions, you can always let me know. Please do leave a review because I hope this is helpful for you. I will see you next week. Next week, I'm actually doing a little bit of a personal episode, talking about a few shifts that I've had with my own chronic illness and how it's impacted my own anxiety. All fun and games. Not really. No fun and games is what I should say.
All right, my loves, have a wonderful day. Please do remember it is a beautiful day to do really freaking hard things. You're not alone because I'm doing the hard things and your friends are doing the hard things and all the people listening here, thousands and thousands of people are doing the hard things too.
Have a wonderful day, everybody.