In This Episode:
Andrew GottWorth shares his story of having Obsessive Compulsive Disorder (OCD) and how ERP allowed him to function again.
addresses the benefits of ERP and how ERP is for Everyone
How Exposure & response prevention can help people with OCD and for those with everyday stress and anxiety
Links To Things I Talk About:
Episode Sponsor:
This episode of Your Anxiety Toolkit is brought to you by CBTschool.com. CBTschool.com is a psychoeducation platform that provides courses and other online resources for people with anxiety, OCD, and Body-Focused Repetitive Behaviors. Go to cbtschool.com to learn more.
Spread the love! Everyone needs tools for anxiety...
If you like Your Anxiety Toolkit Podcast, visit YOUR ANXIETY TOOLKIT PODCAST to subscribe free and you'll never miss an episode. And if you really like Your Anxiety Toolkit, I'd appreciate you telling a friend (maybe even two).
EPISODE TRANSCRIPTION
This is Your Anxiety Toolkit - Episode 308.
Welcome, everybody. I am really pumped for this episode. We have the amazing Andrew Gottworth on for an interview where he just shared so many nuggets of wisdom and hope and motivation. I think you're going to love it. But the main point we're making today is that ERP is for everyone. Everyone can benefit from facing their fears. Everyone can benefit by reducing their compulsive behaviors. Even if you don't technically call them compulsions, you too can benefit by this practice. Andrew reached out to me and he was really passionate about this. And of course, I was so on board that we jumped on a call right away and we got it in, and I'm so excited to share it with you. Thank you, Andrew, for sharing all your amazing wisdom.
Before we head into the show, let's quickly do the "I did a hard thing" for the week. This one is from Christina, and they went on to say:
"Thought of you today, and you're saying, 'It's a beautiful day to do hard things,' as I went down a water slide, terrified, as I'm well out of my comfort zone." This is such great. They're saying that's on their holiday, the first time they've taken a holiday in quite a while. "It's difficult, but I'm doing it. I'm trying to lean into the discomfort."
This is so good. I love when people share their "I did a hard thing," mainly, as I say before, because it doesn't have to be what's hard for everybody. It can be what's hard for you. Isn't it interesting, Christina is sharing a water slide is so terrifying? Christina, PS, I'm totally with you on that. But some of the people find it thrill-seeking. And then I'm sure the things that Christina does, she might not have anxiety, but other people who love to thrill seek find incredibly terrifying. So, please don't miss that point, guys. It is such an important thing that we don't compare. If it's terrifying, it's terrifying, and you deserve a massive yay. You did a hard thing for it. So, thank you, Christina.
Again, quickly, let me just quickly do the review of the week, and then we can set back and relax and listen to Andrew's amazing wisdom. This one is from Anonymous. Actually, this one is from Sydneytenney, and they said:
"Incredible resource! What an incredible resource this podcast is! Thank you for sharing all of this information so freely… you're truly making a difference in so many lives, including mine! (I am also reading through your book and I LOVE it. You nailed it in marrying OCD with self-compassion - what a gift!!!)"
So, for those of you who don't know, I wrote a book called The Self-Compassion Workbook for OCD. If you have OCD and you want a compassionate approach to ERP by all means, head over to Amazon or wherever you buy books and you can have the resource right there.
All right, let's get over to the show.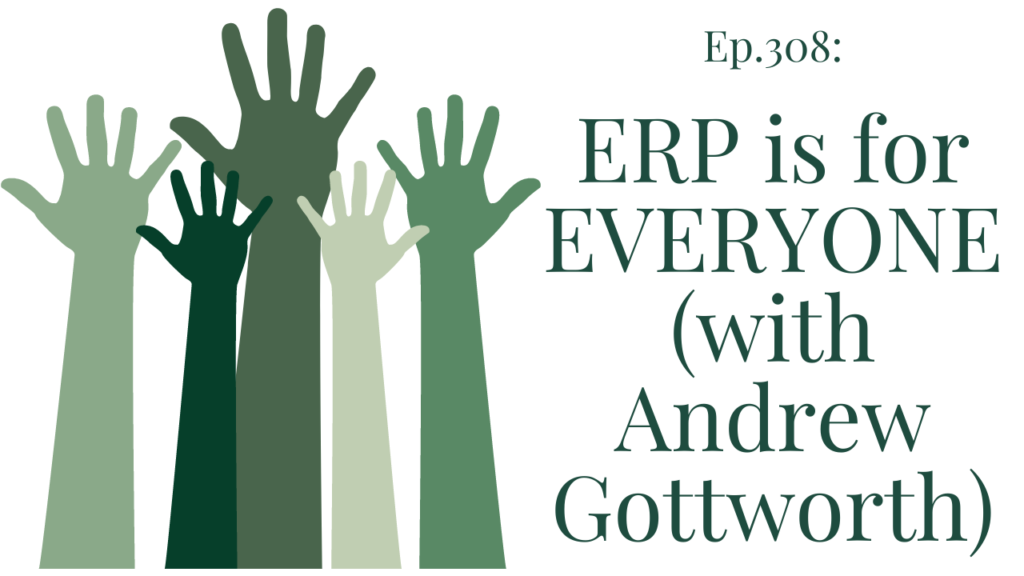 Kimberley: Okay. Welcome, Andrew Gottworth. Thank you so much for being here.
Andrew: Yeah. So, happy to be here. Really excited to chat with you for a bit.
Kimberley: Yeah. How fun. I'm so happy you reached out and you had a message that I felt was so important to talk about. Actually, you had lots of ideas that I was so excited to talk about.
Andrew: I might bring some of them up because I think, anyway, it's related to our big topic.
Erp Is For Everyone
Kimberley: Yeah. But the thing that I love so much was this idea that ERP (Exposure and Response Prevention) is for everyone. And so, tell me, before we get into that, a little bit about your story and where you are right up until today and why that story is important to you.
Andrew: Yeah. So, there's a lot, as you work in the OCD field that it takes so long between first experiencing to getting a diagnosis. And so, with the knowledge I have now, I probably started in early childhood, elementary school. I remember racing intrusive thoughts in elementary school and being stuck on things and all that. But definitely, middle school, high school got worse and worse. So, fast forward to freshman year of college, it was really building up. I was really having a lot of issues. I didn't know what it was and really didn't know what it was for nine, 10 years later. But I was having a really hard time in college. I was depressed. I thought I was suicidal. Learning later, it's probably suicidal ideation, OCD just putting thoughts of death and jumping up a building and jumping in a lake and getting run over and all that. But I didn't want to talk about it then, I think.
Andrew's Story About Having Obsessive Compulsive Disorder
A bit about me, I come from Kentucky. I count Louisville, Kentucky as the Midwest. We have a bit of an identity crisis, whether we're South Midwest, East Coast, whatever. But still there, there's a culture that mental health is for "crazy people." Of course, we don't believe that. So, my tiptoe around it was saying, "I'm having trouble focusing in class. Maybe I have ADHD." And that's what I went in for. For some reason, that was more palatable for me to talk about that rather than talk about these thoughts of death and all that. And so, I did an intake assessment and thankfully I was somewhat honest and scored high enough on the depression scale that they were like, "Hey, you have a problem." And so, ended up talking more.
So, back in 2009, freshman year of college, I got diagnosed with depression and generalized anxiety disorder, but completely missed the OCD. I think they didn't know about it. I didn't know about it. I didn't have the language to talk about it at the time because I didn't have hand washing or tapping and counting and these other things that I would maybe see on TV and stuff, which – yeah, I see you nodding – yes, I know that's a common story.
So, I entered therapy in 2009, and I've been in therapy and non-medication ever since. But I had problems. I still had problems. I would make progress for a bit. And then I just feel like I was stuck. So, I ended up being in three mental hospitals. One, when I was doing AmeriCorps up in Milwaukee, Wisconsin, and had a great experience there. Two, three days up there at Rogers, which I'm very grateful for. And then stabilized moving forward. So, I ended up-- I dropped outta college. I dropped out of AmeriCorps. I then went back to college and again went to a mental hospital in Bowling Green, Kentucky. I was at Western Kentucky University, stabilize, keep going. Learning lessons along the way, learning cognitive distortions and learning talk therapy, and all these.
So, let's keep fast-forwarding. Another mental hospital in Atlanta, Georgia. There's a long-term outpatient stay, Skyline Trail. I'm thankful for all of these places along the way. And I wish somewhere along the way, I knew about OCD and knew about ERP, our big topic for the day.
So, finally, gosh, I can't quite remember. I think 2018, a few years ago, still having problems. I had gone from full-time at work to part-time at work. I was just miserable. I would get into my cubicle and just constantly think, I'm not going to make it. I got to go home. I got to find an excuse to get out of here early. I just need to stay sick or I got to go home, or something came up. And so, every day I'd have an excuse until I finally was like, "I'm going to get found out that I'm not working full-time. I'm going to jump the gun, I'll voluntarily go down in part-time."
So, that worked for a bit until OCD kept going. And then I quit. I quit again. And at that point, I was like, "I've failed. I've quit so many things – college, AmeriCorps." I was a summer camp counselor and I left early. "Now this job. I need something." So, I went again to find more help. And finally, thankfully, someone did an intake assessment, came back, and said, "Well, one problem is you have OCD." I was like, "What? No, I don't have that. I don't wash my hands. I'm not a messy person. I'm not organized." Gosh, I'm so thankful for her.
Kimberley: Yeah, I want to kiss this person.
Andrew: Yeah. But here's the duality of it. She diagnosed me with it. I am forever grateful. And she didn't do ERP. She didn't know it. So unbelievably thankful that I got that diagnosis. It changed my life. And then I spent several weeks, maybe a few months just doing talk therapy again. And I just knew something didn't feel right. But I had this new magical thing, a diagnosis. And so, my OCD latched onto OCD and researched the heck out of it. And so, I was researching, researching, researching, and really starting to find some things like, "Oh, this isn't working for me. I've been doing the same type of therapy for a decade and I'm not making progress." Unbelievably thankful for the Louisville OCD Clinic. So, at this point in this story-- thanks for listening to the whole saga.
Kimberley: No, I've got goosebumps.
Andrew: I'm unemployed, I have my diagnosis, but I'm not making any progress. So, I go, "Throw this in as well. Not really that important." But I go to an intensive outpatient program in Louisville before the OCD clinic. And I remember this conversation of the group therapy leader saying, "I need you to commit to this." And I said, "But I don't think this is helping me either," because the conversation was about relationships, my relationship was great. It was about work, I wasn't working. It was about parents, my parents were great. They were supporting me financially. They're super helpful and loving and kind. It's like, "None of this is external." I kept saying, "This is internal. I have something going on inside of me." And she said, "Well, I want you to commit to it." I said, "I'm sorry, I found a local OCD clinic. I'm going to try them out."
So, I did IOP, I did 10 straight days, and it is a magical, marvelous memory of mine. I mean, as you know, the weirdest stuff, oh gosh. Some of the highlights that are quite humorous, I had a thing around blood and veins. And so, we built our hierarchy, and maybe we'll talk about this in a bit, what ERP is. So, built the hierarchy, I'm afraid of cutting my veins and bleeding out. So, let's start with a knife on the table. And then the next day, the knife in the hand. And then the next day, the knife near my veins. And then we talked about a blood draw. And then the next day, we watched a video of a nurse talking about it. Not even the actual blood draw, but her talking about it. So, of course, my SUDs are up really high. And the nurse says in the video, "Okay, you need to find the juiciest, bumpiest vein, and that's where you put it in." And my therapist, pause the video. She said, "Perfect. Andrew, I want you to go around to every person in the office and ask to feel the juiciest, bumpiest veins." Oh my gosh. Can you imagine?
Kimberley: The imagery and the wording together is so triggering, isn't it?
Andrew: Right. She's amazing. So, she was hitting on two things for me. One, the blood and veins, and two, inconveniencing people. I hated the inconveniencing people or have awkward moments. Well, hey, it's doing all three of these things. So, I went around. And of course, it's an OCD clinic, so nobody's against it. They're like, "Sure, here you go. This one looks big. Here, let me pump it up for you." And I'm like, "No, I don't like this."
Kimberley: Well, it's such a shift from what you had been doing.
Andrew: It's totally different. I'll speak to the rest because that's really the big part. But ERP over the next few years gave me my life back. I started working again. I worked full-time. Went part-time, then full-time. Got into a leadership position. And then for a few other reasons, my wife and I decided to make a big jump abroad. And so, moved to Berlin. And I have a full-time job here and a part-time disc golf coach trainer. And now I'm an OCD advocate and excited to work with you on that level and just looking at where my life was four or five years ago versus now. And thanks to our big-ticket item today, ERP.
Kimberley: Right. Oh, my heart is so exploding for you.
Andrew: Oh, thank you.
Kimberley: My goodness. I mean, it's not a wonderful story. It's actually an incredibly painful story.
Andrew: You can laugh at it. I told it humorously.
How Andrew Applied Erp For His Ocd
Kimberley: No. But that's what I'm saying. That's what's so interesting about this, is that it's such a painful story, but how you tell it-- would I be right in saying like a degree of celebration to it? Tell me a little bit about-- you're obviously an ERP fan. Tell me a little bit about what that was like. Were you in immediately, or were you skeptical? Had you read enough articles to feel like you were trusting it? What was that like for you? Because you'd been put through the wringer.
Andrew: Yeah. There's a lot to talk about, but there are a couple of key moments when you mention it. So, one, we're going through the Y-BOCS scale, the Yale-Brown Obsessive Compulsive Scale, something like that. So, she asks me one of the questions like, how often do you feel like a compulsion to do something and you don't do the compulsion? "Oh, never. I've never stopped. But you can do that?" It was just this moment of, "What do you mean?" If it's hot, I'm going to make it colder. If it's cold, I'm going to make it warmer. If I'm uncomfortable, I'm going to fidget. I'm a problem solver. Both my parents were math teachers. I was an all-A student and talk about perfectionism and "just right" OCD maybe in this context as well. But also, I love puzzles. I love solving things. And that was me. I was a problem solver. It never occurred to me to not solve the problem. And so, that was a huge aha moment for me. And I see it now and I talk about it now to other people.
Am I Doing Erp "Just Right"?
But another part of ERP with the just right is, am I doing ERP right? Am I doing it right? Am I doing ERP right? And of course, my therapist goes, "I don't know. Who knows? Maybe, maybe not." So, depending on where you want to go with this, we can talk about that more. So, I think in general, I hated that at the time. I was like, "I know there is a right way to do it. There is. I know there is." But now, I even told someone yesterday in our Instagram OCD circles, someone was posting about it, and I said exactly that, that I hated this suggestion at first that maybe you're doing it wrong, maybe you're not.
I will say, as we talk about ERP for everyone, someone who maybe is going to listen to this or hears us talking on Instagram and wants to do it on their own, this idea of exposing yourself to something uncomfortable and preventing the response – I don't know if this is wrong, but I will say for me, it was not helpful. In my first few weeks, I would do something like-- I was a little claustrophobic, so I maybe sit in the middle seat of a car. It's good I'm doing the exposure. I'm preventing the response by staying there. I didn't get out. But in my head, I'm doing, "Just get through this. Just get through this. I hate this. It's going to be over soon. You'll get through it and then you'll be better. Come on, just get through it. Oh, I hate this. Ugh. Ugh." And then you get to the end and you go, "Okay, I made it through." And of course, that didn't really prevent the response. That reinforced my dread of it. And so, I would say that's definitely a lesson as we get into that.
Kimberley: And I think that brings me to-- you bring up a couple of amazing points and I think amazing roadblocks that we have to know about ERP. So, often I have clients who'll say early in treatment, "You'd be so proud I did the exposure." And I'd be like, "And the RP, did that get included?" So, let's talk about that. So, for you, you wanted to talk about like ERP is for everyone. So, where did that start for you? Where did that idea come from?
Andrew: I would say it's been slow going over the years where-- I don't know how to say this exactly, but thinking like, there must be higher than 2% of people that have OCD because I think you have it and I think you have it and I think you have it, and noticing a lot of these things. And so, maybe they're not clinical level OCD and maybe it's just anxiety or I think, as I emailed you, just stress. But it's this-- I just wonder how many friends and family and Instagram connections have never had that aha moment that I did in my first week of IOP of, "Oh, I cannot try to solve this." And so, I see people that I really care about and I joked with my wife, I said, "Why is it that all of our best friends are anxious people?" And I think that comes with this care and attention and that I've suffered and I don't want anyone else to suffer. And so, I see that anxiety in others.
But getting back to what I see in them, maybe someone is socially anxious so they're avoiding a party or they're leaving early, or-- I mean, I did these two, avoided, left early, made sure I was in either a very large group where nobody really noticed me or I was in a one-on-one where I had more control. I don't know. So, seeing that in some other friends, leaving early, I just want to say to them, you can stay. It's worked for me. It really has. This staying, exposing yourself to the awkwardness of staying or maybe it's a little too loud or it's too warm. And then let that stress peak fall and see, well, how do you feel after 30 minutes? How do you feel after an hour? I want to scream that to my friends because it's helped me so much. I mean, you heard how awful and miserable it was for so long and how much better. I'm not cured, I think. I'm still listening to your six-part rumination series because I think that's really what I'm working on now.
So, I think those physical things, I've made tremendous improvement on blood and veins and all that. But that's also not why I quit work. I didn't quit working. I didn't quit AmeriCorps because there's so much blood everywhere. No, it's nonprofits, it's cubicles. But it was this dread that built this dread of the day, this dread of responding to an email. Am I going to respond right? Oh no, I'm going to get a phone call. Am I going to do that? Am I going to mess this up? And because I didn't have that response prevention piece, all I had was the exposure piece, then it's-- I can't remember who said it, but like, ERP without the RP is just torture. You're just exposing yourself to all these miserable things.
Kimberley: You're white-knuckling.
Andrew: Yeah. And it's-- I love research. I am a scientist by heart. I'm a Physics major and Environmental Studies master's. I love research and all this. And so, I've looked into neuroplasticity, but I also am not an expert. Correct me if I'm wrong, but from what I hear, you're just reinforcing that neural pathway. So, I'm going into work and I dread it. I'm saying, "I hate this. I can't wait to go home. I hate this." So, that's reinforcing that for the next day. And tomorrow I go in and that dreads bigger, and the next day the dreads bigger.
And so, seeing that in other colleagues who are having a miserable time at work is just getting worse and worse and worse. But I also can see that there are parts they enjoy. They enjoy problem-solving, they enjoy helping students, they enjoy the camaraderie. And so, I want to help them with, well, let's see how we can do ERP with the things you don't like and so you're not building this dread day after day and you can do the things you value. Seems like you value us coworkers, seems like you value helping the students, seems like you value solving this problem, and that's meaningful. But I'm watching you get more and more deteriorated at work. And that's hard to do that in others.
ERP Is For Everyone
Kimberley: Yeah. I resonate so much from a personal level and I'll share why, is I have these two young children who-- thankfully, I have a Mental Health degree and I have license, and I'm watching how anxiety is forming them. They're being formed by society and me and my husband and so forth, but I can see how anxiety is forming them. And there's so many times-- I've used the example before of both my kids separately were absolutely petrified of dogs. And they don't have OCD, but we used a hierarchy of exposure and now they can play with the neighbor's dogs. We can have dogs sitting. And it was such an important thing of like, I could have missed that and just said, "You're fine. Let's never be around dogs." And so, it's so interesting to watch these teeny tiny little humans being formed by like, "Oh, I'm not a dog person." You are a dog person. You're just afraid of dogs. It's two different things.
Andrew: Yeah. So, it's funny that my next-door neighbor, when I was young, had a big dog. And when we're moving into the house for the very first time, very young, I don't know, four or something, it ran into the house, knocked me over, afraid of dogs for years. So, same thing. Worked my way up, had a friend with a cute little pup, and then got to a scarier one. And also, funnily to me, my next-door neighbor, two in a row, were German, and they scared me, the scary dog, German. And then the next one was the "Stay off my lawn, don't let your soccer ball come over." So, for years, I had this like, "I'm not going to root for Germany in sports. I don't like Germany." And then here I am living in Germany now.
Kimberley: Like an association.
Andrew: Yeah. So, I think fear association, anxiety association. And then I'm also playing around with this idea, maybe do a series on Instagram or maybe another talk with someone about, is it anxiety or is it society? And so, talking about things that were made to feel shame about. So, I don't know if you can see on our webcam that I have my nails painted. I would never have done this in Kentucky. So, growing up in this, I remember vividly in elementary school, I sat with my legs crossed and someone said, "That's how a girl sits. You have to sit with your foot up on your leg." So, I did for the rest of my life. And then I wore a shirt with colorful fish on it, and they said, "Oh, you can't wear that, guys don't wear that." So, I didn't. I stopped wearing that and all these things, whether it's about our body shape or femininity or things we enjoy that are maybe dorky or geeky. I just started playing Dungeons and Dragons. We have a campaign next week. And I remember kids getting bullied for that.
I don't know if you agree, but I see this under the umbrella of ERP. So, you're exposing yourself to this potential situation where there's shame or embarrassment, or you might get picked on. Someone might still see these on the train and go, "What are you doing with painted nails?" And I'm going to choose to do that anyway. I still get a little squirmy sometimes, but I want to. I want to do that and I want that for my friends and family too. And I see it in, like you said, in little kids. A lot of my cousins have young kids and just overhearing boys can't wear pink, or you can't be that when you grow up, or just these associations where I think you can, I think you can do that.
Kimberley: I love this so much because I think you're so right in why ERP is for everyone. It's funny, I'll tell you a story and then I don't want to talk about me anymore, but--
Andrew: No, I want to hear it. That's fine.
Kimberley: I had this really interesting thing happen the other day. Now I am an ERP therapist. My motto is, "It's a beautiful day to do hard things." I talk and breathe this all day, and I have recovered from an eating disorder. But this is how I think it's so interesting how ERP can be layered too, is I consider myself fully recovered. I am in such good shape and I get triggered and I can recover pretty quick. But the other day, I didn't realize this was a compulsion that I am still maybe doing. I went to a spa, it was a gift that was given to me, and it says you don't have to wear your bathing suit right into the thing. So, I'm like, "Cool, that's fine. I'm comfortable with my body." But I caught myself running from the bathroom down into the pool, like pretty quickly running until I was like, that still learned behavior, it's still learned avoidance from something I don't even suffer from anymore. And I think that, to speak to what you're saying, if we're really aware we can-- and I don't have OCD, I'm open about that. If all humans were really aware, they could catch avoidant behaviors we're doing all the time that reinforces fear, which is why exposure and response prevention is for everybody. Some people be like, "Oh, no, no. I don't even have anxiety." But it's funny what you can catch in yourself that how you're running actually literally running.
Andrew: Literally running. Yeah.
Kimberley: Away. So, that's why I think you've mentioned how social anxiety shows up and how exposure and response prevention is important for that. And daily fears, societal expectations, that's why I think that's so cool. It's such a cool concept.
Andrew: Yeah. And so, help me since I do consider you the expert here, but I've heard clinically that ERP can be used for OCD but also eating disorder, at least our clinic in Louisville serves OCD, eating disorder, and PTSD. And so, I see the similarities there of the anxiety cycle, the OCD cycle for each of those. So, then let's say that's what ERP is proposed for. But then we also have generalized anxiety and I think we're seeing that. I've heard Jenna Overbaugh talk about that as well. It's this scale between anxiety to high anxiety to subclinical OCD, to clinical OCD, and that ERP is good for all of that. So, we have those, and then we get into stress and avoidant behavior. So, I have this stressful meeting coming up, I'll find a way to skip it. Or I have this stressful family event, I'll find a way to avoid it. And then you get into the societal stuff, you get into these. And so, I see it more and more that yes, it is for everyone.
Kimberley: Yeah. No, I mean, clinically, I will say we understand it's helpful for phobias, health anxiety, social anxiety, generalized anxiety. Under the umbrella of OCD are all these other disorders and, as you said, spectrums of those disorders that it can be beneficial for. And I do think-- I hear actually a lot of other clinicians who aren't OCD specialists and so forth talking about imposter syndrome or even like how cancel culture has impacted us and how everybody's self-censoring and avoiding and procrastinating. And I keep thinking like ERP for everybody. And that's why I think like, again, even if you're not struggling with a mental illness, imposter syndrome is an avoidant. Often people go, procrastination is an avoidant behavior, a safety behavior or self-censoring is a safety behavior, or not standing up for you to a boss is an opportunity for exposure as long as of course they're in an environment that's safe for them. So, I agree with you. I think that it is so widespread an opportunity, and I think it's also-- this is my opinion, but I'm actually more interested in your opinion, is I think ERP is also a mindset.
Andrew: Yeah.
Kimberley: Like how you live your life. Are you a face-your-fear kind of person? Can you become that person? That's what I think, even in you, and actually, this is a question, did your identity shift? Did you think you were a person who couldn't handle stresses and now you think you are? Or what was the identity shift that you experienced once you started ERP?
Andrew: Yeah. That's a good question. I've had a few identity shifts over the years. So, I mentioned-- and not to be conceited, although here I am self-censoring because I don't want to come across as conceited anyway. So, I was an all-A student in high school, and then OCD and depression hit hard. And so, throughout college, freshman year I got my first B, sophomore year I got my first C, junior year I got my first D. And so, I felt like I was crawling towards graduation. And this identity of myself as Club President, all-A student, I had to come to terms with giving up who I thought I could be. I thought I could be-- people would joke, "You'll be the mayor of this town someday, Andrew." And I watched this slip away and I had to change that identity. And not to say that you can't ever get that back with recovery, but what I will say is through recovery, I don't have that desire to anymore. I don't have that desire to be a hundred percent. I'm a big fan of giving 80%. And mayor is too much responsibility. I don't know, maybe someday. So, that changed.
And then definitely, through that down downturn, I thought, I can't handle this. I can't handle anxiety, I can't handle stress. People are going to find out that this image I've built of myself is someone who can't handle that. So, then comes the dip coming back up, ERP, starting to learn I can maybe but also-- I love to bounce all over the place, but I think I want to return a bit to that idea that you don't have to fix it. You don't have to solve the problem. I think that was me. And that's not realizing that I was making it harder on myself, that every moment of the day I was trying to optimize, fix, problem-solve.
If you allow me another detour, I got on early to make sure the video chat was working, sound was okay. And I noticed in my walk over to my computer, all the things my brain wanted me to do. I call my brain "Dolores" after Dolores Umbridge, which is very mean to me. My wife and I, Dolores can F off. But I checked my email to make sure I had the date right. Oops, no, the checking behavior. Check the time, making sure, because we're nine hours apart right now. "Oh, did I get the time difference right?" I thought about bringing over an extra set of lights so you could see me better. I wanted to make sure I didn't eat right before we talked, so I didn't burp on camera, made sure I had my water, and it was just all these-- and if I wasn't about to meet with an OCD expert, I wouldn't have even noticed these. I wouldn't have even noticed all of these checking, fidgeting, optimizing, best practicing. But it's exhausting.
And so, I'm going to maybe flip the script and ask you, how do you think other people that are not diagnosed with OCD, that are just dealing with anxiety and stress can notice these situations in their life? How do they notice when, "Oh, I'm doing an avoidant behavior," or "I'm fixing something to fix my anxiety that gives me temporary relief"? Because I didn't notice them for 10 years.
Kimberley: Yeah. Well, I think the question speaks to me as a therapist, but also me as a human. I catch every day how generalized anxiety wants to take me and grab me away. And so, I think a huge piece of it is knowledge, of course. It's knowledge that that-- but it's a lot to do with awareness. It's so much to do with awareness. I'll give you an example, and I've spoken about this before. As soon as I'm anxious, everything I do speeds up. I start walking faster, I start typing faster, I start talking faster. And there's no amount of exposure that will, I think, prevent me from going into that immediate behavior. So, my focus is staying-- every day, I have my mindfulness book right next to me. It's like this thick, and I look at it and I go, "Okay, be aware as you go into the day." And then I can work at catching as I start to speed up and speed type.
So, I think for the person who doesn't have OCD, it is, first, like you said, education. They need to be aware, how is this impacting my life. I think it's being aware of and catching it. And then the cool part, and this is the part I love the most about being a therapist, is I get to ask them, what do you want to do? Because you don't have to change it. I'm not doing any harm by typing fast. In fact, some might say I'm getting more done, but I don't like the way it makes me feel. And so, I get to ask myself a question, do I want to change this behavior? Is it serving me anymore? And everyone gets to ask them that solves that question.
Andrew: So, I think you bring up a good point though that I'm curious if you've heard this as well. So, you said you're typing fast and you're feeling anxious and you don't like how that feels. I would say for me, and I can think of certain people in my life and also generally, they don't realize those are connected. I didn't realize that was connected. In college, I'm wanting to drop out, I drop out of AmeriCorps, I drop out of summer camp. I'm very, very anxious and miserable and I don't know why. And looking back, I see it was this constant trying to fix things and being on alert. And I got to anticipate what this is going to be or else is going to go bad. I need to prevent this or else I'm going to have an anxious conversation. I need to only wear shorts in the winter because I might get hot. Oh no, what if I get hot? And it was constantly being in this scanning fear mindset of trying to avoid, trying to prevent, trying to-- thinking I was doing all these good things. And I saw myself as a best-practice problem solver. It's still something I'm trying to now separate between Dolores and Andrew. Andrew still loves best practices. But if I spend two hours looking for a best practice when I could have done it in five minutes, then maybe that was a waste. And I didn't realize that was giving me that anxiety.
So, yeah, I guess going back to I think of family, I think of coworkers, I think of friends that I have a suspicion, I'm not a therapist, I can't diagnose and I'm not going to go up, I think you have this. But seeing that they're coming to me and saying, "I'm exhausted. I just have so much going on," I think in their head, it's "I have a lot of work."
Kimberley: External problems.
Andrew: Yeah. I may be seeing-- yeah, but there's all this tension. You're holding it in your shoulders, you're holding it here, you're typing fast and not realizing that, oh, these are connected.
Kimberley: And that's that awareness piece. It's an awareness piece so much. And it is true. I mean, I think that's the benefit of therapy. Therapists are trained to ask questions so that you can become aware of things that you weren't previously aware of. I go to therapy and sometimes even my therapist will be like, "I got a question for you." And I'm like, "Ah, I missed that." So, I think that that's the beauty of this.
Andrew: I had a fun conversation. I gave a mental health talk at my school and talked about anxiety in the classroom, and thanks to IOCDF for some resources there, there's a student that wanted to do a follow-up. And I thought this was very interesting and I loved the conversation, but three or four times he was like, "Well, can I read some self-help books, and then if those don't work, go to therapy?" "No, I think go to therapy right away. Big fan of therapists. I'm not a therapist. You need to talk to a therapist." "Okay. But what if I did some podcasts and then if that didn't work, then I go to therapy?" "Nope. Therapy is great. Go to therapy now." "Should I wait till my life gets more stressful?" "Nope. Go now."
Kimberley: Yeah, because it's that reflection and questioning. Everyone who knows me knows I love questions. They're my favorite. So, I think you're on it. So, this is so good. I also want to be respectful of your time. So, quick rounded out, why is ERP for everybody, in your opinion?
Andrew: How do we put this with a nice bow on it?
Kimberley: It doesn't have to be perfect. Let's make it purposely imperfect.
Andrew: Let's make it perfectly imperfect. So, we talked before about the clinical levels – OCD, eating disorder, PTSD, generalized anxiety disorder. If you have any of those, take it from me personally, take it from you, take it from the thousands of people that said, "Hey, actually, ERP is an evidence-based gold standard. We know it works, we've seen it work. It's helped us. Let it help you because we care about you and we want you to do it." And then moving down stress from work, from life. You have a big trip coming up. There's a fun scale, home's rocky, something stress inventory. I find it very interesting that some of them are positive, outstanding personal achievement like, "Oh, that's a stressful thing?" "Yeah, It can be." And so, noticing the stressful things in your life and saying, "Well, because of these stressful things are the things I'm avoiding, things I'm getting anxious about, can I learn to sit with that?" And I think that mindfulness piece is so important.
So, whether you're clinical, whether you're subclinical, whether you have stress in your life, whether you're just avoiding something uncomfortable, slightly uncomfortable, is that keeping you from something you want to do? Is that keeping you-- of course, we-- I don't know if people roll their eyes at people like us, "Follow your values, talk about your values." Do you value spending time with your friends, but you're avoiding the social gathering? Sounds like ERP could help you out with that. Or you're avoiding this, you want to get a certification, but you don't think you'll get it and you don't want to spend the time? Sounds like ERP could help with that. We're in the sports field. My wife and I rock climbing, bouldering, disc golf. You value the sport, but you're embarrassed to do poorly around your friends? Sounds ERP can help with that. You value this thing. I think we have a solution. I've become almost evangelical about it. Look at this thing, it works so well. It's done so much for me.
Kimberley: Love it. Okay, tell me where-- I'm going to leave it at that. Tell me where people can hear about you and get in touch with you and hear more about your work.
Andrew: Mainly through Instagram at the moment. I have a perfectly imperfect Instagram name that you might have to put down. It's JustRught but with right spelled wrong. So, it's R-U-G-H-T.
Kimberley: That is perfect.
Andrew: Yeah. Which also perfectly was a complete accident. It was just fat thumbs typing out my new account and I said, "You know what, Andrew, leave it. This works. This works just fine."
Kimberley: Oh, it is so good. It is so good.
Andrew: Yeah. So, I'm also happy I mentioned to you earlier that my wife and I have started this cool collab where I take some of her art and some of the lessons I've learned in my 12-plus years of therapy and we mix them together and try to put some lessons out there. But I'm currently an OCD advocate as well. You can find me on IOCDF's website or just reach out. But really excited to be doing this work with you. I really respect and admire your work and to get a little gushing embarrassed. When I found out that I got accepted from grassroots advocate to regular advocate, I said, "Guys, Kimberley Quinlan is at the same level as me." I was so excited.
Kimberley: You're so many levels above me. Just look at your story. That's the work.
Andrew: The imposter syndrome, we talked about that earlier.
Kimberley: Yeah, for sure. No, I am just overwhelmed with joy to hear your story, and thank you. How cool. Again, the reason I love the interviews is I pretty much have goosebumps the entire time. It just is so wonderful to hear the ups and the downs and the reality and the lessons. It's so beautiful. So, thank you so much.
Andrew: I will add in, if you allow me a little more time, that it's not magic. We're not saying, "Oh, go do ERP for two days and you'll be great." It's hard work. It's a good day to do hard things. I think if it was easy, we wouldn't be talking about it so much. We wouldn't talk about the nuance. So, I think go into it knowing it is work, but it is absolutely worth it. It's given me my life back, it's saved my relationships, it's helped me move overseas, given me this opportunity, and I'm just so thankful for it.
Kimberley: Yeah. Oh, mic drop.
Andrew: Yeah.
Kimberley: Thank you again.