What You Say To Yourself Matters.
More importantly, what you say to yourself about anxiety matters! In this podcast, I delve into the importance of accurate and mindful language, specifically related to how to experience and manage anxiety. Believe it or not, the story you tell yourself can greatly change the way you see yourself and the world around you. The way we talk to ourselves about our experience of anxiety can greatly affect the management of our anxiety, and can create a platform for whether we thrive or merely survive our anxiety. To help us conceptualize this subject, I use a fictional example, Mary. My hope is that Mary can help us understand the complexity of our negative thinking and help us to find new ways to talk to ourselves about our anxiety.
Example: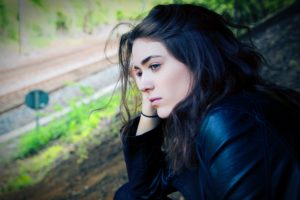 Mary has anxiety and wakes up and feeling anxious. She immediately thinks, "I am so anxious", "Something bad is going to happen", "It isn't fair that this is happening", and "Why me?" She goes off to work, repeating in her head, "I can't do this, I can't do this, I can't do this…" What she is telling herself:
Things are bad
Things aren't going to get better
She is the victim. That she has no choices here
She doesn't have coping skills/ She will not survive this event
What you can do differently:
During this podcast, I discuss four key steps you can take to improve your personal narrative about your anxiety. They steps will lead you towards more mindful and helpful approach to talking about your anxiety.
I have outlined a step-by-step plan to help you better manage your narrative related to anxiety. We go into greater detail in the podcast, so enjoy listening!
_______________________
4-point plan to creating a more Mindful Narrative
Be objective, not subjective See Episode #1: The Skill or Non-Judgment for more info
Be in the present moment See Episode #8: Skill of Awareness for more info
Take responsibility for your experience
Practice Uncertainty See Episode #6: The Beginners Mind for more info
_____________________
To help you along with practicing these steps, I have also created a fun PDF that you can download/print and use at your leisure.
Sign up below to get access to all the Podcast Add-ons!
[embed_popupally_pro popup_id="3"]
I challenge you to try this as much as you can and see the difference it makes. Small changes lead to large changes, so don't be afraid to try it a little at a time. Even trying it once a day can get the ball rolling.
Enjoy!
This podcast should not replace professional mental health care. This podcast is for education purposes only. If you feel you would benefit by seeing a clinical professional, please contact a professional mental health care provider in your area.