Hello and welcome back, everybody. I'm so happy to be here with you. This is not the normal format in which we do Your Anxiety Toolkit podcast, but I wanted to really address a question that came up in ERP School about how to manage 10 out of 10 anxiety.
For those of you who don't know, over at CBTSchool.com, we have a whole array of courses—courses for depression, generalized anxiety, panic, OCD, hair pulling, time management, mindfulness. We have a whole vault of courses. In fact, we have a new one coming out in just a couple of weeks, which is a meditation vault. It will have over 30 different meditations. The whole point of this is, often people say to me that the meditations that they listen to online can become very compulsive. It's things like, "Oh, just let go of your fear or make your fear go. Cleanse away and dissolve," and all the things. That's all good. It's just, it's hard for people with severe anxiety to conceptualize that. That whole vault will be coming out very, very soon.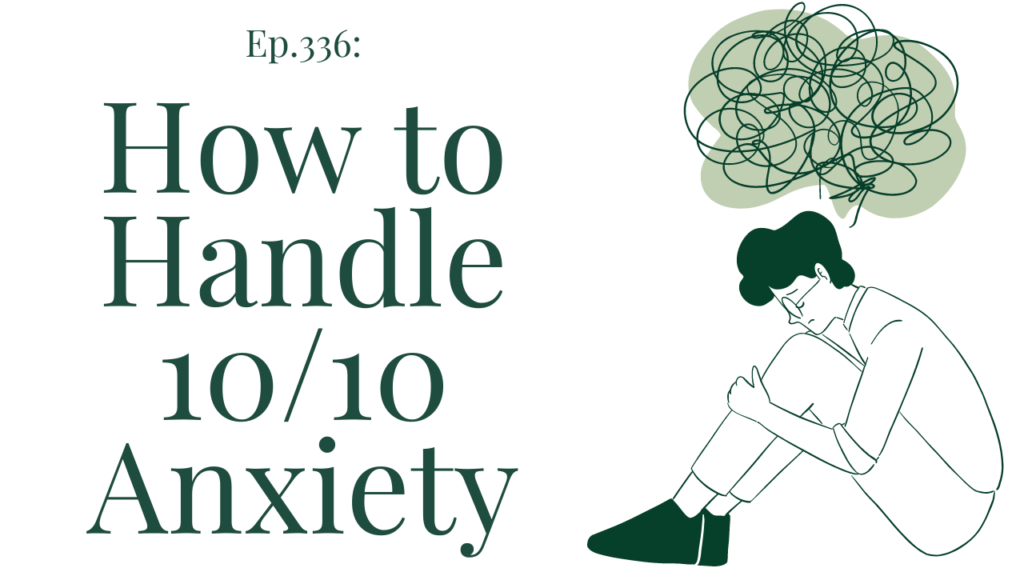 But this is actually a question directly from ERP School. Under each video of all the courses, there is always a place you can ask questions, and I do my best to respond to them as soon as I can. But I did say to this student, I will actually do an entire podcast on your question because I think it's so important.
Here is what they said: "Hi Kimberley, I love all the information you give us. I get so much more out of this than I do with a therapy session for one hour once a week. That being said, I'm feeling a little bit overwhelmed. There is just so much information and so many tools."
Yes guys, I admit to that. I do tend to heavy-dose all of my courses with all the science. I can bring in as many tools as I can with the point being that I want you to feel like you have a tool belt of tools, in which you can then choose which one you want to use, so I totally get what they're saying here.
They said: "When I'm at a 10 out of 10, I'm hardly able to function and it all seems to go out the window. It either seems that noticing works as I run through my list of tools or I can't even think straight enough to check in with myself or even think about the tools I could use. So, where do I even start in those terrible moments?"
This is a really good question, and I think every single one of my clients in my history of being a therapist has asked this question. I know I have asked this question to my therapist because even as a therapist who has all the tools in those moments, it can feel overwhelming.
What I did here is I pulled all of my followers on Instagram and asked them to give me their tools that they find helpful, and then I'm going to weigh in myself, and then I'm going to encourage you to just practice any of them. Now, often what happens—and this is the case for what obviously someone's bought a course from me—is when you have all of these options, we fall into the trap of thinking there is a "right" tool to use, and I want to reframe that. In addition, there's another myth that that one tool will make all your discomfort go away or that will be the tool of all tools for recovery. I want to really normalize that there is no one tool.
The whole reason that I do Your Anxiety Toolkit is to remind you that you're going to have to practice multiple different things, you can't put all your eggs in one basket, and it's okay if it's not a 10 out of 10 win. Meaning, it's okay if it's not perfect. Often I'll say to clients, use the tools, even if it's 50% effective. That's still 50% effective more than what it would be in the past, which might be 0% effective or 1% effective. We take any wins we can take and we use it not as a fact that you're a failure if it didn't work, but more as just data on what to use for the next time.
At the end of the day, the goals are: Did it give me a 1 or 2% improvement on how I handled it the last time? 1 or 2%, folks. That's all I'm goaling for here. Was I kind as I practiced it? And, did it move me towards the five-year you, or the three-year you, or the one-month you? The you who's in one month, does it move you towards that person that you're trying to be? I often will think about me through the terms of, what would the five-year me do in this situation? What would the three-year me do? What would the three-month me do? It might be different, and then I just pick one. Knowing it's probably not perfect, but that's okay.
I have polled a whole bunch of people on Instagram because I honestly feel like folks who were in the thick of it actually are better at giving tools than even I am as a trained clinician who's been through it. Of all of the different responses we got, I've actually broken it down into two separate sections per se. We've got mindset shifts and tools and actions. Again, these may actually feel again like, "Oh my gosh, now I have even more tools," which is not a bad problem.
TAKE ONE MOMENT AT A TIME
But I want you in the moment that you're at a 10 out of 10 to just pick one and be curious about it. I'm going to say here that the one I loved the most—I'm going to just actually give you one of the tools and actions first—is somebody (multiple people wrote this, in fact) said, just take one moment at a time. I have to say at a 10 out of 10 anxiety, that has been the most helpful for myself and for my clients. That when you slow down and you make it really simple, that's actually the best way to respond.
We have these bigger concepts like ERP and habit reversal training and mindfulness and all these big concepts. What's the saying? The rubber hits the road or something like that. When it gets really hard, simplify things, go back to basics, slow down, and just go, "Okay, all I have to do is get through this minute. What can I do in this one minute?" Slow it down. That's one of the tools and actions.
BE AN OBSERVER
The second tool and action is somebody says, "I notice my five senses," which is a more tactical skill of being present (be an observer) and in the moment, which is your mindfulness skill. For them it might be: What do you see? What do you smell, what do you taste? Some people play games with this. A lot of my clients have said, "When I'm at a 10 out of 10 and I've just faced my biggest fear, or I've been triggered, I find six different colors." You're not doing that to suppress your thoughts or make the fear go away. You're doing it because that's response prevention. You're not engaging in catastrophization and mental rumination. Instead, you're just being an observer of what's in your present moment.
BREATHE
A lot of you folks said, "Breathe, that the only thing I do is breathe." Again, I love this because it's simple. Now, does that mean we have to breathe a certain way? A lot of people said three breath-in and four counts out, or box breathing. It doesn't matter. Please don't put pressure on yourself. For me, I just really put attention on my breath in and my breath out. I say to myself, "I'm breathing in knowing that I'm breathing in and I breathe out knowing I'm breathing out." Very, very simple.
DO NOTHING! ACCEPT IT IS HERE
A next person said, "It feels awful, but I do nothing more than just talk to it, accept that it's here, and breathe." Again. These are really simple things. What I'm going to encourage you guys to do is just pick one of these things and play with it for a day or a couple of days, whatever it feels good. And then check in and be like, "How did that work? Was that successful at helping me stay present and reduce behaviors that actually create more problems?"
FEEL YOUR FEET ON THE FLOOR
Someone says, "I just feel my feet on the floor." Again, these are so basic, but almost everybody's response wasn't like, "I practice these very complex skills." They're just talking about simple, really basic things. "I put my feet on the floor."
USE TEMPERATURE
Someone says, "I splash cold water on my face." Again, simple. They're just bringing their attention to sensations in the present.
CONNECT WITH YOUR SPIRITUALITY
Someone said, "I pray." I love that some of you bring your religion into it or your faith. "I pray and I be quiet." Some of you might call that a form of meditation.
FEEL YOUR EMOTIONS & CRY
This one I really love. Someone said, "I cry. I embrace crying. It's such a good emotional release." This one's really hard for me, you guys. I'm a crier, but when I'm at a high level of anxiety, I feel like there are no tear ducts in my eyes, like I can't get myself to cry. But really when I do allow myself to cry, it is such a cathartic experience, especially if I do it kindly.
EXERCISE
Someone says they work out. I think that there's some interesting piece to that. Let me just bring a little nuance to that. When we work out, really what I think we're doing is we're putting our attention on something that is very strategic, like 15 bicep curls. Or you get on the treadmill, you listen to some music, and so forth. I love this tool.
SOMETHING TO THINK ABOUT (IF YOU ARE PRONE TO EATING DISORDERS)
One thing to think about, and the only reason I'm telling you this is just because I myself used to use working out as a skill and it was very helpful. But if you are someone who's prone to an eating disorder or compulsive exercise, just keep an eye out for that because, for me, my healthy practice of working out ended up becoming a compulsive eating disorder compulsion. Now, for most of you, that's probably not the case, but I think with any of these things, like any time we overdo it or we do it to make the fear go away or to avoid the fear, we can get ourselves a little bit into trouble there. So just keep an eye out for that. For me, when I heard that, I was like, "Oh gosh, no, I couldn't do that." But I think for most of you and many of you, that is a really effective tool. We do have research that exercise is a very, very helpful way of managing anxiety. I do still work out for that exact reason, but we have to be careful of becoming compulsive
VALIDATE YOURSELF
Now, of the last of the tools, P.S. It's actually mine. I did weigh in on the end. My tool and action that I would weigh in, in addition to all of these great ideas, is validate, validate, validate. One of the things I think we miss is when we're at a 10 out of 10, whether that be anxiety, sadness, depression, stress, panic, whatever it may be, we forget to validate ourself by going, "This is really hard." It makes complete sense that you can't think about what tools. You're at A 10 out of 10. It makes complete sense that this is something that is rocking your world. You could say, "Anybody in this position would struggle to find tools."
Validate, validate, validate. That's a self-validation, guys. A self-validation. It might be simply as much as you saying, "It's okay that you're struggling, I got you," which moves me to the mindset shifts. There's only four of them, but I thought they were beautiful. The reason I separated them is sometimes when we are in the 10 out of 10, naturally, our brain will send us to get away from here, fight, flight, freeze, and fawn. How can we make the fear go away and get out of this "dangerous" situation? If you can, often you won't be able to. Again, there is some research that when you're at a 10 out of 10, it's very hard to actually have a mindset shift. But on the lower 6s, 7s, and 8s out of 10s, if you practice it, I think it gets a little easier.
Here are some of the things that a lot of the folks did weigh in on and say.
MINDSET SHIFTS TO CONSIDER
Number one mindset shift is, "I remind myself that I don't have to solve the thoughts I'm having." Great mindset shift because in those moments, we're like, "What is the answer? What is the answer? We need to figure it out," and so forth. I love that.
The second one is, "I remind myself that I'm resilient and strong." Total shift, away from, "I can't handle this, what do I do" to "I'm resilient and strong." For me—I'll weigh in here—I often say, "Everything is figureoutable. I'll figure this one out." That sentence has changed my life because it takes away the pressure of having to find solutions right now and says, "I'm in a process now. I'll figure it out. We'll get to the end of it. It might take some bounces and bumps."
The third one is of course my all-time favorite, which is, "I can do hard things." Today is a beautiful day to do hard things. So good. It can remind you that this is a moment to lean into.
I think this last one here is really important. someone weighed in and said, "I remind myself that being uncomfortable doesn't mean dangerous." This is gold, you guys.
There are some ideas of the people who weighed in and the most common responses. Let me also say, to be honest, a lot of people wrote, "I totally can't handle it and I just fall apart." A lot of people were making jokes like, "I throw a tantrum on the floor." They were basically saying, "I haven't figured it out yet." I want to just really emphasize again the importance that it's okay if you don't have the 10 out of 10s figured out. We are not here to win all of the challenges.
I have been thinking about this a lot lately and I'll actually use this as the final point. In our society and even in the community that I have built here, I have to also acknowledge that we can sometimes overdo the "Face your fears, use the tools, fix yourself, get better." That message can be very, very helpful but also sometimes a little overachieving, a little condescending, a little pressured.
I want to just conclude here, if you are early in your recovery and you're working on the 4s, 5s, and 6s out of 10, you're doing enough. If you're in the middle of your recovery or you're accelerating in your recovery and you're doing the 7s, 8s, and 9s, it's okay that you don't yet have the skills to do the 10s. Don't focus too much on that. Just keep the expectations realistic. I don't want you to leave today thinking, "Okay, now I have to go do those tools and I have to handle 10 out of 10s well." That's a lot to ask. I don't handle the 10 out of 10s perfectly. Nobody does. I know so many anxiety specialists who also don't handle the 10 out of 10s perfectly. Let's not fantasize that or let's not make that a thing so that you are constantly feeling like you have to be doing this perfectly.
Again, do what you can. Practice. This is trial and error. If it does work, great. If it doesn't work, well good to know. Let's just try again next time. It mightn't work next time, that's fine. Just good to know. We're not here to always win every battle, but the fact that you asked this question, the fact that your inquiring shows me how much you value your recovery and how much you want to overcome this problem. For that, I applaud you. I applaud everyone listening. I hope that today was helpful for you.
Again, for those of you who are interested, go to CBTSchool.com. We have a whole vault of different courses you can take. We do have some new ones coming out here this year, which I'm super excited about. We've got courses for depression, all the things. You can go and listen to those. They are on demand. You have unlimited access. You can watch them as many times as you want. Take notes. Just listen, whatever you want to do, and I hope that you find them helpful.
Have a wonderful day, everybody, and I will see you next week.