Welcome back, everybody. Today, we are going to have a discussion, and yes, I understand that I am here recording on my own in my room by myself, so it's not really a discussion. But I wanted to give you an inside look into a discussion I had, and include you hopefully, on Instagram about a post I made about being busy.
Now, let me tell you a little bit of the backstory here. What we're really looking at here is, is being busy a compulsion or an effective behavior? Here's the backstory. I am an anxious person. Nice to meet you. Everybody knows it, I'm an anxious person. That's what my natural default is. I have all the tools and practice using all the tools and continue to work on this as a process in my life. Not an end goal, but just a process that I'm always on, and I do feel like I handle it really, really well. In the grand scheme of things, of course, everyone makes mistakes and recovery is an up-and-down climb. We all know that. But one thing I have found over and over and over and over again is my inclination to rely on busyness to manage my anxiety.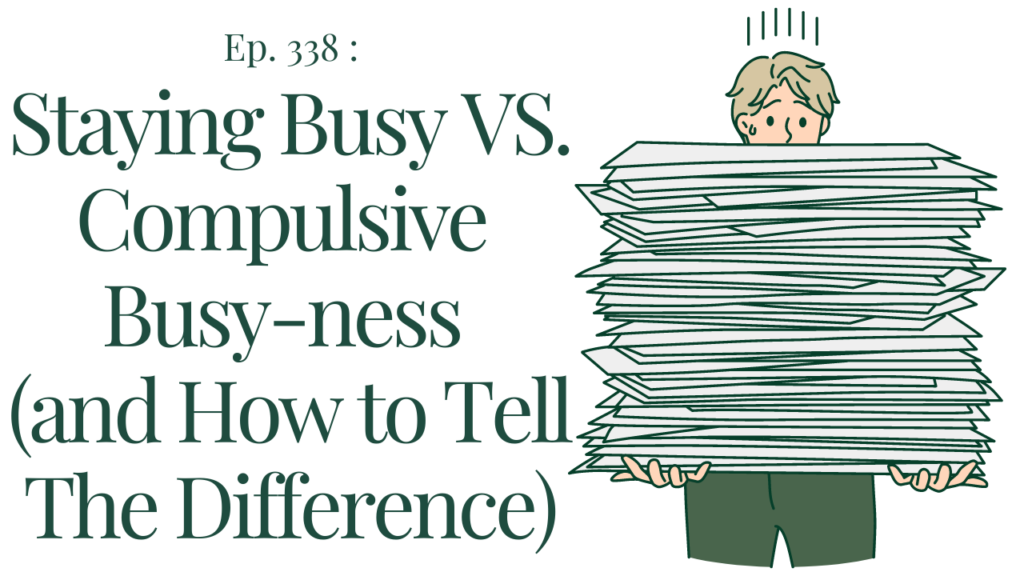 The reason I tell you this over and over is it's a default to me. When I'm struggling with anything, I tend to busy myself. Even when I had the beginning of an eating disorder, that quickly became a compulsive exercise activity because trying to manage my eating disorder created a lot of anxiety, and one way I could avoid that anxiety and check the eating disorder box was to exercise, move my body. Even though I fully recovered from that, and even though I consider myself to be doing really well mentally overall, I still catch myself relying on work and busyness as a compulsion, as a safety behavior to reduce or remove or avoid my anxiety.
I made a post on this and it had overwhelming positive responses. Meaning, I agree, there was a lot of like, "Oh, I feel called out or hashtag truth." A lot of people were resonating with this idea that being busy can be a very sneaky compulsion that we do to run away from fear or uncertainty or discomfort or sadness and so forth. But then some of my followers, my wonderful followers came in hot—when I say "hot," like really well—with this beautiful perspective on this topic and I really feel like it was valid and important for us to discuss here today.
Let's talk about that, because I love a good discussion and I love seeing it from both sides. I love getting into the nitty gritty and determining what is what. Let's talk about me just because it's easy for me to use an example. Let's say I have a thought or a feeling of anxiety. Something is bothering me. I'm having anticipatory anxiety or uncertainty about something. My brain wants to solve it, but because I have all these mindfulness tools and CBT tools, I know there's no point in me trying to solve it. I know there's no point in me ruminating on it. I'm not going to change it or figure it out. I have that awareness, so I go, "Okay, now I'm going to get back to life," which is a really wonderful tool. But what I find that I do is I don't just get back to life. I, with a sense of urgency, will start typing, cleaning, folding laundry, whatever it is, even reading. I will notice this shift in me to do it fast, to do it urgently, to try and get the discomfort to be masked, to be reduced.
And then, of course, I want to share with you, what I then do is when I catch that is I go, "Okay." I feel the rev inside me and then I ease up on it. I pump the brakes and I try to return back to that activity without that urgency, without that resistance to the anxiety, or without that hustle mentality. But it is a default that I go to that often I don't catch until later on down the track. It's usually until I start to feel a little dizzy, I feel a little lost, a little bit overwhelmed. And then I'm like, "Oh, okay, I'm overusing busyness to manage my anxiety."
The perspective that I loved was people saying, and one in particular said, "I want us to be really careful around that message because I think that some people can hear this idea that being busy is a compulsion and then start to question their own normal busyness throughout the day." I'll use the exact terms because I thought it was so beautifully said. They said, "You have to be pretty careful with how you explain this to some people with OCD because we're told to lean into our values or live a 'value-based' life, and that does require us to be busy," and I wholeheartedly agree.
I think that's where I'm coming from. I want to offer to you guys that I want you to just check in and see if you're using busyness, this urgent, rushing movement, or frantic experience in your body to avoid discomfort. And if so, that's good to know. Let's not judge that. Let's not beat you up. Let's not be unkind. Let's just acknowledge that that is a normal response to having anxiety. In fact, it's a big part of what's kept us alive for all these years. That's true. And we can return back. Once we catch that we're doing those behaviors, we can return back to staying effective in our skills. But I don't want you guys to worry that you are overusing busyness.
I think that the discussion I had online was to say, isn't this a wonderful opportunity for us to see how anxiety or OCD or any anxiety disorder can make a really healthy behavior into a compulsive behavior? You might flip between the two, it mightn't be all or nothing. An example of that might be prayer. Prayer is a beautiful practice for those who are spiritual. However, we can sometimes overuse prayer in a compulsive manner in this urgent, frantic, trying to get anxiety to go away manner, and then it's being misused.
There may be sometimes you use prayer in this beautiful non-compulsive way and there'll be other times when you're absolutely using it as a safety behavior. Same goes for cleaning, same goes for thinking through your problems. There will be times when thinking through problems and solutions is a very effective behavior. However, there will be other times if you're doing it with a sense of urgency to make the discomfort go away or you're doing it to try and figure out something that you know you won't figure out because there's really no solution to it—that's something for us to keep an eye out for.
There are so many ways in which this can get blurred. Asking for help and reassurance. It's not a problem to go to your loved ones and say, "I have this really huge presentation at work, would you let me rehearse it to you and you can give me feedback?" That's an effective behavior. However, if we are doing that repetitively and we are doing it coming from this desperate place of urgency to get certainty and removal of discomfort, that's how we may determine whether the behavior is a safety behavior that we want to start to reduce.
I want to just offer this to you. If we're being honest, this episode isn't really about just the busyness. It's being able to, again, for yourself, determine are the behaviors you're doing being done because they line up with your values? Are they being done with a degree of willingness to also bring anxiety with you? I think that's a huge piece of the work that I have to catch, which is, okay, I'm rushing, I'm hustling, I'm engaging in busyness just for the sake of trying to get rid of that discomfort. Can I pause and return back to that behavior? Because it might be a behavior or an activity I need to get done. But can I do it with an increased sense of willingness to bring anxiety along for the ride? Can I do it with a sense where I'm not trying to train my brain that anxiety is bad? Can I just say, "Yeah, it's cool. Anxiety is here, let's bring it along"?
I want to, again, reinforce to you guys, it's okay that you haven't figured this out because it's probably ever-changing. There will be times when you are engaging in compulsive busyness and there'll be other many times in which you're not. What I would encourage you to do is not to spend too much time trying to figure out which is which, because that can become a compulsion as well. A lot of this is just accepting that nothing is perfect and just moving one step at a time moving forward as you can kindly and compassionately.
The only other thing I want to address here is this idea of a good distraction and a bad distraction. I think that this has been an argument or a complex discussion in the anxiety field for a long time. When I first was trained as an anxiety specialist, there were all these articles that talked about bad distraction, that distraction is bad and we shouldn't do it, and we should just have our anxiety and let it be there and then focus on it and so forth. I actually don't agree with that. In fact, I would go as far as to say, a real mindful practice would be taking the judgment out of destruction in general and saying that distraction is neither good nor bad. What distraction is, is up to you to decide whether it's helping you and is helpful behavior that brings you closer to your recovery goals or not. I don't want you to spend too much time trying to figure it out either, again, because I think it gets us caught in this mental loop of, am I doing recovery right? Am I doing my treatment right? Am I using the skills perfectly?
I think when we get to that point, we're too far in the weeds and we have to pause and let it be imperfect and let it be uncertain and do our best not to try and solve that one, because often how would we know? There isn't actually an answer to what's bad and what's good. I wouldn't encourage you to place good and bad labels on those kinds of things because that usually will just keep you in a loop of anxiety anyway.
That's just a few ideas on this idea of being overly busy being a compulsion. I really want to make sure I say one more time. I think there is absolutely an opportunity for us to consider that busyness is also neither good nor bad. It just is, and that you for yourself can determine whether it's helpful for you to stay busy or not. What I will say—and I will use this as an example, I think I actually did a podcast episode on this—not long ago, my parents were voyaging across the Drake Passage, which is a very dangerous body of water that takes you from South America to Antarctica. It's usually very, very calm or it can be incredibly dangerous to pass the Drake Passage. For the 18 hours that they were passing that, I engaged in a lot of busyness. I would say it wasn't compulsive either. It was, I knew they were doing something scary. I knew that it would be probably fine, but it was still uncertain. I knew that there was nothing I would do to make my anxiety go down during that 18 hours. I knew I probably wouldn't get a good sleep because I love them dearly and I want them to have a safe trip. I just said to myself, "I'm going to mindfully go from one activity to another. Because I don't want to engage in a bunch of mental rumination, I'm just going to gently stay busy." I think that's fine. I think that that is effective. In fact, I was very proud of how I handled that. I was able to resist the urge to text them at two in the morning and be like, "Take a photo of the waves. I want to see that you're okay." You know what I mean?
I want to just offer to you that to check in whether your busyness is compulsive, be gentle with yourself either way to discuss with your mental health provider on what is a great way for you to engage in this kind of behaviors and for you to come up with your own protocol on how to determine when you've crossed over from being busy into compulsive busyness. That's it. I think that from there, you can be gentle with yourself and practice being uncertain about what's right and wrong.
I hope that was helpful. I'm very much just chatting to you. I didn't do a whole ton of prep for this. I just wanted to include you in the conversation on "Is being overly busy a compulsion?" I wanted to give you some ideas and things to look out for and I hope that it helps you move forward towards the recovery that you're looking for. Have a wonderful, wonderful day. If you guys want additional resources from me, you can head over to CBTSchool.com. We have all kinds of online options there for you. If you're looking for one-on-one therapy, if you live in the state of California or Arizona, you can go to www.kimberleyquinlan-lmft.com and I look forward to chatting with you next week.