MINDFULLY TENDING TO ANGER & RESENTMENT
Welcome back. I am so happy to have you here with me today to talk about mindfully tending to feelings of anger and resentment.
Sometimes when we have relentless anxiety and intrusive thoughts, anger can feel like the only emotion we can access.
For those of you who don't know me, well, you might be surprised to hear maybe not to know that I actually have quite a hot temper. I get hot really quick emotionally, and I don't know if it's because as a child I didn't really allow myself to feel anger. I think societally, I was told I shouldn't be angry. And so, when it comes up inside me, it heats up really quick to a boiling point. And my goal for this year is not—let me be very clear—is not to say I am going to stop being angry because that is actually the problem. It is not to say I can't feel angry and I shouldn't feel angry. It's actually to tend to my anger and start to listen to what anger is trying to communicate to me. My goal with you today is to walk you through how you can do that. And I'd love if you would stay with me for a short meditation where we mindfully tend to anger and resentment.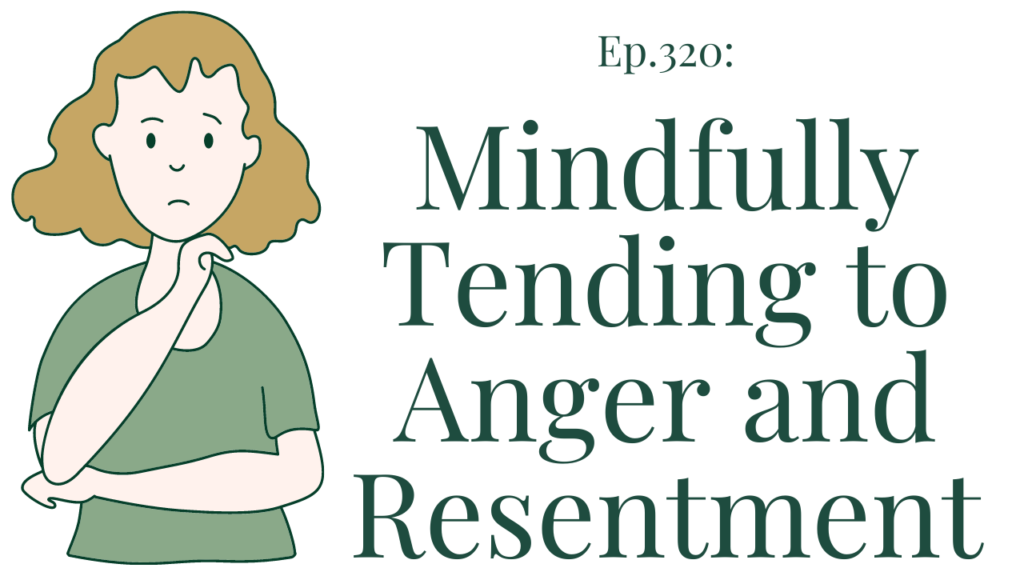 IS ANGER & RESENTMENT HEALTHY?
I think the first thing I want to mention here is that anger and resentment are actually really normal healthy emotions. Nothing to be guilty of, ashamed of, annoyed by, nothing to judge, that the anger and resentment are actually healthy emotions. They come from a place of wishing things could be better or improved, and they usually show up when we experience some kind of injustice in the world or in our daily life. Maybe someone hurt your feelings or they acted in a way that made you feel unsafe. Maybe someone stopped you from succeeding. Maybe somebody judged you and you experienced that as a threat.
WHY DO I FEEL SO ANGRY?
Anger can show up for many reasons. Maybe it's because you're noticing the injustices in the world and that makes you angry. That political things can really make people show up in anger. And again, that doesn't mean there's anything wrong, but expressing it in a healthy way can be really useful because bottling it up, it usually numbs other feelings, it can wear down your mental health, and it can mean—and I have learnt this the hard way—is that we then explode and end up saying things we don't mean, or doing things we don't want to do that don't align up with our values or showing up the way that we want. And for me, that's a big part of my goal this year.
Now, the reason I actually am doing this, this is not a scheduled podcast, is yesterday my husband and I were having a disagreement. And sometimes I have to remind myself like, disagreements aren't a problem. Because in my mind, disagreement is like, "Oh my gosh, terrible things are about to happen and I'm very scared. Please love me forever." You know what I mean? And my husband has to keep gently saying like it's okay that we don't agree on everything.
We were having a disagreement and I could feel the anger showing up in my body. And I was trying to really focus on just being mindful of that experience, because when I don't do that, my immediate response is, "Fight. Let's go to war. Let me show you how you are wrong. Let me be very clear in my boundary that you cannot cross," which is all fine. Again, none of that's wrong, but I could feel myself heating to a boiling point in a very, very short amount of time. I've been really trying to instead of acting on anger in certain situations-- again, there's nothing wrong if you need to act on anger.
WHEN IS ANGER APPROPRIATE?
Sometimes if you're in a dangerous position, you need to act on anger. But I'm really working on allowing anger, befriending and tending to anger. Anger can be our friend. Like, what's the problem? Let's actually have it, Kimberley. Let's actually feel it. Let's actually feel it go through my body. Let's allow it to burn itself off. And let's do that, not because we got to make our point and make sure they know we're right, but because you actually felt it. You allowed it, you rode the wave of it, it burnt off. And it always burns off. That's the thing. That's mindfulness—to recognize that everything is temporary.
If you say-- I'm talking to myself here. If you say what you say when you're angry, you mightn't have said it in a way that is effective as if you had said that thing a few moments later when you've let a little bit of that anger burn off. Again, I'm not saying here that there's anything wrong with just saying what you need to say, but for me personally, I'm really trying this year. One of my biggest goals is respect through my words. Respect through my words. Really pausing and being really intentional with my words. And I know that when I'm angry, that is absolutely not happening.
So, we know that expressing anger is fine. We know that bottling it in is usually problematic. Pretending you're not mad is also inauthentic. Sometimes my husband's like, "You're so clearly mad." And I'm like, "No, I'm not." And he's like, "Yeah, it's all over your face, my friend." People can sense it. And then they're questioning like, "Why isn't she being honest with me?"
WHY DOES ANGER FEEL DANGEROUS?
But I want to acknowledge that anger can feel like an emotional rollercoaster. It does stress out the body. Anger can feel very dangerous sometimes. It can feel very scary to some people, particularly if you have anxiety about it. Some people are really afraid of what they'll do if they get angry and so they avoid anger and they avoid confrontation and they avoid setting boundaries in fear that anger will come up.
Now, there are a few ways you can bring mindfulness to anger, and that is, first, to recognize it, to observe it. Another way you can diffuse anger is to use your body. This is a big one for me because when I'm angry, I have so much adrenaline pumping through my body, which is a healthy response. We need that. Like if there was a burglar at my door, anger would show up and my brain would send out adrenaline and that would allow me to either fight or run away or wrestle him or whatever it may be. So, I feel a lot of that adrenaline in my body and it does take time to burn off. And so, sometimes moving my body can be really helpful—stretching, taking a walk, taking some breaths, which we're going to do today. Some people want to journal, chat with a friend. That irritation and frustration that we feel in our body, it's okay to move your body and tend to it in that way.
The last thing I would add is often when we are angry or if we haven't been mindful in the emotion and sensations and experiences that lead up to anger, we can actually notice that our thoughts are very distorted. Here is an example.
My husband and I are having a disagreement about a very normal thing. It was a very pretty non-issue issue. But in my mind I could. Once I was really being mindful, I could notice thoughts like, we should agree, we're going to always fight if we don't agree. It's like, okay, that doesn't have to be the case. I was also having thoughts like if he doesn't agree, well then, I won't get my way and then I'll be held down. I'm having this very catastrophic thought—I'll be held down and ruled by my husband. It's like, well, that's not true either. He's never going to do that. I'm noticing all these thoughts. If he disagrees with me, that means he's judging me and thinking I'm bad. Can we actually look at that distortion as well? Because maybe that's me mind reading.
I'm just giving you some examples. I'm not saying these are all ways happening, but these are some examples. Sometimes we have thoughts like, no, you should not think that way. You need to think my way. My way is the only way. PS, I do that a lot sometimes. I'm just telling you the truth here. But again, that doesn't mean we have to act on those thoughts. If we can just acknowledge them and be like, "Okay, let's be in choir." Is that in fact true? Do we all have to agree? How wonderful is it that my husband and I don't agree on some things because he has actually taught me how to change the way I think about some things that have benefited me. It just took a lot of stubbornness on my part to be flexible enough to see his side of the story.
And so, if we can observe the distortions of our thinking, sometimes that can be really helpful. But let's also reserve some space here for the situations where you don't have any distortions and the person is being very unkind and they are hurting you. That's different. Then, what we can do is we can use that anger as information so that we know what we need to do to protect ourselves. Sometimes it's setting a boundary. "You can't speak to me like that." Sometimes it's saying, "You can't come into my house and do these things to me." Sometimes it's saying, "I'm going to not follow you on Instagram if it makes me angry." Or if you're seeing a bunch of things that's not helpful to your mental health and is making you compare and get angry, maybe you might want to not follow that person anymore.
And so, anger, again, if you can see it for what it is, is an opportunity to listen to what is going on and be mindful and just acknowledge, and then if need be, make some changes gently that line up with your values. And so, that's really important for us to recognize.
IS ANGER MASKING ANOTHER EMOTION?
Now there's one-- again, I keep saying that. There's one other thing I want you to think about, which is, sometimes underneath anger is another emotion—fear, shame, guilt. For me, I actually realized about a month ago, and I'll just share this with you, sorry, is I was noticing a lot of resentment showing up, particularly—if I'm being completely honest with you all, which I always want to be—a lot of resentment around the fact that I live in America. And I was noticing it showing up and going, "This is really weird. Why is resentment showing up? I chose to live here. I knew that was my choice, but a lot of resentment was showing up." And through talking with a dear friend underneath this anger and resentment, and I felt myself having a tantrum over it, I realized I was deeply grieving and missing my family. Usually, I just feel miss like I'm missing them and I feel sad, but the anger and resentment was masking me from it. And when I acknowledged that, I realized I'm staying in anger because the sadness was "too painful." In my mind, it felt unbearable. And so, my brain presented to me an opportunity to stay in resentment and anger and really cycle and ruminate on that instead of dropping down into the sadness that I felt.
So, again, anger is complex but also quite simple if we talk about it, like two opposing things at the same time. But what I want to offer to you is, all of these feelings are completely normal. If we can just simply acknowledge them with a sense of kindness, if we can stay with the sensation, if we can stay in compassion for ourselves, we can actually write out these emotions and they can be, what I say to myself, it's not a problem. That's my new thing. I keep saying to myself like, "Oh, I'm noticing anger. That's not a problem. It's totally okay for you to feel this, Kimberley." "Oh, I'm noticing anxiety. That's totally not a problem, Kimberley. Let's stay with it. Let's feel it."
ANGER AND RESENTMENT MEDITATION
And so, let's begin with a short meditation to where you may practice that. Now, if you're driving, number one, please do not close your eyes. Number two, if you're feeling an urge to turn off this podcast now and be like, "I got what I needed," please just listen. You don't even have to practice. I just want you to listen to what I'm saying and see if anything lands.
Here we go. We're going to mindfully tend to feelings of anger and resentment.
Bring your awareness to whatever is going on for you right now... and allow your body to rest as you feel the pool of gravity down on the chair or the bed or whatever it is that you're resting on.
And as you are aware of your weight sinking down to that point of contact between you and the floor, the chair, or the bed, I want you to notice what sensations are you noticing right now. Where does anger show up for you? Where does resentment show up for you? Are they the same or are they different? And just take some time to notice any resistance towards noticing anger and resentment.
And if you notice any tension or resistance, gently turn towards them. Maybe you offer a gentle hello to them. Good morning. Good evening.
And as you notice them rise and fall in your body, offer some acceptance as best as you can that they're there. If you notice that you're tensing up around them with each outbreath, see if you can let go or release any tension in your muscles or in your mind. Again, not trying to get rid of them, but also not holding on to them. Soften your body as best as you can, bringing acceptance to those sensations. Continuing to breathe in no particular fashion at all, except whatever feels easy for you.
Notice any thoughts as they arise and they pass through your mind. Notice if there's any thoughts of blame or shame or guilt or aggression. And notice them for what they are, which is emotions, sensations. See if you can let them come and go, rise and fall without over-identifying with the content of those thoughts, without engaging with the content. Just note them. "Oh, I'm noticing blame. I'm noticing the urge to punish that person. I'm noticing the urge to create justice. I'm noticing the experience or urge to neutralize the pain they've caused me by punishing them." And see if you can just notice them, maybe as clouds in the sky just floating by. No need to rip them out of the sky. Just notice them.
And as you notice they're floating by, can you let go of them? Can you let go of needing to control them or make them go away? And we want to do this kindly and gently. Sometimes it's helpful to gently bring the sides of your mouth up and gently smile. Not to make the feelings again go away, but to let your brain know that you're here, that you're not going to judge it for what it's experiencing, and that you've got your back here.
And now, allow your awareness to broaden and gather the whole experience of breathing into your body with ease. As you breathe in, knowing that you're breathing in, and breathing out, knowing that you're breathing out.
Can you feel an awareness that flows through you as you breathe? And can your breath be an anchor in this present moment? Noticing each breath as you inhale and exhale. Noticing any judgment you have for yourself as you have these sensations, any self-criticism. Again, just note them, acknowledge them. Try to remind yourself that anger is a normal and healthy emotion.
You may also want to congratulate yourself for tending to your anger in this moment, instead of internalizing it or displacing it onto other people. And every time you notice your mind has wandered, gently bring your mind back to the breath or the awareness of these sensations in your body.
Now again, expand your awareness back to feeling gravity pull you down as it sits and stands or lies. If there's anything left behind here, some pain, some discomfort, let's set the intention to keep this practice going where we're going to be non-judgmental and compassionate towards this experience. We're going to cultivate acceptance and acknowledgment of this and your entire experience.
Gently allow the breath to bring you back to the present.
I want to thank you for having the courage to do this exercise with me. The more you offer this practice to your mind, the more the mind will start to see anger again as nothing but an emotion that is knowledge and information for us to make decisions about how we want to move forward. It's a healthy action towards decision-making, boundary-setting, self-compassion, acceptance. And you're doing this for the benefit of yourself and for the benefit of others.
Slowly come back. Open your eyes. Notice what's around you. And I'm going to offer to you to keep going into the day with this practice.
Okay. Thank you for practicing with me today. I wish you nothing but a beautiful day of joy and kindness and warmth and love. Please also remember, it is a beautiful day to do hard things. I will look forward to seeing you next week. Thank you for spending your very valuable time with me today. I hope this was helpful.