Overcoming Harm OCD with Jon Hershfield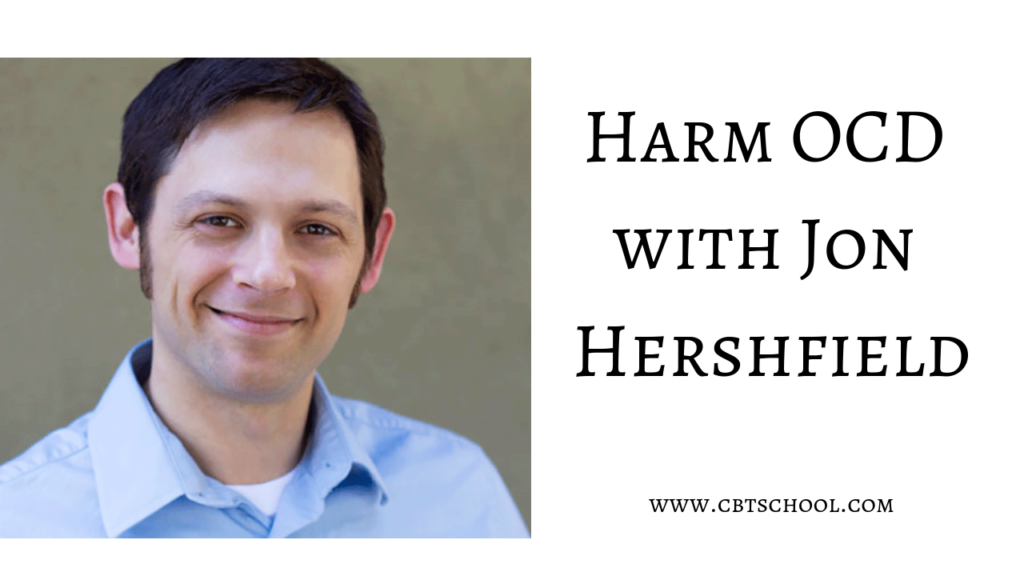 Welcome back to another episode of Your Anxiety Toolkit Podcast. Today we have a special guest, Jon Hershfield, LMFT. Jon has been on the show already and is a favorite among the CBT School-ers.
Today, Jon and I talk about how to manage specific obsessions related to violence and physical harm. In OCD terms, we call it Harm Obsessions or Harm OCD (if you meet the requirements for a diagnosis of Obsessive Compulsive Disorder or OCD).
In this episode, Jon answers some important questions such as:
Does everyone have Harm Obsessions, thoughts, impulses or images?
Why do these Harm Obsessions bother some people and not others?
What is the difference between a Harm OCD and having thoughts about harm?
Are people with Harm OCD any different than those who have other types of OCD?
How do we treat Harm OCD?
This was such a fun episode and I really hope it helps those with harm obsessions, thoughts, images, impulses, and urges (Harm OCD).
Fore more information on Jon's latest book, Overcoming Harm OCD: Mindfulness and CBT Tools for Coping with Unwanted Violent Thoughts, click HERE.
For more information on Jon Hershfield, visit:
Website: Ocdbaltimore.com
Twitter: @cbtocd
IG: @ocdbaltimore
FB: @JonHershfield
GOOD NEWS!……WE HAVE A HUGE SURPRISE!
On January 28th, 2019, we are offering our FREE webinar called "10 THINGS YOU NEED TO KNOW ABOUT OCD." This is a FREE online video course explaining exactly what OCD is, how to treat it and what complicating factors can occur during the process.
This free webinar will run daily at 6pm PST for one week ONLY. If you are not able to attend the free webinar, no stress! There will be a free replay sent to your inbox the day after signing up. I cannot wait to share this FREE educational resource with you.
CLICK HERE TO SIGN UP!
ALSO, ERP School is COMING BACK! Exposure and Response Prevention School is an online course that teaches you the tools and skills I teach my clients in my office. Let me tell you a little bit about it. The course is a video-based course that includes modules on:
The science behind ERP
Identifying YOUR obsessions and your compulsions
The different approaches and types of ERP, including gradual exposure, writing scripts, interoceptive exposures and how to get creative with ERP
Mindfulness tools to help you manage anxiety, panic and uncertainty
Troubleshoot common questions and concerns
BONUS 6 videos of the most common subtypes of OCD, including Harm OCD.
The course also includes many downloadable PDF's and activities to help you navigate how to best apply ERP to your specific obsessions and compulsions.
We are so excited to finally share ERP with you and would love to have you join us and the CBT School Community. It's a beautiful day to do hard things!
If you are worried about doing it alone, please don't fear. We meet bi-monthly on the Facebook group and on Instagram to talk about questions you may have.
Click HERE to sign up.