Today we are talking all about ERP Scripting with Shala Nicely. Welcome back, everybody. We are on Week 2 of the Imaginals and Script Series. This week, we have the amazing Shala Nicely on the show. She's been on before. She's one of my closest friends and I'm so honored to have her on.
For those of you who are listening to this and haven't listened to any of the previous episodes, I do encourage you to go back to last week's episode because that is where we introduce the incredible Krista Reed and she talks about how to use scripts and imaginals. I give a more detailed intro to what we're here talking about if this is new for you.
This will be a little bit of a steep learning curve if you're new to exposure and response prevention. Let me just quickly explain. I myself, I'm an ERP-trained therapist, I am an OCD Specialist, and a part of the treatment of OCD and OCD-related disorders involve exposing yourself to your fear and then practicing response prevention, which is reducing any of the safety behaviors or compulsions you do in effort to reduce or remove whatever discomfort or uncertainty that you feel. Now, often when we go to expose ourselves to certain things, we can't because they're not something we can face on a daily basis or they're often very creative things in our mind. This is where imaginals and scripts can come in and can be incredibly helpful.
If you want a more detailed understanding of the steps that we take regarding ERP, you can go to CBTSchool.com, which is where we have all our online courses. There is a course called ERP School that will really do a lot of the back work in you really understanding today's session. You don't have to have taken the course to get the benefits of today's session because a lot of you I know already have had ERP or are in ERP as we speak, or your clinicians learning about ERP and I love that you're here. Honestly, it brings me so much joy. But that is there for you if you're completely lost on what's going on today, and that will help fill you in on the gold standard treatment for OCD and the evidence-based treatment for OCD and OCD-related disorders.
That being said, let's get on with the good stuff. We have the amazing Shala Nicely. I am so honored again to have you on. You are going to love how applicable and useful her skills and tools are. Let's just get straight over to Shala.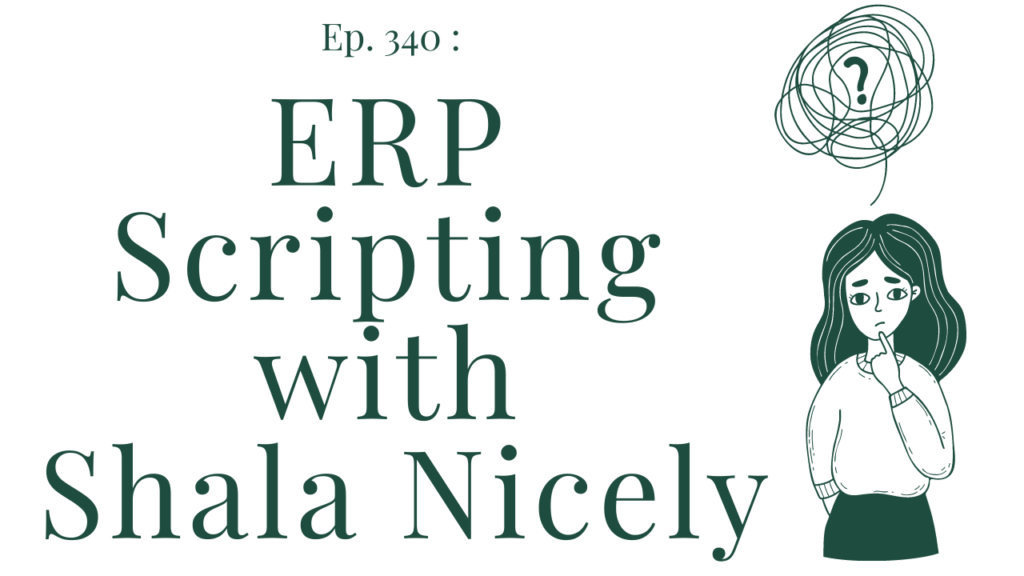 Kimberley: Welcome, Shala. I am so happy to have you back. I know we have a pretty direct agenda today to talk about imaginals versus scripting in your way in which you do it. I'd love to hear a little bit about, first, do you call it imaginals or do you call it scripting? Can you give me an example or a definition of what you consider them to be?
SHALA'S STORY OF ERP SCRIPTING
Shala: Sure. Well, thank you very much for having me on. Love to be here as always. I'll go back to how I learned about exposure when I first became a therapist. I learned about exposure being two different things. It was either in vivo exposure, so in life. Meaning, you go out and do the thing that your OCD is afraid of that you want to do, or it was imaginals where you imagine doing the thing that you want to do that your OCD is afraid to do. Research shows us that the in vivo is more effective, but sometimes imaginals is necessary because you can't go do the thing for whatever reason. But I don't think about it like that anymore. That's how I learned it, but it's not how I practice it.
To help describe what I do, I'll take you back to when I had untreated OCD or when I was just learning how to do ERP for myself because I think that would help it make sense what I do. When I was doing ERP, I would obviously go out and do all the things that I wanted to do and my OCD didn't want me to do. What I found was that I could do those things, but my OCD was still in my head, getting me to have a conversation about what we were doing in my mind. I might go pick up a discarded Coke can on the side of the road because it's "contaminated," and I would then go either put it in the trash, which would be another exposure because that would be not recycling. There are layers of exposures here. But my OCD could be in my head going, "Well, I don't think that one is contaminated. It doesn't look all that contaminated because it's pretty clean and this looks like a clean area so I'm sure it's not contaminated. What do you think, Shala?"
"Oh, I agree with you."
"Well, we threw it away, but I bet you, these people, they're going to get wherever we threw it. They're actually going to sort it out and it's going to get recycled anyway." There was this carnival in my head of information about what was going on.
I determined what I was doing because I was doing the exposure, but I wasn't really getting all that much better. I was getting somewhat better but not all that much better. What I realized I was doing is that I'm having these conversations in my head, which are compulsive. In my recovery journey, what I was doing was I was going to a lot of trainings, I was reading a ton of books, and I talk about this in Is Fred in the Refrigerator?, my memoir, because this was a pretty pivotal moment for me when I read Dr. Jonathan Grayson's book, Freedom from Obsessive Compulsive Disorder. I know you're having him on this series as well. I read his book and he talks so much in there about writing scripts to deal with the OCD—writing scripts about what might happen, the worst-case scenario, living with uncertainty, and all that kind of stuff. That really resonated with me and I thought, "Aha, this is what I need to be doing. I need to be doing ERP scripting instead of having that conversation in my head with the OCD. Because when I'm doing exposure and I'm having a conversation with OCD in my head, I'm doing exposure and partial response prevention. I am preventing the physical response, but I'm not at all preventing the mental response, and this was slowing down my recovery."
The way I like to think of imaginals—you think about imagine like imagination—is that the way I do imaginal exposures, which I just call ERP scripting, is that I'm dealing with OCD's imagination. People with OCD are exceptionally creative. If you're listening to this and you think, "Well, not me," for proof, all you have to do is look at what your OCD comes up with and look how creative it is. You guys share the same brain, therefore, you are creative too. All that creativity. When you have untreated OCD, it goes into coming up with these monstrous scenarios of how you're harming others or harming yourself. You're not ever going to be able to handle this anxiety or uncertainty or icky feeling or whatever, and it builds these scary stories that get us stuck.
WHAT IS ERP SCRIPTING?
What I'm trying to do with imaginal exposure or scripting is I'm trying to deal with OCD's imagination because in the example I gave, I was picking up the Coke can and my OCD was using its imagination to try to reassure me all the ways this Coke can was going to be okay or all the ways this Coke can was going to eventually get recycled. I needed to deal with that. Really, the way I do ERP Scripting for myself and for my clients is I'm helping people deal with OCD's imagination in a non-compulsive way. For me, it is not a choice of in vivo or imaginal; it is in vivo with imaginal, almost always, because most people that I see anyway are doing what I did. They are doing physical compulsions or avoidance and they're up in their head having a conversation with their OCD about it. I'm almost always doing in vivo and imaginals together because I'm having people approach the thing that they want to do that OCD doesn't want them to do, and I'm having them do scripts. The Coke can may or may not be contaminated. The fact that it's sitting here and it looks pretty clean may or may not mean that it's got invisible germs on it. I don't know. The Coke can may or may not get recycled, it may or may not end up in recycling, but somehow contaminate the whole recycling thing that has to throw all that other recycling away because it touched it. I'm trying to use my imagination to make it even worse for the OCD so that we're really facing these fears.
That's how I conceptualize imaginal exposure. It's not an AND/OR it's an AND for me. Some people don't need it and if they don't need it, fine. But I find it's very helpful to make sure that people are doing full response prevention in that they're permitting both the physical and the mental compulsive response.
DOES EVERYONE NEED ERP SCRIPTING?
Kimberley: Does everyone need ERP scripting? When you say some people don't need it, what would the presentation of those people be?
Shala: That for whatever reason, they are good at not having the conversation with OCD in their heads. This is the minority of people anyway that I work with. Most people are pretty good at having compulsive conversations with OCD because the longer you have untreated OCD, the more you end up taking your physical compulsions and pulling them inward and making the mental compulsion so that you can survive. If you can't really do all that physical checking at your office because people are going to see you, you do mental checking. That's certainly what I did. People become good at doing this stuff in their head and it becomes second nature. It can be going on. I talk about this a lot in Fred, I could do compulsions while I was doing anything else because I could do them in my head. Most people are doing that and most people have been doing that for long enough by the time they see somebody like me that if I just say, "Well, stop doing that," I mean I'm never going to see them again. They're not going to come back because they can't stop doing that. That's the whole reason they called me.
I'm giving them something else to do instead. It's a competing response to the mental compulsions because they don't know how to stop that. They're not aware of what they're doing, they don't know how to stop the process, so I'm giving them something to do instead of that until they build the mental muscles to be able to recognize OCD trying to get them to have a conversation and just not answer that question in their head. But it takes a long time to develop that skill. It took me a long time anyway.
Some people, for whatever reason though, are good at that. If they don't need to do the scripting, great. I think that's wonderful. They don't have to do it. The strongest response you can ever have to OCD is to ignore it completely, both physically and mentally. If you can truly ignore it in your head, you don't even need to do the scripting. It's a stronger response to just do what you want to do that upsets OCD and just go on with your day.
HOW TO DO ERP SCRIPTING?
Kimberley: Amazing. So How do you do ERP Scripting? If you're not one of those people and OCD loves to come up with creative ideas of all the things, what would be your approach? You talked about imaginals versus scripting. Can you play out and show us how you do it?
Shala: I mean, I guess imaginals in the traditional way that it is defined versus scripting. The way I would do it is we would design the client and I would design whatever their first exposure is going to be. Let's say that it would be touching doorknobs. They're going to be in their location and I'm going to be in my location. They're going to be wherever we've decided they're going to touch the doorknobs. Maybe it's to the outside of their house, for instance. I'm there on video with them and we have them touch the doorknob.
And then I asked them, "Well, what is OCD saying about that?"
"Well, OCD says that I need to go wash my hands."
I will say, "Well, are you going to go do that?"
"No."
I'm like, "Well, let's tell OCD that."
"Okay, OCD, I'm not going to wash my hands."
"Now what's OCD saying?"
"Well, OCD is saying that I'm contaminated."
"Well, let's say I may or may not be contaminated."
So far, we've got, "I'm not washing my hands and I may or may not be contaminated." Okay, now I'll ask them their anxiety level. When they say, "Gosh, I'm at a four," I'll say, "Is that good?" They'll often say, "No, I wish it were zero." I'll be like, "I'm sorry, what? What did you say? You want your anxiety to be zero? I must have misheard that. Is four good?" Finally, they understand, "Oh, well, four is not good because we could be higher."
"What would be better than four?"
"Anything above a four."
I'm working with them on that. We might start to throw some things in the script. I want to be anxious because this is how I beat my OCD, so bring it on.
I'll ask again, "What's your OCD saying?"
"Well, it's saying that I'm going to get some terrible disease."
"Well, you may not get a terrible disease."
I'm questioning back and forth the client as we're working on this, until we've got enough of a dialogue about what's going on in their head that we can then create a script. A script might look something like, "Well, I may or may not be contaminated. I may or may not get a dread disease, but I'm not washing my hands and I'm going to do this because I want my life back. It makes me anxious and I may or may not get a dread disease." And then we'll focus in on what's bothering OCD most. Maybe it's, at the beginning, the dread disease. "Well, I may or may not get a drug disease. I may or may not get a dread disease. I may or may not get a dread disease. I may or may not get a dread disease." We might sing it, we say it over and over and over and over and over again, and look for what the reaction from the OCD is. If the OCD is still upset, then we still go after that. If it starts moving, "Well, what's OCD saying now?"
"Well, OCD is saying now that if I get a dread disease, then I won't be able to do this thing that I have coming up that I really want to do."
"Well, okay, I may or may not get a dread disease and I may or may not miss this important event as a result." We add that in.
We do that and do that and do that and do that for whatever the period is that we've decided is going to be our exposure period. And then we stop and then we talk about it. What did we learn? What was that like and what did you learn? Really focusing on how we did more than we thought we could do. We withstood more anxiety than we thought we could withstand. What did we learn about what the OCD is doing? I'm not so concerned about what the anxiety is doing. I mean, I want it to go up. That's my concern. I'm not all that concerned about whether it comes down or not. I do want it to go up. We talk about what we learned about the anxiety that gosh, you can push it up enough and you can handle a lot more than you thought you did. That would be our exposure.
And then we would plan homework and then they would do that daily, hopefully. I have forms on my website that people can then send me their daily experience doing these exposures and I send them feedback on it, and that's what we're working on. We're working on doing the thing that OCD doesn't want you to do that you want to do, and then working on getting better and better at addressing all of the mental gymnastics in your head.
Now, if somebody touches the doorknob and they're like, "Okay, I can do this," and then their anxiety comes up and comes back down and they can do it without saying anything, great, go touch doorknobs. You don't need to do scripting. Often, I don't know if somebody needs to do that until we start working on it. If they don't need to do the scripting, great. We don't do the scripting. Makes things easier. But often people do need to. That's generally how I do it. Obviously, lots of variations on that based on what the client is experiencing.
Kimberley: This is all thing, you're not writing it down. Again, when you go back to our original training, for me, it was a worksheet and you print it out, you'd fill out the prompts. Are you doing any of this written or is this a counter to the mental compulsions in your head?
Shala: None of this is written. The only time I would write it out is after that first session. When you're really anxious, your prefrontal cortex isn't working all that well, so you may have trouble remembering what we did, remembering the specific things that we said, or pulling it up for yourself. When you're doing your exposure, you're so anxious. I might type out some of what we said, the main things, send it to the clients, and have that. But really to me, scripting is an interactive exercise and I want my clients to be listening to what the OCD is saying for the sole purpose of knowing what we're going to say. Because when we start doing exposure, what we're often trying to do is keep pace with the OCD because it's got a little imagination engine running and it's going to go crazy with all the things that it's going to come up with. We're trying to stay on that level and make sure we're meeting all its imagination with our own imagination.
As we get better and better at this, then I'm teaching people how to one-up the OCD and how to get better than the OCD as it goes along. But it's a dynamic process. I don't have people read scripts because the script that we wrote was for what was going on whenever we wrote the script. Different things might be going on this time. What we're trying to do is listen to the OCD in a different way. I don't want people listening to it in a compulsive way. I want people listening to it in a, "I've got to understand my foe here and what my foe is upset about so I can use it against it." That's what we're doing. There might be key things, little pieces we write down, but I'm not having people write and read it over and over. Now, there's nothing wrong with that. It's just not what I do. Everybody has a different way to approach this. This is just my way.
Kimberley: Right. I was thinking as you were talking, in ERP School, I talk about the game of one-up and I actually do that game with clients before I do any scripting or imaginals or exposures too. They tell me what their fear is, I try and make it worse. And then I ask them to make it even worse, then I make it even worse, because I'm trying to model to them like, we're going here. We're going to go all the way and even beyond. If we can get ahead of OCD and get even more creative, that's better.
Let's play it back and forward. You talked about touching a doorknob and all of the catastrophic things that can happen there. What about if someone were to say their thoughts are about harming somebody and they have this feeling of like, I've been trained, society has trained me not to have thoughts about harming people or sexual thoughts and so forth? There's this societal OCD stigmatizing like we don't think those things. We should be practicing not thinking those things. What would you give as advice to somebody in that situation?
Shala: I would talk a lot about the science about our thoughts, that the more that you try to push a thought away, the more it's going to be there. Because every time you push a thought away, your brain puts a post-it note on it that says, "Ooh, she pushed this thought away. This must be dangerous. Therefore, I need to bring it up again to make sure we solve it." Because humans' competitive advantage—we don't have fur, we don't have fangs, we don't have claws, we don't run very fast—our competitive advantage is problem-solving. The way we stay alive is for cave people looking out onto savannah and we can see that there are berries here, there, and yawn. But that one berry patch over there, gosh, you saw something waving in the grass by it and you're like, "I'm going to notice that and I'm going to remember that because that was different, but I also don't want to go over there." Your brain is going to remember that like, "Hmm, there was something about that berry patch over there. Grass waving could be a tiger. We need to remember that. Remember that thing, we're not going to go over there." We're interacting with thoughts in that way because that's what kept us alive.
When we get an intrusive thought nowadays and we go, "Ooh, that was a bad thought. I don't know. I should stay away from that," our brain is like, "Oh, post a note on that one. That one is like the scary tiger thought. We're going to bring that up again just to make sure." Every time we try to push a thought away, we're going to make it come back. We talk a lot about that. We talk a lot about society's norms are whatever they are, but a lot of society's norms are great in principle, not that awesome in practice. We don't have any control over what we think about. The TV is filled with sex and gore, and violence. Of course, you're thinking those things. You can't get away from those images. I think society has very paradoxically conflicting rules about this stuff. Don't think about it but also watch our TV show about it.
I would talk about that to try to help people recognize that these standards and rules that we put on ourselves as humans are often unrealistic and shame-inducing and to help people recognize that everybody has these thoughts. We have 40, 60, 80,000 thoughts a day. I got that number at some conference somewhere years ago. We don't have control over those. I would really help them understand the process of what's going on in their brain to destigmatize it by helping them understand really thoughts are chemical, neuronal, whatever impulses in our brain. We don't have a lot of control over that and we need to deal with them in a way that our brain understands and recognizes. We need to have those thoughts be present and have a different reaction to those thoughts so your brain eventually takes the post-it note off of them and just lets them cycle through like all the other thoughts because it recognizes it's not dangerous.
HOW FAR CAN YOU GO IN ER SCRIPTING?
Kimberley: Right. I agree. But how far can you go in ERP Scripting? Let's push a little harder then. This just happened recently actually. I was doing a session with a client and he was having some sexual pedophilia OCD obsessions playing up, "I'll do this to this person," as you were doing like I may or may not statements and so forth. And then we played with the idea of doing one up. I actually went to use some very graphic words and his face dropped. It wasn't a drop of shock in terms of like, "Oh my gosh, Kimberley used that naughty word." It was more of like, "Oh, you are in my brain, you know what I'm thinking." And then I had to slow down and ask him, "Are there any thoughts you actually aren't admitting to having?" Because I could see he was going at 80% of where OCD took him, but he was really holding back with the really graphic, very sexual words—words that societally we may actually encourage our children and our men and women not to say. Do you encourage them to be using the graphic language that their OCD is coming up with?
Shala: Absolutely. I'm personally a big swearer. That's another thing I talk about in--
Kimberley: Potty mouth.
Shala: I'll ask clients, "What's your favorite swear word? Let's throw swear words in here." I want to use the language that their OCD is using. If I can tell that's the language their OCD is using, well, let's use that language. Let's not be afraid of it.
The other thing I do before I start ERP with anyone is I go through what I consider the three risks of ERP so they understand that what happens during our experience together is normal. I explain that it's likely we're going to make their anxiety worse in the weeks following exposure because we're taking away the compulsions bit by bit, and the compulsions are artificially holding back the anxiety. I explained that their OCD is not going to roll over because they're doing ERP therapy now. Nobody's OCD is going to go, "Oh gosh, Shala is in ERP. I think I'll just leave her alone now." No, the OCD is going to ratchet it up. You're not doing what you're supposed to do, you're not doing your compulsions, so let's make things scarier. Let's make things more compelling. Let me be louder. Your OCD can get quite a bit worse once you start doing ERP because it's trying to get you back in line. When somebody is in an exposure session and their OCD is actually going places, they never even expected them to go, and I'll say that's what we're talking about, "That's just the OCD getting worse, that's what we wanted. This is what we knew was going to happen." We're going to use that against the OCD to help normalize it.
Then I also explain to people that people with OCD don't like negative emotions more than your average bear, and we tend to press all the negative emotions down under the anxiety. When you start letting the anxiety out and not doing compulsions, then you can also get a lot more emotions than you're used to experiencing so that people recognize if they cry during the exposures, if it's a lot scarier than they thought, if they have regret or guilt or other feelings, that's just a normal part of it. I explain all that. When things inevitably go places where the client isn't anticipating they're going to go like in a first exposure, then they feel this is just part of the process. I think it makes it so that it's easier to go those graphic places because you're like, "Yeah, we expected OCD to go the graphic place because it's mad at you."
Kimberley: It normalizes it, doesn't it?
Shala: Yeah. Then we go to the graphic place too. I tell clients that specifically because this is a game and I really want them to understand this is what your opponent is likely to do so that they feel empowered so we can go there too and trying some to take the shame out of it. When you said the graphic word and your client had a look on their face and it was because how did you even know that was in my head, because you were validating that it's okay to have this thought because you knew it was going to be there. I think that's a really important part of exposure too.
HOW LONG DO YOU USE ERP SCRIPTING FOR?
Kimberley: So, how long do you do ERP Scripting for? Let's say they're doing this in your session or they're at home doing their assigned homework. Let's say they do it for a certain amount of time and then they have to get back to work or they're going to do something. But those voices, the OCD comes back with a vengeance. What would you have them do after that period of time? Would they continue with this action or is there a transition action or activity you would have them do?
Shala: That's a great question. It depends a lot on really the stage of therapy that somebody is in and what is available to them based on what they're going to be doing. Oftentimes, what I will ask people to do is to try to do the exposure for long enough that you've done enough response prevention that you can then leave the exposure environment and not be up in your head compulsively ruminating. Because if you were doing exposure for 20 minutes, you've done a great job, but then you leave that exposure and you are at a high enough anxiety level where it feels compelling. Now you have to fix the problem in your head even though you just did this great exposure. Then we're just going to undo the work you just did. I try to help people plan as much as they can to not get themselves in a situation where they're going to end up compulsively ruminating or doing other compulsions after they finish. But obviously, we can't be perfect. Life happens.
I think some of the ways you can deal with that, if you know it's going to happen, sometimes they'll ask people to make recordings on their phone and they just put in their earpieces or their earbuds or whatever and they can just listen to a script while they're doing whatever they're doing. Nobody has to know what they're doing because so many people walk around with EarPods in their ears all the time anyway. That's one way to deal with it.
Another way to deal with it is to try to do the murmuring out in your head as best as you can. That's really hard because they're likely to just get mixed up with compulsive thoughts. You can try to focus your attention as much as you possibly can on what you're doing. That's going to be the strongest response. It's hard for people though when they get started to do that. But if you can do that, I think that's fine, and I think just being compassionate with yourself. "Okay, so I am now sitting here doing some rituals in my head. I'm doing the best I can." If you're not in a situation where you can fully implement response prevention in your head because you're in a meeting and you got to do other stuff and you've got this compulsive stuff running in the background, just do the best you can. And then when you're at a place where you can do some scripting, some more exposure to get yourself back on top of the OCD, then do that. But be really compassionate.
I try to stress this to all my clients. We are not trying to do ERP perfectly because if you try to do it perfectly, you're doing ERP in an OCD way, which isn't going to work. Just be kind to yourself and recognize this is hard and nobody is going to do it perfectly. If you end up in a situation where you end up doing some compulsions afterwards, well, that's good information for us. We'll try to do it differently or better next time, but don't beat yourself up.
Kimberley: It's funny you brought that up because I was just about to ask you that question. Often clients will do their scripting or their imaginal and then they have an obsession, "What if I keep doing compulsions and it's not good to do compulsions?" Would you do scripting for that?
Shala: Oh yeah. I may or may not do more compulsions than I used to be doing. I may or may not get really worse doing this. I may or may not have double the OCD that I had when I started seeing trauma. This may or may not become so bad that they have to create a hospital just to help me all by myself. We try to just create stuff to deal with that. But also, I'm injecting one up in the OCD, I'm injecting some humor, how outlandish can we make these things? I try to have "fun" with it. Now I say "fun" in quotes because I know it's not necessarily fun when you're trying to do this, but we're trying to make this content that OCD is turning into a scary story. We're trying to make it into a weapon to use against the OCD and to make this into a game as much as we can.
Kimberley: I love it. I'm so grateful for you coming on. Is there anything that you want the listeners to know as a final piece for this work that you're doing?
Shala: Sure. I think that there are so many different ways to do exposure therapy. This is the way that I do it. It's not the only way, it's not necessarily the right way; it's just the way I do it and it's changed over the years. If we were to record this podcast in five years or 10 years, I probably will be doing something slightly different. If your therapist is doing something differently or you're doing something differently, it's totally fine. I think that finding ERP in a way that works for you, like finding how it works for you and what works best for you is the most important thing. It's not going to be the same for everybody. Everybody has a slightly different approach and that's okay.
One thing that people with OCD can get stuck on, and I know this because I have OCD too, is we can be black and white and say there's one right way. Well, she does it this way and he does it that way and this is wrong and this is right. No, if you're doing ERP, there are all sorts of ways to do it, so don't let your OCD get into the, "Well, I don't think you're doing this right because you're not doing this, that, or the other." Just work with your therapist to find out what works best for you. If what I've described works well for you, great. And if it doesn't, you don't have to do it. These are just ideas. Being really kind and being really open to figuring out what works best for you and being very kind to yourself I think is most important.
Kimberley: Amazing. Tell us where people can get more information about you. Tell us about your book. I know you've been on the podcast before, but tell us where they can get hold of you.
Shala: Sure. They can get a hold of me on my website, ShalaNicely.com. I have a newsletter I send out once a month that they can sign up for called Shoulders Back! Tips & Resources for Taming OCD. In it, I feature blogs that I write or podcast episodes, other things that I'm doing. It's all free where I'm talking about tips and resources for taming OCD. I have two books: Everyday Mindfulness for OCD that I co-wrote with Jon Hershfield and Is Fred in the Refrigerator? Taming OCD and Reclaiming My Life, which is my memoir. It is written somewhat like a suspense novel because as all of you know who have OCD, living with untreated OCD is a bit like living in a suspense novel. My OCD is actually a character in the book. It is the villain, so to speak. The whole book is about me trying to understand exactly what is this villain I'm working against. Then once I figure out what it is, well, how am I going to beat it? And then how am I going to live with it long term? Because it's not like you're going to kill the villain in this book. The OCD is going to be there. How do I learn to live in a world of uncertainty and be happy anyway, which is something that I stole from Jon Grayson years ago. I stole a lot from him. That's what the book is about.
Kimberley: It's a beautiful book and it's so inspiring. It's a handbook as much as it is a memoir, so I'm so grateful that you wrote it. It's such a great resource for people with OCD and for family members I think who don't really get what it's like to be in the head of someone with OCD. A lot of my client's family members said how it was actually the first time it clicked for them of like, "Oh, I get it now. That's what they're going through." I just wanted to share that. Thank you so much for being on the show. I'm so grateful to have you on again.
Shala: Thank you so much for having me. It was fun.