Welcome back, everybody. Today we are talking about a topic that I commonly get asked as a clinician, I commonly get asked as an advocate for anxiety online and so forth, which is how to let go of intrusive thoughts. I think that this is such an interesting question because words matter.
For those of you who know me, you're going to know that words really do matter when it comes to managing anxiety and we have to get it "right." When I say "right," what I'm really saying is our mindset about anxiety and intrusive thoughts and any emotion really that is uncomfortable, we have to approach it with a degree of skill, effectiveness, and wisdom. My hope is to help you move in that direction. I know you're already in that direction, but hopefully, this episode will be really powerful. I'm going to give you a metaphor that I hope really, really helps you. It really helps me. I've talked about it on the podcast before, but I feel like it's important so I have to talk about it again.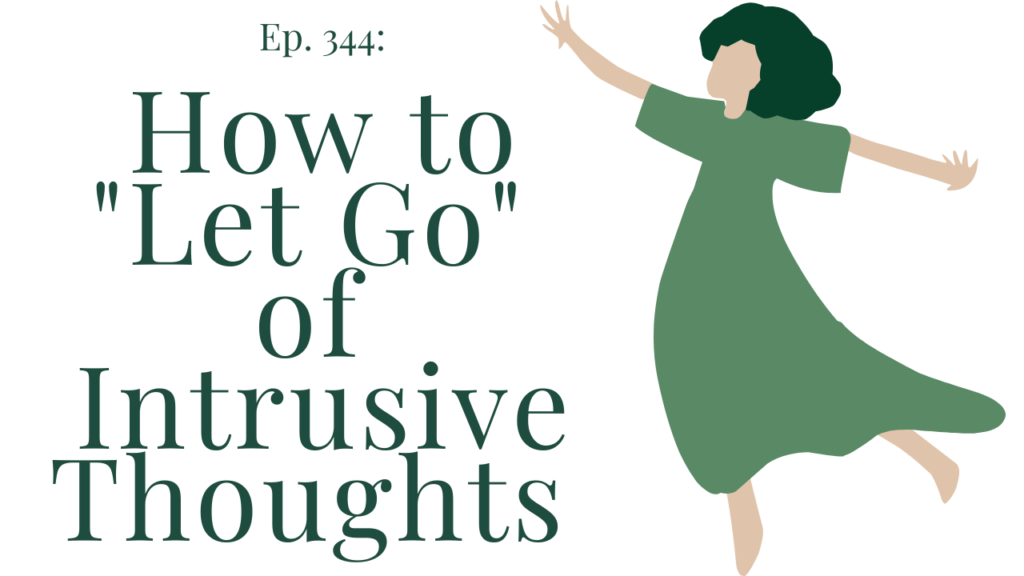 When we talk about this idea of how to let go of intrusive thoughts, we have to ask, what do we mean by that? Often when people first start seeing me as a clinician or they start seeing my therapist—we have a private practice in Calabasas, California—we commonly will get, "Okay, just I'm here. I'm ready to do the work. Teach me how to let go of intrusive thoughts." A lot of the beginning stages of treatment is educating on how letting go, meaning not having them anymore or quickly avoiding them or distracting against that, could actually be what's making your anxiety worse.
For those of you who've taken ERP School, which is our online course for OCD. If you're interested, you can go to CBTSchool.com to learn more about that course. That's where you can learn how to manage your own OCD. It's an on-demand course. But we talk a lot about understanding that trying to push thoughts away or suppress thoughts, not having them actually reinforces the problem. I also want to mention, it makes total sense that your goal is to be able to have the thoughts and have no discomfort related. Like I just want to have the thoughts and I don't want them to bother me, and I just want them to create no suffering at all. I get that. That is a very normal desire to have. But what we want to do here is, when we're talking about how to "let go" of intrusive thoughts, what we are really talking about is how we can be skillful in how we respond to them, because we know, based on science, that we can't control our intrusive thoughts. Often there are mechanisms in the brain that's making it very difficult for you to pump the brakes on thoughts, which is why you're struggling with so many of them, and they're happening so repetitively. We know this.
When I first learned about mindfulness, one of the most important metaphors that just shook me to the core—it really changed the way that I learned to deal with thoughts, feelings, sensations, emotions, urges, and all the things—was to think of my thoughts like water in a stream, and that my mind is this stream of water. As you're thinking like these beautiful green banks, and there's the river in the stream, and it's flowing in one direction. What happens for us when we're experiencing our mind is we hit a rock in the stream. When we hit that rock, we want to imagine that that rock is a metaphor for an intrusive thought. Here you are, you're the water. You're just rolling over all of the banks and commandeering back and forth, and then all of a sudden you hit this very sharp, jagged rock. Of course, your reaction is to get jolted and go, "Oh my goodness, what is this? Why is this here? I'm just trying to get from A to B." Often what we do is when we hit the rock, we make a huge splash. The splash goes everywhere. We're like, "Wait, what happened?" When we do this, we actually create a lot of pandemonium for ourselves.
Now, that's what we do. But if we were to think about a stream, what does the stream water normally do when it hits a rock? It hits the rock, it notices the shape of the rock, and then it gently goes around them. It doesn't stop to go, "Is this a good rock or a bad rock? How do I feel about this rock? What does this rock mean about me? Why is there a rock here? There shouldn't be a rock here." The water just notices the rock, observes that the rock's here. It doesn't make a huge splash. It doesn't try to go under it. It doesn't try to stay on the left side of the bank and avoid it. It just notices the rock and it goes around it and it moves on.
Mindfulness is just that. Mindfulness is observing what shows up from a place of non-judgment, from a place of non-attachment. What I mean by that is that the water's not attached to what this rock means about them. It doesn't assign value to the rock. It doesn't say the river is bad now because we have a jagged rock, or it doesn't say the river is good because it's a small rock. It just says "rock" and it goes around it. Mindfulness is also very present. It notices it. It doesn't stop there and go, "Okay, I'm going to spend a lot of time solving this and I'll get to the end of the river in my own jolly time." It is often being moved by gravity, so it just keeps moving. It doesn't slow down too much for that rock.
That's the way I want you to now practice approaching your intrusive thoughts or your emotions, if you're having other emotions, like strong waves of guilt or shame or sadness and whatever it may be. You're going to notice the obstacle or the object. Be non-judgmental, not get caught up in a story about what it means about you that there is a rock in your stream of water, and you're going to go around it. I was going to say quickly, but that's not actually the right word. You're going to go around it from a place of not gripping. Not gripping to that rock and so forth.
Now, here is where the metaphor continues. For those of you who are listening, my guess is, in your stream, in your mind metaphorically, you hit one rock, you go around it, but very, very quickly comes another rock. And then you might practice that and go, "Okay, all right, I did one. I'm going to notice this rock as well. I'm not going to assign value to it. I'm just going to notice it, be aware of it, be non-judgmental of it, and do my best to go around it without making too big of a splash." You do it the second time. But then what happens? Another rock comes.
Often what my patients say to me, or like I said to you at the beginning, followers on Instagram or you listeners of the podcast will say, "I get what you're saying." One of the most common questions we get in ERP School in the portal where people ask questions is, "I get what you're saying, but what happens if they just keep coming and coming and they just don't stop?" That's where I would say, again, the stream doesn't get involved in a conversation about what this mean. It just hits the rock and goes around the rock and moves to the next one and the next one and the next one, and it takes one rock at a time.
What we often do—and I'm the worst at this, I have to admit—is once we've hit 4, 5, 6 rocks, we then shift our gaze not on the present moment, but we look down the stream and we go, "Oh my goodness, I see nothing but rocks. This is going to be a bad day. All I could see is my future is going to contain a lot of rocks. I can see them on the horizon, I give up," which is okay. I want to first really validate you, that is a normal human emotion, a normal human instinct to be like, "I give up, there's too many rocks." But our job isn't to be looking into the future, trying to solve the many rocks that we are going to face. Because as soon as we do that, we lose our skills, we lose our cool, we lose our motivation, we lose our resilience. Just the same as if we looked up the stream where we've been and we go, "Oh my gosh, what a terrible day. Look how many rocks I hit today. It was nothing but rocks." We could get in trouble that way as well. Mindfulness is only paying attention to one rock metaphorically at a time. Staying as present as you can.
HOW TO GET RID OF INTRUSIVE THOUGHTS?
Often people will say to me, "Well, how do I get rid of rocks? Isn't there a way to get rid of rocks?" I love this. What they're really asking, just in case you lost the metaphor, is they're asking, how do I get rid of intrusive thoughts? How do I get rid of them? Here is where I think the metaphor is really clever, because when you think of a stream and you think of the rocks in a stream, like the actual stream—our family spends a lot of time rafting; my husband is an amazing raft, I guess you would say, and my kids love it too—what I always think that's so interesting is when you're in rapids or ripples, the rocks actually aren't jagged anymore. Often when rocks have been hit by water enough times, the jaggedness of them gets washed away and the rocks become actually quite smooth. I think it's such an amazing metaphor here for the work that we do, which is when we are mindful, when we are non-judgmental, when we are present, when we don't attach it to what it means about us, the thoughts become less powerful, less painful, less jagged, less sharp, less of an ouch. That's true in science with actual streams on water and for us in our minds too.
HOW LONG CAN INTRUSIVE THOUGHTS LAST?
Now, it's not uncommon for people to be curious about how long intrusive thoughts can last. Because often when we have them, before we've learned these skills and before we've learned mindfulness, we have them. And then because we are so averse to them and we're so afraid of them and they're so painful, it can feel like they last for a very, very long time, and that's true. They can be so repetitive that it feels like you just don't get a break.
But what I have found to be true, as a clinician who's watched hundreds of clients practice this, is when you start to apply mindfulness, they can be quite fleeting, these intrusive thoughts. They can pass quite quickly. I want to be really honest with you. What I'm not saying is that they will stop returning. Again, I want to really keep reinforcing because that's not our goal. Our goal isn't to say, how can we get rid of them as fast as we can, or how can we get them to not be here. I'm not saying that, but I can vouch for this in that when you do practice treating intrusive thoughts like a rock in a stream, they do tend to be less prolonged. Not always. I want to keep saying not always. There will be days where you'll have lots and lots, there'll be days when you won't. Again, we're going to practice not attributing value or judgment to that. But I have found this to be very true, that when we are really present and we're kind and we are non-judgmental, it can actually reduce the suffering so, so much
HOW TO LET GO OF OCD INTRUSIVE THOUGHTS and PTSD INTRUSIVE THOUGHTS?
That's the metaphor I want you to think about here in regards to how to let go of OCD intrusive thoughts. But I would even go as far as saying, this is the same metaphor I would use when talking with patients who have trauma, and they're wanting to know how to let go of their PTSD intrusive thoughts because some people with PTSD have intrusive thoughts. I would even go as far as saying that, as I've said in the beginning, you can use this skill with any adversity.
HOW TO LET GO OF INTRUSIVE THOUGHTS RELATED TO DEPRESSION?
You could use this skill with sadness, you could use this skill with shame, guilt, fear in general. It could be discomfort or some physical sensation of pain that you're having. We can also let go of these intrusive thoughts related to depression. Noticing a depressive negative thought, seeing it like a rock in the stream, trying to practice non-judgment around that, and moving around it with a sense of kindness and compassion and radical support. That's what I would love for you to practice.
I've had patients in the past say that they changed the computer screen to a stream just to remind them of that. Or they've left a little sticky note on the side of their desk saying thoughts are like a rock in a stream or a rock in a river. There are other ways you could imagine this metaphor as well, but this is the one that I really, really resonate with. If you want to get creative, you can maybe come up with some other forms. But I find it to be so incredible how nature can really teach us about how to be mindful and manage really, really hard things.
That's it, guys. That's what I wanted to share with you. I hope it was helpful. I know this is not easy, by the way. The whole reason I say it's a beautiful day to do hard things is because this is not easy. This is like hardcore work and I want you to give yourself a lot of claps and hugs and celebrations and high fives for even trying this sometimes in the day.
I really do believe that one rock at a time, even though it mightn't seem very significant, it accumulates. If you have hit tens or twenties or thirties or hundreds of these rocks, you are on your way. You are doing the work, you are walking the walk, and I really want to celebrate you and honor you for that.
All right, folks. I hope that was helpful. I am sending you so much love. Keep doing the work. I will see you in a week. Well, you'll hear me in a week. I hope you're having a wonderful summer if you're in the northern hemisphere. I hope you're having a wonderful winter if you're in the southern hemisphere, and I will talk to you soon.