Welcome back, everybody. It is so good to have you here talking about hyper-responsibility & hyperresponsibility OCD. A lot of you may not even know what that means and maybe have never heard it, or maybe you've heard the term but aren't quite sure what it entails. And some of you are very well acquainted with the term hyper-responsibility. I thought, given that it's a theme that's laced through so many anxiety disorders through depression that we should address it. I think that's a really great starting point.
WHAT IS HYPER-RESPONSIBILITY OCD?
Let's talk about first what is hyper-responsibility. Hyper-responsibility is an inflated sense of responsibility. It is feeling responsible for things that are entirely out of your control, such as accidents, how other people feel about you, how other people behave, events happening in your life. It's ultimately this overwhelming feeling that the world rests on your shoulders, that it's up to you and it's your job to keep yourself and everybody else safe. Even as we look at this definition of what hyper-responsibility is, I'm actually feeling and noticing in my body this heaviness, this weight that you're carrying, and it is an incredible weight to carry. It is an incredibly stressful role to play. If you're someone who experiences hyper-responsibility, you often will have additional exhaustion because of this.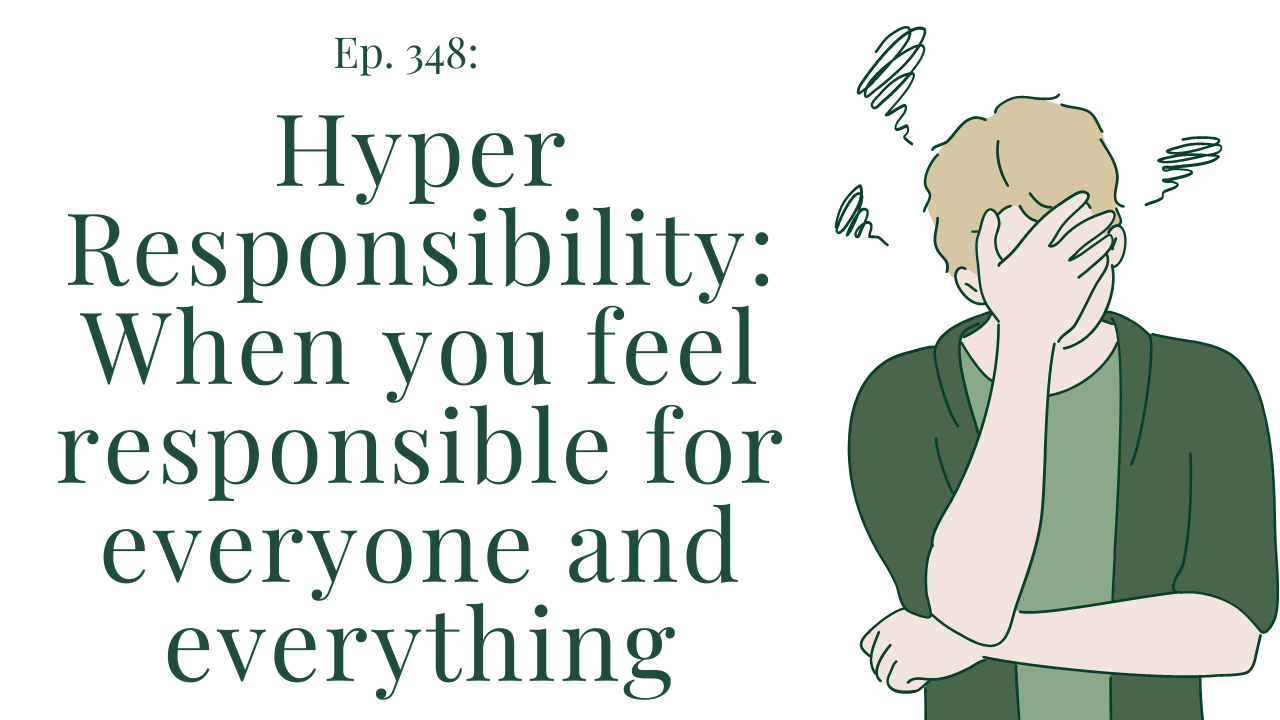 WHAT IS THE DIFFERENCE BETWEEN HYPER-RESPONSIBILITY AND RESPONSIBILITY OCD?
One thing I want to clear up as we move forward is first really differentiating the difference between hyper-responsibility and responsibility OCD. When we say "hyper-responsibility," we're talking about a heightened sense of responsibility. Actually, let me back up a little bit. We do have responsibility. I am an adult. I'm responsible for my body, I'm responsible for two young children, a dog. Responsibility is one thing. You need to keep them safe, you need to take care of them, you need to show up in respectful ways. But hyper-responsibility is so much more than that. It's taking an incredible leap of responsibility and feeling responsible for all the teeny tiny things, like I said before, that are out of your control.
Now, once we've determined what responsibility is, then we can also look at responsibility OCD. Now specifically for those who have responsibility OCD is where this sense of hyper-responsibility has crossed over into meeting criteria for having the obsession of hyper-responsibility that's repetitive, intrusive, unwanted, and you're also engaging in a significant degree of compulsions that, again, meet criteria for OCD. They could be mental compulsions, physical compulsions, avoidant compulsions, reassurance-seeking compulsions, and so forth.
The way I like to think of it is on a spectrum. We have responsibility on one side, then in the middle, we have hyper-responsibility, and then it goes all the way over to responsibility OCD. Some people will differentiate them differently in terms of they will say, hyper-responsibility is the same thing as responsibility OCD. But I'm not here to really diagnose people, and I'm not here to tell people that they have OCD if they don't quite resonate with that. I'll use me as an example. I 100% struggle with hyper-responsibility in certain areas of my life. But the presentation of that hyper-responsibility, I don't feel, and I'm sure my therapist doesn't feel, meets criteria for me to get the diagnosis of OCD. That's why I want to make sure this is very loose so that you can decide for yourself where you fit on that spectrum.
HYPER RESPONSIBILITY SYMPTOMS OR RESPONSIBILITY OCD SYMPTOMS
A little bit more about hyper-responsibility symptoms or even responsibility OCD symptoms. Examples will include: when something goes wrong, you're probably likely to blame yourself and feel guilty for the fact that something went wrong. Even disregarding whether it was your fault or not, you'll feel a sense that this was your mistake, that you should have prevented it.
Another hyper-responsibility symptom is you might believe that it is up to you to control the outcomes of your life. It is up to you to control the outcomes of other people's lives—your dependence, your partner, your family members, and so forth, the people at your work, the projects at your work, or at school.
Another symptom of hyper-responsibility and responsibility OCD is this act of always trying to "fix" the problem. Even when you've recognized that there is no solution, you feel this need to just keep chipping away and finding the solution to prevent the bad thing from happening or being responsible for the bad thing. You may spend hours trying to prevent accidents or bad things from happening. What I mean by spending hours is it takes up a significant degree of your time, and it's usually quite distressing. It's a heavy feeling.
There is a difference between responsibility and hyper-responsibility. An example might be my husband found that one of our decks was rickety and shaking, and he felt it was his responsibility to fix that. He did it in a very measured way, in a very rational way, and it was coming from a place of his genuine value and his genuine view that it's his responsibility to fix that. However, hyper-responsibility would be fixing it, but then also checking every part of it to make sure that it was safe, spending a lot of time going over all the possible scenarios on how it may not be safe, how it could have been safer, what it would mean if something bad happened, replaying. I actually shouldn't use the word "replay." It's almost like future forecasting what would happen and who would be at fault if something bad did happen.
Again, if we even went further into more responsibility OCD, it might involve repetitively doing these over and over again to get a sense of relief from this hyper-responsibility or to absolutely get security and certainty that nothing bad will ever happen. Often in this case, if I was using this example, maybe they would do the avoidant compulsion of saying, no one's allowed on the deck, even though it might be a safe, secure deck. That's just one example. It's probably not the best example, but I'm trying to use it in contrast to the many ways in which this can play out, especially for those who don't have hyper-responsibility.
A thing to remember is, people who don't have hyper-responsibility may look at the person with hyper-responsibility with a quite perplexed look on their face because to them, they can't understand why the person feels so heavy loaded with responsibility. And that can be very frustrating, particularly as it shows up in relationships.
Now, an inflated responsibility may also present as people-pleasing, which is really an attempt to control how people feel about you. It may also present as giving a lot of money or time to charities or groups of people who are less privileged and so forth. Again, let's get really nuanced. It doesn't mean if you donate money that you have hyper-responsibility. A lot of these actions people may do from a place of value. But again, we always want to look at the intention of why they're doing it, and are they doing it to reduce or remove this feeling that they're having?
Another symptom of an inflated responsibility is over-researching unlikely threats or possible scenarios. You're really doing it to try and prevent something bad from happening. Is it possible that someone could fall off a deck? Sometimes I'll explain it to you, for me personally, often it's related to the law. For me, it will show up in, "Oh, I'm a boss. I'm someone who has employees. What are all the possible scenarios that legally could impact me? Let me do a lot of research around that." Until I catch it, and I'm like, "Kimberley, you're engaging in a ton of reassurance here. Let's not try to solve problems until they're actually here and actually a problem."
Another example of an inflated responsibility is keeping physical or mental lists like, did you do this? Did you do that? Did you do this? That's really an attempt to make sure nothing bad has happened.
One other thing is—I remember doing this a lot when I had a baby—checking the baby over and over. I felt that it was my responsibility to keep this baby alive, and yes, it was my responsibility to keep my baby alive. But I had somehow taken it upon myself that if something happened, I would be fully at fault. That it wouldn't have been my husband's fault, who's laying right next to me, who is a fully engaged and loving dad. I had taken it on myself that 100% of the responsibility of her wellness and his wellness, my children are mine, and if something happened, 100% of the fault would be on me.
I have such compassion for the moms out there who experience this responsibility weight on their shoulders. I think number one, it's societal. Number two, I think it's normal, again. But number three, it's so terrifying because often, not just for moms, for everybody here, the thing that we are worried about are often people we deeply love too. The things that we hold in high value. That's again why it can be so incredibly painful.
Now, while these behaviors don't necessarily, again, mean you have hyper-responsibility or OCD. Again, I want you to think of it like it's on a spectrum. It is important to know that lots of people with OCD experience hyper-responsibility in many areas of their lives, and that hyper-responsibility shows up in many different subtypes of OCD, many themes of OCD. If you have OCD, you can really put that in your back pocket and keep an eye out and really increase your awareness of how hyper-responsibility is showing up and making it harder for you to overcome your obsessions and compulsions.
We can all agree as we move forward that hyper-responsibility deeply, deeply impacts somebody's mental health and their overall well-being. My hope is now to give you some tools, some things that I've found helpful for me to manage that—things that I've had to practice over and over again.
WHAT CAUSES RESPONSIBILITY OCD & HYPER RESPONSIBILITY?
Now, before I do that, let's quickly check in on, often people will ask what causes responsibility OCD or hyper-responsibility. There are a couple of things to think about here. When I'm talking with patients who have OCD, I don't spend a lot of time digging deep into childhood stuff and bringing up old events and so forth. For some people, that can be incredibly helpful. I tend to find it often does become compulsive and we spend a lot of time there instead of actually targeting the behaviors that are problematic. But for the sake of today, of just giving you some education, we do know that hyper-responsibility CAN, not always, but CAN come from childhood experiences and family dynamics. Often a child may feel it's their job to take care of other people. Maybe they've been taught that. Maybe they're the eldest sibling and they were given a lot of responsibility. Maybe their parents were very, very strict, and that for them, they felt that they had to maintain that perfect demeanor and perfect school report and so forth. We do know that childhood experiences, that environment that we were raised in can impact someone's experience of hyper-responsibility.
We also know that brain disorders like OCD, other anxiety disorders, or even depression, or trauma—trauma is not a brain disorder—these mental health disorders can also exacerbate the theme of hyper-responsibility in people.
We also know that external pressures, societal expectations, the way our culture raises us can also add to a sense of hyper-responsibility. I know for me, as I've thought about this a lot recently, which was a part of the reason why I wanted to do this episode, I am a therapist; it's an incredible weight of responsibility to be a therapist. I'm surrounded by laws and ethics and licensing boards and all of these rules. I find that the environment of my work can very much nurture my already inclination to have hyper-responsibility. I do think too the environment we are even in as an adult can keep this going.
And then the last thing I want to look at, which we'll talk about here in a second, is simply irrational beliefs and rules we keep for ourselves can very much "cause" (I don't like to use that word) and exacerbate hyper-responsibility.
STRATEGIES FOR MANAGING HYPER-RESPONSIBILITY
Now that we have this and we can get a feel for why someone may experience this, now let's talk about some strategies for managing hyper-responsibility. Because that's why you're here and that's what I really love to do the most. Let's talk about it.
First, when I'm managing my own hyper-responsibility or I'm talking with patients about it, the first thing I do is get really clear on what is your responsibility and what is not. I often will do an exercise with my patients and say, "Okay, you are a human being. I want you to write me a job description of what you need to do to be a human being, to exist as a human being." Let's say I owned a supermarket and I hired someone to work at the register, the job description would say exactly what is your responsibility. It would say, "You need to turn up at this time, you need to leave at this time. When you come, you need to log in, you need to clock in, you need to put your uniform on. Here's the things that you need to do that are your responsibility." And then that employee has a very clear understanding of what their role entails.
Now, for you as a human, and everybody's job description looks a little different, I want to first get clear on what is your responsibility. For me, I'll use an example, I'm a mom, so I do have to be responsible for the well-being of my two children. But let's get a little clearer on what that means. Does that mean I have to just keep them fed and dressed? Or does that mean for me and my values that I keep them fed and dressed and have a degree of emotional support, but to what degree? This is why I want you to get really clear on what it is for you and your values.
And then once we do that, you can actually sit with a trusted person—either a family member, a therapist, a mental health provider, or a loved one—and start to question how much responsibility you're taking on. Of the things on your list, what are the things that are actually not in your control? Not in your control. Because if you have an anxious brain, remember your brain is going to tell you all of the worst-case scenarios. That's your brain's job. If you have an anxiety disorder, you're probably got a hyperactive brain that lists them off like a Rolodex, da da, da, really, really fast. All the worst-case scenarios.
People with hyper-responsibility often use that Rolodex of information and just start adding that to their job description. "Oh, well, if there's a possible chance that they could run out and whatever it may be, well then I have to protect for that," even though it hasn't happened and it's highly unlikely. You can start to see, once you are looking at this list of rules you have for yourself, where you've pushed from just having a responsibility to having hyper-responsibility.
Another example might be in relationships. I'll use again me as an example. My husband and I are going to be 20 years married this year. For years, I took on as my responsibility that I was supposed to keep him happy. Over and over again, I found that I was unable to do this because I'm a human being and I'm faulty and I'm going to make him mad and annoyed sometimes. But I'd taken this responsibility that it was my job to maintain his happiness. And that's not actually the job description of being a human being. Once I started to go through this with my therapist at the time, I'm starting to see, I'm trying to control things that are out of my control.
The second thing I want you to think about is once you are clear on what is your responsibility, you have this great roadmap now. Now you have to think about staying in your lane. I may have talked about this on the podcast before, but I talk about this a lot with my patients. Once you've determined what is in your control, what is in line with your values, not just what anxiety's telling you, but what you believe is a healthy limit for you, then you can work at keeping yourself within those parameters and practicing not engaging in picking up responsibility outside of your lane again.
We always use the metaphor of like, I'm in my car, I can control what kind of car I drive, what speed I go, that's my responsibility. But let's say my child is in the lane, metaphorical lane next to me, and they're speeding like crazy, and they're driving all over. My kids haven't got a driver's license, just stay with me for the metaphor. But let's say my kid or my partner is in their car and they're smoking and they're checking their phone and they're swaying all over and they're doing all these things. I have to then determine, if I'm going to respond to that, what is my capacity in my lane. Let's say it was my husband. I have to basically accept that he's a full-grown adult who is responsible for himself, which sucks. Believe me, I know. This drove me crazy that I had to let him be in his own lane and I had to stay in my lane.
I remember having fights with my therapist, not actual fights, but conversations. I'm like, "If we were using this metaphor, he could die. He could get himself into trouble." She would say, "Yes, and you're going to have to decide what's best for you. There's no right for every one person. We're not going to treat everyone the same, but you have to take responsibility for how much you engage in trying to control the people around you, and you also have to be willing to allow this to be out of your control sometimes." You can imagine me sitting in the chair. This was way before COVID. I'm sitting back on the couch and my arms are crossed and I'm all mad because I'm just coming to terms with this idea that I can't be responsible for everything, that I'm exhausted from trying, that I'm creating a lot of relationship drama because of my attempt to take control and be hyper responsible. I had to give it up. But the giving up of it, the staying in my lane required that I had to feel some really uncomfortable feelings.
Let's just take a breath for that because it was tough and it is tough. I'm sure if you are experiencing hyper-responsibility, you too are riding strong waves of guilt, regret, shame, anger, resent because of this hyper-responsibility.
If this is you, what you can also do is really double down with your mindfulness practice. The biggest, most important piece of this is increasing your awareness of where it shows up in your life, in what corner, and how it creeps into little parts of your life, and noticing when it does and why it is. In that moment, maybe the question might be, what is it that I'm unwilling to feel? What am I unwilling to tolerate in this moment, and how might I increase my willingness to feel these feelings of guilt or regret or shame, or anxiety, massive degrees of uncertainty? Can I allow them without engaging in these behaviors that just keep this hyper-responsibility going? It's a huge test of awareness. And then we double down with kindness, and I'll tell you why. Because when you have hyper-responsibility, you're probably going to be plagued with guilt. You feel guilty for all the things happening with someone. We feel anxious because we didn't get it right. We couldn't keep the things straight and perfect and it's really, really heavy.
In order for us to negotiate with ourselves through those emotions in a non-compulsive way, we have to have a self-compassion practice where we give ourselves permission to get it wrong sometimes. We give ourselves permission to make mistakes sometimes. We allow things to fall apart. That's the hard part, I think. It feels so wrong to not be fixing things all the time. It can feel so irresponsible to not be preventing things and we have to be willing to navigate and ride through that compassionately.
Now, if you're someone who really struggles with guilt, I've got two podcast episodes that you really need to go and listen to. Number one was Episode 161, which is all about this idea that feeling guilty does not mean you have done something wrong. A lot of people with anxiety, hyper-responsibility, and OCD think and feel that if they feel guilt, it must be evidence that they did something wrong. We have a whole episode, Episode 161 again, where you can go and listen and learn about how our brains make mistakes on this one.
In addition, if you are someone who has OCD and you really struggle with regret and guilt, we also have another Episode 310. It wasn't that far gone, that I talked about how regret and guilt are also obsessions. Meaning we have intrusive thoughts, we have intrusive feelings, and sometimes the intrusive feeling is guilt and regret. Please do use that resource as well.
And then the last thing I would want you to think about here is, for those of you who are in the background listening, but secretly thinking, "But I have screwed up. I have made mistakes. I've made so many mistakes and I need to make sure that never happens again," number one, let me slow down for a sec—I want to first acknowledge that you are a human and you will make mistakes just like I am a human and we will continue to mess up over and over again. Let's just get that out in the open. Let's just come to a place where we can acknowledge and humble ourselves with the fact that yes, we are going to make mistakes. A part of you in this moment when you're saying, "But I've made mistakes, I've really screwed up," is that you will not accept that that is a part of being a human. That is the tax on being a human, my friend. You're going to have to come to a place of acceptance of that.
Often people say, "That sucks. I don't want that," and I'm going to keep saying, "But you will." They'll say, "But I don't want to," and I'll say, "But you will." We could go all day on that one. But if you are someone who actually did screw up, it then again becomes a concept or a practice of when you screw up, how do you handle it? Do you screw up and beat yourself up for days and days and months and months and years or years? Or do you screw up and learn from it and acknowledge your humanness and learn what the mistakes are, and then do your best to pivot within the rules in which you set in what we said was your lane? Because often what happens is we do all this work, we address our job description as being a human and what's just within your line of values and what's your regular human responsibility. And then when something goes wrong, they hypercorrect and they go back to these rules that include a lot of control, a lot of preventing, a lot of ruminating, a lot of making sure, and you've gone back to being in all of everybody's lanes. If you're struggling with this, you can go to Episode 293. I did an episode called "I Screwed Up, Now What?" I really think that that was an episode where I had made a massive mistake and I was navigating through it in real-time and sharing what I thought was helpful.
RESPONSIBILITY OCD TREATMENT
If you're wanting to learn more about responsibility OCD treatment, I'm going to strongly encourage you to look for an exposure and response prevention therapist who will be able to identify your specific subtypes and help apply an ERP plan for you. Now, if you cannot access professional help, you can also go to CBTSchool.com. We have ERP School, which is our online course teaching you how you can practice ERP. The course is not specifically about hyper-responsibility, but it will allow you to do an inventory of your specific set of obsessions, your specific set of compulsions, and put a plan together so that you can start to target these behaviors on your own. You can very much get up and running on your own if you do not have access to professional mental health. The whole point of me having those courses isn't to replace therapy. It's there to help you get started if you haven't got any way to get started. Often people go there because they want to know more and they want to understand the cycle of OCD, and that's why we made it.
My lovely friends, that is hyper-responsibility. We're talking about when you feel responsible for anything and everything and everyone. If that is you, let me leave you with this parting message: Please slow down and first recognize the weight that you're carrying. Sometimes we have to do an inventory of the costs of this hyper-responsibility because it's so easy just to keep going and keep carrying the load and pushing harder and solving more and preventing more. But I want you to slow down for you as an act of compassion and take stock of how heavy this is on you, how exhausting this is on you, and then start to move towards acknowledging that you don't have to live this way, you don't deserve to live this way. That there is another way to exist in the world compassionately and effectively without taking on that responsibility. If you need support, of course, reach out and get support because you don't have to do it alone. There are ways to crawl out of this hyper-responsibility and get you back into that lane that's healthy for you.
I'm sending you so much love. I hope you're having a wonderful summer for those of you who are in the northern hemisphere. I have just gotten back from the southern hemisphere and I loved getting some sun. I'm so happy just to be here with you and keep working through this stuff with you and addressing these really cool, important topics.
Have a wonderful day. Do not forget, it is a beautiful day to do hard things. Take care.