Welcome back, everybody.
Alright, alright, alright. You may already notice the sound of my voice has shifted, the tone has shifted, and that is on purpose. Actually, I've never thought of this, but it's true. I often show up when I'm ready to do a podcast. I sit in front of my microphone, I'm in front of my desk, I take a deep breath and I just talk to you from a place of centeredness and calm, gathering as much wisdom as I can. That is a part of what I'm bringing today. But my other hope is I want to shift the tone a little bit because that's what you have to do when you're addressing this particular topic, which is motivation during depression. We're talking about how to get things done during depression. That's what we're here for today.
Thank you for being here. My name is Kimberley Quinlan. I'm a marriage and family therapist. I'm an OCD and anxiety specialist, and a lot of what I do is manage depression. That is because nearly 85% of cases of an anxiety disorder also have depression. That's because anxiety is hard and it creates these feelings of depression inside us.
Today, I wanted to talk about how to cultivate motivation during depression because so often when we're talking about either just managing depression or managing another mental health condition, you're usually required to do a lot of homework, use a lot of skills, and also go about daily functioning. That is really hard when you're experiencing depression.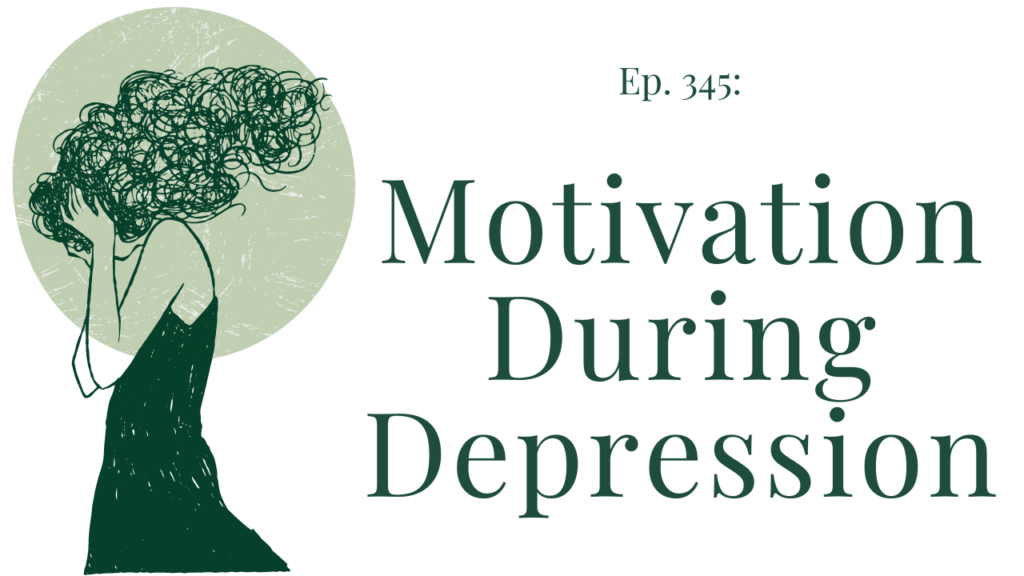 DEPRESSION MOTIVATION CYCLE
One thing I wanted to talk about first is just to get you guys familiar with what we call the depression motivation cycle. This is something that I talk to my clients about. I wouldn't say it's a science-based theory, but definitely, I think a lot of us will resonate with this. What I mean by the depression motivation cycle is when you have depression, you experience symptoms of depression, which I'll share here in just a few minutes. But you experience these symptoms that cause you to then have lower motivation. But when you have lower motivation, you tend to not get to your daily functioning activities and you tend to maybe avoid some of the hard things in your life, which then causes more depression. And then once you have more depression, that often ends up leading you back into the cycle of having even less motivation because you're feeling so hopeless, and the cycle continues and continues and widens and widens and spreads throughout your life.
My hope today is that we can work towards breaking that cycle. I'm not going to overpromise that we will break it today because I'm always going to be as honest and realistic as I can with you guys. I don't want to oversell that this is going to be a simple snap of the fingers, I have the solution for you. No, there's a slow, gradual breaking of this cycle.
Number one, do I believe you can do this work? Absolutely. I want to heavy-load you with confidence at the front end, but also very much validating that it's a process, it's a practice. I want you to be as gentle with yourself as you can as we talk about this today.
Let's take a breath, but let's also stay in our mindset.
COMMON DEPRESSION SYMPTOMS & HOW TO GET MOTIVATED
In understanding motivation during depression, we must consider, like I just said, common depression symptoms. We must understand them. One of the common depressive symptoms is hopelessness. Hopelessness is feeling like there is no hope for you. You might be having a lot of depressive thoughts such as, "What's the point? There's no hope. It's not getting better." These are symptoms of hopelessness.
In addition to hopelessness, or maybe instead of hopelessness, if you have depression, you may experience the depression symptom of helplessness. Helplessness is where you feel like no one can help you. That your problem is different or separate to other people's or too big than everybody else's, and that there's no one out there that can help you. That's important to notice because one of the lies depression tells us is you are the only one that has this particular type of depression and you are the only one that can't be helped, and that that means something about you. There's some innate flaw about you that makes your life hopeless. It's all lies. I just want you to know that.
Another common depression symptom is worthlessness—feeling like you're not enough, you're not worthy. You don't deserve to be here, to be loved, to be in connection with. Maybe you feel like you don't deserve kind, wonderful, loving things or even pleasure. Worthlessness isn't a very common piece of depression. As you can imagine, just hearing these words that I'm saying, it's a horrible feeling. It's a very deep, dark, gray place to be, and it's not your fault.
Another common depression symptom is sleepless nights. You're unable to sleep or oversleeping, sleeping day and night, hitting the alarm over and over again, turning it off, going back to bed, not getting to your daily functioning.
Another huge one is exhaustion. People with depression will often go from many, many medical tests because they're so exhausted and they think it must be a medical condition. You definitely should seek medical care and have an assessment always. But often it's not a medical condition; it's a common symptom of depression.
In depression, no motivation to do anything is common. In depression, no motivation to eat, to exercise, to engage in daily activities is also very, very common. Often daily functioning will be depleted completely if it's a severe case of depression.
My hope today, first of all, to acknowledge this for you and validate this for you and hopefully bring a ton of hope, is to also talk about concepts that can help boost your motivation during depression because it's not your fault. But there are ways we can slowly climb out of this deep, dark hole that we often can get into when we have depression.
BOOSTING MOTIVATION WHEN DEPRESSED
Okay, let's do it. We're going to talk about how you can increase your motivation during depression. The first thing I want to encourage you to do is to embody this idea of becoming a kind coach. Now, for those of you who have read The Self-Compassion Workbook for OCD—that's a book I wrote in 2021—it talks a lot about the kind coach. Maybe you're already familiar with it. Or recently in Episode 343, we did a whole episode about talking back to anxiety, and that was all about using the kind coach voice to help get you through these difficult times. We also talked that you could also use that skill with depression.
What I mean by the kind coach is that when things are hard, when you are suffering, you tend to yourself in a way that is kind and you coach yourself forward. Often what we do is we criticize ourselves forward. Meaning we say, "Get up, you lazy thing, and just get your teeth brushed," or "You're such a loser if you don't brush your teeth," and we use self-criticism to motivate. I'm here to tell you, the science shows us that self-criticism, while it does get people to do things for the short term, it actually for the long term makes people more depressed. It reduces motivation, it increases procrastination, it lowers a person's self-esteem and their sense of wellbeing. We want to take the pedal off of using self-criticism and move our pedal and accelerator towards talking to ourselves and coaching ourselves in a way that is kind.
What I'm not saying is that's saying, "You're the best, you're wonderful." That's fine. If you want to try that, you can. But the kind coach from my perspective doesn't usually talk like that. It's usually encouraging like, "Just do one thing at a time. You can do it. One more minute," and really focusing in on what are your strengths and how can we highlight those, and also what are your challenges and how can we not use those against you. We all have challenges. Let's say you're someone who has a challenge with time management. Maybe in that area, we really lean on, "What strengths do I have that I can rely on when it comes to time management," instead of just saying, "You suck at time management, there's no point." I want you to practice being a kind coach. If you want more information about that, go back to listening to Episode 343.
Another way to boost motivation when depressed is what we call activity scheduling. Now this is a science-based skill that we use when we are practicing cognitive behavioral therapy, which is an evidence-based treatment for depression. Now for those of you who have taken Overcoming Depression, which is our online course for depression, if you're interested, you can go to CBTSchool.com and you can enroll in that course. It's an on-demand course where you can learn exactly the same skills that I would give my clients, but you'll be using them on your own. It's a self-led course and you have unlimited access to all of those strategies and skills. But we talk a lot about this behavioral skill of activity scheduling.
What I mean by that is, one of the biggest things that takes motivation away is a lack of routine, a lack of structure in our day. What we do when we first start treating someone with depression, or we're starting to target depression, is we break the day up into sections. It might be two sections in the morning and two sections in the afternoon and one in the evening, and we'll say, "Okay, you just have to do one thing in each of those sections." You get to pick. It could be as simple as brushing your teeth, but you'll put it in your schedule and you're going to give yourself permission that that's the only thing you have to do in that section if you're unable to do that at the present.
Let's say that you're more in a high functioning area and you're already doing a lot, but you're also engaging in a lot of depressive rumination. We might actually keep your schedule the same, but schedule in times during your schedule to check in, use some skills, maybe do some journaling, maybe using some mindfulness activities and so forth. But we can actually use the scheduling to reduce problematic behaviors.
DEPRESSION MOTIVATION TIPS
Now, one of my go-to depression meditation tips for everybody is to set realistic goals and expectations for yourself. One of the things I notice about people with depression, and I'm also including myself here because I too have struggled with depression during different seasons of my life, is that we really want to achieve a lot with our lives. We have this idea of what life should look like. We have this idea of how great it can be, which is such a wonderful quality. But the flip side of that wonderful quality is that we have such rigid expectations for ourselves, and when we don't meet them, we beat ourselves up.
Often what we can do is we can check in with these expectations and these unrealistic goals. We can check and say, "Okay, is this helping me be motivated?" Almost always, it's no. Let's say I'm sitting across from a patient in my office, I might say to them, "What would be a goal that you actually feel like you can achieve this week or today or this month?" When they set the bar a little lower, all of a sudden, a tiny inkling of motivation comes into them. From that place, they start to move forward. Whereas if they set these really high goals, they can't access motivation. It's so huge, it just feels hopeless. Again, it feels helpless. They feel worthless, those themes of depression. The motivation doesn't light up inside them and they don't do any of it. They don't take even a baby step. If that's you, I don't want you to feel called out; I want you to feel understood. I want you to feel validated. I'm hoping that you can give yourself permission to set a goal that's realistic, and it's just for now. I know what you're thinking. You're thinking, "Well, geez, I'm never going to amount to anything if I set this low bar." But the truth is, we start small and then we increase it over time.
Another thing to consider when addressing motivation during depression using your activity scheduling is incorporate self-care and healthy habits and whatever that means for you. If you're someone who has depression and you're not eating because of it, you're going to have a low energy. When you have low energy, you don't have any motivation to do anything. Incorporating scheduled meals, even if they're not even that healthy to start with. It could be just whatever you can tolerate for the time being. But getting that nutrition into your body may be also what helps with motivation.
If you're someone who is so depressed, unable to be out in nature and exercise, which we know based on science helps with depression, maybe you could schedule three minutes where you look out the window if that's all you can do, or take a hike with a friend, or maybe just sit outside on a chair. Whatever it may be. I really don't want to put expectations on you guys. I think it's very personal, so you'll have to think for yourself, "What is one thing I could do today that would really cultivate self-care?"
A really important thing when you're depressed is, it's so important. I really want to emphasize this: Finding a support group, a team of support—a loved one, a family member, a friend, a therapist—support groups, actual structured groups is so important to help with that cycle of depression too. Remember we talked about that cycle of depression and motivation? Sometimes just feeling like you're not alone in and of itself can create a little motivation, or feeling like you're not alone can reduce that depression just a little bit, which can then help with that motivation piece.
One other thing to consider here, and I myself do this with my best friend, is I use her not only as support, but as an accountability buddy. I'll tell you, actually, something I've struggled with recently is, as many of you know, we've gotten a puppy and out the window went my exercise plan. My exercise plan is so important for me in managing my medical condition, but it went out the window. I messaged her and I said, "Listen, I don't want you to feel any responsibility about this, but I am just telling you, this is what I'm committing to. You don't have to do anything. I'm just telling you so that you're my accountability buddy. Every day that I do the thing I said I'm going to do, I'm going to send you a thumbs up emoji." I said, "You don't even have to do anything. I just need you to be there so I can be my sounding board."
There have been other seasons in my life where I've had things that I needed to get done, and I would say to her, "Can you be my accountability? Do you have the capacity?" She's like, "Yes, of course. What do you need?" I'll say, "I need you to text me on Monday, Wednesday, and Friday to remind me to do such and such." That's fine too. Again, that doesn't make you a loser. It doesn't mean that you're weak. It doesn't mean anything. It just means we're using effective skills to get you back on the bandwagon.
Now, that being said, there are some key components of getting motivated during depression and these key components, also what I would call a mindset, is leaning towards your values, getting really clear about what is it that you want out of your life. Again, let's go realistic, but let's look at the long term. Sometimes when we are depressed, the whole future looks like it's hopeless. What we want to do is kindly get in touch with your why. Like what can you bring to the table? Why are you here? What do you want? What can you bring to the table for others or for yourself? I want to slow down here a little. I get that you might have no answers to that right now, and that's okay. It might be as simple as just going, "Okay, what's one value of mine that I want to lean on during this difficult time?" Values can help us make decisions about what's best for us.
Another mindset shift that I want you to move towards is, don't live your life according to what depression is telling you to do. Make choices based on the direction of your life you're wanting to go. If you used to love swimming, try swimming again. If you used to love drawing, try doing more drawing, even if you're depressed. Because what we know is that those hobbies, personal interests, more creative expression using your body, can actually create spaces for you where you're opening your mind up to other things, not just putting your attention on your depression. A lot of my patients have said that they don't want to go out and be with people or go on a hike or something, but once they're there, they deeply feel the benefit of it. Sometimes it's a matter of putting our attention on how you'll feel once you get that thing done. Try to find things that bring you some joy or some fulfillment. But again, for this first part, don't put too much pressure on that either because you mightn't feel a lot of that to start with. But over time and with repetition, you will.
Another really important piece, and you're already hopefully doing it right now, is to lean on the people who are sources of inspiration for you. Hopefully, if it's me, I'm honored. For me, it's often like poetry, people who've been through it. I love Jeff Foster. He is a poet who has had depression and suicidal ideation and he's just talks about it in such a beautiful, mindful way. I find it to be a very safe landing place when you're feeling really down.
And then the last thing to consider when addressing motivation for depression is, actually, after you've done any activity that you had to muster up a lot of energy to do, you celebrate. If you miss the celebrating part, you miss an opportunity to generate more motivation to keep going. If you do something hard and you go, "Whatever, it's no big deal. I should have been able to do it yesterday," you're missing an opportunity. What I want you to do is throw a mini party in your mind. Or if that's impossible, just text someone and say, "I did a hard thing today and it was..." and tell them what it was, so that you are celebrating, you are rewarding, you are congratulating yourself for taking steps towards these small victories. It's so important.
And then the last thing I'm going to offer to you, which is a catchall for all of this is, don't do it alone. If you have access, like I said before, to a therapist, a support group, it doesn't even have to be a paid one; it could be a Facebook group. But being in a community, being in a group of people who get what it's like for you can be a game changer. If you do have access to professional help, absolutely go and get help because they often will bring your attention to things you weren't noticing, thought patterns that you didn't realize that you had, and that can be so incredibly beneficial.
Now, with all of that said, I want to also emphasize this idea of, again, my voice hopefully is a little different and I'm trying to cheer you on. Let's go. You could totally do this. Baby steps. What I want to remind you of is, surround yourself with people who lift you up, who have a high vibe if you can. If you haven't got access to those people in real life, lean on singers and celebrities and even social media platforms that are encouraging, that are inspirational. A lot of my clients have said that Pinterest has been even helpful for them in that they go onto Pinterest and they google inspiring quotes. That could actually be something so simple that gets them up to brush their teeth.
I hope that's helpful. If you are interested in looking into Overcoming Depression, our online course, talking a lot about different skills you can use, go to CBTSchool.com or reach out to a therapist in your area. I really hope that this has sparked a little teeny tiny light inside you, and if so, I will be so happy.
Do not forget, it is a beautiful day to do the freaking hard things. Do not forget it. Write it on a piece of paper and read it off as many times as you need to remind yourself it's okay that it's hard, it's not a bad thing that it's hard, and that you can do those hard things.
Sending you love. Have success. I'm sending you every ounce of love that I have. Talk to you soon.