If you are interested in stopping compulsions using attention control, this is the episode for you. I am really excited for this episode. This was a deep dive into really how to fine-tune your mindfulness practice for anxiety and OCD. Today we have the amazing Max Maisel, who is an OCD and anxiety specialist here in California. He came on to talk about these really nuanced differences of mindfulness, where we might go wrong with mindfulness, how we can get a deeper understanding of mindfulness, and this idea of attentional control. The real thing that I took away from this is how beneficial it can be at reducing mental compulsions, putting our attention on the things that we value, putting our attention on what we want to put attention on, not in a compulsive way at all. In fact, we addressed that throughout the episode, and it's just so, so good. I'm so grateful to you, Max, for coming on, and I just know you guys are going to love this episode.
Now, we are talking about some pretty difficult things, like things that are hard to do. I even roleplayed and explained how hard it was for me to do it. I want, as you listen to this, for you to please practice an immense amount of self-compassion and recognition and acknowledgment of just how hard it is to do these practices and how we can always learn more. Hopefully, something in this episode clicks for you and feels very true for you and is hopefully very, very beneficial.
I'm going to go take you straight to the show because that's what you're here for. Have a wonderful day everybody, and enjoy this interview with Max Maisel.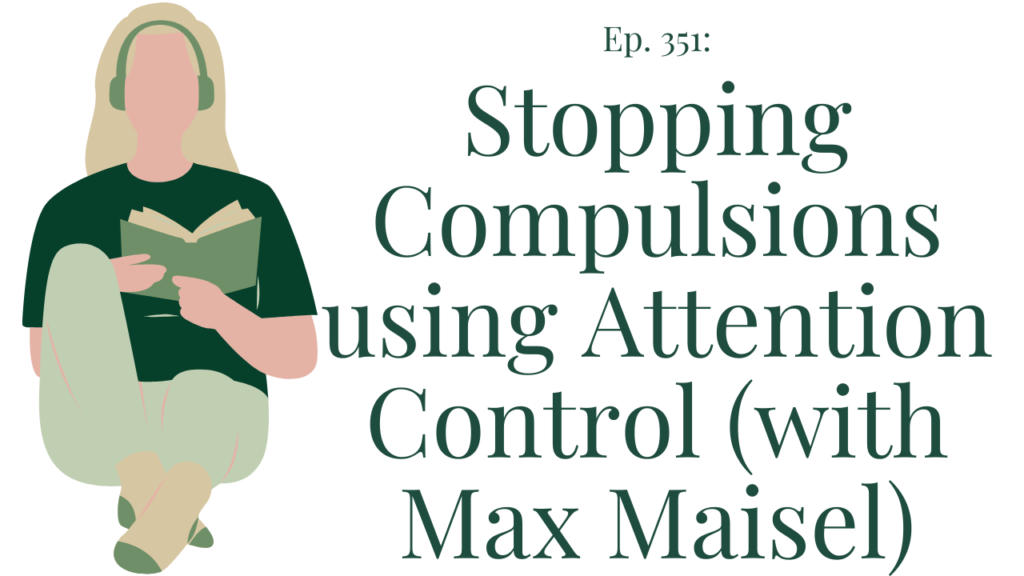 Kimberley: Welcome. I am so excited for this episode, mainly because I actually think I'm going to leave learning a ton. We have the amazing Max Maisel here today. Welcome.
Max: Thank you, Kim. It's really good to be here. I'm super excited for our conversation.
MINDFULNESS FOR OCD
Kimberley: Yeah. Okay. You know I use a lot of mindfulness. I am a huge diehard mindfulness fan, but I love that you have brought to us today, and hopefully will bring to us today, some ways in which we can drop deeper into that practice or zone in, or you might say a different word, like how to focus in on that. Tell me a little bit about how you conceptualize this practice of mindfulness and what you use to make it more effective for people with anxiety and OCD.
Max: Yes, for sure. So, I'm a major proponent of mindfulness practices. I use it myself in my personal life. I integrate it in the clinical work that I do with clients with OCD and anxiety. But one of the concerns that I've seen in my clinical work is that mindfulness is such a broad concept and it covers so many different types of psychological suffering. The research behind mindfulness is just like hundreds, maybe even thousands of studies. But when it comes to very specific and nuanced concerns like OCD and anxiety, it could be a little bit confusing for people sometimes to figure out, "Well, how do I apply this really healthy, beautiful, amazing tool to how my own brain is wired in terms of like sticky thoughts or just to engage in all sorts of compulsive behaviors." I like to think about mindfulness from Jon Kabat-Zinn's definition at the core—paying attention to the present moment in a way that's non-judgmental and with this curious intentionality to it. But then within that, there's some really nuanced details that we can talk more about how to make that really relevant to folks with OCD and anxiety.
THE DIFFERENCE BETWEEN ATTENTION & AWARENESS
Kimberley: Tell me a little bit. When we're talking about mindfulness, we often talk about this idea of awareness. Can you differentiate first—and this is using some terminology just to set the scene—can you differentiate the difference between attention, awareness, and even a lot of people talk about distraction? Can you share a little bit about how they may be used and what they may look like?
Max: I love that question. I think in a good OCD treatment, people really need to have a good solid understanding of those differences. I'm actually going to borrow from a neuroscientist named Amishi Jha. She's this incredible professor at the University of Miami. In her research lab, they look at the neurological underpinnings of mindfulness, and that very much includes attention and awareness. I highly encourage anybody to look up her work. Again, it's Amishi Jha. She talks about attention or focused attention. If you imagine there's a dark room, and if you turn on a flashlight and you shine that beam of light into that room and say that beam of light hits a vase on a table, again, what happens to that vase? What's different compared to all the things in the background?
Kimberley: Is that a question for me?
Max: Yeah. If you imagine a beam of light, what goes on with that?
Kimberley: You would see the front of the vase, maybe it's a bit shiny, or you would see the shadow of the vase. You would see the colors of the vase. The texture of the vase.
Max: That's exactly right. From this vivid and detailed, you can see all the different descriptions of it and it becomes privileged above everything else in the room. That vase is that beam of light. And then somebody might take that flashlight and shine it to the right a little bit, and then it goes from the vase, let's say, to a chair next to it. All of a sudden, that vase is still there, but it's fallen into the background. We might call that our awareness, which we'll talk about in a second. But then that table that we shine on or the chair is now privileged over the vase. That's how you can think about focused attention, is this beam of light. Whereas awareness, instead of a focused beam, you can think about that more as a broad floodlight where it's effortless, it's receptive, and you're noticing what is present in the moment without privileging one thing over the next. We're not focusing or hooked on anything particular in that room, it's just observing whatever comes up in the moment. Does that make sense?
WHAT IS DISTRACTION?
Kimberley: It totally makes sense. Excellent. What about distraction?
Max: Distraction, when we think about that broad floodlight of awareness, where again, where what's privileges the present moment, distraction is trying to get things out of that. It's trying to suppress or not think about or get something that is in your awareness, outside of your awareness. But unfortunately, the trap that people fall into is in order to get something out of your awareness, what you need to do first is shine your beam of attention onto it. Inadvertently, while it might seem like a good idea in the short term, especially if it's something really scary, that pops up in your awareness like, "Oh, I don't want this. I want to get this thing out of my awareness." But in doing that, you're literally shining your attention. That flashlight is right on the scary thing. The very act of trying to distract, trying to push it away actually keeps that thing going, which is why it can be so easy and so tricky to get stuck in these pretty severe OCD spirals by doing that.
Kimberley: Right. If we were talking about mindfulness, and let's go back to that, are attention and awareness both parts of mindfulness? Give me how you would conceptualize that.
Max: That's exactly right there, and that's what I was talking about where mindfulness is such a beautiful, helpful practice and term. But oftentimes when we say just mindfulness, people don't understand that there are really relevant parts of mindfulness that are actually applicable skills that we can practice getting really good and solid without shining that beam of light and focusing flexibly on aspects of our experience. We can get good at letting go of that focused attention and just being with what pops up in our awareness, which are very relevant practices when we have OCD or anxiety. But if we just say mindfulness as a whole, paying attention to the present moment, we could miss these really important nuances and actionable skills that are different parts of mindfulness.
Kimberley: Let's go deeper into that. Let's say you have OCD or you have panic disorder, or you have a phobia, and your brain-- I was talking with my son who has anxiety and he was saying, "I keep having the thought. No matter how many happy thoughts I have, it just keeps thinking of the scary thought." That's just a really simple example. How might you use attention versus awareness or attention and awareness for folks who are managing these really sticky thoughts, like you said, or these really repetitive, intrusive thoughts?
Max: It's such a good question. OCD, I always talk about how clever and tricky it is. In order to get through OCD, we need to be even more clever, more tricky than OCD. One of the ways OCD gets people to fall into its trap is by confusing them. It gets people to try to control things that they cannot control, which is what pops up in their awareness, but it also blinds people and gets them that they can't see that there are things that are in their control. That will be really helpful, powerful tools, and OCD gums up the works a little bit.
MINDFULNESS & ATTENTION TRAINING
To be more specific, there's an aspect of mindfulness that we can think of as attentional training or attentional flexibility. What that is, it's strengthening up the brain's muscles to be able to take control of that flashlight, of that beam of focused attention. OCD, what it's going to do, it steals it from you and shines it on the really scary stuff, like with your son, "Oh, here's a thought that you really don't like," or "Here's a really uncomfortable sensation." All of a sudden, that beam of light is shining there. What attention training does, it really teaches people to be able to first notice, "Oh, my beam of light is on something really scary. Okay, this is a thing. This is a moment to practice now." But then more importantly, to be able to then take power back and be able to shine that flashlight in flexible ways that are in line with people's values and goals versus are in line with OCD's agenda.
But attention training, it's not only getting really good and powerful at shining that beam of light on what you want to shine, but it's also the practice of letting go of control over the stuff that's in our awareness. We're going to practice and allow those scary thoughts and feelings. I treat them like a car alarm going off where it might be annoying, might be uncomfortable, but I'm not going to focus on them. I'm not going to pay attention to it, because otherwise there's going to be front and center.
It's both. It's awareness, it's being able to flexibly shift between different aspects of our experience, and it's also allowing things to go, and you're like that broader floodlight of awareness. I always find it really helpful to practice the skill of attention training on non-OCD, non-anxiety neutral stimuli. It's not too triggering. And then we can start applying that to anxiety. If it's okay with you, Kim, I would love to walk you through some quirky little easy exercises that just help you maybe understand what I'm talking about and hopefully your listeners as well.
Kimberley: I was just going to say, let's do it.
Max: Let's do it. Let's dive in.
Kimberley: Let's roleplay this.
ATTENTION TRAINING EXERCISE
Max: Okay. I want you to roleplay with me and if your listeners would like to roleplay as well, more than happy to follow along too. Again, these exercises, I don't see them as like coping skills. I see them as like creating an understanding of what we can control, what we can't control, and being able to just feel what that's like in our bodies and know that this is something that we can do.
For the first one, what I want you to do is put your thumb and index finger together, like you're making an okay sign. Put a little bit of pressure between your thumb and index finger, but not a whole lot of pressure. Just take a couple of seconds and see if you can put your brain into your thumb and your index finger and just notice what that feels like. Notice the sensations. Let me know when you feel like you've got a good sense of the feeling.
Kimberley: Yep, I got it.
Max: What I want you to try to do is shine that beam of attention. Really focus in on the pressure only from your index finger and see if you cannot think about not engage in the pressure from your thumb, allowing that to be there. See if you can really find and identify what your index finger feels like. let me know when you've got that. Again, not thinking about your thumb, just focusing on your index finger.
Kimberley: Yeah, that was hard, but I got it.
Max: It is hard, right? Because what we're doing is honing in that beam of light that we're paying attention to. What I want you to do now is switch. Let your index finger, let that feeling go, and switch to your thumb. Again, only focusing on the pressure from your thumb and allowing your index finger, allowing that pressure to be there without thinking about it or controlling it. Just letting it exist, and then focusing on the pressure from your thumb.
Kimberley: Yeah, I got it.
Max: We could do this for five, ten minutes. I won't make you do it right now, but you can see there and there's like a bump. There's a shift where you go from one to the other. It's great. It's not about getting into details, it's about noticing, "Oh, I can pay attention flexibly. I can focus on my index finger, allow the thumb feeling to be, and then I can switch to the opposite side." That's one way that people can start understanding what I'm talking about, where we can flexibly pay attention while allowing other stuff to exist in the background.
Kimberley: Let me bring up my own personal experience here because, like I said, I'm here to learn. As I was pushing, I actually had some pain in my thumb. As I was trying to imagine the top finger, that index finger, that was really hard because I have a little bit of ligament pain in my thumb. I had to work really hard to think about it. What was actually getting in the way was the thoughts of, "I won't be able to do this because of the pain." What are your thoughts on people who are fighting that?
Max: It's such an important piece of this because oftentimes what prevents people from practicing are these thoughts and beliefs that pop up. The belief of, "I have no control over rumination," or "I cannot pay attention." I'm saying this, and where we're stepping back and noticing these are thoughts, these are stories as well. Part of the practice is, can I see them as events of the mind? Can I see them as stories? Allow them to be in the background, just like we're maybe allowing the sensation of your index finger to be in the background while maintaining focus on that one part of your experience, your thumb. Again, we want to treat pain, thoughts, feelings, sensations as best as we can, allowing them, seeing them as mental events versus as distinct parts of who you are as a person while maintaining as best as you can that focused beam of attention on what you choose to.
Kimberley: Right. This is really cool. Just so I understand this, but please don't be afraid to tell me I've got it completely wrong. As I was doing it, I was noticing the top of my index finger, doing my best, and in my awareness was the thoughts I had and the pain that I had. My attention was on the top, but there was some background awareness of all the other noise. Is that what you're saying?
Max: That's exactly what I'm saying. The trick with OCD or anxiety is, can we allow the stuff in the background? Because a lot of people get annoyed or frustrated. And then as soon as you do that, that focus goes from your index finger to the stuff that you don't want versus if we can let go of control. Another way to think about it too is if you're looking out of a window. Focused attention would be, you are immensely engaging in this beautiful oak tree in your front yard. I don't have an oak tree, but hopefully, somebody does. Imagine you're really focusing on this oak tree, and that is what you're paying attention to.
Now, there might be other things that come and go. There might be birds flying and bushes in the background. There might be houses and a bunny rabbit running by. You could choose to then shift your beam of light from the tree to one of those things, but you don't have to. You can keep paying attention to the tree and allowing all this other stuff to exist. That would be what we're talking about and that's the practice you could do with your fingers. And then with that same metaphor, broader just overall awareness would be looking out the window, but not intentionally focused on anything. Just letting your eyes wander to whatever is present. "Oh, I notice the tree and I notice a cloud and I notice a bird. Oh, I noticed a thought that I've been looking out this window for a very long time." We're not questioning, we're not ruminating, we're not judging, we're just simply being there with what's present. That's that broader awareness piece to this.
Kimberley: Okay. I love it. For those who have probably heard me talk about this, but not using this language, or are completely new and this is the first time I've ever logged in and listened to us, how may they apply this to specific intrusive thoughts that they're having? Can you walk us through a real example of this? You could use my son if you want, or an actual case of yours or whatever.
Max: Yeah, for sure. If we think about it in this way, also, it's like a little bit of a different approach than maybe how some people think about exposure and response prevention. Because in this way of doing things, there's a really hard emphasis on the response prevention piece, which in this case would be not ruminating, not engaging in the mental compulsions. It's doing the exposure, which is triggering the scary thoughts and the feelings, and then accessing awareness mode, like being with what's present.
An example of that, let's just say somebody has an intrusive thought, a really scary fear that they might hurt somebody. They might be a serial killer or they might do something really bad. Let's say we want to do an exposure with that thought and we choose a triggering thought of, "I am a murderer." Normally, when they have that thought, they do all this stuff. Their focused attention is on that thought, and they're trying to convince themselves they're not a murderer. They're trying to maybe look for evidence. "Did I kill somebody? I did not." They're engaging in this thought, doing all this sort of stuff that OCD wants them to.
One way that we might use this difference in attention awareness, doing exposure would be to first evoke the scary thought. Maybe really telling themselves for a couple of seconds like, "I am a murderer. I am a murderer, sitting with the fear and the dread and all the stuff that comes up." But then instead of focusing on it, then letting go of any engagement. We could just sit there and actually do nothing at all. We just watch and observe. Like you're looking out that window and that thought "I'm a murderer" might pop up, it might go away. Another thought might pop up. But we want to take this stance of, "None of my business." We're going to sit here, we're going to observe, and we're not going to mentally engage in the thoughts. It's really accessing this more of like awareness mode. We can actually do something like that.
If you want to, Kim, we don't have to use an intrusive thought, but we can, again, practice with a neutral thought together and then apply what I'm talking about. Usually, what people realize is that what happens to their intrusive thoughts is what happens to 99.9% of all the thoughts they get in a day where it comes and then it just goes away when it's ready. If you think about it, we have thousands and thousands of thoughts per day. Mostly that's what happens because we're not focusing our beam of light on it, because we're not doing all this work that inadvertently keeps it around. It's exposure not only to sit with the feelings, but to practice the skill of letting go, of focusing on it, of letting go of any mental compulsive behaviors towards it.
ATTENTION TRAINING VS DISTRACTON
Kimberley: Right. I know this is going to be a question for people, so I'm going to ask it. How does attention training differ from distraction? Quite often, I will get really quite distressed messages from people saying, "But wait, if I'm being mindful on the tree, isn't that me distracting against my thoughts?" Can you talk about, again, differentiating this practice with distraction or avoidance?
Max: Yep, absolutely. I like to think about it as an attitude that people take where we're willing to have whatever our brain pops up at us. With distraction, we're unwilling. We don't want it, we don't like it, we're turning away from it. But that's actually like, it's okay too. We call it distraction, we can call it engagement. It's okay to live your life to do stuff, but we have to first get really clear on, can I allow whatever my brain pops up to be there without then keeping that beam of attention on it? Because all mental rituals, all sorts of stuff that we do starts with focused attention. Summons, rituals are pure retention, but a lot of them like analyzing, reassurance, attention is a major part of them. If you can notice when our OCD took that beam of light and shined it, then we could practice taking the light off, allowing it to exist, allowing it to be there, but without engaging. If you want, Kim, I'm happy to maybe do another experiential exercise, not to throw too many at you today.
Kimberley: No, bring it on.
Max: So maybe you and your listeners can understand that piece to it.
Kimberley: Yes, please.
ATTENTION TRAINING EXERCISE #2
Max: Okay. Lets start with attention training exercise #2. What we're going to do is we're going to practice engaging in what we might think of as a rumination, analytical way of thinking. Again, rumination, mental compulsions, they are a behavior. They're a mental action that we're taking that we could turn on, but we can also turn off. We want to be able to turn off mental compulsions throughout the rumination, but allow any thoughts and feelings to exist without doing anything about them. I know it sounds heavy, so let me show you what I mean by that.
Kimberley: Good.
Max: What I want you to do is think about a vacation or a trip that you either have coming up, or it might be like a dream vacation that you really want to take, and just take a second and let me know when you got something in mind.
Kimberley: I got it.
Max: You got it. That was quick. That was a good thing. What I want you to do is start mentally planning out the itinerary for this vacation, thinking about what you're going to do, all the steps you're going to take, just like doing it in your mind. And then I'll tell you when to stop.
Okay. Stop. Now what I want you to do is let go of that engaging analytic way of thinking and just sit here for a couple of seconds. We're not going to do really anything. If the idea of the vacation pops up in your mind, I want you to allow it to pop up. But don't think about it, don't focus on it. Allow it to be there or not to be there. Just don't do what you were just doing where you're actually actively thinking about it. Are you ready?
Kimberley: Mm-hmm.
Max: Okay. Again, we're just going to sit and we're going to observe. Whatever comes up, comes up. We're going to let it hover and float in your overall awareness without focusing on it.
Waves washing on the beach or just letting your thoughts and feelings come and go. We're not engaging, we're not thinking about them. We're just observing.
What I want you to do one last time, I want you to start thinking again, planning, going through the itinerary, thinking all the cool stuff you're going to do. As you're doing it, notice what that feels like psychologically to go from not doing to doing. And then start thinking about it, and I'll let you know when to stop again.
All right. We can let go of the vacation. Again, just for five, ten seconds sitting. If the thought pops up, allow it to pop up, but don't engage in it. Don't manipulate it or actively walk through the itinerary again. Just notice what that's like.
Okay, Kim. I'd love to hear your experience walking through, turning it on the analytical way of thinking, and then turning it off and playing around with it a little bit.
Kimberley: Okay. Number one, I immediately was able to go into planning. I think because I do this, this is actually one of the things I do at bedtime. I've planned my 91st birthday, my 92nd birthday party. That's what I love to do, so it was very easy for me to go into that. When I went back to more awareness of just what I noticed, I was actually able to do it really easily except of the thought like, "Oh, I hope I don't have the thought. I hope I'm doing this right."
Max: That's such a beautiful way, and the mind is going to do stuff like that. We're going to start thinking about thinking, and I'm curious how you respond to that thought. What you did next?
Kimberley: I was just like, "Maybe I will, maybe I won't. What else?" And then I was like, "Well, there's Max and there's my microphone." That was the work.
Max: Yes. That's exactly what I'm talking about. We're not like, "Don't think about this vacation." Because if we did that, what do you think that would do to you if you're just sitting there in that moment of awareness and be like, "This is not a good thought to have, I can't think about this upcoming vacation"?
Kimberley: Well, I had more of them and I had distress about them.
Max: Yeah, exactly. That's what I mean by we're not distracting, we're allowing, but we're also not analytically thinking about it. Now that we're talking about this, I think this is a really important piece on where mindfulness can get maybe especially confusing or even contradictory for people. Again, to preface this, I'm a huge mindfulness advocate and fan, but one of the issues about mindfulness for OCD, in particular, is that mindfulness is really in a lot of ways teaching it, it's about coming back to the present moment. I'm going to focus on my breath. I'm going to refocus to my body. I'm going to ground myself. Again, overall very healthy things to do, we should practice that.
But the problem about that is if applied directly to OCD mental compulsions—and again, just to be really clear by mental compulsions, I'm talking about anything that people do to try to feel better, cope with, resolve a scary, intrusive thought. Kim, your six-part series, let's say, on mental compulsions that you did is one of the best OCD contents I've ever seen. I think everybody should go back and listen to that, whether you have OCD or not. So, all this mental stuff that we do in response to a scary thought. Mindfulness can be really helpful in noticing when we get caught up and again, like flexibly shifting. But at the end of the day, sufferers of OCD really need to understand that you don't need to focus onto the present moment to stop doing mental compulsions. Because it's analytical, it's a behavior, it's a way of thinking. Just like you did, we can simply turn it on and then we can turn it off.
Now, I don't mean to say it's as easy as just don't do it. Obviously, it's not the case. This is complex stuff. There's so many psychological factors that lead people to ruminate and to do compulsions, but it's a simple idea. People need a foundation to understand that mental compulsions are a behavior that we have a lot more agency over than your OCD wants you to think. I like to think about when you look at more traditional, like contamination OCD, people might wash their hands a lot. It's the same thing where there's the behavior of washing your hands that you could do or you cannot do.
Now there's entire treatment protocols helping people chip away at that to not wash their hands, so it's not just like, "Don't wash your hands." But people understand that the goal of this treatment is to, "I'm washing my hands too much and now I'm not washing my hands." If you apply the same mindful logic to rumination, it would be like, "Oh, we're going to wash your hands, but you cannot wash your hands. You're just going to have to use wet wipes forever." It's like, oh, I'll get maybe a step in the right direction. But people need to know that the goal here is to not wash your hands. Just like with more Pure O rumination type of OCD, the goal is to learn how to not ruminate. Learn how to step out of that.
Kimberley: Yeah. I think you had said somewhere along the way that it's a training. It's a training that we do. What's interesting for me, I'll use this as solely example, is I am in the process of training myself to do what I call deep work, because I have two businesses, things are chaotic, and I can get messages all the time. When I sit down to do something, I'm being pinged on my phone and called on my computer and email bells, so I'm training myself to focus on doing the thing I'm doing and not give my attention to the dinging of the phone and so forth as a training. I'm trying to train myself to be able to go longer, longer, longer periods and hold my attention, which at the beginning, my attention, I could really only do like 15 minutes of that and it felt like my brain was going to explode. Would you say that this is a similar practice in that we're slowly training our brain to be able to hold attention and awareness at the same time and increase it over time?
Max: Yeah, absolutely. I think everything with OCD and anxiety is a process. First, it takes awareness, and that's where mindfulness can be so helpful, where the practice of mindfulness is about being more aware. "I'm aware, I'm ruminating. I'm aware of that. I'm doing some sort of compulsion." That itself could take a very long time. I think it's all about baby steps.
Now, I will say though, Kim, some people, when I explain them these differences and they're able to really feel what it's like to be ruminating, what it's like not—some people click and they can do it really fast. They're like, "Oh my gosh. I had no idea that this is something I was doing." Some people, it takes a very long time and there's a spectrum. I think everybody always needs to go at their own pace and some people are just going to need to work at it harder. Some people, it's going to come really easy and natural. There's no right or wrong way to do it. These are principles that live in the ERP lifestyle. We want to start taking little baby steps as much as we can.
Kimberley: Right. For those listening and for me too, where it clicked for them, what was the shift for them specifically?
Max: The shift was understanding that while it felt like rumination—again, a lot of this is like, think about OCD, there's this big unsolvable problem and they're trying to solve it. They're analyzing it, they're paying attention to it, they're focusing on it, they're thinking about it, for them to really feel that, "This is something that I am doing. I know there's reasons why I'm doing it, there's beliefs I have about the utility of ruminating, including beliefs that I can't control this, when really, we can't control it. Beliefs about how helpful it is." There's a lot of reasons why people do that, but to recognize, "Oh my gosh, this is a thing that's a lot more in my control than I thought." When they experience that stepping back and allowing their brain to throw out whatever it does without having to engage with it, game changer.
Also, in terms of classic mindfulness, think about mindfulness of breath. The instructions generally are, we're going to focus on, say the breath, the rise and fall of my belly. My attention goes, I'm going to come back to it. I think if we do that with a very specific intention, it could be so relevant and so helpful for OCD. That intention is seeing your brain as a little puppy dog. When you have OCD, that puppy dog is full of energy. OCD is like this mean bully that's thrown a tennis ball and getting that puppy dog to go.
What mindfulness of breath can teach you, if we're aware of this, we go into it like, "This is what I'm going to work on. This is how my OCD is getting me—it's getting me to follow these lines of thought." When you're there sitting on your breath to be able to notice where your thought goes, be able to look at it, "None of my business. Come back to my breath." To me, Kim, that is actually exposure and response prevention. You expose yourself to discomfort of not following the thought, which is really hard. For people with OCD, without OCD, that's hard to do, but like you said, that is absolutely a skill that people can get better at.
STOPPING COMPULSIONS WITH ATTENTION TRAINING
Kimberley: Yeah, and it's response prevention. It's the core of that. Okay, I love this. I love this. Now, as we wrap up, is there anything that you feel we haven't covered here that will bring us home and dial this in for those who are hearing this for the first time or have struggled with this in the past?
Max: I think we did a pretty good job. I mean, it's very nuanced stuff. I like to see this for people that feel like their OCD is well enough managed, but there's still work to go. This is like icing on the cake. Let's really look at the nitty-gritty of how this works. Or if people are feeling really stuck and they're not knowing why, hopefully, this can shine a light on some of these less talked about principles that are really important.
But I guess the one final thing, going all the way back to Amishi Jha and her neurological research on mindfulness, really fascinating studies out of her lab show that 50% of the time, 50% of her waking day, people are not aware. They're not aware of what's going on, which means 50% of this podcast, people aren't going to be paying attention to. We can't take offense to that because it's 50% of any podcast. When you have that coupled with OCD's tendency to steal that beam of focused attention on scary stuff, it can be so devastating and so stuck for people. Hopefully, some of the stuff can give a sense of what we do about that and how we can start making moves against anxiety and OCD.
Kimberley: Yeah, and compassion every step of the way.
Max: Oh my gosh. I think everything needs to be done, peppered with compassion. Or maybe peppered is too level like in the context of full radical compassion. That's such an important part of all of this work.
Kimberley: Yeah, because it's true. I mean, even myself who has a pretty good mindfulness practice, I was even surprised how much of mine was like, "Am I doing this right? What if I don't do it right? Will this work? How will it help me?" All of the things. I think that everyone's background noise, like you said, is very normal. I so appreciate you bringing this to the conversation, because again, I talk about mindfulness a lot. One other thing is, I will say when, let's say, someone has a somatic obsession or they have panic, and so they're having a lot of physical sensations. When you say "Come to the present," they're like, "But the present sucks. I don't want to be here in the present." What are your thoughts on that?
Max: Somatic OCD and panic, I think out of any themes or content when it comes to awareness and attention, those are the most relevant. If you think about somatic OCD, where people come obsessed about different parts of their perceptual experience, it's all about people trying to not be aware of things that they can't control, and then therefore they're aware of it all the time. I think this is especially spot on for those. It's helpful for all forms of anxiety, but that in particular, that's going to be-- we tend to not do exposures by hyper-focusing on what they're afraid of because that's compulsive. That's we're focusing on controlling more. This process should be effortless. When we're ruminating, when we're compulsing or paying attention, that's like you're on the treadmill. You're doing work, and just hopefully, people experience some of these exercises, all we're doing is getting off the treadmill. We want to be doing less, if anything. OCD is making you work for it. It's making you do stuff. We want to identify that and do a whole lot less. And then you'll forget about it usually until you don't. It's like, "Oh crap, here it is again." And then, "Okay, cool. I just practiced. Let me do it again," until it loses power more fully.
Kimberley: Yeah. I so appreciate you. Tell us what people can hear about you.
Max: I run a practice in Redondo Beach. We're called Beachfront Anxiety Specialists. We have our website. Again, my name's Max Maisel, and people can feel free to Google us and reach out at any time.
Kimberley: Amazing. Thank you. We'll have all of your links in the show notes. I'm really, truly grateful. Thank you for coming on and talking about this. It is so nuanced, but so important. As I say to my patients, I could say it 10 times and sometimes you need to hear a similar thing in a different way for it to click. I'm so grateful. Hopefully, this has been really revolutionary for other people to hear it from a different perspective. I'm so grateful for your time.
Max: Thank you. It's such a privilege to be here with you and your listeners and I really appreciate you having me on today.
Kimberley: Thank you.