TALKING BACK TO ANXIETY
Welcome back, everybody. Today we're talking about talking back to anxiety, and we're really talking about the power of positive self-talk.
Now I know when it comes to this idea of talking back to anxiety, it can get somewhat controversial. In fact, even talking about this idea of positive self-talk can be controversial, and I will be the first to say there is nothing worse than when you're struggling with something that's really painful. People say, "Oh, just be positive." That is not what we're talking about here today. In fact, I have a personal twist on how I like to consider a positive self-talk. You probably have heard me talk about it before, but I felt like it was time for me to revisit these concepts that I find so incredibly powerful when it comes to talking back to anxiety, or being positive, staying positive, engaging in some form of positive self-talk.
WHAT DOES TALKING BACK TO ANXIETY LOOK LIKE?
Let's talk about it. When we consider what we mean, when we say "talking back to anxiety," what do I really mean by that? First of all, I want to get to one of the controversies. What I'm not saying is that when you have anxiety, you tell it to go away or stop, because we know that when we do that, when we try and suppress anxiety or we try to suppress our intrusive thoughts, it usually means we have more of them. Let's just get that scientific fact out in the eye. We know that is true. But when we are talking about talking back to anxiety, when I'm talking about it, what I mean is, when you experience anxiety, whether that be in the form of sensations or in thoughts or feelings or images, how do you respond? How do you converse with your anxiety?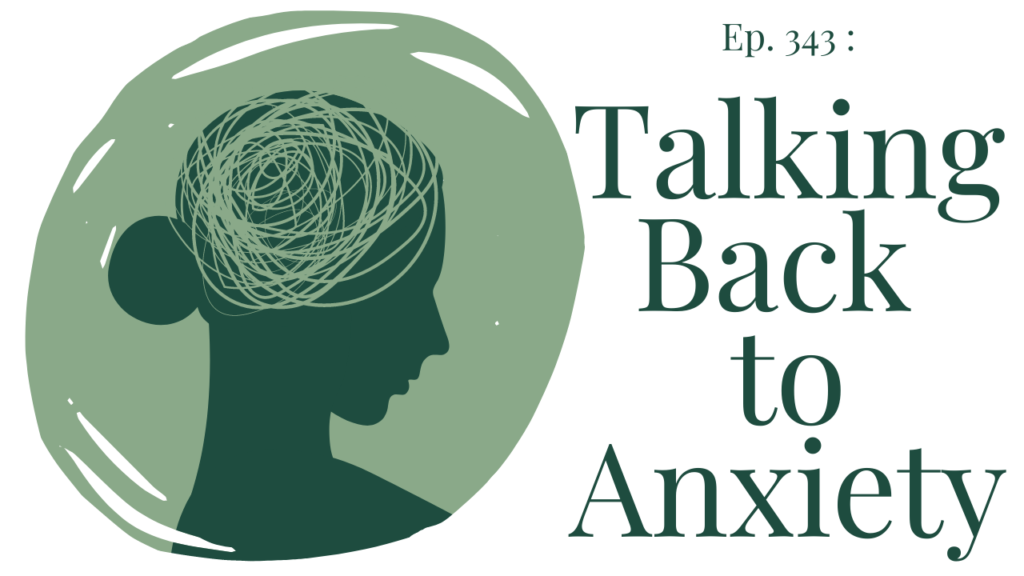 I always make a metaphor with my clients, and I've done it here on the podcast before, that I always think of anxiety as this little short Lorax-looking guy that sits on my shoulder. For you, it might look different. But he sits on my shoulder and he's in a beach chair and he is really lazy and he is wearing sunglasses, and he just wants to mess with me as much as he can, but in the most effective, lazy way. And how does he do that? He does it by knowing exactly what bothers me and throwing that at me first. He's not going to throw some random thing at me. He's going to go straight for the thing that he knows I value, because that's where my anxiety is going to show up the most. And then when he shows up, it's up to me then to be skilled in how I respond. One of the ways we respond is how we talk back to it.
The first thing I'm going to ask you is, when your anxiety tells you of the thing that you value, talks to you about the thing that scares you, that hits you right in the gut, how do you respond? Do you yell at him and say, "Get off my lawn, you horrible thing." None of this is bad, I just want you to get to know. How do you respond? You say, "No, no, no, please go away. I don't want you. I'll do whatever you say. I'll do whatever compulsion you tell me to do. I'll avoid whatever you tell me to avoid if you just quiet down."
Some of this, instead of doing that, instead of yelling at anxiety, we yell at ourselves. We say, "What is wrong with you? Why are you always anxious? You're a loser. You're bad. What's wrong with you? Something is seriously broken about you. Why have you got to have anxiety all the time?" You engage in a ton of self-criticism and self-punishment. The ones I just gave you are some negative self-talk examples like, "What's wrong with you? You're a loser. You're such an idiot for having this anxiety. You're stupid." I want to remind you that you're not. This is not about your intelligence; it's not about who you are, what you are. Your anxiety has nothing to do with any of that. Some of us are just genetically prone to having more anxiety. But we use this negative self-talk. We use this criticism, this self-judgment to try and beat out the anxiety, as if we could beat it out of ourselves. But the facts are, this negative self-talk doesn't motivate us to change because we were never in control at the start. We can't control our anxiety and whether it shows up, so that doesn't work. What we do know that does work is positive self-talk. It is one of the most successful ways of motivating ourselves.
When anxiety does show up, I want you to explore how you might respond differently to whatever discomfort or whatever form of suffering you're experiencing. It doesn't even have to be anxiety. It might be pain, it might be stress, it might be sadness, any emotion. We can actually use these skills with any of these emotions.
WHAT POSITIVE SELF-TALK IS NOT
Let's talk about what I mean by this. What does positive self-talk look like in my definition, not what you may have seen online. Number one, in my definition, positive self-talk—let's talk about what it actually isn't—it's not just positive affirmations. While that's great, and if that works for you, by all means, keep it. But for me, it never ever lands. I could say the world is safe and good things will happen, and I'm a good person. I could say that all day long and it would not land. It would do nothing for my anxiety. Literally, it just doesn't. I've tried it and it really doesn't work for me.
Positive self-talk is also not just telling yourself to be happy or relaxed. That is a huge issue. Because if you're having anxiety and you're just telling yourself how you "should feel," you're only going to feel judged. You're only going to feel less in control. You're only going to feel more hopeless about the situation.
HOW TO BECOME YOUR OWN KIND COACH
We've talked about what it's not, and I'm sure there's other examples that I'll probably think of here in a minute, but that's what it's not. But what it is, is talking to yourself in a voice that I call the kind coach. For those of you who have read The Self-Compassion Workbook for OCD, I talk about this a lot in that workbook, but I also teach this in the course Overcoming Anxiety and Panic, which is learning how to speak to anxiety in a way that motivates us, that leads us more towards our values and our beliefs, that disarms the anxiety. Instead of fighting it, it tends to the fact that you are experiencing something really, really, really uncomfortable. These are key components of overcoming anxiety and panic. In the course, we also go through cognitive changes, behavioral changes, a lot of tools, a lot of mindfulness, a lot of self-compassion. If you're really wanting to do a deep dive, you can go and check out that course. Go to CBTSchool.com. The course specifically is called Overcoming Anxiety and Panic. But for today, let's just talk about being a kind coach.
A kind coach. If you were actually thinking about a coach that you've had in the past, or an ideal coach, if you were training for something, a marathon, let's say, or a competition or something, a kind coach wouldn't berate you for struggling, because we know, as we've already talked about, that beating yourself up and criticizing, it might propel you into some change, but it also creates more anxiety. We are here to try not to make more anxiety just for the sake of making more of it. We know that self-criticism isn't beneficial. We know that telling someone of their faults and their weaknesses, that only makes us feel worse. It usually sends us into a shame response. When we go into a shame response, the normal human response is to slump over, to get really tired, to feel very unmotivated, to be stuck in this slow-moving body where everything feels heavy. That doesn't help us. That makes it worse.
The kind coach knows your challenges, but it also knows your strengths, and it uses your strengths to motivate and propel you towards the thing that you want. Let's say you're having anxiety. The kind coach would talk back to anxiety by saying, "I see you're here. It's cool. It's okay that you're here. I was planning on recording this podcast today at 11 o'clock, and I know you want to tell me about all the terrible things that might happen today, but I agreed that I was going to do this, and it's really important to me that I do. You could come along, and I'm going to let you be there while I record this podcast."
Now, you might hear that none of this is me saying, "I'm going to record this podcast and I'm going to be happy and I'm not going to have any problems with it, and I'm going to finish it. I'm going to feel ecstatic and free and overjoyed." That's not what I'm talking about. That's one example of positive self-talk, but that's not what I am talking about today, and that's not what I'm encouraging you to do. I'm encouraging you to learn to be the kind coach for yourself. Meaning you are the one who shows up for you when anxiety shows up. Often when we're anxious, we step out of that role and we actually go to someone else to try and make us feel better. We go to someone else to reassure us. We go to someone else to soothe us. While there's nothing wrong with that, we miss an opportunity to be there for ourselves, to be the one who soothes us, to be the one who says, "Hey, I see that you're going through something hard. I see that this is uncomfortable for you."
TALKING BACK TO ANXIETY: POSITIVE SELF-TALK EXAMPLES
Now, to get a little deeper here, if we were really going to talk about positive self-talk examples, we would also include the kind coach reminding us that we can do hard things. When I think of positive self-talk, I don't think of, "You're the best, you're great. Everyone loves you. You're perfect." I think of positive self-talk as being it believes in us, it believes in our ability to really settle into hard, uncomfortable things.
In the world of social media, and a lot of you guys know I'm on Instagram a lot, I constantly see people saying, "The five quick tips for anxiety," or "Heal your panic attack fast." They're selling you on quick fixes and making it easy. I don't believe that that's helpful. I think positive self-talk for anxiety shouldn't be about saying it's easy and quick to get over. It should be about saying, "You can do this. You can tolerate this. You can ride this wave of discomfort out. I believe you can because you've done it before," or "I believe you can because humans are incredibly resilient. Even if you haven't done it before, it's a skill we will learn together." That's how a kind coach talks.
Let's say you've always avoided something and it creates so much anxiety for you. Basically, your brain is saying, "I'll never be able to do that one thing." My kind coach, if I really listened, would say, "I know you haven't been able to do it in the past, but I have seen you in so many other areas overcome different things that you've never done, but then you were able to do it with practice and repetition and kindness and support. I do believe this is another opportunity for you to do that." That's what my kind coach would say, and this is something you can start to practice for yourself.
If this is really hard for you, another way of doing it is saying, "What would a loved one say to me in this example?" And then you just practice saying it to yourself. But this is a grand gesture of self-compassion. It's a grand gesture of encouragement, motivation, positivity that isn't toxic, because we know that positivity can sometimes be so toxic and dismiss what we're going through. This is not that.
Now, when we talk about talking back to anxiety, we may also have to practice this idea of talking back to depression too. What I'm going to encourage you to do here is use exactly the same tools.
TALKING BACK TO DEPRESSION
Let's talk about it. If you have depression, your brain is telling you these lies like, "You're terrible. Nothing good is going to happen. There's no point. You're useless." Talking back with positivity like you are the best, again, is not going to land. Saying, "You're wonderful, you're really great. Great things are going to happen," some people find that really beneficial. If that's you, by all means, keep using it. It's incredibly powerful. But for a lot of us folks, that won't land. I find it really much more beneficial to talk back to anxiety and depression with this kind coach voice, someone who coaches us through the depression while it's there, because it's going to be there. It is here. There's no point in telling ourselves just to be happy because it is here. I find it to be so incredibly helpful.
TALKING BACK TO OCD
Now, in addition, there is also some controversy around talking back to OCD. A lot of people say, "Doesn't that become compulsive? Doesn't that get in the way of the actual foundation of ERP?" Well, what I will say is, once again, it depends on how you're doing it. If you're talking back to OCD, which we know is a disorder of uncertainty and doubt, if you're talking back by going bad things won't happen, "No, you're fine. Nothing bad is going to happen," well then yes, you will be engaging in compulsive self-reassurance or reassurance in general.
But what I'm talking about here when it comes to talking back to anxiety, specifically related to OCD, is the kind coach will say, "I believe you can handle hard things. Just a few more minutes, let's ride this wave of discomfort out. Can you tolerate another 10 minutes of uncertainty?" Instead of saying it as a question, it might say, "Let's do it. Let's try for another two minutes not engaging in that compulsion." You're talking to anxiety, you're talking to depression, you're talking to OCD, but you're not doing it in a way that dismisses how hard it is. You're not doing it in a way that overlooks the actual reality. Meaning you're not saying, "Just be happy," or "Just ignore it," or "Just think about something else." You're not doing it in a way that creates compulsive behaviors that keep you stuck.
The kind coach encourages you to keep trying. It validates that you've had a hard time and that this is hard. It reminds you of your strengths, whatever that is. Maybe it tells you you're resilient or you've done it before. It might gently remind you to use your humor if humor is something that you're really good at doing. It might remind you of any strength you have. It won't use your challenges against you. It's radically, absolutely, unconditionally there for you, even on the low days. It encourages you to just go a little further, try a little bit more, but not in our "get down and give me 20 pushups" way like our mean coach would. It's saying it in a way that feels doable and motivating and kind.
That's what I want you to practice. This, guys, is a skill that you have to practice. Meaning you won't do it for a couple of hours and then feel on top of the world. Again, this is not about ridding you of your reality of true discomfort. It's something we practice every day during the easy times and the hard times. This is how we talk back to anxiety. This is the power of positive self-talk when used correctly.
That's it. That's what I want you to practice. What I would do with me, because I'm a little bit of a track it kind of girl, is I would encourage you to track it. To track when you were engaging in the kind coach, what did the kind coach say? I would also track when other people act as the kind coach, maybe a loved one, a family member or a boss, a colleague, a friend—really track what it is that they said to you that helped you propel yourself towards behaviors that are positive in your life and use those to help you really strengthen your own kind coach voice. You may also want to track when you get caught up in self-criticism. Because that too, sometimes when you're tracking it, it helps us be more aware of it. When we're more aware, we can catch it sooner and intervene sooner.
That's what I would encourage you to do. If you don't like tracking, that's fine. I don't want to push you in a direction that doesn't work for you. As you always know, I just want you to take what's helpful here and leave what's not. But this is a skill I really hope that you do engage in and start to practice.
If you're interested in any of the courses I've mentioned today, please go to CBTSchool.com. You can also go to my private practice website, which is KimberleyQuinlan-LMFT.com. I am a therapist with nine therapists who work for me, helping people with OCD and anxiety. We are in Calabasas. I would love to connect further with you there.
Have a wonderful day, everybody, and remind yourself that it is a beautiful day to do hard things.