Welcome. This is Week 4 of the Sexual Health and Anxiety Series. I have loved your feedback about this so far. I have loved hearing what is right for you, what is not right for you, getting your perspective on what can be so helpful. A lot of people are saying that they really are grateful that we are covering sexual health and anxiety because it's a topic that we really don't talk enough about. I think there's so much shame in it, and I think that that's something we hopefully can break through today by bringing it into the sunlight and bringing it out into the open and just talking about it as it is, which is just all good and all neutral, and we don't need to judge.
Let's go through the series so far. In Episode 1 of the series, we did sexual anxiety or sexual performance anxiety with Lauren Fogel Mersy. Number two, we did understanding arousal and anxiety. A lot of you loved that episode, talking a lot about understanding arousal and anxiety. Then last week, we talked about the sexual side effects of anxiety and depression medication or antidepressants with Dr. Sepehr Aziz. That was such a great episode. This week, we're talking about sexual intrusive thoughts.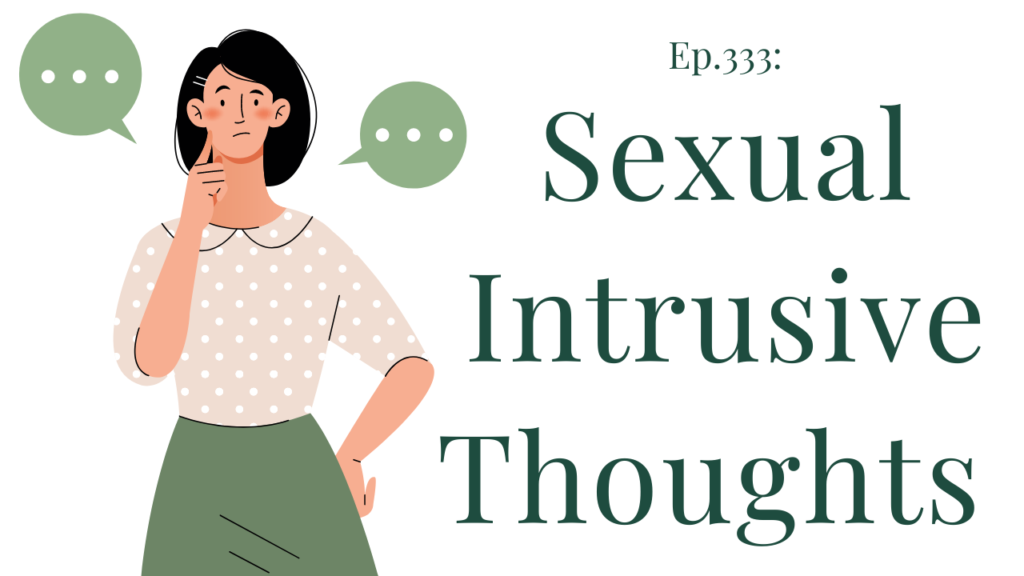 The way that I structured this is I wanted to first address the common concerns people have about sexual health and intimacy and so forth. Now I want to talk about some of the medical pieces and the human pieces that can really complicate things. In this case, it's your thoughts. The thoughts we have can make a huge impact on how we see ourselves, how we judge ourselves, the meaning we make of it, the identity we give it, and it can be incredibly distressing. My hope today is just to go through and normalize all of these experiences and thoughts and presentations and give you some direction on where you can go from there. Because we do know that your thoughts, as we discussed in the second episode, can impact arousal and your thoughts can impact your sexual anxiety.
SEXUAL OCD OBSESSIONS
Let's talk a little bit today about specific sexual intrusive thoughts. Now, sexual intrusive thoughts is also known as sexual obsessions. A sexual obsession is like any other obsession, which is, it is a repetitive, UNWANTED—and let's emphasize the unwanted piece—sexual thought. There are all different kinds of sexual intrusive thoughts that you can have. For many of you listening, you may have sexual intrusive thoughts and OCD that get together and make a really big mess in your mind and confuse you and bring on doubt and uncertainty, and like I said before, make you question your identity and all of those things.
In addition to these intrusive thoughts, they often can feel very real. Often when people have these sexual intrusive thoughts, again, we all have intrusive thoughts, but if they're sexual in nature, when they're accompanied by anxiety, they can sometimes feel incredibly real, so much so that you start to question everything.
SEXUAL SENSATIONS
Now, in addition to having sexual intrusive thoughts, some of you have sexual sensations, and we talked a little bit about this in previous episodes. But what I'm really speaking about there is sensations that you would often feel upon arousal. The most common is what we call in the OCD field a groinal response. Some people call it the groinal in and of itself, which is, we know again from previous episodes that when we have sexual thoughts or thoughts that are sexual in nature, we often will feel certain sensations of arousal, whether that be lubrication, swelling, tingling, throbbing. You might simply call it arousal or being turned on. And that is where a lot of people, again, get really confused because they're having these thoughts that they hate, they're unwanted, they're repetitive, they're impacting their life, they're associated with a lot of anxiety and uncertainty, and doubt. And then, now you're having this reaction in your body too, and that groinal response can create a heightened need to engage in compulsions.
As we know—we talk about this in ERP School, our online course for OCD; we go through this extensively—when someone has an obsession, a thought, an intrusive thought, it creates uncertainty and anxiety. And then naturally what we do is we engage in a compulsion to reduce or remove that discomfort to give them a short-term sense of relief. But then what ends up happening is that short-term relief ends up reinforcing the original obsession, which means you have it more, and then you go back through the cycle. You cycle on that cycle over and over again. It gets so big. It ends up impacting your life so, so much.
INTRUSIVE SEXUAL URGES
Now, let's also address while we're here that a lot of you may have intrusive sexual urges. These are also obsessions that we have when you have OCD or OCD-related disorders where you feel like your body is pulling you towards an action to harm someone, to do a sexual act, to some fantasy. You're having this urge that feels like your body is pulling you like a magnet towards that behavior. Even if you don't want to do that behavior, or even if that behavior disgusts you and it doesn't line up with your values, you may still experience these sexual OCD urges that really make you feel like you're on the cusp of losing control, that you may snap and do that behavior.
This is how impactful these sexual intrusive thoughts can be. This is how powerful they can be in that they can create these layers upon layers. You have the thoughts, then you have the feelings, then you have the sensations, you also have the urges. Often there's a lot of sexual intrusive images as well, like you see in front of you, like a projector, the image happening or the movie scene playing out that really scares you, concerns you, and so forth. And then all of those layers together make you feel absolutely horrible, terrified, so afraid, so unsure of what's happening in and of yourself.
TYPES OF SEXUAL OCD OBSESSIONS
Let's talk about some specific OCD obsessions and ways in which this plays out. Now, in the OCD field, we call them subtypes. Subtypes are different categories we have of obsessions. They don't collect all of them. There are people who have a lot of obsessions that don't fall under these categories, but these subtypes usually include groups of people who experience these subtypes. The reason we do that is, number one, it can be very validating to know that other people are in that subgroup. Number two, it can also really help inform treatment when we have a specific subtype that we know what's happening, and that can be very helpful and reduce the shame of the person experiencing them.
1. SEXUAL ORIENTATION OBSESSIONS OR SEXUAL ORIENTATION OCD
It used to be called homosexual OCD. That was because predominantly people who were heterosexual were reporting having thoughts or sexual intrusive thoughts about their sexual orientation—am I gay, am I straight—and really struggling with having certainty about this. Again, now that we're more inclusive and that I think a lot more people are talking about sexuality, that we have a lot less shame, a lot more education, we scrapped the homosexual OCD or homosexual obsessions or subtype category. Now we have a more inclusive category, which is called sexual orientation OCD. That can include any body of any sexual orientation who has doubt and uncertainty about that.
Now remember when we started, we talked about the fact that sexual intrusive thoughts are usually unwanted, they're repetitive and they don't line up with our values. What we are not talking about here is someone who is actually questioning their sexual orientation. I know a lot of people are. They're really exploring and being curious about different orientations that appeal to them. That's way different to the people who have sexual orientation OCD or sexual orientation obsessions. People with OCD are absolutely terrified of this unknown answer, and they feel an incredible sense of urgency to solve it.
If you experience this, you may actually want to listen back. We've got a couple of episodes on this in the past. But it's really important to understand and we have to understand the nuance here that as you're doing treatment, we are very careful not to just sweep people under the rug and say, "This is your OCD," because we want to be informed in knowing that, okay, you also do get to question your sexual orientation. But if it is a presentation of sexual orientation OCD, we will treat it like that and we will be very specific in reducing the compulsions that you're engaging in so that you can get some relief. That is the first one.
2. SEXUAL INTRUSIVE THOUGHTS ABOUT FAMILY OR SEXUAL INTRUSIVE THOUGHTS ABOUT INCEST
Incest sexual OCD or that type of subtype is another very common one. But often, again, one that is not talked about enough in fear of being judged, in fear of having too much shame, in fear of being reported. When people have these types of obsessions, they often will have a thought like, "What if I'm attracted to my dad?" Or maybe they're with their sibling and they experience some arousal for reasons they don't know. Again, we talked about this in the arousal and anxiety episode, so go back and listen to that if you didn't. They may experience that, and that is where they will often say, "My brain broke. I feel like I had to solve that answer. I had to figure it out. I need to get complete certainty that that is not the case, and I need to know for sure."
The important thing to remember here is a lot of my patients, I will see and they may have some of these sexual intrusive thoughts, but their partners will say, "Yeah, I've had the same thoughts." It's just that for the person without OCD, they don't experience that same degree of distress. They blow it off. It doesn't really land in their brain. It's just like a fleeting thought. Whereas people with OCD, it's like the record got stuck and it's just repeating, repeating, repeating. The distress gets higher. The doubt and uncertainty get higher. Therefore, because of all of this bubbling kettle happening, there's this really strong urgency to relieve it with compulsions.
3. SEXUAL INTRUSIVE THOUGHTS ABOUT GOD OR ABOUT A RELIGIOUS LEADER
This is one that's less common, or should I say less commonly reported. We actually don't have evidence of how common it is. I think a lot of people have so much shame and are so afraid of sinning and what that means that they may even not report it. But again, this is no different to having thoughts of incest, but this one is particularly focused on having sexual thoughts about God and needing to know what that means and trying to cleanse themselves of their perceived sin, of having that intrusive thought. It can make them question their religion. It can make them feel like they have to stop going to church. They may do a ton of compulsive prayer. They may do a ton of reassurance with certain religious leaders to make sure that they're not sinning or to relieve them of that uncertainty and that distaste and distress. These are all very common symptoms of people who have sexual intrusive thoughts about God.
4. BESTIALITY OBSESSIONS
These are thoughts about pets and animals, and it's very common. It's funny, as we speak, I am recording this with a three-pound puppy sitting on my lap. We just got a three-pound puppy. It is a Malti-Poo puppy dog, and he's the cutest thing you've ever seen. But it's true that when you have a dog, you're having to take care of its genitals and wipe it up and its feces and its urine and clean and all the things, and it's common to have sexual intrusive thoughts about your pet or about your dog or your cat. Some people, again, with bestiality obsessions or bestiality OCD, have a tremendous repetitive degree of these thoughts. They're very distressing because they love their dog. They would never do anything to hurt their dog, but they can't stop having these thoughts or these feelings or these sensations, or even these urges.
Again, all these presentations are the same, it's just that the content is different. We treat them the same when we're discussing it, but we're very careful with addressing the high level of shame and embarrassment, humiliation, guilt that they have for these thoughts. Guilt is a huge one with these sexual obsessions. People often feel incredibly guilty as if they've done something wrong for having these obsessions. These are a few.
5. PEDOPHILIA OBSESSIONS
Now, for someone who has intrusive sexual thoughts and feelings and sensations and urges about children (POCD), they tend to be, in my experience, the most distressed. They tend to be, when I see them, the ones who come in absolutely completely taken over with guilt and shame. A lot of the time, they will have completely removed themselves from their child. They feel they're not responsible. They won't go near the parks. They won't go to family's birthday parties. They're so insistent on trying to never have these thoughts. Again, I understand. I don't blame them. But as we know, the more you try not to have a thought, what happens? The more you have it. The more you try and suppress a thought, the more you have it. That can get people in a very stuck cycle.
SEXUAL OCD COMPULSIONS
Let's move on now to really address different sexual OCD compulsions.
Now, for all sexual obsessions, or what I should say is, for all obsessions in general, there are specific categories of compulsions and these are things again that we do to reduce or remove the discomfort and certainty, dread, doubt, and so forth.
1. Trigger Avoidance
This is where you avoid the thing that may trigger your obsession or thought. Avoiding your dog, avoiding your child, avoiding your family member, avoiding people of the sexual orientation that you're having uncertainty about.
2. Actual Sex Avoidance
We talked about that in the first episode. We talked a lot about how people avoid sex because of the anxiety that being intimate and sexual causes.
3. Mental Rumination
This is a really common one for sexual intrusive thoughts because you just want to solve like why am I having it? What does it mean? You might be ruminating, what could that mean? And going over and over and over that a many, many time.
4. Mental Checking
What you can also be doing here is checking for arousal. Next time you're around, let's say, a dog and you have bestiality obsessions, you might check to see if you're aroused. But just checking to see if you're aroused means that you get aroused. Now that you're aroused, you're now checking to see what that means and trying to figure that out and you're very distressed.
We can see how often the compulsion that the person does actually triggers more and more and more distress. It may provide you a moment or a fleeting moment of relief, but then you actually have more distress. It usually brings on more uncertainty. We know that the more we try and control life, the more out of control we feel. That's a general rule. That's very much the case for these types of obsessive thoughts.
5. Pornography Use
A lot of people who have sexual orientation OCD in particular, but any of these, they may actually use pornography as a way to get reassurance that they are of a certain sexual orientation, that they are not attracted to the orientation that they're having uncertainty about, or they're not attracted to animals or God or a family member because they were aroused watching pornography. That becomes a form of self-reassurance.
There's two types of reassurance. One is reassurance where we go to somebody else and say, "Are you sure I wouldn't do that thing? Are you sure that thing isn't true? Are you sure I don't have that? I'm not that bad a person?" The other one is really giving reassurance to yourself, and that's a very common one with pornography use.
SEXUAL INTRUSIVE THOUGHTS PTSD
There are some sexual intrusive thought examples, including specific obsessions and subtypes, and also compulsions. But one sexual intrusive thought example I also wanted to address is not OCD-related; it's actually related to a different diagnosis, which is called PTSD (post-traumatic stress disorder). Often for people who have been sexually assaulted or molested, they too may experience sexual intrusive thoughts in the form of memories or images of what happened to them or what could have happened to them. Maybe it's often some version of what happened to them, and that is a common presentation for PTSD. If you are experiencing PTSD, usually, there is a traumatic event that is related to the obsession or the thoughts. They usually are in association or accompanied by flashbacks. There are many other symptoms. I'm not a PTSD specialist, but there's a high level of distress, many nightmares. You may have flashbacks, as I've said. Panic is a huge part of PTSD as well. That is common. If you have had a traumatic event, I would go and see a specialist and help them to make sure that they've diagnosed you correctly so that you can get the correct care.
SEXUAL INTRUSIVE THOUGHTS TREATMENT
If you have OCD and you're having some of these sexual intrusive thoughts, the best treatment for you to go and get immediately is Exposure and Response Prevention. This is a particular type of cognitive behavioral therapy where you can learn to change your reaction, break yourself out of that cycle of obsessions, anxiety, compulsions, and then feed yourself back into the loop around and around. You can break that cycle and return back to doing the things you want and have a different reaction to the thoughts that you have.
PEOPLE ASK HOW TO STOP SEXUAL INTRUSIVE THOUGHTS?
Often people will come to me and say, "How do I stop these sexual intrusive thoughts?" I will quickly say to them, "You don't. The more you try and stop them, the more you're going to have. But what we can do is we can act very skillfully in intervening, not by preventing the thoughts, but by changing how we relate and respond to those thoughts." For those of you who don't know, I have a whole course on this called ERP School. ERP is for Exposure and Response Prevention. I'll show you how you can do this on your own, or you can reach out to me and we can talk about whether if you're in the states where we're licensed, one of my associates can help you one-on-one. If you're not in a state where I belong, reach out to the IOCDF and see if you can find someone who treats OCD using ERP in your area. Because the truth is, you don't have to suffer having these thoughts. There is a treatment to help you manage these thoughts and help you be much more comfortable in response to those thoughts. Of course, the truth here is you're never going to like them. Nobody likes these thoughts. The goal isn't to like them. The goal isn't to make them go away. The goal isn't to prove them wrong even; it's just to change your reaction to one that doesn't keep that cycle going. That is the key component when it comes to sexual intrusive thoughts treatment or OCD treatment. That's true for any subtype of OCD because there are many other subtypes as well.
That's it, guys. I could go on and on and on and on about this, but I want to be respectful of your time. The main goal again is just to normalize that these thoughts happen. For some people, it happens more than others. The goal, if you can take one thing away from today, it would be, try not to assign meaning to the duration and frequency of which you have these thoughts. Often people will say, "I have them all day. That has to mean something." I'm here to say, "Let's not assign meaning to these thoughts at all. Thoughts are thoughts. They come and they go. They don't have meaning and we want to practice not assigning meaning to them so we don't strengthen that cycle."
I hope that was helpful for you guys. I know it was a ton of information. I hope it was super, super helpful. I am so excited to continue with this.
Next week, we are talking about menopause and anxiety, which we have an amazing doctor again. I want to talk about things with people who are really skilled in this area. We have a medical doctor coming on talking about menopause and the impact of anxiety. And then we're going to talk about PMS and anxiety, and that will hopefully conclude our sexual health and anxiety series.
Thank you so much for being here. I love you guys so much. Thank you from me and from Theo, our beautiful little baby puppy. I will see you next week.