In This Episode:
We talk about how the ton of your voice really matters when it comes to self-compassion practices
USING SELF-COMPASSION TO INCREASE MOTIVATION
USING SELF-COMPASSION TO BETTER APPRAISE EVENTS
How you can improve your self-compassion practices to include a warm nurturing voice.
How you can practice a kind coach voice in your daily life.
Links To Things I Talk About:
Self-Compassion Workbook for OCD: https://www.amazon.com/dp/168403776X/ref=cm_sw_em_r_mt_dp_2JG8H4VWFSBMBJVQ4AD8
ERP School: https://www.cbtschool.com/erp-school-lp
Episode Sponsor:
This episode of Your Anxiety Toolkit is brought to you by CBTschool.com. CBTschool.com is a psychoeducation platform that provides courses and other online resources for people with anxiety, OCD, and Body-Focused Repetitive Behaviors. Go to cbtschool.com to learn more.
Spread the love! Everyone needs tools for anxiety...If you like Your Anxiety Toolkit Podcast, visit YOUR ANXIETY TOOLKIT PODCAST to subscribe free and you'll never miss an episode. And if you really like Your Anxiety Toolkit, I'd appreciate you telling a friend (maybe even two).
EPISODE TRANSCRIPTION
This is Your Anxiety Toolkit – Episode 305.
You guys, 305. That sounds like a lot of episodes to me. Oh my goodness. So exciting.
All right. I am really feeling so connected to the message that I have with you today. It has been an ongoing lesson I have learned in my life. It has been something that I have had to fine-tune in my own self-compassion practice. And I know I've spoken about this before, but I wanted to come on and do a quick reminder of why the tone of your voice matters more than anything. When I say the tone of your voice, I mean like how you speak to yourself, and that would also include how you speak to other people. That both. Both are very, very important. I'm sure you know this from experience of talking to other people. When your tone is a little off, it tends to create some problems. Am I right? I definitely have some stories to tell you on that one. But there have been so many times over the summer and going now into the fall where I have had to really keep reminding my patients and myself. And I'm going to tell you a couple of stories here about my family where this has gotten so, so important.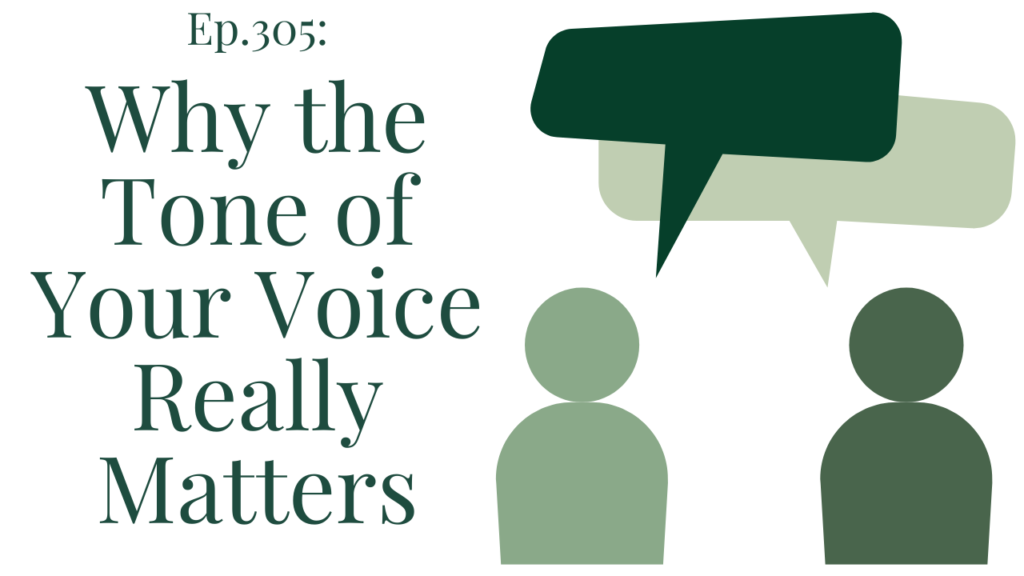 Why the tone of your voice matters more than anything? Because tone sets a scene for how things land. Here is an example. If I said to you-- let's use last week's example, we did a podcast on what does it actually mean to sit with your emotions. Now, as I talked about how frustrated I was about how-- sometimes we use this term and we don't explain what it actually means. If the tone of my voice, as I said that, was like, "Oh my gosh, it's so important that you use it in the right way," I was saying those actual words. But if I'm using a tone that's like, "You have to use it this way because you can't use it this way!" that's going to create inside a massive degree of anxiety and defensiveness and rejection from you guys. We can all agree. In fact, if you have read any of Dan Siegel's work, he's an amazing researcher, an amazing author – he talks about how the word "no" and how we say the word "no" can actually create a massive emotional approach or a response in people than if you were to say "yes" very kindly. Just a one-word difference.
What I want to talk about here with you is tone and why tone needs to be a major part of your recovery. Let me tell you a story. The other day, for those of you who don't know, I have this beautiful, young daughter who just started middle school. Yeah, get ready for the ups and the downs. It's been a total ride since she started. But my husband was actually at the end of the day reflecting to me in a very compassionate way and he was saying, "Isn't it interesting how you can say to her, 'Get your bags, let's go,' and that can land so different than 'Get your bags, let's go!'" Same words, different tone. Five words, same five words, but those five words and the tone that we use can shift their experience and the way we feel as we express it. We were talking about-- and he was actually giving me a little bit. I'm not going to lie, he was giving me a little bit of feedback that my tone could be a little calmer. In the morning, things are stressful. I know I have some work to do. I'm not going to lie. I was like, "Okay. Yeah, you're so right." Coincidentally, I was already going to record this podcast, because so much of how we talk to ourselves is about motivating. I'm motivating her to "Get your bags, let's go, come on. We're going to move to the next step. We're going to be late for school." And it's about how do we motivate ourselves.
I've got some examples for you here and I want you to think about them and how they apply to you. These are personal examples, but I'm pretty certain you may or may not resonate with most of them. So, here we go.
Using Self-Compassion To Increase Motivation
The first one is how we motivate ourselves to get things done. So, what was shocking to me while I was in Australia, because things were much more calm and my workload was much less, is there were certain tasks I had to keep doing. Even though I was on vacation visiting with my family, I still saw my clients and I still had to respond to emails and so forth. But it was so interesting that when I sit to my desk, which I'm sitting at right now, I often use a tone, which is like, "You've got to write your email, get going!" Not that mean, but you hear what I'm saying. Maybe I'm going to be a little overdramatic in this today just for the sake of getting the message across. But like, "You've got to get your email done before you see your clients!" Whereas when I was in Australia, I had more space and I was like, "Okay, hun, you've got to get your emails done before you get and see your clients." Same words, but the tone was so different. And so much of the motivating we deal with ourselves has a tone that is aggressive and unkind and bossy and anxiety-provoking and creates a defensive anxiety-driven experience. We all know when we are having anxiety, we actually then tend to build into that cycle even more.
So, I want you to think about, how do you motivate yourself? You might even want to pause this and sit down and be like, "What specifically do I say and where's the tone that gets me in trouble?" What's the tone that brings on emotions that create more suffering for us?
Another one, and this is true for a lot of my patients, this is where I pick up in them, is they know they have homework for therapy. And for those of you who are in therapy, usually, if you're doing any kind of CBT, you get homework, so you have to get it done. And how you talk to yourself about that homework can determine whether you're suffering or not. You could say, "I should get my homework done before I see my therapist!" or you could go, "Okay, I'm going to get my homework done before I see my therapist. When might I get that done?" Same topic, same motivation, same intention. The tone makes such a difference. Again, we're talking about motivation.
Using Self-Compassion To Better Appraise Events
What about your appraisal of events? You could say, "That was really hard." You've honored that you just did an exposure, let's say, or you did your homework or you got your emails done, and then you go, "Wow, that was really hard." That's a lot different if you were really in a wrestle, "That was really hard! Urgh!" Because when we're in that tone, we're in, again, a resentful, angry tone. Not that there's anything wrong with that. Again, there's an important place for every tone. You're allowed to be angry. You're allowed to be frustrated. You're allowed to be sad. You're allowed to be resentful and all those things. I just want you to question your tone and be curious about your tone and ask, is it helpful? Is it effective for you?
An example of this is, we're talking about motivation, if you're in the last mile of a marathon, you might need to take on a tone that's very coaching, very like, "Come on, you could do it!" And you're like, "Ah, just get it done!"
I have a dear friend who is suffering with a lot of grief. She lost her father. When she's playing her sports, she says, "I swear I can't stop the whole time, and I use my anger to belt out the ball." So, there is a great example. If it's effective for you, go ahead and do it. But I want you to really question and be curious about your tone and really ask if it's working for you. And then you have this great opportunity to start to play around with tones that work for you.
Same goes for when we talk about it's a beautiful day to hard things. A client of mine once mentioned to me that this really, really made her mad. She hated this term. She was like, "This is very annoying. I don't want to do hard things. I know I can do them, but I don't want to do them." Again, you can absolutely use any tone you want, but check in on the tone you're using. Does it motivate you? Does it give you a sense of inspiration? Does it move you towards the behavior you're using? Is it kind? Absolutely the most important. Does it feel safe to use that tone? These are just questions to think about.
One of the biggest ones is you made a mistake. You could say to yourself, "Okay, Kimberley, you made a mistake," or you could say, "Kimberley, you made a mistake!" Same words, massive in different tone. Hugely different in the tone, same words. I keep saying same words. The tone is so much different and can really impact how much you suffer.
For me, the one that actually-- I got it last, but the one that actually blew my mind the most is the saying, "Keep going." I could say to myself, "Keep going. Keep going, Kimberley. Keep going. You've got this. Keep going. Keep going." And that's this idea of just one more, you can do one more. But if I were to be saying, "Keep going! Just keep going!" Same words, totally different effect.
So, there's some examples. You probably have dozens more, or the ones that are really, really different, but I really want, if you can implement, just checking in on your tone each day. You might find that you go leaps and bounds in your self-compassion practice. In fact, I found that the ones who mastered this idea, or not even mastered, just work towards having a kinder tone, tend to be people who end up embracing self-compassion and really reaping the benefits from it. Because again, this is why I'm saying, this is why the tone of your voice matters more than anything. It propels us towards healthier motivation. It propels us towards a bigger, wider self-compassion practice. It propels us away from having emotions that are brought on by this really mean tone, like more fear, shame, guilt, embarrassment, humiliation, irritability. When we use that tone, that really creates a really negative vibe for us. So, that is what I want you to take away. So, so important.
All right. Before we finish up, let's quickly go over the "I did a hard thing" one. This is from Sienna and they said:
"In high school, I developed an eating disorder, and in college, I was diagnosed with anorexia nervosa. I'm currently one year out of college and weight restored, but eating is so difficult for me. I'm now in therapy for OCD, which my therapist and I realize, intersects with my eating disorder. It is very challenging for me to eat anything. I think I might be unhealthy and then continue to eating healthy foods that make me feel good. As a part of my ERP, I was assigned to drink kombucha once a day at lunch, and then continue eating healthy for the remainder of the day and to eat pizza once per week. These things scare me because of the pizza with my friends after a pool party, when I normally would have avoided the situation. I am so happy I was a part of my friend group in a way I previously couldn't be and that I was able to face some of my fears."
Sienna, this is so good. Oh, I love it. You're doing such hard things. And I love how you've identified the specifics, like eating unhealthy, but then going back to your other. I think that is such a great-- you've identified what the trigger is. That is so, so important, and it's such an important part of exposure therapy. We talk about this a lot in ERP School, which is our signature course for OCD, which is, as you plan your exposures, you really want to be clear on the obsessions that you're going to be targeting. Because once you've identified a good obsession and what you want to target, then you can create some really great exposures and some really specific exposures for it. So, so good.
All right. Let's finish up with the review of the week. It's from Love Heart 2 and they went on to say:
"Kimberley knows her stuff. I discovered Kimberley's podcast a few months ago, and I really love listening to her Aussie-American accent as I am an Aussie in the US myself." How fun, Love Heart 2. That makes me feel so close with you. "So it feels like a little piece of home. Secondly, she's very informed on OCD, which I have had for a long time and anxiety. When you get down on yourself as a result of a mental illness, you need someone like Kimberley in your ear, reminding you that you can do hard work and that you are worth it."
Oh my goodness. Thank you so much for that review, Love Heart 2. If you haven't left a review, please do so. It allows me to reach more people. When they see my podcast, it allows them to feel like they can trust what we're saying. And that's so important to me. The more people who feel that they can trust me, the more I can help them, and hopefully, I can bring just a little bit of joy into their day. So, thank you so much, Love Heart 2, and thank you so much, Sienna, for contributing to the "I did a hard thing" segment.
All right, my loves, I'm going to sign off. Please do remember that the tone of your voice matters. It really, really does. Have a wonderful day.