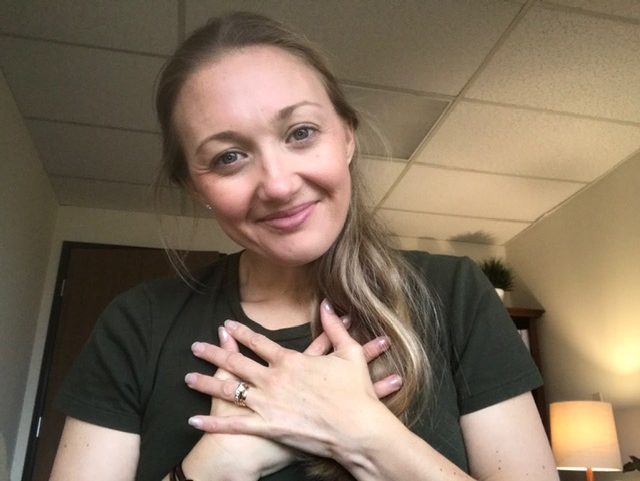 Welcome back to another episode of Your Anxiety Toolkit. Recently we have talked a lot about self-compassion. If you go back to episodes 134, 146, and 147, you will see self-compassion mentioned a lot. Today we are going to expand on that discussion by learning how to write ourselves a self-compassion letter.
I have actually been doing this with my clients for years and it really just involves putting your self-compassion into words which can actually be so helpful.
There are several steps in writing your self-compassion letter. The first step is to show awareness of your struggle. You might say "I see that you are having a hard time." Whatever it is, just bring it to your awareness and write it down.
The second step is bringing in some words of unconditional love. No matter how much you are suffering, you still get to be loved and cared for.
The third step is to show yourself some empathy for the distress you are in. You might say "I see you. I see the pain you are going through. I can relate to that."
The fourth step is recognizing your common humanity. In your letter, you want to bring in the common humanity of your struggle. You could say "Everybody knows what it is like to have anxiety. I am definitely not alone."
Next you want to normalize the fact that when we suffer we all want to engage in safety behaviors. A safety behavior is anything you may do to try and take away your fear, or shame, or sadness. Safety behaviors usually have unintended consequences and they usually end up causing more problems. Instead you would want to explore some more helpful solutions. You are going to look at the situation and say "How might I help myself?"
The last step is to say something really, really kind to yourself and finally you are going to read your self-compassion letter aloud.
Below is an example of my own self-compassion letter.
Kimberley, my dear one. It's okay that I'm having a hard time right now. I feel afraid and I really just want to jump out of my skin. This is really a difficult time for me. Now, what I am feeling is not wrong. I'm doing the best I can with what I have at this moment. My suffering, this discomfort I feel, it deserves to be met with kindness and tenderness. I deserve that. I am worthy of this kindness and tenderness I'm giving myself. And I wish for myself to have some peace of mind. I know it's a hard time, but I know I will find peace.
Now I'm going to find this peace mostly by doing what I'm doing right now, which is changing the way I respond to my suffering. Every single pain that shows up inside me, I'm going to meet with kindness and I'm going to recognize that each moment of suffering is worthy of self-compassion.
I'm strong and I can face fear and I can hold space for my emotions, no matter how hard it is. I deserve to be a safe place for fear, as it rises and falls in my body. I am my best ally and I have everything I need right here inside me to get through these hard times.
Now I promise to be there for myself when things get hard. I'm sending you my love.
Now Kimberley, go gently into this moment, my darling.
ERP School, BFRB School, and Mindfulness School for OCD are all now open for purchase. If you feel you would benefit, please go to cbtschool.com