SUMMARY:
Today, we are going to talk with you about the 7 common struggle you have with time management. Do you find yourself constantly looking at the clock? Or, wishing time would go faster? Do you feel like your to-do list is so long that you will never get them done? Or, do you feel like you never have time to prioritize yourself? In today's, podcast, we talk all about your relationship with time and why it is a HUGE part of managing anxiety, depression, and stress.
In This Episode, we address the 7 common struggles you have with time management.
"I don't have enough time"
"I have so much to do"
"I have so much I want to do"
"I struggle to start and stop activities"
"I don't a good understanding of how long things take"
"I don't like structure"
"I hate being told what to do with my time"
Links To Things I Talk About:
ONLINE COURSE Time Management for Optimum Mental Health
https://www.cbtschool.com/timemanagement
---
Episode Sponsor:
This episode of Your Anxiety Toolkit is brought to you by CBTschool.com. CBTschool.com is a psychoeducation platform that provides courses and other online resources for people with anxiety, OCD, and Body-Focused Repetitive Behaviors. Go to cbtschool.com to learn more.
Spread the love! Everyone needs tools for anxiety...
If you like Your Anxiety Toolkit Podcast, visit YOUR ANXIETY TOOLKIT PODCAST to subscribe free and you'll never miss an episode. And if you really like Your Anxiety Toolkit, I'd appreciate you telling a friend (maybe even two).
---
EPISODE TRANSCRIPTION
This is Your Anxiety Toolkit - Episode 221.
Welcome back, everybody. I am so thrilled to have you here with me today for Episode 221. Oh my, how is that possible?
We are getting so much feedback, such amazing feedback from last week's episode. I wanted to additionally offer you one more bonus piece of content from our new course, which is called Time Management for Optimum Mental Health. You can check it out at CBTSchool.com/TimeManagement. It is a course. We have it for $27. It's a mini-course, so it shouldn't take up a ton of your time, and it's me showing you exactly how I manage time.
Now, the reason I created that course was because so many people were reporting to me – clients, followers, listeners – that COVID has destroyed the rhythm and the routines that they had, and that they really want to find a way to implement during their day time to do their therapy homework, do get exercise, maybe have more pleasure in your life, maybe reduce overwhelm, a lot of overwhelm because the to-do list is always so long. Am I right? The to-do lists are always so long. There seems to be a never-ending list of things to do. So, I added all that in, showed you exactly how I did that. Again, you can go and check that, or you can click the link below in the show notes.
But as a bonus to that course, I did a Q and A where people submitted their questions. I have addressed that in that bonus, and I'm today giving it to you free in today's podcast episode. If you want to get a feel for what we're covering, you will have some reference to the course throughout, but you don't need to purchase the course to get benefit out of this episode today. However, together they would be really beneficial, I'm sure.
Today, we're going to cover a couple of main topics. Here I'm going to give you some overview. Some of the questions people or the concerns or roadblocks they had around time management were things like, "I don't have enough time. I have so much to do on my to-do list." Another question we will cover in today's episode is, "I have so much I want to do. I just can't, again, find time."
Someone brought up-- multiple people, forgive me, brought up that they struggle to start and stop activities. They struggle to get the motivation to get going. And then once they're going, they have a hard time transitioning into other activities. We address that as well.
Someone posted in that they struggle with having a good understanding of how long things take. This is one of the reasons I have myself had to use a lot of time management, is I was underestimating how long things were taking and I was leading to a lot of anxiety and overwhelm.
We also address people who don't like a lot of structure in their life and we also address people who don't like scheduling and don't like time management because they don't like being told what to do with their time. We're going to address all of that today, but we also go much deeper into that in the time management course. You can run over there if you want to take a look at that.
Before we get into the show, let's do today's review of the week. This one is from Sheffie, and they said:
"Wonderful resource! You can't help but love Kimberley." Oh, that's so kind. Thank you, Sheffie. "She has such warmth and sincerity, is positive and funny, and spreads so much good into the world. On top of all that, she's a gifted clinician who does a great job sharing her knowledge with others. And she does all this with a lovely Australian accent." Oh my goodness, this is so kind. "All of her content is fantastic, but I especially love the podcast because each episode is packed with so many nuggets of wisdom that are applicable to so many situations. They're thought provoking and I find myself pondering them for a long while after. They're also a good length - great content without going on for hours, very digestible."
Thank you so much, Sheffie. That is so kind. Actually, one thing, as I'm really listening and reading that off, sometimes I know I've mentioned this before, but creating a podcast can feel really lonely because I'm talking into a microphone. Sometimes I don't know if things land for everybody. I'm talking about what resonates for me and what I know has resonated from my clients, but it's never really sure, like how is anyone feeling about this? So, just getting your reviews actually is very heartwarming to me. So, thank you. It actually helps me to feel like I'm on the right track and I'm helping and I'm bringing value to your life. Thank you so much, Sheffie. Please do go and leave a review. It does help me so much in my heart, but so helps me just to get more followers and listeners.
All right, let's get over to it. Let's talk today about your relationship with time. Let's address some of these common roadblocks to time management, and I hope you find it incredibly helpful. Have a wonderful day, everybody.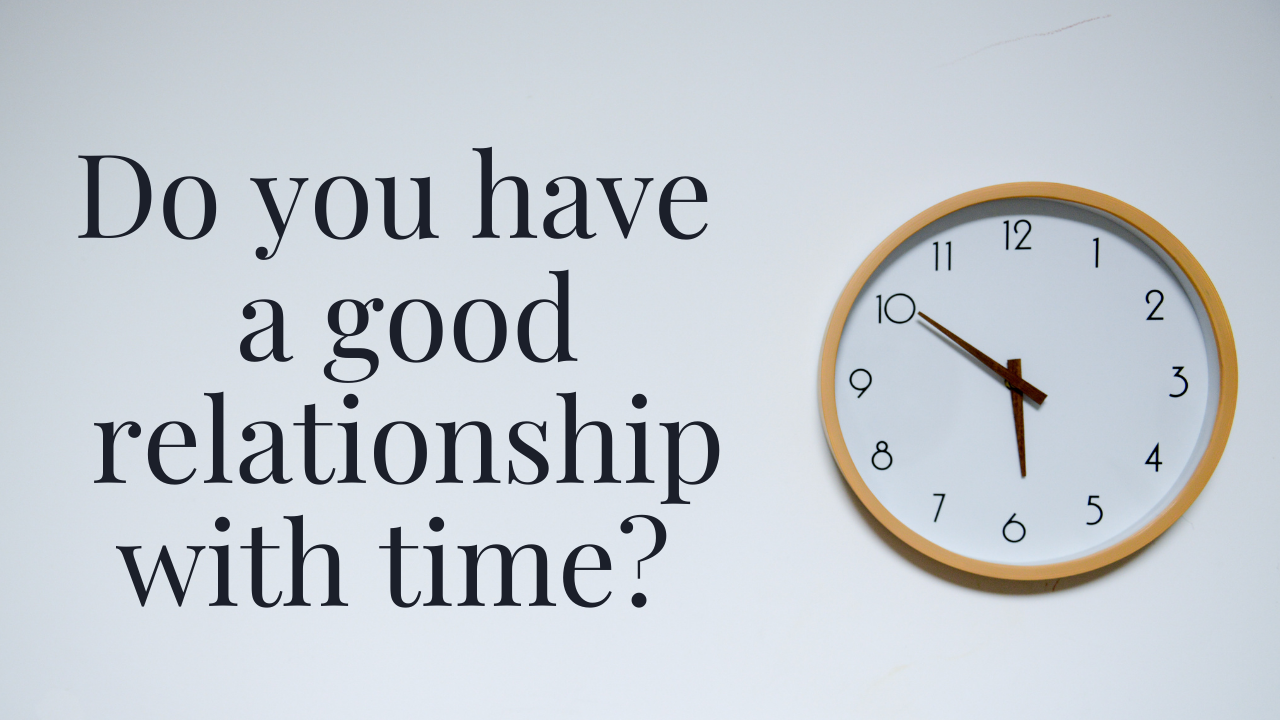 Welcome, everybody. I am so excited to be here with you to talk about your relationship with time. Now, this is an interesting topic, I think, and one that very much relates to our mental health. I personally find a lot of my thoughts are around time and about my belief that I don't have enough of it. This has probably been a very big part of my own experience of suffering because I keep telling myself, "I don't have enough of it." I really want to see whether this is true for you.
Now, I did a poll on Instagram and asked my friends there to give me their biggest struggles with time management. As you may know, I have a full course on time management specifically related to managing mental health, how you can make time for your recovery, how you can make time for things that really benefit your mental health. A lot of the times we end up getting our to-do list done instead of scheduling in pleasure and downtime and rest, and we don't rest and have pleasure until we've got our list of to-dos done. But the problem is, the to-do list is always longer than the day. Am I right?
We cut all of these submissions of things that people struggle with, a lot of the topics we discuss directly in the course, but a lot of them I wanted to discuss today specifically related to these struggles and the relationship people have with time. The first one here is, "I don't have enough time." Now I have two answers to this concern. number one, chances are, you are right. You don't have enough time to do the things that you are pressuring yourself to do.
Now, I understand that many of you have jobs and you're going to school and you have children or you have loved ones and you have your own chronic illnesses or mental illness. So I agree. The list of things to do is very, very long. But I've wanted to first just ask you, is all the things on your to-do list being demanded of you, or are you demanding them of you? It could be one or the other. I just wanted to ask you, because I know for me, there are lots of things that I get demanded to do. I have to work. I have to make money. I have to be a mom. These are things that I really value and I want to take care of. But in addition to that, there's a lot of things on my to-do list that I actually don't have to do. I place those stresses on myself right.
Now we're not here to blame. I never want this to be about blaming ourselves, but it's helpful to inquire. What things on your list do you have that actually create more stress? Is it helpful to add those things on your list? Is there a way you could maybe give yourself a break from the long things of all the things you have to do? Assess for yourself what's important. Is it important to me to get this done?
But here is the thing. As we talk about in time management, the online course, is I have so many things that I value. I have so many things I want to do. I have so many ways I want to show up for people and friends and family. At the end of the day, it's unrealistic. Even though I want to do it, I don't have the time. To reflect, I don't have the time. Yeah, that's true. Sometimes the most compassionate thing I can do is to acknowledge that and be more realistic with the projects I put on my to-do list.
Often I'll speak with clients about, are you taking too many courses? And they'll say, "No, I have to. Everybody is taking this many." And I'll go, "But is it working for you?" If you're really honest with yourself, does taking that many courses benefit you and give you time to recover from your mental illness? Does saying yes to volunteer, while volunteering is an incredibly valuable and helpful thing, are you in a place in your life right now or a season in your life where you can do that in a healthy way that still prioritizes your mental health? Just questions to think about. You may have some strong reactions to these, and I would inquire if you do. I'm not suggesting anything here, except I want you to inquire what is best for you.
Now on the flip side of this, I can also say, even on the days when I've managed my time and my to-do list, I still just have the thought. "I don't have enough time. I don't have enough time. I don't have enough time." And that's my relationship with time. It's not great. My personal relationship with time, I have a long way to go. My relationship with time, as if it's a thing, is when I look at it, I say to it, "There's not enough of you." But I only have 24 hours. You only have 24 hours and we have to negotiate with what we want to cram into that 24 hours. It can be whatever you like really. You can sleep for as long as you think you need to sleep. You can work, you can go to school, you can take up whatever hobbies. Your job is to decide what's best for you based on your values and your family and your needs.
The next one is, "I have so much to do." Again, we have a relationship with time. When it's not about time, it's about our to-do list. I really want this time management course that I've created. You can go to https://www.cbtschool.com/timemanagement. If you haven't already, if you're listening to the course right now, I want you to really, really think about the to-do list and reassess the to-do list. If it doesn't need to be done, I would encourage you to consider taking it off.
Now, I understand, a lot of things on the list have to be done and I want them to be done, which is why you should, if you need, take a look at the procrastination episode and module, and you can maybe look at that as well. But like I said always, a lot of the thoughts we have about time are either facts or the mindsets that we have. So, we may need to think about how much pressure we're putting on ourselves.
Another very small shift to that thought is, "There's so much I want to do." Now, here is another, this is very important. I personally, as a human being, there is so much I want to do. I have such passion to do this project and write that book and to create that podcast. I have all these things and hobbies I want to do. It's a wonderful thing. Some of you may not have that experience right now and that's okay. Sometimes depression and anxiety can take the passion out of things. But a lot of you, I hear because you want to get things done and you can't find a way to put it into your schedule. I really want to encourage you to start to do these things you want to do, but you have to be realistic about time.
A part of the reason I made this course and not other courses is that this course could be a very quick make. Meaning it didn't take me six months to make some of my courses. The Time Management course is-- what is it? Almost 100 minutes or 120 minutes. It's easier for me to do this than to create a six-month-long course. I did it in small 20-minute increments. I want to encourage you that if your relationship with time is saying, "I have so much I want to do, I don't have enough time," find in your schedule 10 minutes to start, because 10 minutes today and 10 minutes next week and 10 minutes the week after that, before you know it, you will start to have some momentum, even if it's 10 minutes a week. A lot of times we don't do things because we tell ourselves that there's not enough time and there's too much to do. Instead of just giving yourself permission to just do little baby steps, create what you can in small amounts of time.
Somebody had written, "I struggle to start and stop activities." This is very, very important. A lot of people struggle with time because getting going needs a lot of created momentum. The thing to remember is that motivation, and I will create a full mini-course on this very soon as well, is motivation is not something you just get. It's not inherent. You don't wake up with it. Motivation is something that you have to really create of your own. You have to cultivate motivation. You have to harvest motivation. It's something that you generate on your own.
So to start an activity, usually, you will need to look at first what's getting in the way. We talked about procrastination in last week's episode and in other modules of this course. That's a big one. Starting usually means you have to generate motivation based on willingness to be uncomfortable, cleaning up any negative thoughts you have or critical thoughts you have about doing the activity. Setting time and reminders to remind you, because sometimes really honestly, you're busy. You're a busy person or you're an overwhelmed person. So, you will need timers and reminders and calendars, but it's really generating that activity.
One of the best things to do is to keep in mind or to draw on a piece of paper or write it down, how you will feel when it's done, what it will look like when it's done, like a vision board almost, but it's okay. Put some time into it, like what emotions will I feel when I've completed this email? Or what will be the result if I create this course 20 minutes at a time? Little baby steps.
When it comes to stopping, it's probably going to be much of the same tools. Schedule your time to do things, set an alarm or a reminder if you're someone who gets stuck in it. So set a time or a reminder, put up sticky notes, and then also be willing to be uncomfortable. When I let my kids have tech time, we schedule tech time every day. When I say, "Turn it off," they don't like it. They're in this mode of playing their game. They're watching the thing they want to watch. Moving out of that can feel very jarring and uncomfortable.
And so, we have planned ahead for that. We know that when tech time is over, my husband and I, we may want to implement some family time or snack time, something that can help move us onto the next activity. Something motivating and pleasurable is often very helpful when moving from some kind of either uncomfortable experience to a different experience or you're in a pleasurable experience. You've got to move into something uncomfortable. There are some tips that may help that you may want to experiment with.
The next one is, "I don't have a good understanding of how long things take." Now, this is huge. Again, if you're listening to this on the podcast, this is another reason where I stress the importance of you. If you want to take the course, I stress how helpful it can be.
I write down how long things take often. Probably once a month, I do an inventory of my day. How long does it take to get my emails done? How long does it take to get the kids to school? How long? While this may seem like a lot of work, it pays off because I will then realize I only scheduled 30 minutes for emails, but to be honest, emails are taking me 45 minutes. Helpful data. Important data to help me then renegotiate my schedule so that it is kind, or to really work at not spending as much time on emails, or to be less perfectionistic about emails, or to delegate emails or whatever project it is that you're doing to somebody else.
It may be that there are multiple solutions to this problem of not understanding how long things take. But I think the first thing is, you've got to have data. You can't assume a solution if you don't know what the problem is. Please, I encourage you. It doesn't take long. Just have a little notepad, scratchpad, how long things take, particularly the things you're having trouble in the day. It doesn't have to be the whole day.
The next one is, this was very cool, "I don't like structure." Now, if this is you, I am so with you. I was and have been in my life someone who doesn't like structure. It stresses me out, makes me anxious. The pressure is overwhelming. I don't like structure. However, as someone who was forced to practice these skills, because life was so chaotic and unmanageable, I have found now I have a much better life with structure. I have found I'm more creative and spontaneous now that I have structure in my life because I know the things I need to get done are done. So then I feel free to go and do spontaneous things, take a drive, go on a vacation, and so forth, because I know. Or in this case, during COVID, because everything is so uncertain, I know how long things take, the structure of days. If there were, let's say someone in my family gets COVID – my children, myself, my husband – I know how to renegotiate the day really quickly because I have a really good understanding of the structure. It helps me to recalibrate if there is a major change in the day, because I'm used to that structure. I know how long things take. I know the practice of things. It's been overwhelmingly beneficial in my life.
If you don't like too much structure, it doesn't matter. You can actually just block schedule. I like to really be specific, but I know a lot of my colleagues and clients that I've taught this to, they just like blocks, like bigger blocks, like four-hour blocks. From 10:00 to 2:00 is work, from 2:00 to 5:00 is this. And those blocks can actually just create a little bit of structure for them. And then they can slice in new projects if they have them. Homework for therapy, if they need it.
A lot of my patients, I see they're professional successful people who are now I'm giving them additional 45 to 90 minutes of homework a day, and they say, "How am I ever going to fit this in? I'm already overwhelmed." We go through this process and we look at where they could slide in, 10 minutes here and 15 minutes here. Can you do some of your homework on your way to work and so forth? That can be really beneficial. That way, even though they don't like structure, they've found a way to prioritize what they need to get done so that they can get the benefits that they wanted.
Last one, this is a big one, "I hate being told what to do with my time." This is actually, I think, sponsored by my husband, but this was actually given to me from many social media people who have submitted their questions about time management. But I agree. I think my husband would very much agree with this – I hate being told what to do with my time.
There is, when it comes to time management, a-- I wouldn't say it's a humbling, but it's a letting go, a letting go of control, because when you don't want to be told what to do with your time, it feels like you're being controlled. Again, I don't think you have to do any of this if you don't want to. I wouldn't encourage you to make any of these changes if you really, really disagree with them. However, I would encourage you to consider at least giving it 30 days, because what you will find is, when you schedule things, it might feel like you're being told to do something with your time. You're doing it.
I don't want you to have anybody else telling you what to do, but if you're putting down on your schedule what you want to do, I want you to remind yourself why. Why are you doing this? Often it's because the chaotic and unplanned day only creates more suffering. Chances are, you already have a lot of suffering. I'm guessing because you know about me, you have some kind of anxiety or depression or medical or mental struggle. So, even though this scheduling and this time management practices can feel like you're using your freedom, I personally think it's gaining freedom. It's taking back control over the chaos in your mind – the running list, the mental rumination, the anxiety of all the things, and having it to be where it's all there and it's done.
Now, it doesn't have to be for you. I want you to find specifically, and you will see, remember we talk about in the course, we have a whole module on considering your specific set of circumstances. I want you to consider what's good for you and make plans and adjustments, but keep my voice in your mind. Sometimes the more you plan it, the more freedom and free space you have in your mind to do the things you want, because you're not constantly carrying around the to-do list. It's there anyway, you might as well handle it efficiently.
So, that's my real encouragement. Again, I'm really for it. You may not be for it. I'm not going to harass you and make you agree with my view on it. But I know the science here and I have seen it benefit so many people, and I really hope that you can give it a go and let your guard down and let go of your need to have that control and honor what's important to you and follow through with what's important to you so that you get the things that you want and you get the mastery of the things in your life that are important to you.
I hope that's helpful. I'm so grateful to have you here with me today to talk about your relationship with time. There may be many other things I haven't addressed. If I haven't addressed your specific struggle with relationship with time, I encourage you to journal down and explore how you might manage that because we do only have 24 hours and I want you to really find some peace in some of those parts of your day instead of carrying around the to-do list.
Have a wonderful day and I will talk to you very, very soon.