Is Fred In The Refridgerator? Interview with Shala Nicely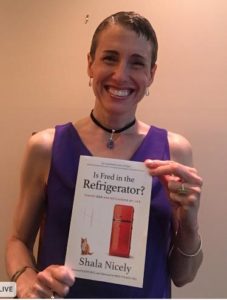 Well, this episode is one of my favorites. Do I say that every week (hehe)? But this week I am not joking! In today's episode, I have the honor of interviewing the AMAZING Shala Nicely. Shala has written the most amazing, Is Fred In The Refridgerator?: Taming OCD and Reclaiming My Life. If you have Obsessive Compulsive Disorder (OCD), Body Dysmorphic Disorder (BDD) or Depression or another mental health struggle, Shala has written THE book for you. In the book, Is Fred in the Refridgerator, Shala talks about her recovery with OCD, BDD, depression, substance abuse and much more. The book is an amazing and fun read, but also walks us through her struggles to find correct therapy for OCD, the rules her OCD held her to and the key components of her mental health recovery. Why is this one of my favorite episodes? Well, Shala walks the walk and talks the talk and she gets very vulnerable and transparent about her struggles with OCD. I love anyone who shares their truth, and Shala did just that. It was truly inspiring and my heart pretty much exploded during the recording of this episode. I asked Shala a lot of really deep questions and she was so honest and open with us, and for that, I am so grateful. I hope you enjoy this book as much as I did. See the link below toget your hands on Is Fred In The Refridgerator? Links:
BUY IT ON AMAZON: Is Fred In The Refridgerator
shalanicely.com
If you missed last weeks episode 50 5 Lessons Learned from Hosting Your Anxiety Toolkit
Thank you again for supporting me with this podcast and with CBT Schools online courses. Please click here to find out more about Mindfulness School for OCD.