Welcome back, everybody. Today we're talking about sleep anxiety relief. We're talking about how to get a good night's rest.
Oh, the beauty of a good night's sleep. I can't even tell you and I can't even explain for me personally how much sleep impacts my mental health and my mental health impacts my sleep. Hence why we're doing this episode today.
For those of you who are new, my name is Kimberley Quinlan. I'm a marriage and family therapist in the State of California. I have a private practice. I am the developer of an online program called CBTSchool.com. I'm an author and I am the host of this podcast.
A few weeks ago, a psychiatrist reached out and said, "I have been listening to you for years, not realizing that I work literally down the street from you." It made me realize that I never introduced myself on the podcast. I just talk and talk and talk and I actually don't tell people where I am and what I do and what I offer. So that was a really big lesson.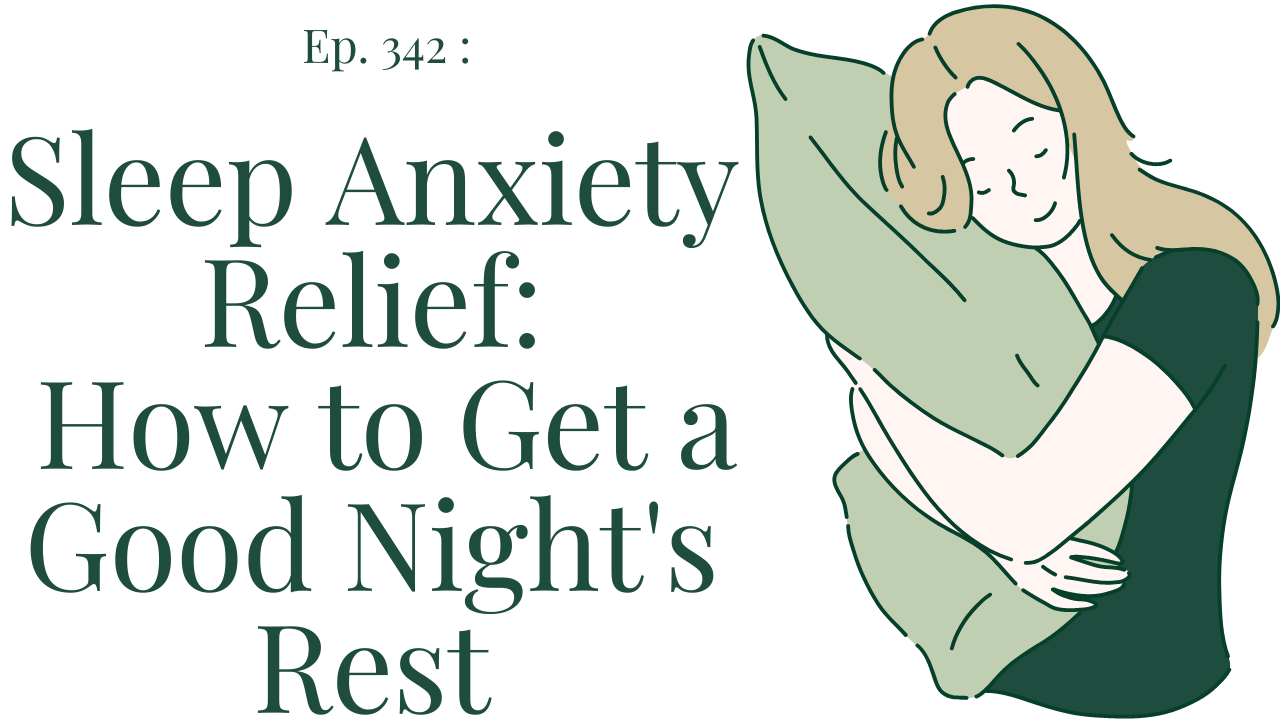 Let's talk about sleep anxiety relief. I'm going to tell you a bit of a story first. For years, my daughter has been telling us that she can't sleep, that she has terrible sleep. She lays awake, staring at the roof. She said she always feels tired during the day and that she "can't get to sleep" when she tries. We have taken her to the pediatrician and we've talked to her about it and checked in, "Are you worrying about anything in particular?" She says, "No, I just worry about getting enough sleep." Again, she's saying, "When will I go back to sleep? Will I go back to sleep? Will I wake up at night?" She says she struggles to get comfortable as she settles into bed.
We took the plunge and took her to a sleep specialist and we were expecting either a sleep disorder diagnosis or a sleep anxiety diagnosis. He did this thorough assessment and asked her all these questions and he was incredible. At the end, he said, "I'm going to tell you, it sounds like you're getting good sleep. You sound like you sleep very normally for a kid your age and we address some issues that may be happening." But he said, "A lot of this is about managing anxiety about sleep," because he tracked like, "You're getting enough. We will track it during the night. Everything looked good. This is actually about you managing your mind around sleep." Now I understand that may not be your experience, but this blew me off my feet. I was expecting serious bad news. I have this conversation with my patients so often and it made me feel like, let's talk about sleep anxiety relief.
SLEEP ANXIETY SYMPTOMS
Now, before we talk about sleep anxiety relief, let's talk about sleep anxiety symptoms because some people who don't experience this or aren't sure if they're experiencing this, I wanted to make sure you feel like you're in the right place. For those who have sleep anxiety, they experience a lot of anxiety around going to bed or when going to bed. They may report racing thoughts in bed, inability to concentrate when they're preparing to go to sleep or they're laying in bed. They might experience a lot of irritability, whether that's emotional or physical sensations in the body. A lot of jitteriness. There may be also an experience of nervousness or restlessness. They may have feelings of being overwhelmed. Some people report this impending danger or doom as they approach the bed or as they approach bedtime. They may experience a lot of anticipatory anxiety about it.
There are also some physical sensations or effects of anxiety before bed and that might include some tummy troubles. Kids in particular will report before bed, "My tummy hurts," and often their tummy hurts is a sign of anxiety. This is true for adults too. They may have an increase in heart rate, which may make them feel like something bad is about to happen. They may have rapid breathing. They may experience sweating. They may experience tense muscles. They may experience trembling, even nausea. These are symptoms that could be your regular day-to-day anxiety, or it could be that you're specifically managing anxiety related to sleep.
IS THERE A CURE FOR SLEEP ANXIETY?
When talking about sleep anxiety relief, often people talk about this idea of a sleep anxiety cure. Now, I'm not going to give you any specific "cure" today because I don't know your exact case and you would need to be assessed by a doctor. I encourage you to go and see your doctor if you're struggling with sleep because it is so important. If you need, go and get a referral for a sleep specialist or do some research. There are some amazing books on sleep as well.
Now, do I consider that we can overcome sleep anxiety? Yes, 100%. I do believe you can get to a place where you have healthy sleep. Again, I'm always very cautious about talking about the word "cure," but if we were to really address sleep anxiety relief in terms of what you need to practice, I'm going to first always do a ton of psychoeducation with my patients and with you today about sleep hygiene.
WHAT IS SLEEP HYGIENE?
Think of sleep hygiene as like, how clean your bedtime routine is. Clean, meaning has it got a lot of stuff that dirty up your sleep routine, or does it free up and clean up your sleep hygiene, sleep routine? I'm not talking here in terms of contamination. I don't want to get that confused. It's about making your bedtime routine something that is with ease, and even if there's anxiety, it's a routine that you follow and you are pretty consistent with it so that you can start to get better sleep.
Now, how do we do that? First of all, I strongly recommend you first decide when you want to be asleep by or when you want to be in bed preparing to wind down. Pick an actual time. A lot of people miss this step. They just go, "Oh, I'm going to light candles and I'm going to read and hopefully, I'll fall asleep when I want to." That's fine and that's good. We will talk about that here in a second. But I'm going to strongly encourage you, pick a time you want to be in bed. And then from there, we work backwards. From one hour minimum, from the time you want to be in bed starting to wind down, you must turn off your tech. I know you want to turn off your podcast right now because you don't want to turn off your tech that early, but I'm going to stress to you that your phone and your device are causing havoc on your bedtime routine unless you are using it for meditation, soothing music, something that actually deeply calms you. But I'm going to say a minimum of one hour, preferably two, you turn off your tech before that time that you picked. Let's say you picked 10 PM. That's the time I pick. All phones, technology should be off by 9:00 PM, even 8:30 or 8:00 is better.
What you do during that hour is that's when you start to do the wind-down routine or program. Now this doesn't have to be compulsive, it doesn't have to be exact to the minute, but what we're talking about here is now starting to implement things that bring you to a place of comfort. I understand if you're having a lot of anxiety, you might still feel it in every single part of the sleep routine. That's okay, but you're engaging in behaviors that don't make your anxiety worse. You might be reading. However, if reading is something that makes you hyper-aroused in an anxiety way, maybe it's not reading. Maybe it's meditation, maybe it's listening to an audiobook, not something that's going to, again, rev you up and get you going. Something boring, something simple, something a little more monotone. It could be listening to sounds. There are so many free YouTube videos with just sounds of the waterfall or rain or birds or waves. If you have a specific sound that you like, I'm sure you can find it. These are all great options.
You may also want to engage in a wind-down routine. This is my personal routine, you don't have to follow it, but without too much being pedantic, I have a routine. I go downstairs. I brush my teeth. I floss my teeth. I wash my face. I then go plug in my devices. I go to bed. I get my Kindle out. I actually am fine with the Kindle as long as you're not reading something too overwhelming because the lighting is different on a Kindle compared to an iPad that shoots light right into your eyes. I might take a glass of water. I make my bed actually before I go to bed. Meaning it's pretty messy usually, so it's something I like to feel like the covers are all neat on me. I then allow a wind-down. That's just me. My husband doesn't do any of that. He just brushes his teeth, goes to bed, and starts reading. Not that different, but for me, I have more steps. You can do whatever you think is helpful, but sleep hygiene has to be a piece and you have to work backwards by removing the technology.
Some people say, "What about if I use my phone for my alarm?" That's fine, I do too. However, if it's in your room or it's next to you, that's fine as long as you can practice some restraint of not picking it up and going on social media because you can lose hours by just picking up your phone and opening up the Instagram app. You can lose hours.
One thing I'm going to encourage you to do here is consider we have a course called Time Management for Optimum Mental Health and we talk all about scheduling. I'll give you a little bit of information that I share during the Time Management course. I personally calendar a lot of my life and I have found that that has been very beneficial for my sleep. The reason being is because I have to wake up at 6:15 to get my kids to school. I used to get to bed whenever I could and then I realized I was massively sleep deprived. When I looked at the calendar and I thought, okay, if I have to be up at 6:15 and if I need a certain amount of sleep (I do better on eight hours), I have to be in bed asleep by 10:15. What am I doing? Going to bed at 10:30, I'm already setting myself up for failure.
When you're scheduling, you actually look at your wake-up time and you even plan backwards for that on when you need to be in bed. And then you plan backwards from that on when you need to work on your sleep wind-down program. Again, you don't have to be pedantic, you don't have to be too hyper-controlled on this. But doing it a couple of times is life-changing in realizing, at the way I'm going, I'm never going to get enough sleep.
SLEEP ANXIETY REMEDIES
Now, in terms of talking about sleep anxiety help or sleep anxiety relief, there are some additional sleep anxiety remedies you may say that may help you. Let me add here, there's not a ton of research. I try to only bring research-based stuff to you. But a lot of people say things like oils or candles or deep breathing. I mean, we have research on deep breathing. It can be very beneficial. But you can bring in anything that soothes you, certain sense people love. I have a sister and family members who love those satin pillows. That really helps them. Just get a feeling for textures and sensations that also help you to wind down in the evening.
SLEEP ANXIETY TREATMENT
Now, if you're doing these things and you're still really struggling with sleep anxiety and getting to sleep and insomnia, I would encourage you to look into some kind of sleep anxiety treatment. We do have science-based treatments to manage sleep anxiety or even chronic insomnia. One of those things is mindfulness training. In mindfulness training, what we are doing here is we're training you to be able to get a hold of your attention. Because as you know, anxiety, if you really let anxiety lead the way, it's going to ping-pong you to all the worst-case scenarios. It's like what I said about my daughter. Will I fall asleep? Will I wake up? How long will it take? What if I don't?
A lot of people also report anxiety around, "I don't like the feeling of falling asleep. I feel like I'm losing control or feel going to sleep is scary. I don't know what's going to happen." If you're someone who's very hypervigilant, being asleep can actually be very triggering for you.
Mindfulness trains us to stay present and not engage in all of that drama that our brain creates around all the possible worst-case scenarios. It also allows us to practice non-judgment about the anxiety and about the sensations that we're experiencing, so we can just be present with them and practice. When I say practice, I mean over and over and over again because this is not easy. Practice being willing to be uncomfortable but keep our mind attending to the present instead of the worst-case scenarios.
Another piece of this when we're talking about sleep anxiety treatment is general stress management. Now, if you have an anxiety disorder during the day that also starts to leak into the evenings, particularly if you're someone who has more anxiety in the evenings, you will need to use a lot of cognitive behavioral therapy to manage that anxiety. Or if you have a lot of stress in your life, maybe your work or your school or your relationships are very stressful in this season, CBT (cognitive behavioral therapy) can be helpful in first looking at your cognition—that's the cognitive part of CBT—and then also looking at your behaviors.
Now, the cool thing is a lot of the behavior stuff, you and I have already talked about in that sleep hygiene piece. We know that the behavior of being on your phone is not helpful. In addition with sleep hygiene, getting a lot of exercise less than two hours before bed isn't really great for sleep either because your body's metabolism is all sped up from that. Those are some behavior changes. Not watching scary movies or very activating movies or books—reading those books is very important behavior changes, or having difficult conversations.
For me, I have had to learn that if I work after about 7:00 PM, I can't fall asleep. I need about three to four hours to wind down from work before I can fall asleep. Now that's not always possible and I understand there's a lot of privilege that goes with these ideas sometimes, but you just can do the best that you can, and if you can change things, go ahead and try. But those are some behavioral changes you can additionally do.
Now, if you are somebody who struggles with severe insomnia, in addition to sleep anxiety, because sometimes sleep anxiety goes alongside actual insomnia where biologically you don't sleep much or you can't sleep much, there is a specific type of cognitive behavioral therapy that is being scientifically proven to help called CBT-I. That is a specific form of CBT that is directed towards managing sleep anxiety and insomnia. It is really cool, it's very effective. It's very hard to get treatment, but if you do some Google searches, you might be able to find a CBT-I specialist in your area.
GIVE ME SOME MORE SLEEP ANXIETY TIPS..
In general now, because I'm trying to move us through this and not give you a full-on lecture, let's just talk about some general sleep anxiety tips. As you're approaching bed, the first skill I want you to practice is not tending to the noise that your brain creates about how bad this is going to go. For me, my mindfulness mantra is "not happening now." I've done a whole episode on that in the past, not happening now. Meaning I'm not tending to something that has not yet happened. Until it happens, it does me no benefit by trying to focus on it right now. My brain is going to keep saying, "But what if you don't? What if it's bad? What if you're really tired tomorrow? How is it going to go? What if you wake up? What if you have a panic attack at night and so forth?" I'm just going to say over and over, "You know what, it's not happening now. I'm tending to what is happening."
Another sleep anxiety tip I really want you to practice is compassion. Be really gentle with yourself, particularly as you start to practice these behavioral changes, and clean up your sleep hygiene. It takes time. The other thing with compassion is also be kind to yourself when you're tired because a lot of us are exhausted. You have an anxiety disorder. Maybe it's making it even harder for you to fall asleep. Then you're tired, so now you've got two problems. Be as gentle and kind as you can. Again, when it comes to self-compassion, check in with yourself. Am I doing and engaging in behaviors that are kind towards me and my long-term goal? I'll tell you what I used to do. When I had young toddlers, by two o'clock I'd be exhausted because I hadn't gotten enough sleep, so I'd have a coffee or a tea. But the tea and the coffee then prolonged how much I could get to bed, and it was made later and later. Again, reducing coffee, tea, some energy drinks is another important piece of sleep hygiene and behavioral changes that will benefit you if you struggle with sleep anxiety or insomnia.
We have mindfulness, we have compassion. These are really important sleep anxiety tools or tips. Another piece here is, as I've said before, engage in things that soothe you. If you're doing exposures, if you're doing ERP, try not to do them before bed unless you've been instructed by your therapist. Sometimes that's not helpful. Now, that being said, if you have really severe anxiety around sleep, you may need to do exposures around bedtime as the exposure. That is an actual part of CBT-I. Sometimes they even have you set alarms to wake up at 2:14 in the morning and 4:45 in the morning so that you have to practice these skills over and over. That is okay and that is, again, where this can be very paradoxical, but that will be up to you to decide what's best for you.
WHAT ABOUT SLEEP ANXIETY MEDICATION?
Another thing to remember is that there is sleep anxiety medicine. You can talk with your doctor about medicines that can help with sleep, help staying asleep, help you regulate what time. Some people take medication a few half an hour before they go to bed so that it helps ease them into sleep. Please do speak with a psychiatrist or a medical doctor about that because I'm not a doctor, so I'm not going to be giving you medical advice about that.
Now, before I wrap up, there's a couple of specific groups of people I also don't want to miss here. First, I want to address sleep anxiety in association with depression. Sometimes a symptom of depression is insomnia. If that is the case, you could use some of these skills and I encourage you to, but we don't want to miss the fact that if depression is what's causing your insomnia or your sleep anxiety, please seek out a CBT therapist because it's very important that you address that depression. One of the side effects of having depression can be sleepless nights, so I don't want to miss that.
Another thing is, a lot of folks with OCD experience obsessions about sleep. Again, as I was mentioning before, it may mean that you do have to do some exposure around sleep and that would be advised to you because the best treatment for OCD is exposure and response prevention. We actually wrote an entire article about this on the website. If you want to go to KimberleyQuinlan-LMFT.com and then type in OCD and insomnia, it will be there. We did a whole article on that just a couple of weeks ago.
>>>OCD AND INSOMNIA ARTICLE IS HERE<<<
That's it, guys. That's what I want you to be really looking at. Please remember, and this is the most important part, the biggest message that our sleep specialist gave my daughter was stop putting so much pressure on yourself to fall asleep because the pressure creates anxiety and the anxiety stops you from sleeping. The best sleep anxiety tip I can give you at the outset of this podcast episode is try to take the pressure off. The truth is, even if you're not sleeping as long as you're resting, that is enough. You can't force yourself to fall asleep. It usually creates more frustration, more anxiety. It just creates a lot of irritability.
Try to take the pressure off. Give yourself many weeks to get this down. It may take tweaks, it may take some reworking. You may require some help from people and assistance from a medical doctor if you need to. You can also reach out to a sleep anxiety specialist or an insomnia specialist who specialize in sleep deprivation anxiety or sleep deprivation in general. If you need sleep anxiety treatment, there are specific treatments out there for sleep anxiety in adults, children, and teens.
If you're wanting to come and work with us again, you can go to our website and we have some amazing therapists who can also help. My hope is, soon I will be bringing out some sleep anxiety-guided meditations for you as well. That's coming down the pipeline here very soon.
Please take the pressure off. Please be gentle. Just tweak little things. Again, as we always say, it's a beautiful day to do hard, repetitive things where we practice and we practice.
I hope that's been helpful. I hope you do go on to have a good night's rest here very soon. I will see you next week.