Transcript
Kimberley Quinlan: Well welcome, I cannot believe this is so exciting. I've been looking forward to this episode all week. We have the amazing. Reverend Katie O'Dunne with us to talk all about scrupulosity and religious obsessions. So welcome, Katie.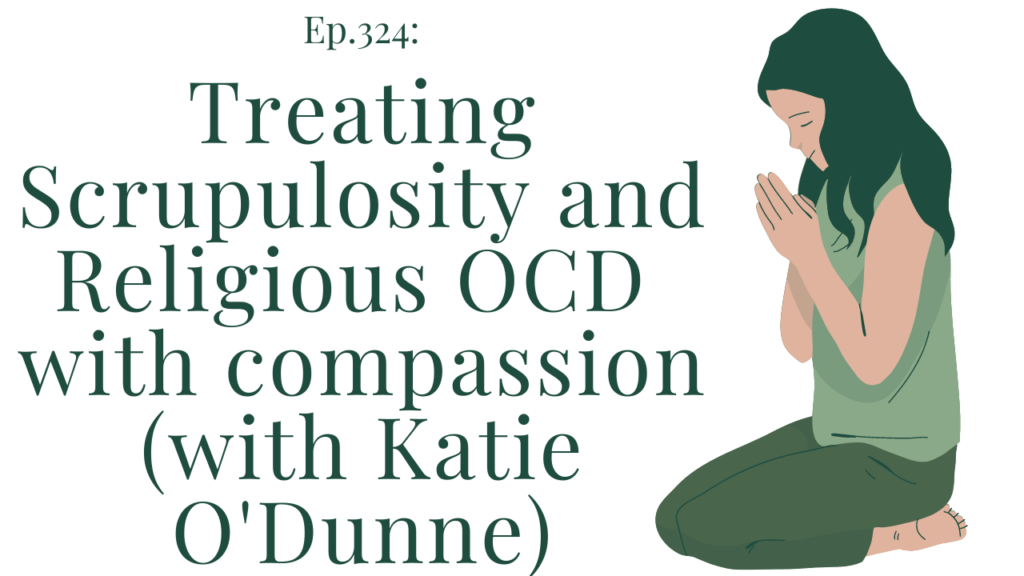 Katie O'Dunne: Thank you. I'm so excited to be here and to chat about all things Faith and OCD. So thanks for having me.
Kimberley Quinlan: Yeah, so let me just quickly share in ERP school we have these underneath every training, every video. There's a little question and answer and I'm very confident in answering them, but when it comes to the specifics of religion, I always try to refer to someone who is, like an expert. And so this is so timely because I feel like you are perfect to answer some of these questions. Some of the questions we have here are from, ERP school. A lot of them are from social media and so I'm so excited to chat with you.
Katie O'Dunne: Thank you.
Kimberley Quinlan: So tell us before we get into the questions, a little about your story and you know why you are here today?
Katie O'Dunne: Yeah. So I've navigated OCD since before I can remember, but just like maybe a lot of folks listening. I was very private about that for a very long time. I had a lot of shame around, intrusive thoughts. I had a lot of shame around religious obsessions that I had, moral related obsessions, harm obsessions. And this shame particularly came because I was pursuing ministry and OCD really spiked in the midst of me going to graduate school, going to seminary. And when I was in seminary and I started really struggling, I wanted to seek treatment for the first time and was told really by a mentor that it would not help me to do that. In my ministry that I wouldn't pass my psych evaluations and that I shouldn't pursue treatment that I needed to keep that on the down low. So as many of us know, that might not get that effective evidence-based treatment I continued to get sicker
Katie O'Dunne: And had a really pretty full-blown OCD episode in my first role in ministry.
Katie O'Dunne: So I ended up in school chaplaincy working, with lots of students from different faith backgrounds, some of what we'll be talking about today, through an OCD lens. And I was trying to keep my OCD a secret, but in the midst of navigating, some difficult tragedies and traumas with students, my OCD latched on to every aspect of what I was navigating. And particularly in the midst of that, I was experiencing losses and mental health crises with students from different faith backgrounds. And when I came out of my own treatment, where exposure and response prevention, very much saved my life. I felt like, I had an obligation to those students that I worked with to let them know that their chaplain, that their faith leader had gone through mental health treatment and that there was no shame around doing that. And I went from the space, in seminary of being told that I shouldn't seek treatment to a space of having families call me for the first time and say, Oh now we can actually talk to you about what's going on in our life. Can you help us talk with our rabbi or our imam, or our priest about my child's diagnosis? How can we reconcile faith with treatment and that opened the door for me to continue this work in a full-time way. Where moving from those students that I love so much and now work in the area of faith and OCD full-time helping folks, navigate religious scrupulosity and very much lean into evidence-based treatment while also reconnecting with their faith in ways that are value driven to them and not dictated by OCD.
Kimberley Quinlan: Hmm, it makes me teary. Just to hear you say that folks were saying, Well, now, I can share with you. That is so interesting to me. You know, I think of a reverend, as like, you can go to them with anything, you know, and for them to say that you're disclosing has open some doors, that's incredible.
Katie O'Dunne: And particularly, I worked really heavily with my Hindu and Muslim students. And we had the chance to do some really awesome mental health initiatives for the South Asian community, where students started then doing projects actually in their own faith communities, and opening up about their own journeys, and then giving other space to do the same. And I really, I think about the work I do now, which is very much across faith traditions around OCD. And every person I work with, I think of those awesomely brave students, who started to come to me after my disclosure and say, Okay, we want help and also we want to share our stories and continues to inspire me.
DOES RELIGIOUS OCD/SCRUPULOSITY SHOW UP BEYOND THE CHRISTIAN RELIGION?
Kimberley Quinlan: Yeah, so cool! It leads me to my first question which is, does this for OCD religious scrupulosity, have you found, and I definitely have, that It goes outside of just the Christian religion. I know we hear a lot about just the Christian religion, but can you kind of give me your experience with some other religions you've had to work with?
00:05:00
Katie O'Dunne: Yeah. And so I always tell folks OCD is OCD, is OCD. And it always loves to latch on to those things that are the most significant and important to us. So it makes a lot of sense, that, that would happen with our faith tradition, whether you're Christian or Muslim or Buddhist or Sheik, or beyond or even atheist or agnostic can really transform into anything, particularly from what, you might be hearing from faith leaders and I always go back to this idea that OCD is just really gross ice cream with a lot of different gross flavors and those flavors might be in the form of the Christian faith or in the Jewish faith or in the Muslim faith. But the really big commonalities is the fact that it's not about what a person actually believes just like, with everything else with OCD. This is very much egoistonic. It's taking their beliefs. It's twisting them and it's actually pushing them further away from the tradition. So, it's just some examples.
Katie O'Dunne: That we see, of course, in Christianity, you all might be familiar with obsessions around committing blasphemy against the Holy Spirit, or fear of going to hell or fear of sinning in some way. But we also see lots of different things in Islam, whether that's around not being fully focused during Friday prayers or not doing ritual washing in the appropriate way. In Judaism we see so many different things around dietary restrictions or breaking religious law. What if I'm not praying correctly? Hinduism, even what if I'm pronouncing shlokas or mantras incorrectly? What if I have done something to impact my karma or my dharma? What if I'm focusing too heavily on a particular deity or not engaging in puja correctly. or in Buddhism I see a lot of folks, really focusing on what if I never stop suffering, What if I've impacted my karma in some way? What if I don't have pure intention, alongside that action and…
Kimberley Quinlan: Right.
Katie O'Dunne: then all the way on the other side. We can see with any type of non-theism or atheism, agnosticism humanism What if I believe the wrong thing? What if I'm supposed to believe in God, what if I'll be punished for for not? So there are all different forms and then with any faith, tradition. I mean any form possible. That OCD could latch onto
Kimberley Quinlan: Yeah, absolutely I think there's just some amazing examples I had once a client who felt his frustrations weren't correct.
Katie O'Dunne: Yes.
Kimberley Quinlan: And got stuck really continue and trying to perfect it so I think it can fall into any of those religions for sure. So you've already touched on this a little bit, but this was one of the questions that came from Instagram. Just basically there was saying like OCD makes me doubt my faith. Like why does it do that? Do you have any thoughts, on a specifically why OCD can make us doubt our faith?
Katie O'Dunne: Yeah. I mean OCD is the doubting disorder and we always say the content is irrelevant, but it definitely doesn't feel like it. I think for anybody navigating OCD, you're most likely in a space of saying I could accept uncertainty about any theme except the one that I have right now and that's very much true with faith. If your faith is something that's significant to you and at the center of your life, it makes sense that OCD would latch on to that and that OCD would twist that particularly…
Kimberley Quinlan: Right.
Katie O'Dunne: because we really don't have a whole lot of certainty around faith to begin with and where there's a disorder that surrounds uncertainty and and doubt. That makes a lot of sense. And yet it's so so challenging, um, because we want to be able to answer all of these questions without OCD making us question every single thing we believe,
WHEN OCD DOUBTS MY FAITH
Kimberley Quinlan: Mmm. It's sort of like religious obsession. I mean relationship obsessions too in that and you're probably looking at people across the your religious faith hall or wherever going, but they are certain like why can't I get that certainty? Right. But it's like they've accepted a degree of uncertainty for them to feel certain in it. But when you have OCD, it's so hard to accept that uncertainty piece of it.
Katie O'Dunne: I'm so glad you said that I actually get this question a lot. And this, this might be a strange answer for folks to hear from a minister. But I always tell folks, I'm not certain I Have devoted my life to faith traditions. I'm ordained. I'm not certain about anything including about the divine.
Kimberley Quinlan: Yeah.
Katie O'Dunne: I have really strong beliefs, I have strong things that I lead lean into and practices that are meaningful to me. But it doesn't mean that I have certainty. And often, when you hear someone in a faith tradition, say that there are certain, I don't think it means the same thing as what we're thinking, it means from.
00:10:00
Kimberley Quinlan: Yeah. it's Yeah,…
Katie O'Dunne: a different context. They are accepting some level of uncertainty.
Kimberley Quinlan: that's why I compared it to relationship OCD, You're like, but I'm not sure if I love my partner enough and everybody else is really certain but when you really ask them, they're like, No I'm not completely certain,…
Katie O'Dunne: Yeah.
WILL GOD PUNISH ME FOR MY INTRUSIVE THOUGHTS?
Kimberley Quinlan: like I'm just certain for today or whatever it may be. So I think that that is very much a typical trade of OCD in that, it requires 100%, okay? So, so, This is actually really one of the first common questions we get when we're doing psychoeducation with clients. Which is why do I have a fear that God will punish me for my intrusive thoughts? You want to share a little about that.
Katie O'Dunne: Yeah, I mean there are so many, there are so many layers with this and again, latching on to what's the most important but also latching on to particular teachings. Whether it's in a church or a mosque or a synagogue where I always say there are particular scriptures, particular, teachings, particular sermons, where you might hear things that relate to punishment in some way, or relate to rigidity, but I think folks, with OCD hear those, through a very different lens than maybe someone else in that congregation and we might hear something once at age, five or six and for the rest of our lives latch on to this idea that we're doing something wrong or that God is going to punish us, we tend to always see everything through that really, really negative lens and maybe miss all of the other things that we hear about compassion and about love and forgiveness. And I think there's also this layer for individuals with OCD often holding themselves to a higher standard than everyone else and that includes the way that they see God as viewing them. So I'll often ask folks. How do you think, how do you imagine God, viewing a friend in the situation? Just like we might do a self compassion work and they're like, Well, I believe God would be really forgiving of my friend and that they might not be perfect but that they were created to live this beautiful life. And then when asking the same thing about themselves, It's but God called me to be perfect and I have to do all of these things right. I'll ask often ask folks, What does it look like to see yourself through the same loving eyes through which God sees you or which you imagine that God sees those around you which is something we don't often do with OCD.
Kimberley Quinlan: And what would they often say?
Katie O'Dunne: Ah well it's so I'll actually use self-compassion practices to to turn things around. And I'll say I'll ask someone to name three kind things about themselves and then to put their hand over their heart and actually say it through the lens of God saying that to them. So I'll have them say something like The Divine created me to be compassionate, the Divine believes that I am a kind person, the Divine wants me to have this beautiful life and to be a good runner or a good baseball player or whatever that is. And it's always really difficult at the beginning just like any self-compassion practice. And then I'll watch folks start to smile and say Well maybe God does see me in that way.
Kimberley Quinlan: That's lovely.
Katie O'Dunne: Maybe create me in a beautiful way.
DO NOT FEAR…SHOULD I TURN MY FEARS OVER TO GOD?
Kimberley Quinlan: Mmm. That's what it's bringing them. Back to their religion and their faith when they do that, which is so beautiful, isn't it? Mmm. Okay, This question is very similar but I really think it was important to to address is there are some scriptures where people here that they aren't allowed to fear or that they must turn their fears over to God. Do you have any thoughts or you know, responses that you would typically use for that concern?
Katie O'Dunne: Mm-hmm.
Katie O'Dunne: Yeah, I think, you know, it looks very different across faith traditions and across scriptures and individuals, of course, view Scripture and in very different ways but depending on their denomination, or depending on their sect, but I think sometimes, unfortunately, those scriptures are used out of context. We see this often where there might be a particular verse that's pulled that from a translation perspective isn't necessarily really about anxiety in the same way that we're defining anxiety through an OCD lens or isn't really about intrusive thoughts, in the way that we're defining it through the lens of OCD. And I think it's really unfortunate when we hear religious leaders or folks in communities say, Well, you aren't allowed to fear or if you just prayed a little bit harder, your anxieties would be able to be turned over to God. And I think we're hearing that or they're using that and maybe a different way than the passage was intended. And then we're hearing this through a whole nother another layer where it actually could be flipped. And instead, when you're you're saying, Don't fear. I always tell folks. So what does it look like instead to not fear treatment or to do it even if you're afraid. To ask God, to give you strength in the midst of that fear and to approach that in a different way. But I think sometimes those who are taking particular passages out of context, might not fully understand the weight of OCD, or what comes with that condition.
00:15:00
HOW DO I KNOW IF IT IS OCD OR IN LINE WITH THE RULES OF MY FAITH?
Kimberley Quinlan: Right. Right. I love that. Thank you for sharing. That was actually the most common question, I think. So like four or five people off the same question. So I know that's a such an important question that we addressed. Quite a few people also asked how to differentiate like, you know with OCD treatment, it's about sort of understanding and being aware of when OCD is present and how it plays its games, and it's tricks in its tools that it uses. How would people know whether something is OCD or actually in line with the rules of their faith? Do you have any sort of suggestions for people who are struggling with that?
Katie O'Dunne: Yeah, so I'll actually often show folks a chart when we start to work together and we'll put things in different buckets of what are things that you're doing, because they are meaningful because they bring you hope because they bring you comfort because they bring you joy. And then on the other hand, What are things that you're doing out of fear? Out of anxiety things, that feel urgent things that are really uncomfortable. And of course, there is never any certainty around anything, which is very much one of the tricky parts with with treatment, right? We want to have certainty but I invite folks to really make the assumption that probably those things that bring joy and meaning and hope and passion and connection are the authentic versions of their faith. Versus the things that we're doing out of fear or anxiety. And, you know, I was doing a training, a couple months ago for clinicians in this area and I was, I was talking about how, you know, we don't necessarily want folks to pray out a fear and someone had a really great question. They said. Okay. But if a plane is going down and someone's praying because they're afraid like that's not because it's OCD, I'm like No that's that's very true. But in that situation they are praying because they're afraid to bring meaning and hope they're not praying because they're afraid of not praying and…
Kimberley Quinlan: Yeah.
Katie O'Dunne: there's a very big distinction there. Are you doing the practice? Because you're afraid of not doing it or not or you're afraid of not doing it perfectly, or are you engaging in that practice even in moments that are tough in order to bring you peace and meaning and joy and comfort.
WHEN PRAYER BECOMES A COMPULSION
Kimberley Quinlan: And that if that, maybe I've got this wrong so please check me on this, but it feels like too, when people often ask me that similar question but not around compulsive praying of like, but if there is a problem, shouldn't I actually do something about it? And I'm like, Well, this that's a difference between doing something about something when there is an actual problem compared to doing something because maybe something might happen in the future, right? It's such a trick that OCD plays. Is it gets you to do things just in case. So would that be true of that as well?
Katie O'Dunne: Okay. Yeah. And I often tell folks just again because it's just another form of OCD that's latching on to something that significant very similar. I tell folks, if it's really a problem that you need to address, most likely you would do it without asking the question to begin with. But it's I think the unfortunate thing that the other example I give is well, if we think most traditions we think of God as a parent figure and I ask folks, who are our parents to imagine their relationship with their own child, and do you want your child to connect with you throughout the day out of meaning and out of hope and out of genuine, a genuine desire for love or because they're afraid of not talking to you and…
Kimberley Quinlan: Right.
Katie O'Dunne: those are two. Those are two very, very different things.
Kimberley Quinlan: Right. As it's like a disciplinarian figure. Yeah, that's a really great example. I love that. Yeah. Okay. This is, this was one of the questions that I got, but it's actually one of the cases that I have had in my career, as well, which is around the belief that thoughts are equal to deeds, right? Like that. If I think it, it must mean, I love it, I like it, or I want it or I've done it. Can you give some perspective to that from from specifically related to religious obsessions?
Katie O'Dunne:
00:20:00
Katie O'DunneYeah this can be really hard for folks and of course with OCD thought actions fusion can be really challenging anyway and there is often, for folks in a faith context this belief that because I had this though, because I had what might be perceived as a sinful thought, I must be committing blasphemy, or I must be committing this particular sin and that can make it really really tought to do diffusion work with you clinician because its like I had this thought it must actually mean that I have done this thing that is in opposition to God and I always tell folks that of course I am not going to reassure you fully that those things are completely separate but I would invite you to lean into the possibility that a thought is just a thought. Just like any other aspect of OCD we have a jillion different thoughts a day that pass into and out of our minds and I actually think from a faith perspective that it is pretty cool that our brains produce alot of different thoughts, that we see things and make different associations. Ill tell folks way to do God we see things and make all sorts of connections. But, having thought doesn't equate to having a particular action even if we are looking on the form of most scriptures. It is really referencing things that we are doing, ways that we are actually engaging with those thoughts and taking that into our actions. And again from the pulpit, you might hear someone talk about thoughts or intrusive thoughts in ways that are not equivalent to how we're talking about them through an OCD lens,…
Kimberley Quinlan: Mm-hmm.
Katie O'Dunne: something very different and they're really talking about more of an intentional act, in something that you're you're doing, as opposed to what we're thinking about. It's just a biological process of thoughts, moving through your mind.
ARE THOUGHTS EQUAL TO DEEDS?
Kimberley Quinlan: Right. And and what I be right in clarifying here, is it important to differentiate between a thought you had compared to a thought that's intrusive, is that an important piece or do we not need to go to that level?
Katie O'Dunne: Do you mean, in the religious context? I, I don't know. I mean, I, I'm curious what you think from a clinical I go back to thoughts or thoughts or thoughts and…
Kimberley Quinlan: Yeah.
Katie O'Dunne: they are intrusive because we're labeling them as intrusive. Unfortunately, sometimes in religious context, and I hear this a lot, someone might go to… I hear actually from sermons all the time, where someone is saying that intrusive thoughts or in some way sinful and really what they're thinking are just regular thoughts that people are giving value to and…
Kimberley Quinlan: Yeah. Yeah.
Katie O'Dunne: it makes it makes it really challenging for folks where they're giving more value to their thoughts and then thinking, well my preacher said that if I have a thought that's quote unquote bad that it means something about me.
EXPOSURE & RESPONSE PREVENTION (ERP) FOR RELIGIOUS OBSESSIONS/SCRUPULOSITY
Kimberley Quinlan: I think you just hit the nail on the head, when we apply judgment to a thought as good or bad, then we're in trouble, right. That's when things start to go sticky. Yeah. Okay, excellent. Okay. Let's talk about specific treatment for religious obsessions and exposure examples. I know for those listening we have done an episode with Jud Steve, I will link that in the show notes. He did go over some but I just love for you to go over like what are some examples of exposures? And how might we approach exposure and response prevention, specifically related to these religious obsessions?
Katie O'Dunne: Yeah, so his health folks, I'm not I'm not a clinician, but I work alongside a lot of really amazing clinicians in religious scrupulosity to develop exposure hierarchies. And one of the big fears when I'm working with someone is often, how could I possibly engage in exposure and response prevention because what if someone asked me to do something that's in opposition to my faith? And I want to go ahead and just put that on the table right now… I know that's a big fear and I want you to know that a good OCD specialist or an ERP therapist is really gonna work with you not to go against or to oppose your faith. But to do some things that are a little bit uncomfortable in service of you, being able to get back to your faith in a value-driven way.
Katie O'Dunne: I really believe we are never going to be incredibly excited about exposures. When I was on my own exposure and response, prevention journey, I never once walked into the office and said, Yes, I get to do this really scary exposure today. It's gonna be so fun. Well, I guess I did say that because my therapist made me pretend to be excited about exposures, but that's different. That's a different conversation was not necessarily genuine. And so i'll often ask folks, I know that this isn't something that you want to do, but why don't you want to do it? And if the answer is well, I'm afraid that it might upset God or I'm afraid something bad might happen. That's probably a good exposure. If the immediate response is Well, no, I'm not gonna do that. No one else in my tradition would do that. That's completely in opposition to everything we believe, probably not something that that we would ask you to do and often clinicians will use the 80/20 rule of what would 80% of the folks within your congregation be willing to do and that can be really helpful working with a faith leader as well or with other folks within your particular sect or denomination to establish that.
00:25:00
Katie O'Dunne: The same time there. Oh my goodness, so many different exposures that we can go into. But a lot of things that I see folks commonly working on are things like praying imperfectly maybe speaking or speaking of blasphemous thought aloud or thinking through that in an intentional way, writing an aspect of that, not completing ritual washing again and again only doing it once and even thinking through the fact that it might not have been perfect that time or maybe even intentionally diverting your attention in the midst of a prayer. Sometimes for folks who are avoiding Scripture that is intentionally reading that aspect of Scripture and then maybe thinking intentionally about something that they've thought as a bad thought or that they've defined in that way. But again it very much depends for each person and I really want folks to know that it doesn't mean that you are going to be asked to eat something that goes against your dietary restrictions or to deface a religious text. Those are the two things I hear folks, very fearful of and that isn't something that you need to do in order to get better. It's about having conversation and handing over the keys to your clinician to do some uncomfortable stuff in favor of getting back to your faith in a value-driven way.
Kimberley Quinlan: Yeah, I love that. I'll tell a quick story, when I was a new intern treating OCD having no clue really what I was doing. I'm very happy to disclose that was the facts, but I had amazing supervisors and I grew up in an Episcopalian denomination and I had a client who was of similar denomination in the Christian faith. And my supervisor said, Well, okay, you're gonna have him go and say the blasphemous words and in my mind, this being my first case going like are we allowed, like side eye.And he said Okay this is your first go around. I want you to ask your client to go and speak with their religious leader and say, This is what I'm struggling with. AndI have this diagnosis and this is the treatment, it's the gold standard and Kimberley's gonna go with you and do we have permission to proceed and the minister was so wonderful. He said, If that is what's gonna bring you closer to your faith, go as hard as you can. And for me, it was just such a beautiful experience as a new clinician to have. He knew nothing about OCD but he was like if that's what you need to do to get closer, go. Like he had so much Faith himself in, I know it'll bring you to the right place and so it's so beautiful for me and that kind of helped me guide my clients to this day. Like go and get permission speak to your minister if that helps you to move forward, do you have any thoughts on that?
Katie O'Dunne: Oh yes, and this is really my favorite thing that I get to do with folks in addition to working with clinicians and clients and developing exposures, also in faith traditions that are not my own, but then I might have studied make connections to other faith leaders so we can talk about what makes the most sense in this particular set so that someone can fully live into their faith tradition while well, maybe being a little uncomfortable in this moment or doing something tough and I deeply believe whatever that looks like for you, even if the exposure seems a little bit scary, that God can handle our exposures. Across faith traditions. We see the divine as this big, wonderful powerful all knowing force and with everything going on in the world, I deeply believe theologically that the exposure that we're doing over here, which might seem really hard for us, that God can handle that as a way for us to get back to doing the things that we were actually created to do. And in that way, similar to the minister that you talked with that said, Hey, go for it. I'll even tell folks, I see ERP as a spiritual practice because a spiritual practice is defined as anything that helps you to reconnect or get closer with the divine and in that way, doing ERP really does that because it's breaking down the OCD so that you almost stop worshiping OCD and actually reconnect with God in a way that's value driven for you. That's actually what I'm getting ready to start. My doctoral research on is actually redefining ERP as a spiritual practice across faith traditions in ways that are accessible for a diverse population.
Kimberley Quinlan: And that's so beautiful, I love that. Okay, let's see. Okay, This is actually the last question, but this is actually the one I'm most excited to ask. This is actually from someone I deeply care about. They have written in and said, When I get anxious, I try to submit it to God knowing of his love and power. So, by writing a script, which is an ERP practice, for those of you who don't know, it seems I'm in conflict with my religious belief. Do you have any like points, final points, you want to make about that?
00:30:00
Katie O'Dunne: Yeah. So two big things, one going off of what I was just sharing a second ago. I would encourage you to know, or maybe not to know, for sure but, we can lean into uncertainty around this right? But to accept all of the uncertainty, while also leaning in and believing that God can handle this difficult script that you're writing or this difficult exposure that you're doing in favor of you getting to live the life that you were created to live. Not defined by OCD and that you still can pray and ask for God's support as a part of that. I would never ask someone not to continue to connect with God during some of sometimes, the most difficult process of their life which treatment can be, I know it was for me, it was incredibly scary. But rather than asking for reassurance, or asking for God, to undo any of that exposure work we're doing or or saying, oof, disregard this script I just did. We're not, we're not going to do any of those things, but rather, I would invite you to say, in whatever way makes sense to you, Dear God, please help me to lean into the uncertainty, please help me to sit with this discomfort associated with this exposure, on the way to getting back to this big, beautiful, awesome life that you've created me to live. It's really hard right now. This is really tough, but please walk with me as I sit with all of it, helping me not to push away that anxiety, but rather to be with it as I reclaim my life. Amen. Or something of that nature. Yeah.
Kimberley Quinlan: Yeah, that's beautiful. So thank you, really. I get teary again, this is such a beautiful conversation. Okay, so number one, thank you so much for coming on, really, it's a blessing to have you here and you know, I think this will help so many folks. Is there something that we didn't cover that you you know that point that you just made alone, I feel like it's like mic drop. But is there anything else you want to add before we finish up?
Katie O'Dunne: Yeah, um, and just, and this is a little bit more Christocentric, but I think it goes across faith traditions, I often talk about the recovery Trinity and just to leave folks with this as well. That I deeply believe that it's possible to have faith in yourself, faith in the divine and faith in your treatment all at the same time and that those three pieces coming together, allowing those to be together, actually can be a huge key with religious scrupulosity, and taking a step towards your life during treatment.
Kimberley Quinlan: That's beautiful. And I've never heard that before. That is so beautiful. I'll be sure to get my staff all trained up in that as well. Thank you. oh, Katie,…
Katie O'Dunne: Oh sorry, one more thing. Sorry, as I say that and I know we're closing out. I also always want folks to know that ERP. This is, this really is my last thing. I promise.
Kimberley Quinlan: Oh no, no. Go for it. You've got the mic go.
Katie O'Dunne: No. Um that I've worked with a lot of folks across traditions with religious scroup and I would say um a majority of the folks that I've worked with have moved through ERP and at the other side actually have a deeper relationship with their faith then maybe they did before and I would encourage you to hear that that actually leaning into that uncertainty translates far beyond OCD sometimes into a closer relationship with God. And I've worked with folks who have moved through ERP that end up going into ministry because that's meaningful to them in a way that isn't driven by OCD. So just knowing that it doesn't ever mean, you're stepping away from your faith, you're taking actually this leap of faith to reconnect with it in a way that's actually authentic to you.
Kimberley Quinlan: Mmhm. I'm so grateful that you added that. Isn't that some of the truth, with OCD in general, like the more you want certainty, the less of it you have. And the more you let go of it, the more you can kind of have that value driven life. I love it. Okay, I can't thank you enough, really, this has been such a beautiful conversation. I probably nearly cried like four times and I don't, I don't often get to that. It's just so, so beautiful and deep. And I think it's, it's wonderful. Thank you. Where will people hear about, you get to know you reach out to you and so forth.
Katie O'Dunne: Yeah, so folks are more than welcome to reach out to me via Instagram at @RevkRunsBeyondOCD or on my website at RevKatieO'dunne.com. I do lots of work again with clinicians and faith, leaders and clients but also have free weekly faith and OCD support groups along with interfaith prayer services for folks navigating what it means to lean into their faith traditions from a space of uncertainty and an inclusive environment. And then I would also encourage folks to check out our upcoming Faith and OCD conference with the Iocdf in May along with a really awesome resource page that we were so proud to put out last year. I had the chance to work with a really great team of clinicians and faith leaders to create a resource page for all of you to see what scrupulosity might look like in your faith tradition along with resources. So check out all of those wonderful things.
00:35:00
Kimberley Quinlan: Amazing. We will have all that linked in the show notes. Thank you, Katie, really! It's such an honor to have you on the show.Katie O'Dunne: Thank you. This was lovely. Thank you so much.