[00:00:00] If social media causes anxiety, you will find this incredibly validated. Today, we are covering the nine reasons why social media causes anxiety and depression, and we will get specific about how you can overcome social media anxiety and depression. In a way that feels right to you, so let's go.
If you hear yourself saying, social media gives me anxiety, you are not alone. In fact, many people say it gives them such overwhelm and panic they just want to shut it down completely. That is a common experience, and I want to provide a balanced approach here today. So, let's first look at some social media stats.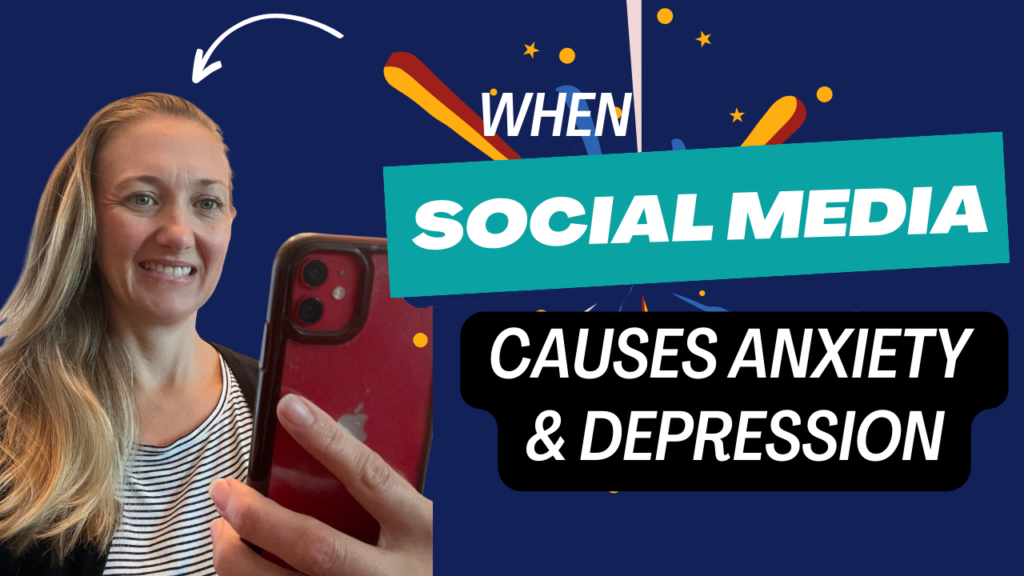 Research shows that people use an average of 6.6 social media networks monthly. When I heard that, I thought that couldn't be true, but I counted the ones that I use, and it is. I thought that was [00:01:00] very interesting. That sounds like an incredibly massive amount of social media networks.
But the average time spent on social media daily is two hours and 24 minutes, not weekly, daily. While 67% say they have a drop in self-esteem as they compare their lives to others they see on social media, 73% of people report. They also find solace and support in these platforms during tough times.
We all experienced that during COVID-19, and I know that as someone who lives in America but is Australian, social media has allowed me to be friends with people from high school & college; I get to be connected with my parents' friends. I have found it to be an incredibly beautiful process, but today, we're looking specifically at how social media impacts our mental health, particularly how it causes anxiety and depression.
Now [00:02:00], we have some social media depression stats here as well. We do have research to show a link between social media use and depression. More than three hours on social media daily does increase your risk of mental health problems.
This study was done specifically for teens, but I think as adults, we could all agree that's probably true as well. There are also some social media addiction statistics that we want to know. We know that 39% of social media users report being addicted to social media, meaning they want to get off but can't. Or, they experience adverse experiences and consequences when they're not using it in moments of distress and needing to regulate.
We may also look at some social media anxiety disorder statistics. Studies showed that around 32% of teenagers say social media increases their anxiety and hasn't had a [00:03:00] negative impact on people of their age.
However, I found it interesting that only 9% believed it was the case for themselves, but they believed that for others.
Interesting statistic. 67% of adolescents report feeling worse about their own lives after using social media, and most teenagers say that social media has had neither a positive nor a negative effect on themselves. So, we are getting some mixed statistics here. The real point for you is to decide for yourself.
Is it helping me, or is it hindering my mental health? And if it is, let's discuss some skills we can use. So here we go.
NINE REASONS SOCIAL MEDIA CAUSES ANXIETY
We have nine reasons social media causes anxiety. Now, to be clear, this needs to be scientifically backed. I did a review from people on Instagram. It's funny how it's a social media platform. Still, I did interview them and did a poll and also have a question box where they get to put [00:04:00] their specific reasons why some social media has impacted them negatively.
And here are the results.
SOCIAL MEDIA COMPARISON
So, the number one reason social media causes anxiety is comparison. Social media comparison seems to be the biggest reason for increasing anxiety and depression, and I think it's important that we identify how social media comparison impacts us. Now, what I've found as a clinician and a marriage and family therapist in helping people with anxiety is how often social media reinforces untrue beliefs they have about themselves. Or, we could say negative beliefs that they had already.
Examples:
I'm not good enough.
I'm not doing enough.
I'm not happy enough.
I'm not making enough money.
I don't have enough followers.
I'm not succeeding enough.
And that constant, having it in your face of what they're doing and seeing their highlight reels makes us feel like we're not doing enough [00:05:00] and maybe bringing up the insecurities that we aren't enough.
So, it's really important that we first use social media as an opportunity to take a look at those beliefs and those thoughts. What thoughts does social media bring up for you? Are the thoughts true? Are they helpful? Do they determine facts, or are they just feelings and thoughts you've had on a whim because of your anxiety?
When we look at those thoughts, we can then determine whether we want to respond as if those thoughts are true. It's also important to recognize that people only post what I call their "A-roll."
They don't post their B roll. They don't post their C roll. They only post the highlights. They post the things they're most excited about. They post the things they want you to think about. No one wants you to see their dirty socks, laundry, meltdowns [00:06:00], and relationship struggles.
People are talking about that on social media, but even those people, we can't assume they're not showing us, you know, only the good stuff. It could be that they're also showing, you know, only the good stuff.
FEAR OF BEING JUDGED BY OTHERS
Now, we can move on from there and look at the number two reason that social media causes anxiety and depression, and that is the fear of being judged by others.
The truth is that social media can cause social anxiety, which is the fear of being judged, humiliated, and shamed publicly. I'm going to really encourage you guys to use social media as an opportunity to practice letting people have their opinions of you. One thing I have learned.
Being on social media a lot and being a public figure in many, you know, this small area that I'm a public figure in is I've had to learn how to let people have [00:07:00] their opinions about me. I've had to give them permission not to like me. I've had to practice allowing the right in writing the wave of discomfort that I'm not for everyone.
The truth is, when we are on social media, we have to face the fear that our opinions may upset people. People may say things about or critique us, which may impact how we feel about ourselves. I've been through a lot of therapy here, so I can speak about this a lot. I'm okay with people not agreeing with me, not liking me, or understanding me.
I've gotten really good at allowing them to have their feelings and thoughts about me. I'm going to have my feelings and my thoughts about them too. Does that mean I don't care about what they think? Absolutely not. I deeply care what they think, but I have learned not to let it imprint how I show up on social media [00:08:00] and how I feel and think about myself.
TROLLS
The number three reason that social media causes anxiety is trolls. Getting bullied is a huge piece of social media; we see it daily. I have been trolled. People have insisted on taking me down for years, and I have, through what I just talked about, learned to give them permission to really not like me.
I've even considered their opinion and really thought about, "Do they have a point?" How can I look at this from a place of compassion? Is it true? Is what they're saying? Factual In many cases, no. Right. Um, the truth is, hurt people hurt people. So, the people online who are saying horrible things usually come from a great deal of hurt, harm, and pain.
That doesn't mean I'm saying it's okay that they're doing this behavior. [00:09:00] We must also recognize from a place of compassion that most trolls out there are doing it, not because they're happy, fulfilled people, but because they're on a mission to take people down with them. And that really helps me to be compassionate and not take on their opinion, um, and allow it just to be a part of social media and not take it personally right now.
FEAR OF BEING CANCELLED
The fourth reason social media can cause anxiety is the fear of being canceled. You may see that these points are growing on each other. Cancel culture is a thing, folks, and I get it. It is scary out there. Many of you say that being on social media, even commenting on your friend's posts, creates the fear that you might say something that will offend them and cause you to get canceled
[00:10:00] Maybe you feat that on a whim, you say something or you make a joke that causes you to get canceled. This is a widespread one as well. A lot of folks who weighed in were saying that this is a true fear for them.
As someone who has come head to head with this, what was really helpful for me was actually to write down a cancel campaign of my own, which is like, what is the worst thing someone could say about me, you know? What would it, what would they say? Sometimes people will say negative things, which doesn't hurt my feelings, and sometimes I'm afraid they'll say certain things that would really hurt my feelings.
I use that as an opportunity to look at those and ask, why are those things so important to me? Is it my values? Is there something about that where I was taught to be ashamed of those qualities as a child? Am I afraid of how people will stand up for me? Or am I afraid of how I will handle this sort of public shaming that goes on.
[00:11:00] It was a super helpful experiment that I did with a therapist to really help me get to the bottom of what the fear is, um, and go from there. Of course, I won't say anything mean on social media. I'm not concerned about that, but I am worried at how people will go out and attack me, because it has been something that I've dealt with in the past, and it sounds like it's something that's bothering you guys as well.
FOMO
Now, we move on to number five. The fifth reason that social media causes anxiety is FOMO. The fear of missing out is a real thing. If you fear missing out, social media can make this so much worse because you will often see other people going off to college, and you see somebody else starting a job in their hometown.
You might be thinking that maybe I should have done that. Maybe that the fear of you're missing out on that opportunity. Perhaps you chose to go [00:12:00] to the movies, and then you see a social media post about other people who decided to go to a party, or maybe you went to the movies not knowing there was a party, and then you had deep hurt feelings about not being invited.
These are true real emotions, and I want you to slow down for all of these points, but especially this one and give yourself a ton of compassion. And understand that social media does have everybody's a-rolls, and it will mean tou will have emotions. Normal human emotions like jealousy, envy, anger, and resentment.
That is a normal human emotion. When we're on social media, we judge ourselves for the emotions we feel about what we see on social media. I shouldn't be judging them. I shouldn't be jealous. I shouldn't be angry. I wanna give you permission to acknowledge and feel all of those feelings [00:13:00] 'cause they're normal human experiences.
SOCIAL MEDIA HIGHLIGHTS NEGATIVITY
The sixth reason that social media causes anxiety and depression is that social media highlights negativity. Many of you said that you have tried your best to turn off the news. I don't sign onto the news apps, but other people post about things that frighten me when I go on social media.
Shootings, global warming, politics, religion, and they were saying that this really creates a lot of anxiety and stress on their nervous system as they just want to have some fun on social media and have a few laughs and watch a few baby dogs and kittens. Have a little fight over a piece of string or something.
I get it. I've had that same experience, too. It's the end of the day you're thinking, "ah, I just want to check out and do a little deep breath and then zone out on social media, " yet you're faced and [00:14:00] bombarded with negativity. If that's the case, and this goes for all of the points we're making, do an intention check as you log on to social media.
Check in. Do I have the capacity to see things I don't want to see when you see them? Have I got the discipline to turn it off if it's unhealthy for me? It is really, really important piece that we have to remember here. Similar to that.
SOCIAL MEDIA TRIGGERS MY ANXIETY DISORDER
The seventh reason social media causes anxiety is seeing things that trigger my anxiety.
A lot of you said that you go on social media, and lo and behold, your exact fear shows up in somebody's feed, right? Maybe you're afraid of spiders and they've posted a photo of a funny spider, or maybe you're afraid of throwing up or getting sick. Someone's posting about getting cancer and having to be admitted into the hospital.
I know [00:15:00] personally, when I was sharing about, you know, all of the medical issues I was having in 2019 and 2020, a lot of people were so kind and so loving, and some people actually reached out and said, I am so incredibly triggered. What's happening to you right now is literally my worst fear coming true.
And so I get it. Again, we have to do an intention check when we go on social media and be prepared to see what we don't want. Right? One thing to know here, too, and this is a skill I want you to take on or more, it's actually a strategy, is you can train the algorithm to do what you want it to.
So, as you've probably already experienced, if you wanna see more videos of dogs, Google or search for dogs and it will start to show you more, particularly if you watch the video from start to end. You can also click on specific content. When you see something you don't want to see, you can click a button and say, see less of this, [00:16:00] or block this topic, or block this hashtag.
And that can be a way to help you keep your social media clean. Right. Another thing to remember here and going back to seeing other people's a role, is you can actually mute your friends. They won't even know if what they're doing is too triggering and it's causing you so much depression, right? Because we do know that social media can cause depression.
It's okay to take a break from them, particularly if they're in your face a lot with all their successes and wins. You can mute them. You don't have to unfollow them or block them. You can mute them, so you're still remaining friends. They still know that you're important to them and they're important to you, but you don't have to be seeing their content.
You can take a break and set healthy boundaries with social media so that you're not continually being bombarded by what they're posting. That goes with things that trigger you as well, anxiety-wise. Now, the eighth thing that causes [00:17:00] social media, um, to cause anxiety is perfectionism. Now I've put two things in one here, which are perfectionism and exceptionalism.
Perfectionism is the hope to be perfect and not make mistakes. The truth is, on social media and off social media, you will make mistakes. You're not going to be perfect, and you have to bathe yourself in a ton of self-compassion when engaging on social media and giving yourself permission again to be imperfect is to let it be a little rough. You don't have to be perfect and make it curated. And all the things some people posted about how they even had anxiety about what graphics they use, um, how they're making their posts, whether they line up perfectly, whether the music is exactly the right thing.
Again, just be real. No one wants to be friends [00:18:00] with perfect people. Believe me, I have found much more success on social media being a normal human being who is imperfect and is just regular old Kimberly. And yes, there are perfectly polished accounts, but you have to ask yourself, is that helpful for my social media?
Maybe what they're doing is good for their mental health. Is it good for me?
9. SOCIAL MEDIA CAUSES OVER-STIMULATION
Right now, the last one, the last point on why social media causes anxiety is overstimulation. This is a big one, and I finished with this one for a reason is social media posts are made to keep you on the platform. That's how they make money.
The posts that get sent to you and are suggested to you are so short, fast, and funny because they're promoting the exact videos and campaigns that will keep you engaged. But the problem with that is if you're [00:19:00] engaging and consuming content that is fast-paced, short, the content is very quick and it changes 1, 2, 3, 4, really, really fast and example would be TikTok, it actually will leave your nervous system quite overstimulated.
This is a problem, folks. The overstimulation. How social media content is delivered to us increases people's anxiety and stress levels. It increases the chance that they engage in safety behaviors such as compulsions because you put the phone down and you're literally vibrating from overstimulation.
I'm going to encourage you again to do a check-in. Is this good for me? Does this makes sense.?Are the benefits outweighing the negative? And a lot of the time the answer is no. How do we fix this?
A lot of it that I have found is around setting strong [00:20:00] boundaries with social media. I created a course called Time Management for Optima Mental Health, and a reason for that wasn't because of social media; it was because many people with anxiety and depression tend to engage in behaviors that make their anxiety and depression worse.
What we do in this course is work at scheduling the healthy behaviors first and then building your day around that. If social media is a problem for you, we're going to set some limits and intentionally put some parameters and boundaries in to help you manage your mental health.
Other resources include that most phones have a shut off time or an alarm that will alert you to when you've gone over or you have spent too much time.
Some phones also will give you a usage report. [00:21:00] I know my iPhone sends me a usage report every Sunday. Kimberly, your social media uses up by such and such a percentage. Or it's down, or you know, you're within your limits if you set limits for yourself.
I know my daughter set a social media limit for herself because after a certain amount of time, she was getting overstimulated, and she was starting to feel lethargic and crappy. And then she wanted not to eat, exercise, sing, or do the things she loved to do. And that was an effective move on her part very, very wise.
Another thing to remember is many phones. Well, all phones will have an app. There are many apps you can access that will shut your phone off so that you actually cannot access that social media app or pro platform once you've used a certain amount of time. And if you are someone who struggles with boundaries and really disciplined in that area.
Go ahead and get [00:22:00] those apps. Invest in them because they will be better than therapy that you get. Maybe, probably not, but it will contribute and complement your therapy in that you've invested in this tool to help shut down. These apps if they're not helping you. Now, once again, I'm not saying all social media is bad.
Again, social media has lifted me out of depression in many cases. When I was having a lousy day showing me funny things, you know, me passing back, . Funny, you know, reels between my husband and I is a way for us to connect when he's at work, when he's away, or when he's upstairs and I'm downstairs.
It's not all that. It's about being intentional and checking in on what's helping you. What's not, it's going to be different for every person. So truly listen to yourself and go from there. Now, as I always say, it is a beautiful day to do hard things, and what that means [00:23:00] is setting limits is hard. It's not fun.
It actually takes a lot of willpower. So do employ your support systems, ask for help, get a therapist if you need one, who can help you implement some of these tools. As always, I hope this has been helpful, and I look forward to talking with you next week.